Dathan Ritzenhein: Pleased With 2006 Season, Is Ready for the Cross Country Showdown in Boulder
by: LetsRun.com
February 3, 2007
Dathan Ritznehein is one of the favorites for this weekend's USATF XC Championships in Boulder, Colorado where the cross country championships return to being a single race. Ritzenhein is one of the greatest XC talents ever in the United States. He is the only American to have won back to back high school Footlocker national championships (beating Ryan Hall and Alan Webb in the process), then followed that up with a bronze medal at the World Junior XC Championships in 2001 (the only American male medal in the last 26 years). In 2003, he became the third American Colorado Buffalo to win the NCAA Cross Country title (Adam Goucher in 1998, Jorge Torres in 2002). He made the US Olympic team in 2004 then turned professional. In 2005 won the international Belfast XC meet, and his first US National Cross Country Championship. LetsRun.com's Rojo talked to Ritz via phone last week (yes he actually turned on a tape recorder, asked questions, and typed up the responses) about his preparations for Boulder.
LRC: Before talking about 2007, let's talk a bit about 2006. You had PRs at 5k, 10k and of course the half-marathon and marathon which you'd never run before. On paper it looks good, but what did you think of the year overall?
Ritz: The year was generally pretty good. I thought I had a really solid year - minus US cross. I had a couple of really good performances but for the most part just really solid, strong performances throughout the year. I think I ran 11 races and, minus US Cross, I thought I performed at least decent in every one of them.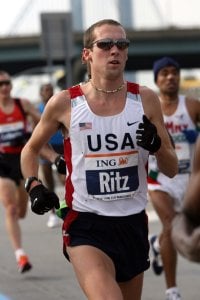 LRC: Looking back at the 2006 ING NYC marathon, what do you think of that race?
Ritz: I could definitely say I learned a lot. I think went into the race with high expectations. I didn't want to not give myself a fair shot to do well in it. I knew that going in it was a little bit of a gamble and I definitely made some mistakes in it.
The first time you do something, you never know if you are doing it right until afterwards. I think there a few things that we can definitely change. Overall I didn't train as hard as I would (like to) in the future, just considering the past years going into it had featured a lot of interruptions of my training (due to injury), so I wanted to really play it kind of on the cautious side.
I took a more aggressive approach in the race than I did in the training. I'd like to kind of flip that in the future, but I definitely think I learned a lot from it and think it will serve me well in the future.
LRC: Specifically, what would you do differently?
Ritz: I would definitely run more mileage. I think I only averaged about 110 miles a week for 12 weeks. I would definitely up that. Every marathon, every year that I get stronger, I'd like to add more mileage onto that. I'd also like to do some more training at sea level in the weeks leading up to the marathon. I thought that the last few weeks (before the race) that being at altitude made it a little difficult to do the specific work that I needed to do and to do the amount of it that I wanted to do. I'd like to have a lot more longer tempo runs at marathon pace which just isn't possible at altitude.
I definitely would like to do that and I'd also do a couple more true long runs. I only did one did one really long run and a couple of moderately long runs. I think I'd like to do 3 or 4 much longer runs like 25 to 26 miles.
LRC: Looking at this year, obviously we have the US cross championships next week but what is your main focus and what are your goals for the year?
Ritz: I definitely want to improve a lot on my track PRs. I think that my goal will be to have a full championships year. I think that last year I was in a lot better shape than my PRs indicated but the races, the way the happened and the timing, they happened to be PRs but they weren't really ideal races.
I felt like I was in better shape than those times indicated and I'd like to get my PRs closer to the level that I think they should be at. If I emphasize that a lot, I think I'll gain a lot of speed that I haven't really done (the last few years) through training as I've taken a much more moderate approach - a lot of threshold work. I've really tried to stay off the track a lot the last year and a half.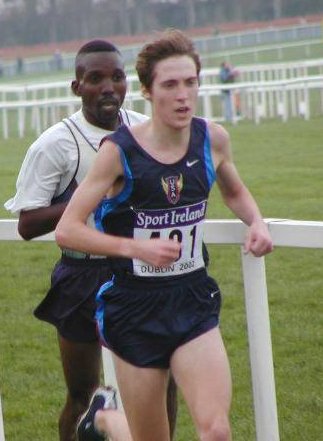 LRC: Have you done that just to make sure you stay healthy? You've done a good job with staying healthy after getting so many stress fractures a few years ago.
Ritz: Yes, I've been able to handle the mileage a lot. The 110 to 120 mile weeks are now pretty standard and no longer a super hard week. I handle that pretty well and we've tried to stick with that kind of training and not do too much fast stuff as I definitely feel like I break down a little easier when I'm doing the fast stuff. I also think that could have been a little bit from having a lack of a base (in the past). Now that I have a base, I feel confident that I can maybe push it just a little bit. I want to still stay a little conservative in my approach this year but feel I can push it a little bit more.
LRC: In the spring, will you focus on making the world's team in the 10k or 5k?
Ritz: Probably the 10k. I would like to emphasize my times in the 5k and really emphasize the 10k in the championships races. If I were to only get a slight PR in the 10k, but I really run well in the US and world championships, if I make it, that would be fine with me as I could maybe next year shoot for a big PR in the 10k as they (big 10ks) just don't happen very often.
LRC: Do you have any specific time goals you are shooting for?
Ritz: No, nothing specific that will justify if I've had a good season or not. If I run well in the meets and run really strong and compete and finish fast and only run 13:12 that might not be bad. Ideally, I'd like to run faster but competing well is key. Same thing in the 10k, I'd like to run 27:20 or so but if that doesn't happen, I'd still be happy with it if I compete well in the US and world champs.
LRC: Why did you run the 5k last year at US champs?
Ritz: I ran the 5k because I went to Stanford and ran the 10k and I ran pretty well but it was a little bit of a kicking race and I was still coming back from the pneumonia a little bit. I felt I was in a lot better shape than 27:35.
I went to Hengelo and made some mistakes with the pacing. We set up a rabbit and I didn't really pay attention with the clock and found myself lost in the middle of no-mans land. (Ritz later clarified the rabbit was inexperienced and was supposed to take him through 5k at 27:20 to 27:10 pace but the overall race went slower than expected and after hitting the mile on pace, the rabbit went too slow and took them through in about 13:45. Ritz was focused on the rabbit and wasn't using his watch as a safety net). It was certainly a disappointing 27:45 there. But when you run 27:45 and it's disappointing, I guess that's kind of a good sign. I felt I was in a lot better shape but the race just didn't go right.
I would have run the 10k if I hadn't run in Hengelo but I didn't want to run 3 10ks in 2 months. Thus I thought it was best to do the 5k and I really thought it was the better quality field.
LRC: Looking ahead to the fall, any chance you'll run the US Marathon Trials in New York?
Ritz: Ahh, probably (I'll run it) if I feel good after the track season. I'm really going to try to emphasize making the world championships and doing well there. I haven't done that yet. I'd really like to step up and do that. If I feel good after that point, then I'll probably run as it's a second chance to make the Olympic team. But if I feel tired and worn out, I don't want to go into the Olympic year like that so I'll make the decision after the world championships if I make it there.
Cross Country is a Big Deal
LRC: Talking about this year's cross country. I mean you've said in the past that cross is a passion of yours, but this year it's in your hometown, does that make it extra special?
Ritz: It is for me. You know I play golf with the twins (Torres) there (on the Flatirons Golf Course where the race is being held) every once in a while. It's kind of fun to be in your hometown. It's not very often that you get to roll out of your bed and go race in front of your home crowd.
Also with it being one race this year, I feel that whoever wins this race has a pretty good claim to starting off the year as the best distance runner in the US this year. So I'd really like to do that. I've been training really hard - well as hard as we can given the weather that has been here. I think that if I stick my nose in it, I'll be right up there and hopefully be able to come out on top, but there's a lot of good guys so it's going to take some luck and great preparation.
LRC: You said you were pleased with your training, can you elaborate on how it's been going and how happy you are with it?
Ritz: I've been able to get in a lot of pure base type training but we haven't been able to get in the type of work that I'd like to get. But I think I'll be really strong. We've been doing a lot of tempo stuff. That's kind of all we've been able to do with as bad as the snow has been. Luckily we (Dathan and his wife Kalin) went to Michigan for a while and visited our parents and it was great training there. It also was a good break to go over to Edinburgh (where Ritz finished 6th in an international XC race on January 12th) and kind of change gears a little bit and get off the snow.
It's been ok. I would have liked to have done a little more fast stuff but I feel really really strong.
LRC: How was your race in Edinburgh?
Ritz: I thought it was good. I definitely felt a little rusty. I felt like I had a little junk in my legs from the marathon. The good thing was I felt really strong at the end. I just hadn't done anything fast enough to take off when the surges took place in the middle of the race, but once they broke it open, I maintained the gap and actually closed on those guys at the end who were right ahead of me.
LRC: But don't you think with the race being at altitude that that will help you out and make the lack of speed training less of an issue?
Ritz: Yes, I don't think you're going to have be quite as sharp. You're not going to have been on the track doing quarters as the pace is going to be slower. It's really going to be geared more towards people who are purely aerobic type runners and that's what is definitely what is a little more my specialty and so I'm hoping that will play to my advantage a little bit.
Ritz, Webb, and Hall Forever United
LRC: What did you think when you heard Ryan Hall ran 59:40 (59:43 for the half marathon)? What was your reaction to that?
Ritz: I was pretty amazed actually. I mean I thought that he was going in really, really fit. I figured that after his performance in the world half and stuff, that' he'd probably be able to break 61 minutes and come really close to the American record but I was really surprised that he broke it by that much.
LRC: When you hear something like that, does it sort of put a spark in you? You, Alan Webb and Ryan Hall were all in HS together, and in HS, I guess you were sort of the class of the three (at longer distances). So does that sort of put extra motivation in you as you think "I can do that"?
Ritz: Definitely. I think that me Ryan and Alan like to say that we kind of came up together and have been kind of lumped together into a group of our own so to speak. So to see those guys doing well, it does (inspire and motivate you) as I think I've had a pretty similar career. And actually other than cross (country nationals) last year, I hadn't lost to Ryan before.
So for him to run that well, it definitely makes me think that it's possible for me too. I really wish he were running in Boulder because I think it would really contribute to the great team that we're sending to Mombasa, but I understand at the same time that he's going to be taking on the same adventure that I did in the fall and it's a large undertaking.
LRC: With you Webb and Hall, you guys seem to be the greatest HS class since the Kennedy, Williams, Davis class of 10 or 15 years ago (Editor's note: more like 19 years ago, and Kennedy was 1 year behind Williams and Davis. For a great article on the three in high school click here), it seems like all 3 of you haven't had exactly smooth sailing. Ryan hasn't been exactly the most consistent guy over the years, Webb had the two real down years, and you had the years of injury. Not exactly like you anticipated it coming out of HS, right?
Ritz: Absolutely. When things go easy for a long time, it just seems it's supposed to be like that. Now that we're kind of in the spotlight, it's difficult when things don't go well. But that's kind of the reality for everybody in our sport, that things don't go smooth all the time. We're going to have great moments in our careers, but we're going to have the low moments to. We've definitely have hard our share - all of us - in the last couple of years and it probably will continue to be like that. We'll probably be around for another 10 years or so but we're still gonna have the ups and downs. Hopefully we have a lot more ups than downs, but you have to look at it as a whole career I guess.
Mark Wetmore and Goucher Still on His Mind
LRC: With the race being in Boulder, obviously there is a big Colorado Buffalo angle to everything. How would say things are with (your former coach) Mark Wetmore nowadays and how would you describe your relationship with him?
Ritz: Mutual respect I think. At least from my point of view, I think he's one of the best - I think he's the best collegiate coach out there and one of the best coaches out there. Boulder isn't that big that you don't run into each other all the time. We've had to use his favor this past winter (with the weather) and he's been pretty generous to us, allowing us to use indoor track and Potts field. I think he generally wants to see us succeed and we want to see his group succeed.
For me, it was really hard to leave Coach Wetmore as I was very close to him. He was someone who had a big impact on my training and career. It was difficult, but we still see each other often. It's not the same relationship that we had before by any means, but we are definitely able to still each other and have the mutual respect for each other.
LRC: Is there anyone you look for next weekend as the top person to look out for?
Ritz: Ryan would have been one for sure. But now that Ryan's not running it, ... Goucher is going to be in great shape. Jorge always runs well in cross. If Abdi and Meb are in it, they are two of the best guys in the country and the world really. It's going to be a loaded field and it's not going to be easy for any one person to win it. You could conceivably get 5th or 6th place in this race and not get beat by anyone who isn't an amazing runner. There is going to be plenty of guys up there.
LRC: What do you think happened last year? You went in as the defending champ but really didn't quite seem to have it.
Ritz: I had pneumonia. I went to Europe and had some pretty good races but when I was in Edinburgh, I got some food poisoning and it really took a toll on me. After the race, I couldn't stop coughing. It was really a really violent and painful type of coughing. It kind of went away but I was going into (the US champs) with some effects of that. I didn't know it at the time that I had it (pneumonia). I thought I had gotten over my sickness. I went to the race and something was wrong in the race. It didn't feel like I was just having a normal bad day. I just felt terrible.
I kind of tried to shake it off like nothing happened but we did our first workout a few days later and it was the same thing - a total disaster. So I went and got some blood tests done. I had a bacterial lung infection – which they called walking pneumonia - which is basically you (have pneumonia but) aren't bed ridden. That took me quite a few weeks to get over, I had to take antibiotics and things like that. It wasn't easy. So what happened in that race (2006 US XC champs) was just bad luck.
LRC: Wow, I didn't realize it was that bad. I think it's pretty good to finish that high with pneumonia.
Ritz: It certainly didn't feel good at the time.
LRC: Being a college coach, I guess I'll wrap things up by asking you if you have any advice for an aspiring college or high school runner.
Ritz: I would definitely say don't put limitations on yourself in high school or college. There is kind of an accepted level of training and accepted level of racing and I think it's important to break the mold sometimes. I tried to do that a little bit. I tried to train more than most people in high school and try the marathon a little bit earlier.
You can't be cautious and great at the same time. You have to push the envelope if you want to do something really special. I think Americans can definitely step up to the world stage if they are willing to make the sacrifices and try things that are a little unorthodox.
LRC: Great, best of luck to you next weekend. Oh yeah, one more thing. Who do you think will win the Super Bowl?
Ritz: Hopefully not the Bears. The (Torres) twins are big fans and I won't be able to stand them if the Bears win. (More Super Bowl picks here)
LRC: I know how you feel. I actually was in a bar in New York with them right after you ran the marathon and we were watching the Bears game. They were acting like their dad was a player or coach on the team, and it was the biggest thing ever as the Bears were undefeated. But then they fell behind and got spanked by the Dolphins and in the 2nd half, they acted like the game wasn't even on.
Ritz: You don't have to tell me about it. They don't even know anything about the team. They are just jumping on the bandwagon.

*Check out Brad Hudson's (Ritz's coach) Boulder Performance Training website for more info on Ritz and photos of the course.
Looks Like the Snow May Melt By This Weekend: