Kara Goucher: Coming Off An Incredible 2006, She's Training At A New Level and Has Some Big Goals
by: LetsRun.com
February 8, 2007
LetsRun.com talked with American distance star Kara Goucher on Feb. 1, 2007 via cell-phone after she had just finished working out at the Nike world headquarters in Beaverton, Oregon.
Kara will be competing this weekend in the US Cross Country Championships in her Boulder, CO where she starred for the Colorado Buffaloes as a collegian, winning 3 NCAA titles (two track, one xc). She enters 2007 on the heels of a stellar 2006 season. In 2006, she made the world team in the now abolished short-course xc, and then set prs outdoors at 1,500 (4:05.14), 3k (8:41.42 for 3rd at the World Cup), 5k (15:08.13) and 10k (31:17.12). Her 10k performance last year makes her the second-fastest American ever behind Deena Drossin's American record of 30:52.32.3
LRC: Thanks for talking with us, since I just made you sit through 25 minutes of me talking to Adam (LetsRun.com interviewed Kara's husband, Adam, just prior to her interview), I promise I'll try to be a little quicker. Before we talk about 2007, let's talk a bit about 2006. Looking at the stats and PRs at 1,500, 5k, 10k, it seems like a really good year for you. But what did you think of it?

Kara Goucher: I was happy to finally have a full season and to be healthy for the whole thing. I see it as a stepping stone as I was injured throughout the winter and now I have even more to build on. I was definitely very excited about it. It was an affirmation for me that I was doing the right thing with my life. I was very pleased.
LRC: What do you view as the highlight of the year?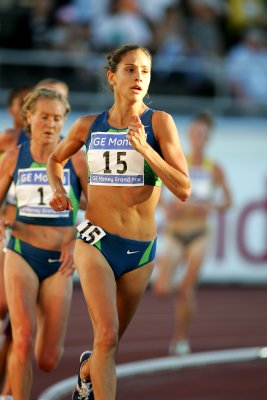 Kara Goucher: I don't know (pause). I mean I pr'd at every distance from 1500 to 10k. Maybe the US championships. That's kind of where it all came together finally and I finally made that step up of to being really competitive and started to realize that things were coming around for me. I guess that would be the highlight - getting beat by Lauren Fleshman (laughs), but only Lauren beat me that day so it was a good day.
LRC: Looking at 2007? What's your focus. Do you have a particular event you are going to focus on? What's your primary goal?
I would like to bring all of my times down from the 1500 to 10k. Last year, the only goal I set for myself was to break 15 minutes in the 5k and that was like the only thing I didn't get last year so that's still a big goal. I'd like to get faster in the 1500 and be able to kick a little harder and then in the 10k, I'd like to come close to that American record. I want to bring all the times down and remain competitive in multiple events. I don't want to just paint myself into a corner in one event - I'd like to have some range.
LRC: What will you try to run at the world champs?
I don't know yet. It probably will be the 5k or 10k but it will really depend on how the early season stuff goes. I won't rule out the 1500.
LRC: Looking at US Cross Nationals next week, how is your training going? How do you feel going into that?
The training has been going very well. I have a lot of faith in what I've been doing. I've been running more miles than I've ever run. It's a longer race but I ran a couple of 10ks last year and they went well. So I can't think of anything that I feel I'm lacking at this point. I'm excited. I think it's going to be good.
LRC: Who do you view as the favorite for the race?
It would be impossible for me to pick a favorite. If I named every woman that I think has a legitimate chance, there'd probably be like 10 names. I'm not focused on any one person. There are so many great athletes that are going to be in that race that I just need to find my way to the front and gut it out basically.
I think the race is just as competitive as the men's. It's going to be tight.
LRC: What did you think of Shalane Flanagan's 8:33?
I thought it was awesome. Shalane's a friend of mine - we actually went out together a little bit before Christmas with our husbands. We are really supportive of each other and we want to see certain records fall. I definitely toasted her that evening. She did awesome.
She's come back from so much so I was psyched to see her run so fast. It's really motivating because I know that Shalane just did something that was awesome. I mean she was right on (Meseret) Defar. How cool is that?

It's just really motivating to realize that as US athletes we can step it up and really compete with anyone. She really proved that.

(Editor's Note: We were there to watch Flanagan's run and it was very, very cool indeed. Defar was in the midst of a world-record attempt (and would actually break it a week later in Stuttgart). We jumped to our feet when Flanagan tried to pass Defar.)
LRC: I know Adam has a bunch of people to train with out in Oregon. Is there anyone for you to train with?
I just got a new training partner - Amy Yoder Begley - but she came out here with a broken ankle. We've just started doing our easy runners together. I do a lot of (easy) running with myself and I do a lot of hard running with a (male) pacer, usually a local guy, Arlen (spelling?) or else Julius Achon. Or if we are doing 1ks, the guys (in the men's group with her husband Adam) each have to take one with me.
LRC: You said you are running more than ever. What is your mileage at these days?
Well I've been resting the last couple weeks. But before that, for 6 weeks, I was averaging over 85 and I'd never even run an 85 mile week before this year (said with an embarrassed chuckle of sorts).
Last year, I added up all my miles from world cross until the end of the year and I averaged exactly 60 miles a week. But this year, with races and then high mileage weeks, I'm hoping it's going to be more like 75.
LRC: What about cross training? Do you do anything to supplement your running?
Yes. We do tons of strength type stuff. A lot of my running is done on the ultra g treadmill just to protect myself so I can build up the miles and stay healthy. For me, it's like 60 miles and being healthy is so much. I know it doesn't sound like a lot to most people but to me it's so much to be able to do that consistently. I try not to get caught up on the mileage - hearing that so and so is running 90 or 100. I just want to try to continue the consistency for me and build on that a little bit.
I guess I'm kind of different than most people because I just want to stay healthy.
LRC: How often do you train on that anti-gravity treadmill?
This year as I've been bumping up my mileage I've been doing a lot of my 2nd runs on it to protect myself.
LRC: I know you and Adam have gone to altitude to do some workouts? Where do you go to do that?
About a 4 hour drive form here is a place called Gilchrist, Oregon. What we do is drive down to Eugene and do a little shakeout run. It's then a two hour drive from Eugene. We've been going there quite a bit and doing our key workouts up there. It's not as high as Boulder. The course in Boulder is at 5250 and the track in Boulder is at 4550 or 4600. It's a little bit lower - 700 feet lower.
We've been going there quite a bit just to feel the pain at altitude because it's definitely going to factor into the race.
LRC: Don't you think it will help that you and Adam went to Colorado and are kind of used to the altitude?
The thing is we haven't lived at altitude for a long time now.
I mean when I was in college, we hosted the Big 12 cross country championships one year I was just so confident. I was like, 'I don't care how fit these people are as they won't be able to keep up with me at the altitude.' "
We don't have that (total confidence) now. We've been away for over two years now but we've done everything we could possible do to prepare.
The good news is we've trained at altitude quite a bit in our lives and we have done some racing there so we know there are certain things you might do at a sea level race that you wouldn't do in an altitude race. We know those things. I'm certainly glad I went to school in Colorado (laughs). I definitely feel more prepared.
LRC: Well it certainly seems to me that you are well prepared. You had an aweome year last year and are training way more this year. Good luck next week to both of you guys.

---
Note: When we talked to Kara Goucher, we also talked with her husband Adam. We encourage you to read our profile of Adam Goucher. We also asked Kara who would win the Superbowl. We didn't get her picks in time to put it up on our Elite Runners Super Bowl prediction contest but she did correct predict Indy. Her predicted score was 31-24 (clearly she's not a gambler as the line was Indy by 7).

'); // -->