Ethiopia Is Back on Top As Selemon Barega Is Golden in 2020 Olympic 10K Final
American Grant Fisher 5th
By LetsRun.com
July 30, 2021
TOKYO — After a 10-year drought, Ethiopia is back on top of the 10,000-meter world.
For almost two decades, Ethiopia dominated the 25-lap event; from 1993 to 2011, the country won 13 of the 14 gold medals on offer in the men's 10,000 meters, thanks largely to the heroics of Haile Gebrselassie and Kenenisa Bekele. But in the six global championships since then, Ethiopia could not win a single gold, with Mo Farah's emergence dovetailing with Gebrselassie's retirement and Bekele's move to the marathon. Ethiopia needed a new hero to emerge.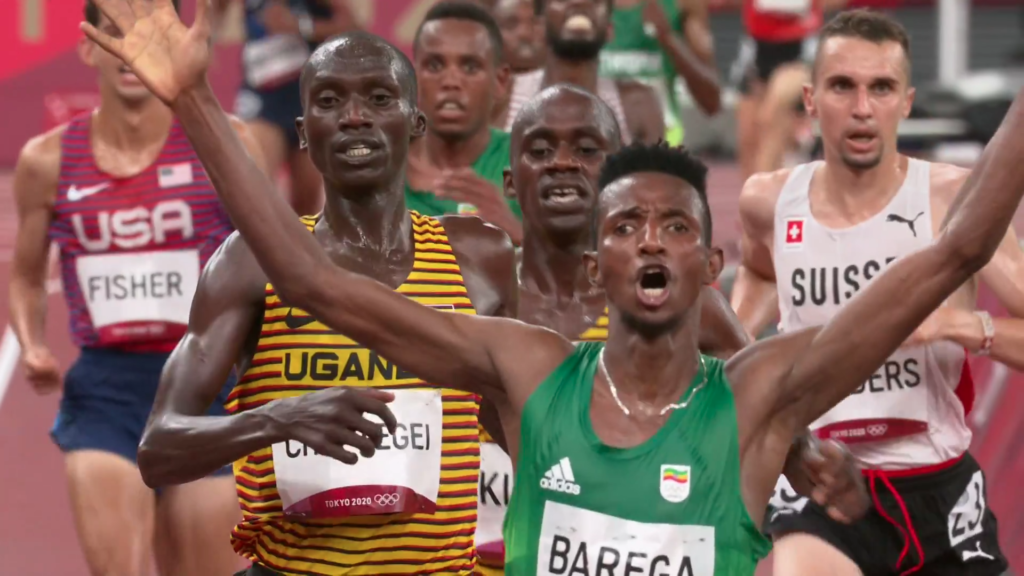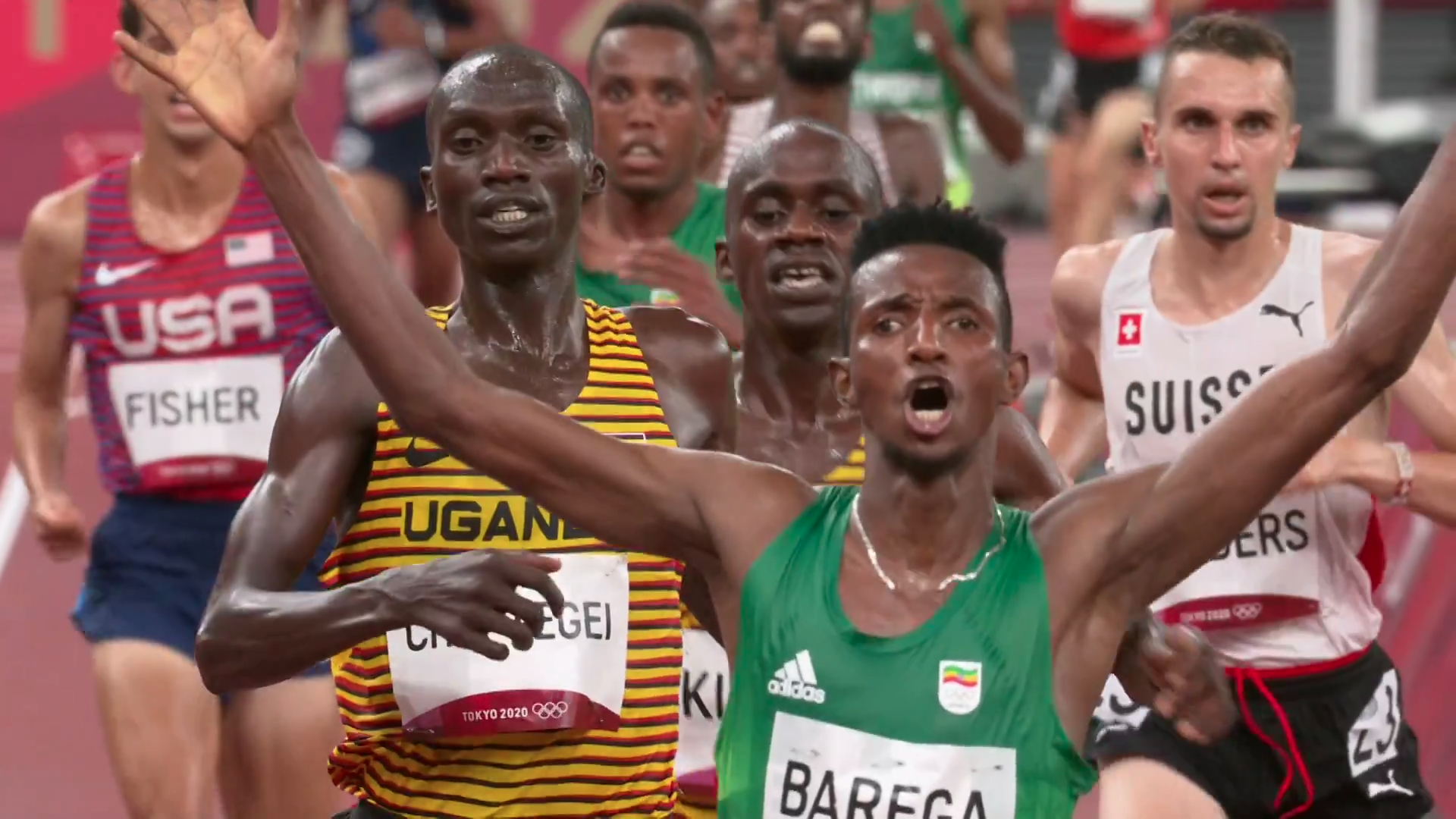 Enter Selemon Barega. Tonight, the 21-year-old joined Gebrselassie, Bekele, and Miruts Yifter in the club of Ethiopian legends to have won the Olympic 10,000-meter title, outsprinting world record holder Joshua Cheptegei and World Half Marathon champion Jacob Kiplimo of Uganda to win in 27:43.22. Brutal humidity meant that the winning time was the slowest in an Olympic final since 1992, but Barega's close was sublime as he ripped the last kilometer in 2:24.9 and last lap in 53.94 (the last 1600 leader to leader was 4:01.46). A fast-closing Cheptegei passed Kiplimo in the final straight for silver but ran out of room to catch Barega before the finish line.
Another beneficiary of the slow pace was American Grant Fisher, who ran the race of his life to take fifth in 27:46.39. 
Behind them, a number of athletes struggled in the heat, including Australia's Patrick Tiernan, who collapsed in the home straight but got up and finished 19th in 28:35.06. Americans Woody Kincaid and Joe Klecker also spoke of the difficulty of running in such conditions and wound up 15th and 16th, respectively.
The race
Article continues below player.
It was a strange affair for the first four miles of the race, as the third member of the Ugandan team, Stephen Kissa, led for the first 6k. Kissa went out hard, running the first lap in 62 seconds and opened up a gap on the field. Kissa then slowed, going through the first 1600 in 4:27, but had a 10-second lead on the rest of the field, as no one was interested in following him in the extremely humid conditions (81 degrees at start of 10,000m with 81% humidity, dew point of 73).
Barega and reigning World 10,000 bronze medallist Rhonex Kipruto of Kenya broke away from the chase pack after 2k to reel in Kissa. They did so by 3200 meters, which Kissa passed in 8:57, but Kissa surged to gap them again.
Barega was no longer interested in Kissa's game and was content to drop back into the main pack and then surprisingly let most of the pack get ahead of him as the pace was still slow. He dropped back to 14th place by 4k and 21st place by 5k. Kipruto and teammate Weldon Langat continued to lead the chase pack and kept Kissa in their sights.
Kissa hit the halfway mark in 14:08.6, as the heat and humidity had made this a tactical affair, giving nearly everyone in the field a chance, including the three Americans. 
Kipruto finally wrested the lead from Kissa after four miles, and Kissa dropped out of the race nearly immediately after. Kipruto did not accelerate much, as the pace for the fifth mile of the race remained around 67 seconds per lap.
With 3200 to go, American Joe Klecker was dropped, but the field remained large. 18 men were in contention with six laps to run, and Barega had moved back up from the back to seventh place. Cheptegei took the lead with less than five laps to run and led the field through 8400 meters in 23:41, setting the stage for a quick final 1600 (4:01.46). By this point, American Woody Kincaid had fallen off the pace.
Cheptegei and Rodgers Kwemoi of Kenya picked it up in the front, running 64.04 on the fourth-to-last lap and 63.01 for the third-to-last circuit, but the pack was still massive for an Olympic final, with 12 men in contention.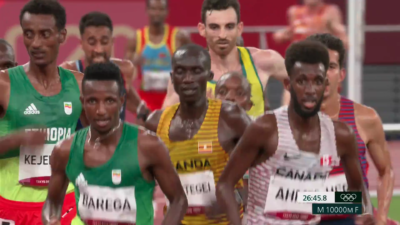 Canadian Moh Ahmed took the lead with 650 meters to run and ripped a 60.47 penultimate lap, and eight men were in contention for three medals at the bell: all three Ethiopians (Barega, Yomif Kejelcha, Berihu Aregawi), the two remaining Ugandans, Ahmed, Kwemoi, and Fisher.
Barega took the lead just before the bell with his teammates close behind. Kejelcha and Kwemoi started to fade as the group hit 300 to go, and Barega unleashed further with 250 to go. Aregawi tried to hang on and Cheptegei and Kiplimo passed Ahmed before the 200-meter mark, but they spotted Barega too much space.
Kiplimo passed Aregawi with 150 to run and Cheptegei held on to Kiplimo, but neither could bridge the gap to Barega. Cheptegei blew by Kiplimo with 75 meters to grab the silver, while Fisher passed Bowerman Track Club teammate Ahmed in the home straight to move into fifth. Aregawi held on for fourth.
Barega closed in 53.94 to take the victory, timing his kick perfectly and validating his decision to run the 100,00 this year after his silver in the 5,000 at Worlds in 2019. 
Results (Analysis below results)
Quick Take: Add Selemon Barega's name to the list of Ethiopian Olympic champions
The last time Tokyo hosted the Olympics, 57 years ago, Abebe Bikila set a world record of 2:12:11 to win the marathon by over four minutes. Bikila is the father of Ethiopian athletics, the man all Ethiopian runners look up to, so for Barega to reclaim the Olympic title for Ethiopia (they won the event every year from 1996-2008 until Mo Farah showed up) and to do it in the same city as Bikila was very special for him.
"I feel really proud," Barega said.
Barega knew coming in that a slower race would favor him as the Ugandans Cheptegei and Kiplimo are known for their strength — something Barega learned first-hand and World XC in 2019 when Cheptegei and Kiplimo went 1-2 and Barega finished a well-beaten 5th, over 30 seconds back. As a result, he knew that his best strategy to win tonight was to hope the race came down to a kick — and that's exactly what happened, as eight guys were still together at the bell.
Still only 21 years old officially, Barega should be a force for years to come. But if tonight's race was anything to go off, there should be some good wars with Cheptegei and Kiplimo to come.
After the race, Barega was asked whether he would run the 5k in Tokyo. That doesn't seem possible as he's not entered in the event, but he said if the Ethiopian federation and World Athletics somehow allowed him to run, he would do it.
Quick Take: The world record holder Joshau Cheptegei made history for Uganda tonight but….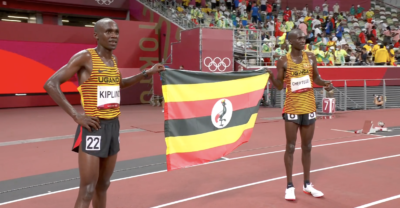 Prior to tonight, Uganda had never won an Olympic distance medal on the track (Stephen Kiprotich took marathon gold in 2012, John Akii-Bua won 400m hurdle gold in 1972) so Cheptegei and Kiplimo made history. Their reaction to that history was stark.
Kiplimo was over the moon happy with his bronze, calling it "something amazing" and saying he was "so very excited."
Cheptegei, however, had mixed feelings.

"I have really two feelings. One is that I'm very happy to have won an Olympic silver medal today, and I would say that this is really special for me, as, as a world record holder and as world champion, but the other side of me is really you know not satisfied. I came here expecting to win the gold, but we never know how someone has prepared and just have to be respectful and you know, be thankful to God that you have [made] the podium," said Cheptegei.
Quick Take: Cheptegei said a tendon injury and the humidity made him hesitant to go with the hot early pace
Distance aficionados were likely surprised when Cheptegei's teammate and training partner Stephen Kissa took this race out hard but Joshua Cheptegei didn't go with it. In fact, Cheptegei went out in the back on the pack. Kissa said the pre-race plan was for him to run 2:40 per kilometer (26:40 pace) and for Kiplimo and Cheptegei to follow as a fast race would boost their chances of gold.
When we asked Cheptegei about the pace he initially didn't act like there was much of a plan to work together and said that he told Kissa to "enter the race and you know show them what he's made of." When pressed, Cheptegei said he realized in the first 1k that it was simply way too humid and too hot to run fast.
"In the first 1k, I saw, it was really too humid and too hot and I was saying that I need to reserve my energy for the last lap.

"I realized that, today, we weren't gonna run fast because it was really difficult and humid you know, tough."
Cheptegei said he's been struggling with a tendon injury (he pointed towards his right heel — so maybe Achilles) since April that made him nervous as well.
"My plan was just to, you know, see the last three laps — the last 2k — and try to push, but still, I was not really feeling comfortable with my tendon and I was just saying that maybe I need just consider health [rather] than break myself and [go for it]," said Cheptegei.
"This year was really a very difficult year for me in terms of racing. It's the year that I have lost all the focus, all the belief, [plus there was] a lot of pressure and I was losing out, you know, in every moment, in every moment I was losing out.
"I was feeling that I just need to follow the pace, not to attack, because if I attack early and I have a problem that means, I'll even end up mesmerizing (Editor's note: He said mesmerizing we don't know really what he meant by that word). And also I will say that if I keep it to the last sprint, I might even lose it. So it was really difficult for me, and different."
Quick Take: Grant Fisher wanted to find out how he ranked among the world's best. He found out tonight.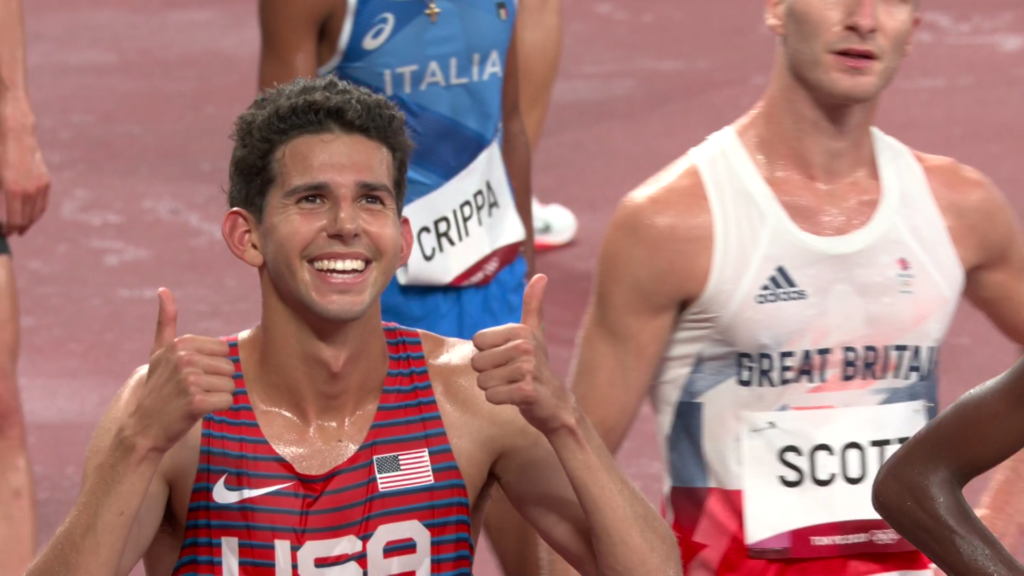 Grant Fisher has been a professional runner for two years, but until tonight he had not had the opportunity to compete in the best in the world as every one of his races had come on US soil. As a result, tonight's race offered him the opportunity to answer a question he had been pondering for some time: how does he stack up against the world's best distance runners?
Very well, as it turns out.
Fisher, running in his first senior global final, took fifth, which puts him in exclusive company among Americans. Since Billy Mills won 10k gold in Tokyo in 1964, just three Americans have finished in the top five in this event: Frank Shorter in 1972, Galen Rupp in 2012 and 2016, and now Fisher. Not bad for a guy who had never even run a 10k before this year.
The result also exceeded the expectations of the Fisher family. A source told LetsRun.com that ahead of the Olympic Trials 5k, Fisher's dad was nervous even though Fisher was already an Olympian in the 10k — he desperately wanted Fisher to make the 5k team as he believed Fisher had no chance in the 10k.
Fisher was surprised to hear that but after his result tonight, expectations in the 5k may have just gone up. What would he say to dad now?
"I'll say hopefully I don't let you down in the 5,000," Fisher said.
Quick Take: First-time Olympians Joe Klecker and Woody Kincaid would have liked to have finished higher but they fought till the very end and were proud to represent the USA
After the race, Kincaid said he was happy with the way competed and  called the humid conditions "next-level heat" which caused him to yank off his trademark arm sleeves mid-race.
Klecker, who said he came in thinking anything worse than 14th would be disappointing but finished 16th, had similar sentiments.
"Like Woody said, I feel like I never gave up the whole time. I cared about every single person I passed. I cared about every place today. There was never a point in the race where I just threw in the towel — that would just be kind of disrespectful to the athletes you know who were so close to making this team so I felt a lot of motivation to keep pushing just to represent my country the best I can," said Klecker.
Quick Take: Yomif Kejelcha went through the mixed zone in a wheelchair
We asked him what was wrong and he briefly paused to point to the left ball of his foot, making us wonder if he has a metatarsal injury.
Talk about the day 1 action on the world-famous LetsRun.com fan forum/messageboard.