Katelyn Tuohy Three-Peats in Dramatic Fashion as Nico Young Dominates to Lead Newbury Park to NXN Title
By LetsRun.com
December 7, 2019
With 100 meters remaining in the final cross country race of her unparalleled high school career, Katelyn Tuohy had company. 
This was weird. 
Tuohy, a senior at North Rockland (N.Y.) High School, had not lost a race since her freshman year. She had won the last two Nike Cross Nationals titles by hefty margins (40.3 in 2017, 17.0 in 2018), yet as she approached the finish line at 2019 NXN on Saturday morning, she was trailed by senior Taylor Ewert of Ohio and junior Sydney Thorvaldson of Wyoming.
For the first time in three years, Tuohy was in danger of losing a race. And she responded like a champion. Though Ewert and Thorvaldson managed to overcome almost all of a 6.7-second gap at two miles, Tuohy never allowed herself to get caught and, digging deep, held them off to win in a tight finish, Tuohy crossing in 17:18.4 to Ewert's 17:19.1 and Thorvaldson's 17:19.4. It was tight — very tight — but in the end, one thing was true: Tuohy was a national champion once again, the first athlete to win three NXN titles.
The race many expected to see from Tuohy — a dominant front-running effort — instead came from Nico Young in the boys' race as the senior from Newbury Park, Calif., destroyed the strongest field in NXN history, seizing the lead almost from the gun and running unchallenged to win by 13.8 seconds in 14:52.3, a Glendoveer Golf Course record and the fastest time in NXN's 16-year history.
Young's win was just the start of a great day for Newbury Park High School as he led the Panthers to the team title, edging California rivals Great Oak (competing as Temecula), 128-132. Young joined Sean McNamara (York, 2004) and Chris Derrick (Neuqua Valley, 2007) as the only boys to win the individual and team titles at NXN. Loudoun Valley (Va.), which was seeking the first boys' three-peat in NXN history, finished 10th.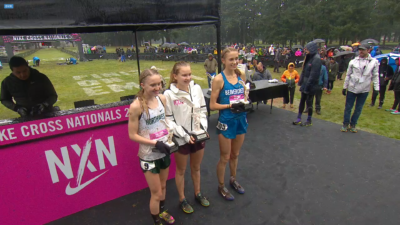 The girls' team title went to Saratoga Springs (N.Y.), competing as Kinetic, which won the inaugural NXN (then NTN) in 2004 and scored a convincing win today, scoring 78 points to defeat defending champion Summit (Ore.), which tallied 160. Saratoga was defeated by perennial powerhouse Fayetteville-Manlius, the 11-time national champs, at both the NY state and NXN regional meets, but turned the tables on their rivals on Saturday as F-M ran an uncharacteristically poor race and finished just 7th — their worst showing in 14 NXN appearances.
*Full Results *Full Race Replay
Quick Take: Nico Young was super impressive
It will be interesting to see how big Nico Young's Tully speed rating is for his performance today, but to destroy such a quality field and set a course record on a wet day is super impressive. Since NXN started accepting individual qualifiers in 2008, only one time has a boy won the race by more than 10 seconds. Futsum Zienasellassie, who went on to star at NAU, won by 24 seconds in 2011.
Article continues below player.
While predicting future greatness for any runner off of high school exploits is always a dicey proposition, if you asked us who do we think is the bigger prospect moving forward, Young or Tuohy, our answer is Young. 
Yes, Tuohy has won three NXN titles in a row. And yes, she showed great courage in rallying for the win today when Thorvaldson pulled almost even with her with roughly 200 meters remaining. But the reality is, according to Tully speed ratings, she's not as good this year as in 2018 and her margin of victory at NXN each year has gotten smaller and smaller. In 2017, she won by 40.3 seconds. Last year, she won by 17.0 and this year she won by 0.69.
Update: The Tully Speed ratings for this year's race are out and Tully got a 163. In 2018, she won with a 167. In 2017, she won with a 172. Remember, each point is worth three seconds so that means that according to the Tully Speed Ratings, the Tuohy of 2017 would have beaten the Tuohy of 2019 by 27 seconds.
MB: Who is the better pro/Olympic prospect? Nico Young or Katelyn Tuohy? I think you've gotta say the answer is…
Quick Take: Katelyn Tuohy showed the heart of a champion today and deserves a ton of credit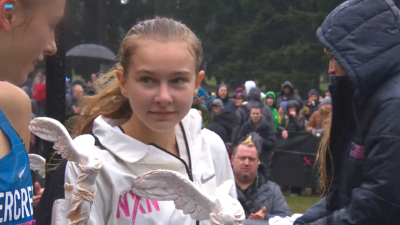 The top three women were all worthy of praise today. Usually, when Tuohy opens up a gap, it's game over, but Ewert and Thorvaldson worked together to reel her in over the final mile and showed no fear in attacking the greatest HS girls' cross country runner of all time.
And when someone like Tuohy, who is used to going totally unchallenged — even at NXN — finally gets caught in a race, it's always fascinating to see how they respond. Tuohy responded like a true champion, fighting off Ewert and Thorvaldson over the final straight to retain her title and complete her third consecutive undefeated high school XC season.
"This year I was really stressed out before the race and it kind of affected how I felt during the race," Tuohy said on the broadcast after the race. "But I'm just really happy that I was able to mentally tough it out the last 200 meters because I was really hurting."
Tuohy's season isn't over yet, though. Next week, she's headed to the USATF Club XC champs at Lehigh University, where she'll face a field of pros and post-collegians.
MB: Katelyn Tuohy almost gets beat!?!?!? But rallies to 3-peat in EPIC race. –
Quick Take: Newbury Park's studs carried them to the title today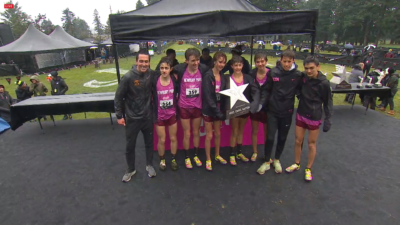 Newbury Park and Great Oak were separated by just four points today, so it's hard to single out one area that made the difference — in a race that close, every runner is so important (though NP's Colin Sahlman beating Great Oak's Gabe Abbes by 0.1 was particularly crucial). But it was interesting to see the scoring breakdown. Newbury Park had two terrific low sticks in Young and Jace Aschbrenner, who finished 1st and 3rd in the team scoring. In fact, NP had three men in before Great Oak's #1 — if this was a dual meet, they would have clinched it right there. But Great Oak, with a tiny 10.6-second spread, had the next five finishers, making for a very tight finish between the two California schools. 
How close was it? If Great Oak's top three had each run one second faster, they would have been your 2019 NXN champs.
Here's a look at each school's five scorers, with overall place on the left and team points in parentheses. 
1. Nico Young, Newbury Park 14:52.3 (1)
18. Jace Aschbrenner, Newbury Park 15:29.1 (3)
53. Colin Sahlman, Newbury Park 15:51.9 (18)
54. Gabe Abbes, Great Oak 15:52.0 (19)
59. Aric Reza, Great Oak 15:54.8 (24)
62. John Garcia, Great Oak 15:56.0 (27)
63. Leandro Candray, Great Oak 15:58.3 (28)
72. Mateo Joseph, Great Oak 16:02.5 (34)
95. Nick Goldstein, Newbury Park 16:16.2 (51)
100. Daniel Appleford, Newbury Park 16:17.8 (55)
One more thing about those numbers. It's always interested us that in cross country, only people in the team race count in the team scoring. Imagine if the rule was, "Everyone counts in the race. You score whatever place you finish." If that was the case, then the score would have been Newbury Park 267, Great Oak 310.
Quick Take: What a turnaround for Saratoga, who timed their peak perfectly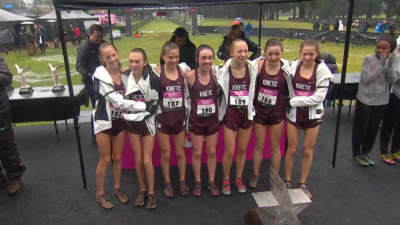 Saratoga has had one of the top programs in the country for some time, but they've been overshadowed by their in-state rivals Fayetteville-Manlius, which claimed 11 national titles from 2006-2017. That looked to be the case this year as well, as F-M edged Saratoga at states and regionals this year, but Saratoga responded by running their best race of the year, scoring just 78 points to win easily.
F-M and Saratoga have now combined for the 12 lowest scores in NXN history.
Lowest scores, NXN girls' race
2010 F-M 27 points
2016 F-M 41 points
2004 Saratoga 51 points
2012 F-M 54 points
2015 F-M 55 points
2011 F-M 60 points
2008 F-M 66 points
2014 F-M 70 points
2009 F-M 74 points
2019 Saratoga 78 points
2007 F-M 83 points
2011 Saratoga 84 points
Quick Take: Saratoga's team is extremely young
Check out the grades of Saratoga's top seven. None are older than a sophomore.
14. Ella Kurto, sophomore
35. McKinley Wheeler, freshman
38. Mackenzie Hart, freshman
39. Sheridan Wheeler, freshman
82. Emily Bush, 8th grade
131. Catherine Mongan, sophomore
162. Anya Belisle, 8th grade
Be a fan. Talk about the meet on our messageboard.
Pre-Race Chatter: