2019 Worlds Men's 1500 Preview: Can Timothy Cheruiyot Complete Near-Perfect Two-Year Run with His First Gold Medal?
By Jonathan Gault
October 2, 2019
If the 2019 World Championship men's 1500 final was a one-off rabbitted race, the IAAF may as well hand out the gold medal right now. Over the past two years, Timothy Cheruiyot has been all but untouchable in those kind of races: 11 wins from 12 Diamond League starts, with the sole defeat coming in his first race back from injury in May 2019.
But the World Championship final is beautiful precisely because it is not a one-off rabbitted race. Just qualifying for the final is a brutal test of endurance; when the 12 men line up for this year's edition on October 6, they'll be racing their third 1500 in four days. And when the gun goes off, there will be no pacemakers and no script. You can run 3:50 and still become the Olympic champion.
The man who did that, Matthew Centrowitz, is a perfect example of the differences between racing on the Diamond League circuit and racing at the major championships. Centrowitz has never won a Diamond League race, yet he has won the Olympics. He has finished in the top three of a Diamond League points race just three times in his career, yet he has won three World Championship medals (including a gold at 2016 World Indoors). The traits vital to success in championship 1500-meter running — good positioning, good decision-making, the strength to make it through the rounds — represent Centrowitz's stock-in-trade.
By contrast, Cheruiyot, for all his brilliance on the circuit, has yet to claim the sport's biggest prize: a gold medal. He has earned silvers at the most recent African, Commonwealth, and World champs, each time beaten by his training partner Elijah Manangoi, who will not be running in this year's World Champs in Doha due to injury.
That clash of styles is one of the many reasons that the men's 1500, despite Cheruiyot's utter domination of the event in 2019, remains must-watch theater. A few others: brothers Jakob and Filip Ingebrigtsen trying to land on the podium together; the rise of 18-year-old George Manangoi, brother of reigning world champ Elijah; and American champ Craig Engels, who will be rightfully dreaming of a medal.
Article continues below player.
Let's preview it all below.
How to watch: TV/streaming information *Full 2019 Worlds schedule/entries/results
Other LRC event previews: W 800 * M 100 * W marathon * W steeple * M 5,000 * W 10,000 * M 800 * M steeple *Casual fan's guide
LRC $200,019 prediction contest * LRC 2019 Worlds coverage hub
Race times
Prelims: Thursday, October 3, 3:00 p.m. ET
Semis: Friday, October 4, 1:05 p.m. ET
Final: Sunday, October 6, 12:40 p.m. ET

2019's fastest performers (among men entered)
1. Timothy Cheruiyot, Kenya 3:28.77
2. Jakob Ingebrigtsen, Norway 3:30.16
3. Ronald Musagala, Uganda 3:30.58
4. Ayanleh Souleiman, Djibouti 3:30.66
5. Filip Ingebrigtsen, Norway 3:30.82
Will Timothy Cheruiyot Stick to the Plan?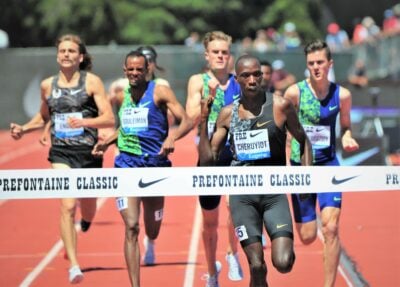 Any discussion of the men's 1500 has to start with Cheruiyot. Cheruiyot has won over and over again on the circuit this year, and it's clear to anyone who has watched him that he feels most comfortable at the front of the pack. His preferred strategy, which he employed in a world-leading 3:28.77 win in Lausanne and again in the Diamond League final in Brussels, is to push hard early in the race and open up a gap by the bell, but he's won in a variety of ways in 2019.
At Pre in June, Cheruiyot was content to keep the pace fairly conservative (for him) until blasting away from the field with a 26.3 final 200 to win comfortably. In Monaco in July, Cheruiyot was actually behind Jakob Ingebrigtsen at the bell, but blew him away over the last 300.
After that race, we wrote this in the LetsRun recap:
| | |
| --- | --- |
| Overall | |
| Comfort | |
| Cushioning | |
| Durability | |
| Appearance | |
| Value | |
We'll remember it as a textbook way for Cheruiyot to run Worlds. Run your first two laps in 55.5. If no one comes with you, then keep the gap and just time trial. If others come with you, or if you are feeling a little vulnerable, then slow it down, let them catch up, and then blow them away.
Two months later, that remains Cheruiyot's optimum strategy. He's a natural front-runner, so why would he run any differently at Worlds?
Those arguing "that won't work, it's a World Championship final" should revisit the 2017 World Championship final in London. In that race, Cheruiyot strung out the field with a huge move one lap in, splitting 1:52.09 for the 800 from 400 to 1200 meters. Cheruiyot did get beat in that race by his training partner Elijah Manangoi (who was supposed to take it out hard on the first lap but got cold feet) but finished comfortably ahead of everyone else. Trying to break everyone from the front in the 1500 is a risky strategy unless you're way better than everyone else. But Cheruiyot has repeatedly shown that he is way better than everyone else, and now the one guy who has stood in his way in championship races, Manangoi, is on the sideline.
The two biggest concerns for Cheruiyot:
1. It's been a long season
Cheruiyot ran his first race this year on April 26, and he's been operating at a high level for almost five months now. It's hard for a distance runner to carry that form all the way through the season; can Cheruiyot stay strong all the way through the first week of October? The good news for Cheruiyot is that he hasn't shown any signs of slowing — he won the DL final by a massive 1.40 seconds and his most recent race, the Kenyan trials, by 1.70.
2. The competition is deeper in 2019
Aside from Cheruiyot, no one in this field is as good as Manangoi was in 2017. But the 1500 has been a far deeper event in 2019 than two years ago. In 2017, just three men broke 3:31 (and one of them, Ronald Kwemoi, wasn't healthy at Worlds and didn't make the final) and just five broke 3:32. This year, six guys broke 3:31 (one of them, Charlie Da'Vall Grice, isn't running Worlds) and 13 broke 3:32 — 10 of them in Paris alone.
It will take an incredible effort to hang with Cheruiyot, but if one of those men is strong enough to do it, they could use him as a de facto pacemaker for the first 1400 before pulling away, a la Manangoi in 2017.
Contenders for the Throne
Behind Cheruiyot, 19-year old Norwegian Jakob Ingebrigtsen has been the best 1500 man of 2019. He has the #2 time in the world this year, was second in Lausanne and Monaco, and a clear second in the DL final, 1.71 seconds ahead of third. He's also completely fearless, as shown by his willingness to take the lead from Cheruiyot and Monaco and, more recently, his bold attempt to take the 5,000 final in Doha from 300 out. Though he lost both times, he showed his quality — perhaps he could well have medalled in the 5,000 had he played it a bit more conservatively.
His brother Filip must be taken seriously as well. The bronze medalist at the 2017 Worlds, he was third behind Jakob at the DL final and beat Jakob in Paris (though Jakob owns a commanding 3-1 edge over his older brother so far in the 2019 outdoor season). Filip did drop out of the 5k final in Doha at the 4500-meter mark, though the aim there was likely to preserve himself for the 1500 once his 5k medal chances dried up (although it should be noted he was still ahead of the eventual winner when he dropped out). We'll see how he and Jakob recover (there are two rest days between the 5k final and 1500 prelims).
There are other contenders who don't have the last name Ingebrigtsen. Ronald Musagala has been on fire all year, breaking or tying the Ugandan record three times and earning wins in Birmingham and Paris (he was fourth in the DL final). Two-time Olympic medalist Taoufik Makhloufi has returned from…well, wherever he spent the last two years and appears to resemble some semblance of his old form, running SBs of 1:45 and 3:31. And don't discount George Manangoi. He finished no higher than 6th in his three DL races this year, but he owns a 3:31 pb and has a ton of championship success at lower tiers — World U18 gold in 2017, World U20 gold in 2018 (over Jakob Ingebrigtsen) and African Games gold in 2019. Poland's Marcin Lewandowski, the World Indoor silver medalist and Euro Indoor champ (also over Jakob Ingebrigtsen) could be dangerous in a tactical race given his 800-meter background.
Will an American Medal?
The US has two genuine medal contenders in this race in Craig Engels and Matthew Centrowitz (sorry, Ben Blankenship). Engels, 25, has put together a career year, with PRs in the 800 (1:44) and 1500 (3:34) and has finished 5th at Pre, 3rd in the non-DL 1500 in Birmingham, and 5th in the Diamond League final in Brussels.
The one thing Engels has to fix from Brussels is to be in closer contact to the other contenders at the bell. At both the Pre Classic and the DL final, Engels moved up very well over the final lap — from 11th to 5th at Pre and from 9th to 5th in Brussels. But it's easier to move up when you hang back during the first three laps. The fact is, if it's a fast race, it's going to be very difficult to overhaul the top three guys if Engels is ceding ground on the last lap.
Consider Brussels. Cheruiyot and Jakob Ingebrigtsen were far better than Engels, but Engels' last lap of 56.8 was almost a full second faster than third placer Filip Ingebrigtsen (57.7) and fifth placer Ronald Musagala (57.6). The problem? He was 1.6 and 0.9 of a second behind them, respectively, at the bell. Going just a little harder during the race itself is a risk, as it obviously makes it harder to close fast, but it may be a risk Engels will have to take to earn a medal. He certainly has the talent to get one.
We know Centrowitz has the talent too. This will be Centrowitz's seventh global championship outdoors, and his past results are stellar. Three times, he has come away with a medal. Once, he has missed a medal by .04. Once, he was injured and went out in the first round. That leaves only one year when Centrowitz came to Worlds fully healthy and wasn't close to medalling. That was 2015, and it also happened to be the only time Centro had to handle three races in four days (the schedule was the same in 2017, but Centro wasn't around for the last two rounds).
Ironically, Centrowitz had the best regular season of his career in 2015, narrowly missing victories in the Eugene and London Diamond Leagues, but he was only 8th at Worlds. A student of the sport, Centro noticed that the bronze medalist in that race, Abdelaati Iguider, ran 12:59 for 5,000 meters two weeks later — something Centrowitz wasn't close to capable of at the time.
So this time around, he asked coach Jerry Schumacher to train him like a 5,000 runner after USAs. So far, so good: Centro slashed 20 seconds off his pb to run 13:00 in Beaverton on September 10, his only race since USAs. That bodes well for Worlds. While Centro can kick with the best of them (see the 2016 Olympic final, when he closed in 50.6), he has never been a pure speed guy. His 800 PR is 1:44.62, which is good, but slower than other recent global champs Elijah Manangoi (1:44.15), Asbel Kiprop (1:43.15), and Taoufik Makhloufi (1:42.61). His greatest assets are his strength and his tactical ability, and the former certainly appears to be on point right now.
If Cheruiyot tries to run 3:32 from the front, Centro's speed will be tested, but he did manage to run 3:35 in London last year just two days after clocking 3:31 in Monaco. And Centro is fitter now than he was then.
JG prediction: 1. Cheruiyot 2. Centrowitz 3. Jakob Ingebrigtsen
Anything can happen in a championship final, but Cheruiyot has been so much better than everyone else this year that I believe in his ability to kick away from everyone before the final 200 meters. As for silver, Jakob Ingebrigtsen has been the clear #2 in the world this year, with runner-up finishes in Lausanne, Monaco, and the DL final, and he owns a 5-0 career record vs. Centrowitz. But Centrowitz won't have two rounds of the 5,000 in his legs, and we haven't seen the best of Centro yet in 2019. He'll bring out his best for the final and earn his third World Championship medal.
Rojo's betting guide: If you like longshots, there are a few compelling bets here. How about Centrowitz at +2000 for gold or Makhloufi at +4000? Centrowitz at +275 to medal though seems to be the bet of the day, however, as the implied odds on that are just 26.7%.