2019 Worlds Men's 800 Preview: Donavan Brazier Chases America's First Gold Since Dave Wottle in 1972
By Jonathan Gault
September 25, 2019
In 1972, a 22-year-old Ohioan in a painter's cap ran the most famous negative split in history to win the Olympic 800-meter title. Forty-seven years after that day in Munich, Dave Wottle remains the most recent American to win a global outdoor title at 800 meters.
Less than one week from now, that could change. Donavan Brazier already channeled Wottle once this year, coming from way back to win the Diamond League title in Zurich. Now he'll head to Worlds with the best chance of an American victory in this event for decades.
Of course, he'll have competition, none more formidable than Botswana's Nijel Amos, who in July became the first man to run 1:41 since the legendary 2012 Olympic final, in which Amos claimed a silver medal. Amos has been among the world's best 800 runners almost every year since, but he has finished no better than 5th in a global final during that span. Can he erase those demons in Doha?
Article continues below player.
Brazier-Amos is the headline showdown, but there's plenty more to discuss in what is traditionally one of the most unpredictable events at Worlds.
How to watch: TV/streaming information *Full 2019 Worlds schedule/entries/results
Other LRC event previews: W 800 * M 100 * W marathon * W steeple * M 5,000 * W 10,000
LRC $200,019 prediction contest * LRC 2019 Worlds coverage hub
Race times
Prelims: Saturday, September 28, 10:15 a.m. ET
Semis: Sunday, September 29, 2:55 p.m. ET
Final: Monday, October 1, 3:10 p.m. ET

2019's fastest performers (among men entered)
1. Nijel Amos, Botswana 1:41.89
2. Ferguson Rotich, Kenya 1:42.54
3. Donavan Brazier, USA 1:42.70
4. Brandon McBride, Canada 1:43.51
5. Amel Tuka, Bosnia & Herzegovina 1:43.62
The Rumble in Doha Bay
So far, Nijel Amos and Donavan Brazier have been the two best 800-meter runners of 2019. Amos is the world leader; Brazier is the Diamond League champion. Amos has three DL wins; Brazier has two. Amos has lost two races — both of which were won by Brazier; Brazier has lost one race — which was won by Amos. Since Brazier is a Muhammad Ali fan, you could almost liken their clash in Doha to a heavyweight fight.
The difficulty in promoting this race as such is that track & field has these things called qualifying rounds, and they can be rather tricky, especially in the 800. Both Amos and Brazier know from experience: Amos missed out on the final at Worlds in 2015 and the Olympics in 2016, while Brazier has yet to make a global final, going home in the semis at the 2017 Worlds and 2018 World Indoors. The cut from 24 athletes to 8 from the semifinals to final may be the toughest to survive in any event; there's no guarantee that the Amos-Brazier matchup even materializes in Doha.
But, assuming it does, who should be favored? Brazier won the most recent — and most important — meeting, at the DL final in Zurich on August 29. But simple results don't tell the entire story of that race. Yes, Brazier ran a perfectly-measured race, splitting 50.8-51.9 to come within .10 of Johnny Gray's 1:42.60 American record. It showed just how far Brazier — still only 22 years old — has progressed as a racer in 2019. He knows his body and has the confidence to race from different positions in the pack, trusting himself to make the right move at the right time. It's a far cry from the precocious teenager who bombed out of the 2016 Olympic Trials after setting the collegiate record as a Texas A&M freshman.
And yet, as impressive as Brazier was in Zurich, he likely only won the race because Amos went out too fast. Amos ran his first 400 in Zurich in a ridiculous 48.4 — among the fastest first laps ever recorded in an 800. That proved to be too much, as Amos faded to 54.6 for his second lap and wound up second in 1:42.98.
You can look at that result and say that Brazier was the better runner on the night because he won the race. But in terms of who should be favored for Worlds…well, Amos went out suicidally fast and still managed to run 1:42.98. He beat six of the other seven guys in the field, and Brazier only caught him at the very end of the race. Considering Amos ran 1:41 earlier this year in Monaco, it's not a stretch to think that if he had just gone out a little more conservatively, he would have run 1:42-low and won in Zurich.
Of course, pacing yourself correctly is part of the job, but who's to say that Amos' 48.4 in Zurich was a mistake? Perhaps he wanted to take a shot at the world record and thought he needed to go out faster than he did in Monaco (48.9). Yes, he cost himself some money by not winning the DL, but he also found his limit. Unless he is colossally stupid, he won't go out faster than 48.9 in Doha (and even going out that fast could be hard to do without a pacemaker).
All of this is a long-winded way of saying that Amos seemed to be fitter than Brazier than Zurich, even if the results said otherwise.
While Amos ran from the front in Monaco and Zurich, he's not solely a front-runner — he posted wins in Doha and Rabat earlier this year by coming from behind. But if he truly is the fittest man in the field, front-running may be his best bet at Worlds, especially given his checkered championship history. Why leave things to chance in the pack if you can just run away from everyone?
***
On paper, Amos and Brazier should go 1-2 in some order, but it's rare for the two favorites to do that in a World Championship final. There are around half a dozen other guys who could find themselves among the medals and perhaps even steal the gold. Let's break them down into two sections.
Guys Who Have Never Medalled at a Worlds/Olympics Before
Canada's Brandon McBride is at the front of this line. The 2014 NCAA champ at Mississippi State, he's been great on the circuit this year, with his best two performances coming in his last two races: a 1:43.78 win in Paris and a 1:43.51 3rd-place showing in Zurich. Canada's other entrant, Marco Arop, isn't as big of a threat, but is at least worth mentioning after he ran a big PR of 1:44.25 to win the Pan Am title in August. Arop didn't look 100% at the end of the collegiate season for Mississippi State, but he seemed rejuvenated at Pan Ams, and if he carries that form into Doha, he could make the final.
Kenya's squad, as usual, is strong. Emmanuel Korir (1:42.05 pb) was almost unbeatable last year, but was involved in a nasty car accident earlier this summer and hasn't looked quite the same runner in 2019. Korir ran a season's best for 4th at the DL final, but he hasn't won a race all year and was only 2nd at the Kenyan trials. Proceed with caution. Likewise, Ferguson Rotich looked great by running 1:42.54 in Monaco and winning London in 1:43.14, but he was only 7th in the DL final and 3rd at the Kenyan trials. Rotich also has a questionable championship history. He's shown he can make finals, but in seven appearances at international champs (3 Worlds, 2 African Champs, 1 Olympics, 1 Commonwealth Games), he has zero medals.
Ngeno Kipngetich was the surprise winner of the Kenyan trials in a pb of 1:44.57, and little is known about him considering he's 19 years old and has never run a DL race. But he's put together some impressive age-group achievements (2018 World U20 silver, 2019 African U20 champ) and winning the Kenyan trials automatically makes you a medal contender.
Wesley Vazquez of Puerto Rico has had a career year, running consistently in the 1:44s, and could make an impact, especially through the rounds, because he has a proclivity for going out hard.
Can They Medal Again?
Poland's Adam Kszczot doesn't post the most impressive results in the regular season, but he always brings it at the championships. Check out his record since the start of 2014:
2014 World Indoors: Silver
2014 Euro Outdoors: Gold
2015 World Outdoors: Silver
2016 Euro Outdoors: Gold
2016 Olympics: 3rd in his semi, behind eventual medalists David Rudisha and Clayton Murphy. Missed final by .05.
2017 Euro Indoors: Gold
2017 World Outdoors: Silver
2018 World Indoors: Gold
2018 Euro Outdoors: Gold
Quite simply, the man is a brilliant tactical runner. He knows how to navigate the rounds and when to make his move in finals, and though he's starting to get up there in age a little (he turned 30 earlier this month), his veteran savvy should compensate for any declining leg speed.
Then there's American Clayton Murphy. The 2016 Olympic bronze medalist hasn't had a signature performance in 2019, but he hasn't had a bad race either, finishing in the top five in all five of his Diamond League appearances (he was 5th in the final). He hasn't shown anything this year to suggest he's capable of gold, but he's coming off a season's best 1:43.94 in Zurich and should be in medal contention.
Bosnia & Herzegovina's Amel Tuka looks to be back to close to his 2015 medal form and beat Kszczot in their most recent meeting at The Match on September 10. Ayanleh Souleiman earned bronze in this event in 2013, but another medal in Doha would be a surprise. He's only run one 800 all year, and was just 7th in the DL 1500 final in Brussels.
Other Americans
The US gets four entries thanks to Brazier's win in the DL final, so Bryce Hoppel and Brannon Kidder will also race in Doha. Hoppel, the NCAA indoor/outdoor champ at Kansas now running professionally for adidas, was terrific early in the year, clocking a pb of 1:44.41 to win NCAAs in June. He then made the US team, but looked tired in placing 4th at the Pan Am Games. It would be a lot to ask for him to even make the final in Doha in what has been a very long season for the 22-year-old, but he has a bright future.
Kidder of the Brooks Beasts is a little lucky to be on the team considering he was only 6th at USAs (neither 4th placer Isaiah Harris nor 5th placer Isaiah Jewett had the IAAF standard at the time, though Harris subsequently got it). Kidder has never broken 1:45 and was only 5th in his most recent race at The Match; just making it out of the semis in Doha would be an accomplishment.
JG prediction: 1. Amos 2. Brazier 3. McBride
Picking an 800 is always something of a crapshoot. Pierre-Ambroise Bosse, whom I haven't even mentioned in this preview to this point because he hasn't done anything notable this year, is the defending champ, and Worlds was the only race he won in 2017. There's a decent chance that of the three guys I selected to medal, at least one of them doesn't even make the final.
But based on what's happened so far in 2019, Amos and Brazier have separated themselves as the top two, so I'm picking them for gold and silver. Amos, with his two career sub-1:42s, has shown himself to have the higher ceiling, so he grabs the gold.
You may as well draw a name out of a hat for third, but I'm going with McBride. If Amos is in the final, I expect him to make it fast, and McBride is well-equipped to handle a fast pace. If the final ends up going slow, as the last two World Championship finals have, then I like Kszczot to make it onto the podium again.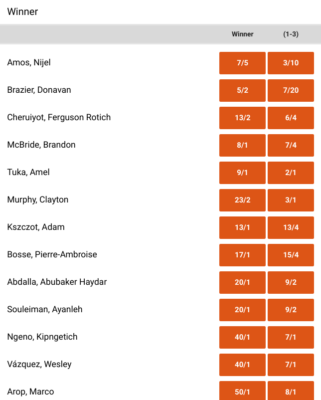 Betting advice: Brazier to win at 5/2 isn't a bad bet, but the best value may be a medal bet, either Kszczot at 13/4 or Kipngetich Ngeno. Getting the winner of the Kenyan trials to medal at 7/1 is pretty appetizing.