Matthew Centrowitz Goes Wire-To-Wire To Win USA's First Men's 1500m Gold In 108 Years
by LetsRun.com
August 20, 2016
RIO DE JANEIRO – American Matthew Centrowitz used tactical brilliance and a 50.6 last lap to earn America's first gold medal in the men's 1500 in since 1908. Defending Olympic champion Taoufik Makhloufi of Algeria got the silver just as he did earlier in these Games in the 800 and New Zealand's Nick Willis got his second Olympic medal in third.
Three-time World champ and 2008 Olympic champ Asbel Kiprop, the man who is regarded as the world's best miler, didn't medal as he was just sixth. Horrible tactics cost Kiprop as he ran much of the early parts of the race in the back of the pack. He made two different big moves to move up into good position – one just before two laps remained and one just before the bell but yet at 1200 found himself in just 7th position. On the backstretch, he made a third big move to get on Centrowitz's shoulder with 200 left but Kiprop was totally out of gas on the homestretch.
Article continues below player
Like our coverage from Albuquerque?
In contrast to Kiprop, Centrowitz ran almost exactly 1500 meters as he, for all practical purposes, led wire to wire.
Results
1 Matthew CENTROWITZ USA 03:50.00
2 Taoufik MAKHLOUFI ALG 03:50.11
3 Nicholas WILLIS NZL 03:50.24
4 Ayanleh SOULEIMAN DJI 03:50.29
5 Abdalaati IGUIDER MAR 03:50.58
6 Asbel KIPROP KEN 03:50.87
7 David BUSTOS ESP 03:51.06
8 Ben BLANKENSHIP USA 03:51.09
9 Ryan GREGSON AUS 03:51.39
10 Nathan BRANNEN CAN 03:51.45
11 Ronald MUSAGALA UGA 03:51.68
12 Charlie GRICE GBR 03:51.73
13 Ronald KWEMOI KEN 03:56.76
Splits
400m 1:06.83 3056 CENTROWITZ
800m 2:16.59 3056 CENTROWITZ
1200m 3:12.00 3056 CENTROWITZ
The Race
We've got three finals to recap tonight and an early-morning marathon tomorrow morning so we aren't going to give you our detailed recap of the race. American viewers, you can watch it in its entirety here.
The key thing to know is the pace was very slow (66.83 for 400, 2:16.59 for 800) and Centrowitz went out hard for 100 and got the lead on the rail and never gave up the position (a couple of times people technically were ahead of him on his outside, and Souleiman did pass him briefly with 500 to go, but Centro led almost every step of the race). Other than Kiprop making multiple moves to no avail in the first 1100, the other big development was that Monaco winner Ronald Kwemoi of Kenya went down in a fall after being taken out behind by Ayanleh Souleiman (we have no idea how that didn't result in a DQ). Kwemoi would get up quickly but spotting the field roughly two seconds was fatal as he'd finish last. Centrowitz's winning time of 3:50.00 was the slowest in an Olympic final since 1932.
Quick Take: How do you celebrate America's first 1500 gold in 108 years? This is how.
When Centrowitz crossed the line first, he didn't go crazy. Maybe because he later said he never contemplated winning gold, he looked more stunned than anything.
Matthew's father, Matt, the former American record holder at 5k, reacted more like you'd expect a father of an Olympic gold medallist to react.
YOU WANT TO KNOW WHAT THE OLYMPICS IS ABOUT. THIS IS WHAT IT IS!! pic.twitter.com/sCz46zSd7n

— Leslie Jones ? (@Lesdoggg) August 21, 2016
Eventually, after it sunk in that he was the Olympic champion, Matthew showed that the apple doesn't fall too far from the tree when he celebrated on his victory lap with LetsRun.com visitors Josh Haase and John Riberio as follows:
https://twitter.com/joshuahaase/status/767195896182288384
And at the end of the victory lap, Centrowitz got to react to his dad going nuts.
Ok it get even better.. pic.twitter.com/wj52xJ3Xay

— Leslie Jones ? (@Lesdoggg) August 21, 2016
Former 13:28 US 5000 meter Olympic hopeful Andre Williams, who was coached by Matt Centrowitz as part of the Reebok Enclave, may have had the most fun of all as Centrowitz's victory gave him some extra cash to blow in Vegas.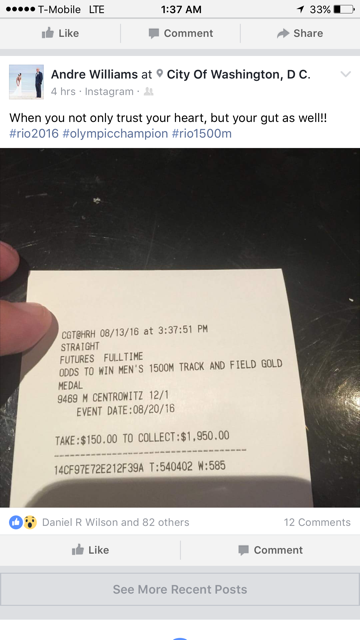 Quick Take: The enormity of what Matthew Centrowitz just accomplished cannot be overstated
The headline is that this was the first Olympic 1500 gold by an American since 1908 — three months before the Chicago Cubs won their last World Series title. But it was also the first distance gold — in any event, 800 to the marathon — by an American since Joan Benoit won the Olympic marathon in 1984, and the first by an American man since Dave Wottle (800) and Frank Shorter (marathon) were golden in 1972. And Centrowitz accomplished this by controlling every second of the race and taking down a loaded field that included the reigning Olympic champ/800 silver medallist (Taoufik Makhloufi) and the greatest 1500 runner of his generation in 2008 Olympic champ Asbel Kiprop. That Centrowitz won a medal here was not a surprise: he was the World Indoor champ in March and took 3rd, 4th, 2nd and 8th in his four previous global championship appearances. But there's a big difference between gold and bronze (even if it was, officially, just .24 of a second).
Quick Take: Centrowitz didn't plan to take the lead and make it slow, but once the race entered the late stages, he knew he had to protect first place no matter what
"I had a handful of strategies going into it," Centrowitz said. "I thought Makhloufi was going to be pretty predictable, make a move with 300 to go, I thought Kiprop might, with 500 to go, swing around the whole field. Souleiman I thought would try controlling it from the front, all these different things I played in my head and was ready for anything. But once I was in the lead for so long, I was kind of like all right, now we're getting to the later stages of the race where I can't give this lead up…Early on, if someone came around me I'd have been content with that."
Souleiman briefly took the lead from Centrowitz with 500 to go, but didn't totally close off lane 1. Centrowitz recalled a similar pass during his first World Championships in Daegu and, seeing the window open just slightly, squeezed around Souleiman on the inside midway down the homestretch to retake the lead before the bell.
At that point, Centrowitz decided to start winding it up toward the finish. He had done workouts (including one after a meet last month that had Wejo freaking out on the messageboard) recently that told him he could close in 49 or 50 seconds for the final lap, and trusted that his speed would carry him to the victory.
On the backstretch of the final lap, Kiprop made his customary move to the front but this time he could not go by Centrowitz, who didn't even know he was there.
"I didn't know who was challenging me that whole last lap," Centrowitz said.
Centro kept thinking someone would come up to pass him on the home straight but no one did. Twenty meters from the line, he felt his legs begin to buckle, but he knew that he didn't have to hold on much longer.
"I was like, come on man, you're right there," Centrowitz said.
He kept churning his legs through the line, and then looked up at the video board for the first time (he had ignored it during the race).
"As soon as I crossed the line, I literally was still looking at the board like, did somebody go by me? Did I really just win? Did I just hold that caliber of field off in the Olympic final?"
Quick Take: Centro: "I'm a confident guy, but I don't know if I was this confident."
Centro has established himself as one of the world's best milers but even he had his doubts about whether he could beat Kiprop.
"I thought on the best day I could maybe get a silver…I dreamt about winning gold the last couple days…At the end of the day, if I got silver, I would have been a little disappointed, obviously, but I just didn't know if gold was actually attainable.
"Kiprop is obviously one of the greatest milers ever. Watching him through the rounds, he was in my first heat, just gallop around the whole field, I was thinking, 'Damn, this is gonna be a hard guy to beat in the final.'"
After the way he ran tonight, though, Centrowitz said he thinks he still would have won even if the winning time was 3:34 as opposed to 3:50.
Quick Take: Welcome to the club, Centro
Centro appreciates the legends of the sport, and he got to meet several of them after his win tonight. He got an email from 1968 silver medallist Jim Ryun before the race, met 2004 champ Hicham El Guerrouj in the stadium and had his gold medal presented by two-time Olympic champ Seb Coe, who told him, "Welcome to the club."
"Everything leading up to it, during and after, has just been surreal," Centrowitz said.
Whatever else Centrowitz accomplishes his career, the first line on his resume will be "Olympic gold medallist." That's not something many athletes — especially Americans in the distance events — can say.
"I've been joking since I got this medal that I don't have to do anything the rest of my career," Centrowitz said.
QT: Centro's future plans
While most Americans may want to just enjoy Centrowitz's Olympic gold, he was asked about his future plans. First he said he wants to run the Brussels Diamond League Meet this year and "see if I can get the American record (for 1500)". That would be 3:29.30 by Bernard Lagat, for those keeping track. For 2020, he said "maybe I'll move up to the 5k," but noted he enjoys the 1500 and Mo Farah is pretty good at the 5000. Maybe once Mo moves up, he'll move up.
Quick Take: If you are looking for a textbook example of how not to run a race, just watch Asbel Kiprop in this one
Our favorite coaching mantra for the 800 is, "You have one move, use it wisely." Well this was a 1500 so maybe you've got two moves to make – one to get in position and one to kick for home. In this race, Kiprop made three moves, so he violated that mantra.
Our second favorite bit of mid-d racing advice is, "If you are going to make a move from the back to the front, make it count. Don't ever fail to complete the move so that you end up close to where you started." Kiprop did exactly this on two different occasions tonight.
When the race started slow and we saw Kiprop go to the back, we thought to ourselves, "He may get away with it again but would it really be that hard for him to just run up front right next to Centrowitz?"
But, as the field came down the homestretch approaching 700, Kiprop decided he needed to move up so he made a big move from the back to the front. He got in a great spot – in second just outside of Centrowitz. But then Kiprop made a mistake that cost him a shot at gold. Instead of running wide and moving up on the outside of Centrowitz's shoulder on the outside of lane 1 so that he could protect his position and make it so that no one would want to come around him, Kiprop foolishly moved in to save ground. Over the course of the next lap, a slew of runners would of course come around Kiprop so when they came down the homestretch a lap later he found himself way in the back. As they approached the bell, he had to use even more energy this time to move up as he ran way out into lane three and yet he wasn't able to get up to Centrowitz's shoulder. He technically got as high as third but he was way outside and Makhloufi barged his way past him on his inside and Kiprop found himself running more of the turn on the outside in 7th. Then between 1200 and 1300, he had to make another big move which got him next to Centrowitz, but Kiprop had little left for the final 200.
In hindsight, this race might have already been over for Kiprop at 1k as at that point Kiprop was .7 of a second behind Centrowitz. Given the fact that Centrowitz closed his final 400 in 50.6 and his final 500 in 63.7, Kiprop faced a monumental task. If both Kiprop and Centrowitz jogged around a track for 1k and then went all out for 500, we imagine that Kiprop might be able to make up .7 and close in 63 flat. But when you consider Kiprop had already used a ton of energy to make a move earlier in the race and that he had to go out to lane 3 at one point and run both of the final two turns on the outside of lane 1, he probably had to run at least 5 more meters than Centrowitz. So Kiprop would have to run his final 605 in 63 flat to win or maybe his final 404 meters in 49.9 when he's already tired from the move a lap earlier. Good luck with that.
QT: Kiprop Calls it a Very Strange Race Yet Nick Willis Predicted Centro And Him Would Go 1-2
You can tell all the runners are in awe of the Asbel Kiprop's ability. Centro said he was felt great coming in, but was amazed at how Kiprop just glided by him in the first round. Centrowitz talked to his dad before the race and was trying to think of times he had beaten Kiprop (it's now only happened four times, with two of those times being at the Olympics). His dad pointed out it happened at the last Olympics to try to instill in Matt's head he could win the race.
Nick Willis has more experience than Centro at this level. He was not surprised by the result and Centro said Nick told him afterwards he thought they'd go 1-2 in this race. Willis said at that press conference, "What's consistent about Kiprop is his inconsistency."
Kiprop has done a better job of limiting the clunker races, but he occasionally runs very tactically poor races, especially in unrabbited races. Tonight was one of them. The most talented 1500m runner of his generation, Kiprop often can survive on that talent, when others have to lean on better tactics.
Kiprop afterward said it was a "very strange race." "I'm used to lagging behind and when I lagged behind everyone was lagging…when I tried to go to the front, guys responded [and I could not get to the front]." Kiprop said,  "in a slow race like that, it's hard to beat anyone." He was not making excuses saying, "but this is the Olympics and everybody who comes to the final is entitled to winning the gold medal…there's a time for everything. Today was Centro's time."
Although Kiprop was the 1500m Olympic champion in 2008, he has yet to cross the finish line first at the Olympics (Rashid Ramzi was DQ'd for drugs in 2008). He sees inspiration in Vivian Cheruiyot, who last night won her first elusive Olympic gold. Kiprop was matter of fact about the physical nature of this race. "This is championships, you can do whatever you want to do," he said in talking about Makhloufi's push through to the front that made Kiprop back off at the bell.
QT: Makhloufi Doesn't Leave With Gold but Two Silvers, Says Matthew Centrowitz Inspired Him to Gold in 2012, and Talks On Why He Left Jama Aden
In 2012, Makhloufi was the Olympic 1500m champion. He couldn't quite replicate that here but he left with two silver medals, one in the 800 and one in the 1500. It was a very impressive Olympics.
"I am very pleased. There are very few athletes who could win two medals in one Olympic Games," he said.
He was full of praise for Centrowitz. "Obviously Matthew's a world-class champion. When he won a medal in 2009 [he meant 2011], he inspired me to be a champion because I thought to myself he has my time and he has a medal," Makhloufi said talking about the similar PRs they had in 2011 when Centrowitz won the bronze at Worlds (Makhloufi actually had the faster PR).
LetsRun.com asked Makhloufi why he switched away from coach Jama Aden, and whether he saw anything suspicious under Aden (Aden was implicated in a Spanish doping raid this summer, but has not been coaching Makhloufi this year). Makhloufi did not answer the second part of the question, but on the first said, "I changed my coach because I wanted a coach who was more focused on me and my abilities."
QT: Olympic Medal #2 Was Personal for Nick Willis
At 33 years of age, Nick Willis was back on the podium eight years after his silver in Beijing. He may have won that first Olympic medal for his country, but this one was for himself giving him "huge, huge internal satisfaction."
"I love my country, I love my family, I love my (inaudible) but there was a very internal motivation [tonight]. I wanted to prove to myself that all the things I thought went wrong in London were things I could fix. I wasn't just getting old and needed to think about retirement," he said.
Willis thought the race would go slow because "the alphas in the race aren't front runners" and also because there were only two Kenyans in the final, not the customary three or four. Willis, however, was surprised how slow it was. "I thought it might be a 2:05 or 2:06 race. When I saw 2:15 I was like 'Oh my goodness' …but was 'extremely happy'," he said. At World Indoors, he said he  kicked "too hard too early" so he wanted to save something for the last 100 here. He had enough to get back on the medal stand at 33.
Quick Take: Ben Blankenship wasn't too bummed to finish eighth in the world
Blankenship admitted that he should have been "more dominant" from the front and was too patient and not reactive enough after being in good position earlier in the race. We asked him what parts of the race he would have changed.
"Maybe 1500 meters [to go] to the finish, maybe redo it all," Blankenship said.
But Blankenship accepted that this, his first global championships, was a good learning experience for him, and that in the future he'll try to get stronger and make better decisions during the race.
"At the end of the day, I was still eighth, so I can't complain too much," Blankenship said.  
Talk about the race on our world famous fan forum: