2019 Worlds Women's Steeple Preview: USA & Kenya Duke It Out In a Grudge Match
By Jonathan Gault
September 24, 2019
In 2013, if you'd have suggested that the decade would close with Kenya and the United States battling it out for global supremacy in the women's steeplechase, you'd have been laughed at.
The US sent three women to that year's World Championships in Moscow. They finished 9th, 11th, and 13th in their preliminary heats. The women's steeple was the only distance event — heck, the only track event, period — in which the US failed to produce a single finalist. The American record holder, Jenny Simpson, had given up the event in favor of the 1500 meters. The fastest time by an American that year, 9:28.26 by Emma Coburn, ranked just 12th on the world list. It is not an exaggeration to say that the US's medal hopes were bleaker in the women's steeple than in any other running event.
Just four years later, Coburn and Courtney Frerichs shocked the world by going 1-2 in the World Championship final in London in one of the greatest races in the history of American distance running. America had arrived as a superpower in the women's steeple. And one country wasn't happy about it: Kenya.
While Kenya doesn't have the same track record of dominance in the women's steeple as it does in the men's (in part because the women's steeple wasn't held at Worlds until 2005), Kenyans Celliphine Chespol, Hyvin Kiyeng, Beatrice Chepkoech, and Kenyan-born Ruth Jebet of Bahrain entered the 2017 Worlds expecting to dominate. They had combined to register the 11 fastest times of 2017 to that point — all of which were faster than Coburn's 9:07.63 American record. Coburn, as the Olympic bronze medalist, was in the medal mix, but even we at LetsRun.com didn't pick her to medal in our preview. Frerichs, with a PR of 9:19.09, was on nobody's medal radar.
And yet, after two brilliant runs from the Americans (Coburn set an American record of 9:02.58, Frerichs smashed her PR with a 9:03.77) and some disastrous runs from the Kenyans (Kiyeng was the only other woman to break 9:10 in the race, while Chepkoech famously forgot to hurdle the first water jump), the results went USA-USA-Kenya. Chepkoech and Jebet, balancing a combination of shock and heartbreak, didn't stop to talk in the mixed zone after the race. Kiyeng, the sole Kenyan medalist, was in a better mood, but knew the disappointment that would accompany her compatriots back home.
Article continues below player.
"I promise we will come back," Kiyeng said after the race.
No picture summed up the countries' respective moods better than this one:
That night in London, a rivalry was born. On the track, Kenya has dominated for the past two years. Kenyans won all 10 Diamond League races in 2018 and 2019 (Chepkoech won seven of them), and last summer, Chepkoech smashed the world record in Monaco with her 8:44.32; Frerichs broke the American record in that race as well, and still finished 16+ seconds back.
Things have picked up off the track as well. In September, Coburn, who was beaten by the doper Jebet at the 2016 Olympics, essentially accused Chepkoech, who went from a PR of 8:59 to 8:44 in one race, of doping.
"I think it's important to look at history and look at what happened with Ruth," Coburn said. "And I do think a woman can run 8:45, but I don't think a woman can run 8:45 when for a whole season she runs 9 minutes and then runs 8:45. I don't think that's really possible."
After Chepkoech's 8:44.32, Jebet, who was busted for doping last year, is next on the all-time list at 8:52.78. No other woman has run faster than 8:58.78.
Meanwhile, the Kenyans are presenting a united front ahead of Doha. Kiyeng, Chepkoech, and Chespol held hands across the finish line at the Kenyan World Championship trials.
"This is a sign of unity and it's our plan to go and destroy the world in a similar fashion come Doha," Chepkoech told the Daily Nation.
"There were mistakes in 2017 World Championships and by the time we realized, it was too late to fight back," Kiyeng told the same publication.
After two years of waiting, the Kenyans finally get their shot at revenge in Doha. Here's what to expect.
How to watch: TV/streaming information *Full 2019 Worlds schedule/entries/results
Other LRC event previews: W 800 * M 100 * W marathon
LRC $200,019 prediction contest * LRC 2019 Worlds coverage hub
Race times
Prelims: Friday, September 27, 11:55 a.m. ET
Final: Monday, September 30, 2:50 p.m. ET

2019's fastest performers (among women entered)
1. Beatrice Chepkoech, Kenya 8:55.58
2. Hyvin Kiyeng, Kenya 9:03.83
3. Emma Coburn, USA 9:04.90
4. Celliphine Chespol, Kenya 9:06.76
5. Winfred Yavi, Bahrain 9:07.23
It's Beatrice Chepkoech's Race to Lose…
When one woman has a personal best 14 seconds faster than anyone else in the field, that woman is usually the favorite. No exceptions here: Beatrice Chepkoech is the woman to beat, assuming she, you know, remembers to hurdle the first water jump.
Chepkoech is hard to beat: she has won 14 of her last 16 races. But she hasn't been in quite the same form as last year, when she ripped off four straight sub-9:00s to close out the Diamond League season. She has broken 9:00 just once in 2019, and though that time (8:55.58 at the Pre Classic) puts her over 8 seconds ahead of anyone else this year, there is a way that she could lose in Doha.
Chepkoech likes to take the race out quickly. In her last three Diamond Leagues, she's gone out in 2:55 (Stanford), 2:58 (Birmingham), and 2:51 (Zurich) and stayed on sub-9:00 pace through 2k, by which point she has dropped the field. Though she won't have pacemakers in Doha, it makes sense that Chepkoech would attempt a similar strategy at Worlds, believing herself capable of setting a pace that no one else in the field can match.
But Chepkoech needs to be careful. Going 2:51.9-3:05.7-3:04.1 for a 9:01.71 (as she did in Zurich) and 2:58.2-3:01.8-3:05.6 for a 9:05.55 (as she did in Birmingham) are not the most efficient ways to run those times. True, she wasn't being pushed at the end of those races, but if she goes out too hard early in the race in Doha in an attempt to drop the field, she leaves herself vulnerable to being run down late in the race (this almost happened in Birmingham). Trying to run away from the rest of the field can be an effective strategy if you're fit enough. Chepkoech just needs to strike the correct balance between aggressiveness and foolishness.
…But She Could Lose
We wrote it after the DL final in Zurich, and it's still true now. If Chepkoech runs 8:55 in the World Championship final, as she did at Stanford earlier this year, she's probably not going to lose, regardless of how fast she goes out. But Chepkoech's other winning times this season — 9:04, 9:05, 9:01 — are attainable by several women in this field. Indeed, Chepkoech did lose to Norah Jeruto in Oslo back in June when she ran 9:04. Remember, before the 2017 Worlds, Jebet's PR was almost 15 seconds faster than Coburn's and she still lost.
The key for the Americans will be for them to run their own race. Coburn has tried to hang with Chepkoech twice this year, in Stanford and Zurich, and twice she has failed. But we know that Coburn, at her best, is capable of running close to 9:00. Same with Frerichs, who owns the American record at 9:00.85 from Monaco last year. If Chepkoech takes things out in 2:55, Coburn and Frerichs may want to consider working together — come through a little slower, say 2:58-3:00, and try to run down Chepkoech in the final kilometer.
The interesting wrinkle here: will the Kenyans employ team tactics? They are hinting they might.
"We will come up with a proper strategy at the team camp, and to encourage each other to perform well," Chepkoech told the Daily Nation, with Kiyeng adding that "if we compete as a team, we will post good results."
But does that mean Chepkoech slowing down to run with the others? Or the others speeding up to run with Chepkoech? If it's the former, we should see a similar race to the 2017 Worlds, which saw six women still in it with 1.5 laps to go. If it's the latter, that could help the Americans as the other Kenyans may not be able to absorb a fast opening kilometer like Chepkoech can.
One thing that's already helping the Americans: Kenya isn't sending its fastest team. Jeruto, the second-fastest woman in the world this year and the only woman to beat Chepkoech in 2019 (and the 3rd placer in the Diamond League final), didn't run the Kenyan trials. Neither did Daisy Jepkemei, the fourth-fastest Kenyan this year and the 4th placer in the DL final (Kenya gets four entrants since Chepkoech won the DL). (The messageboard speculation is they didn't run as they want to run for a new country).
With Chepkoech, 2015 world champ Kiyeng, and 8:58 woman Chespol, the team is still formidable, but the absence of Jeruto and Jepkemei boosts the US's medal chances. Instead of running women who went 1-2-3-4 in the Diamond League final on August 29, Kenya is fielding a team that went 1-2-8 in the DL final plus an 18-year-old who hasn't broken 9:30 this year (Fancy Cherono).
A Closer Look at the Americans
Coburn has medalled at the last two global champs and will be in contention for a medal once again in Doha. Though she was only 6th in the DL final in Zurich, that was more a reflection of her risk-taking during the race (going out in 2:54.2 in an attempt to hang with Chepkoech) than her fitness level at the time. Coburn ran 9:04 at Pre in June, where she beat Kiyeng and Chespol despite a mid-race fall, and clocked a 1500 pb of 4:04 in Memphis in August. She should be ready to roll.
Frerichs was solid in her sole DL race of the year at Pre (9:09 for 5th) but hasn't raced since USAs on July 28, holing up at altitude for the last two months and trusting that coaches Jerry Schumacher and Pascal Dobert will peak her correctly at Worlds. We won't truly know how fit she is until she shows up in Doha.
Colleen Quigley is the third member of the team, and while signs were promising that this could be a breakout year for her — she ran a big pb of 9:10 at the end of 2018 and beat Shelby Houlihan to win the USA mile title in February 2019 — Quigley is injured right now (again) and admitted on Monday that she doesn't even know if she'll be able to run in the prelims on Friday. A bad break for Quigley, who didn't get to run the final at Worlds two years ago after she was DQ'd for a minor lane infringement.
Three-time NCAA champ Allie Ostrander rounds out the team (since Coburn is the defending champ, the US gets a fourth spot). Ostrander, with a 9:31 pb, is seeded just 19th, so making the final would be a great accomplishment for the 22-year-old — especially when you consider she's been racing with minimal breaks for almost a year. Since opening her 2018 cross country season on September 8, Ostrander ran at least one race for 11 straight months until not racing at all in August 2019.
JG prediction: 1. Chepkoech 2. Coburn 3. Kiyeng
There are some non-Americans/Kenyans that could medal — Germany's Gesa Krause took bronze in 2015 and is coming off a 9:07 pb at the DL final, while Kenyan-born Winfred Yavi of Bahrain ran 9:07 in Birmingham — but expect it to come down to the US and Kenya.
Chepkoech clearly isn't in the form she was last year (she ran a 14:46 5,000 in the DL final when her pb is 14:39), but she's fit enough.
While Coburn is a smart, tough racer, her ceiling just isn't as high as Chepkoech's. It wouldn't be surprising to see Coburn break 9:00 — something no American has ever done — and still lose. Frerichs should be in the medal hunt too, but she's only beaten Coburn once in her life, so it's hard to pick her ahead of Coburn here.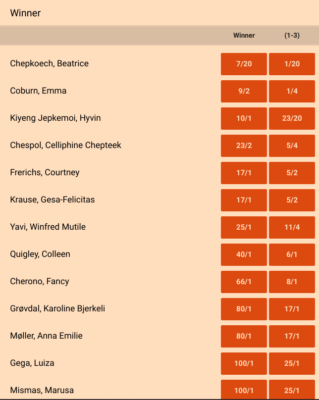 Betting advice: 9/2 is usually pretty good odds for a defending champion in Coburn (it implies she wins just 18.2% of the time), but with Chepkoech in the field, we don't want to touch it. Chepkoech's odds of 7/20 imply a win rate of 74.1%. We think she probably wins this north of 80%.
That being said, the best bets involve Kiyeng. She's as good as, if not better, than Coburn, yet her odds are way higher. Like Coburn, she's a former world champion. Her season's best of 9:03.83 is more than a second better than Coburn's 9:04.90 and she has a better PB (9:00.01 vs. 9:02.58). She just finished 2nd in the DL final (Coburn was 6th) and her medal odds of 23/20 convert to just 46.5%. There's definitely some value there. If you want to try to win big with a small bet, her 10/1 gold odds (9.1% implied win rate) are tempting. Those odds imply Coburn is twice as likely to win this race as Kiyeng. That's not the case.