Men's Steeplechase Preview: Will Kenya's 31-Year Streak of Dominance Come To An End?
By Robert Johnson
September 26, 2019
Not much has stayed the same since 1988.
Back in 1988, the Dow Jones was hovering around 2,000, not 27,000 like it is today. The median household income in the US was $27,000 ($63,000 today). The median house in the US sold for $111,500 ($306,000 today). And less than a million Americans had a cell phone, which cost more than $2,000 each.
But there has been one constant. Starting in 1988 and at every single outdoor global track and field championship since, a Kenyan-born man has won the men's steeplechase gold. That's 22 in a row if you are counting at home.
Article continues below player.
That streak may finally come to an end next Friday in Doha when the men's steeplechase final is held at the 2019 IAAF World Athletics Championships.
Breaking Down The Field
The winner of the gold medal in the men's steeplechase at the last two global championships (and the silver at the two before that) was Kenya's Conseslus Kipruto. Still only officially 24, he was expected to rule the steeplechase for many more years, but he's been injured for most of the year. He didn't open up on the track until August 24 when he ran 8:13.75 for 5th in Paris. With more than a month to go until Worlds, it seemed as if he would have enough time to get ready for Worlds to go for the three-peat. But here we are a month later and he's dropped out of many steeplechases as he's finished (two each, with his other finish being a 7th place 8:14.53 in the Diamond League final on September 6). If anyone can go from 7th in the Diamond League final to first at Worlds, it's Kipruto (who won the Diamond League final last year wearing one shoe for most of the race), but he's shown nothing this year that would indicate he's going to win gold in Doha.
So if Kipruto doesn't win, then who will?
Well the winner of the Diamond League final in controversial fashion was Ethiopia's Getnet Wale. Only officially 19, Wale has run well all year, as in addition to his DL win in Brussels, he was 2nd in Rome, 1st in Rabat, and 3rd in Monaco. Three times he's broken 8:07 this year and twice he's set the Ethiopian record. While it certainly can be argued that Wale should have been DQ'd for drifting out wide and making contact with Morocco's Soufiane El Bakkali in the Diamond League final, it's not like that was Wale's first and only win over El Bakkali, who is the bookies' favorite to take gold in Doha. Wale is 3-1 against El Bakkali this year as he also beat him at the African Games (placing 2nd to El Bakkali's 3rd) as well as at the Rabat Diamond League.
El Bakkali is the betting favorite however as he's the world leader in 8:04.82, has won 3 DL meets this year (Doha, Monaco and Paris), has a championship pedigree (silver in 2017, 4th in 2016) and has four times broken 8:08 this year.
Even if Kipruto doesn't win gold, the gold still could definitely return to Kenya as the winner of the African Games on August 26 over both Wale and El Bakkali was Kenya's Benjamin Kigen, the world #2 in 2019 (8:05.12). Kigen has picked up wins this year in Nanjing, Rome, and the Kenyan nationals (not trials). Head to head, he's 2-4 against El Bakkali this year but 3-2 against Wale.
And who knows, a week from now we may be saying the future of the event belongs to 18-year-old Leonard Bett of Kenya who also has a shot at gold. In 2017, Bett won world youth gold in the steeple and in 2018 he won world junior silver (Wale of Ethiopia won the bronze) before getting 4th at world junior XC in March. On the track this year, while Bett hasn't finished higher than 3rd on the DL circuit, he did win the Kenyan trials in his last race.
Bett isn't the only 18-year-old with an outside shot at gold. Lemecha Girma of Ethiopia, also officially 18, has run 8:07-8:08 in all three of his European steeples this year and was 3rd in the DL final.
27-year-old Fernando Carro of Spain, who chopped 10+ seconds off his pb to set an NR of 8:05.69 in Monaco, leads the European charge but he was only 8th in the DL final.
America's Chances
Evan Jager picked a bad year to get hurt, as if he was in this field and having his normal year, he'd be at least the co-favorite with El Bakkali. The US could still medal however.
At 8:08.41, Hillary Bor has the 8th-best seasonal best this year and has an outside shot at a medal. The bad news for Bor is that he ran that PB in his season opener in May. The good news is that it came in the heat of Doha. Bor was with the leaders heading into the bell in the DL final, but ended up 5th.
Quick Take: Not much has separated the top guys in this event all year. In Paris, the top 5 were separately by just .90. Expect a handful of guys to be in it heading into the last lap. Included in that list could be two guys I didn't even mention above as their seasons haven't been as strong in Kenya's Abraham Kibiwot (8:05.72 this year) and Chala Beyo of Ethiopia (8:06.48 this year). But in the end I'm going with most credentialed runner in the field.
El Bakkali 2. Wale 3. Kigen
That being said, it would really exciting if Kipruto somehow pulled the magic out of his hat or if Bett arrives as the next great Kenyan champion in the event to keep the streak alive.
One last note. If an Ethiopian medals, it will be a first as no Ethiopian man has ever medalled in the steeplechase at Worlds (and only one has ever won a medal at the Olympics in the event, and that came in 1980 when Kenya boycotted).
LRC Betting guide: Odds per 888sports.com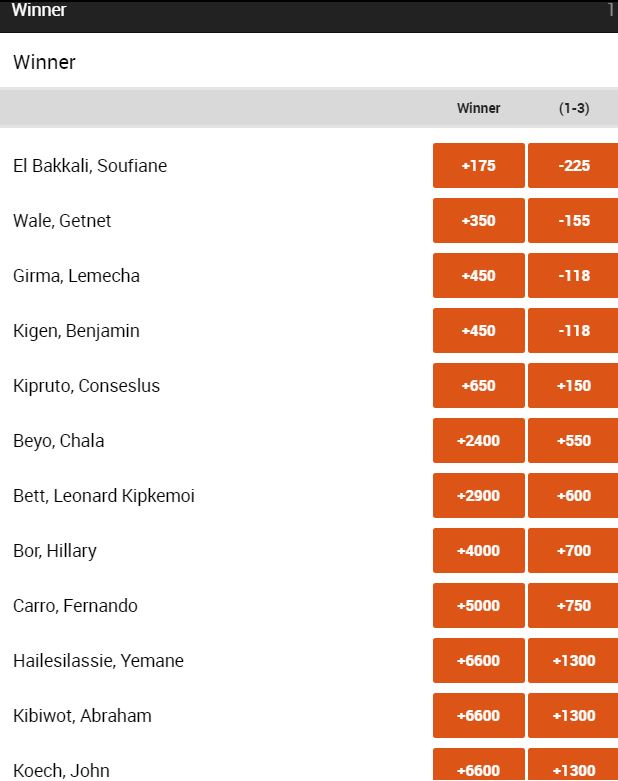 To be honest, I'd sit this event out if I were you. But if you really want some action, how about Leonard Bett at +600 to medal? It's not very often that you get the winner of the Kenyan trials with implied odds of 14.3% to medal in the men's steeplechase.