Schedule, Entries, & Results for 2019 IAAF World Championships
By LetsRun.com
September 23, 2019
The 2019 IAAF World Championships will be held at Khalifa International Stadium in Doha, Qatar, from September 27 – October 6. Below, you will find the schedule for the meet, with links to entries and results.
Results can be found here and will be updated as each event is completed.
Article continues below player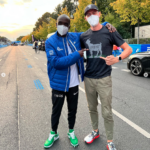 Kipchoge loves the 1:59:40 Shirt Get Yours Today
Shirts are $10 off if he breaks the world record and you order today.
*Entries *TV/streaming information
Schedule (courtesy IAAF)

Reminder: there are no morning sessions this year.
Finals in bold
Day 1: Friday, September 27
LOCAL TIME
US EASTERN TIME
SEX
EVENT
ROUND
16:30
09:30
M
Long Jump
Qualification
16:35
09:35
M
100 Metres
Preliminary Round
16:40
09:40
W
Hammer Throw
Qualification Group A
17:10
10:10
W
800 Metres
Heats
17:30
10:30
W
Pole Vault
Qualification
18:05
11:05
M
100 Metres
Heats
18:10
11:10
W
Hammer Throw
Qualification Group B
18:40
11:40
W
High Jump
Qualification
18:55
11:55
W
3000 Metres Steeplechase
Heats
19:25
12:25
M
Triple Jump
Qualification
19:45
12:45
M
5000 Metres
Heats
20:35
13:35
M
400 Metres Hurdles
Heats
23:59
16:59
W
Marathon
Final
Day 2: Saturday, September 28
LOCAL TIME
US EASTERN TIME
SEX
EVENT
ROUND
16:15
09:15
M
Discus Throw
Qualification Group A
16:30
09:30
W
100 Metres
Heats
17:15
10:15
M
800 Metres
Heats
17:30
10:30
M
Pole Vault
Qualification
17:45
10:45
M
Discus Throw
Qualification Group B
18:05
11:05
M
400 Metres Hurdles
Semi-Final
18:45
11:45
M
100 Metres
Semi-Final
19:15
12:15
W
800 Metres
Semi-Final
19:25
12:25
W
Hammer Throw
Final
20:00
13:00
X
4×400 Metres Relay
Heats
20:40
13:40
M
Long Jump
Final
21:10
14:10
W
10,000 Metres
Final
22:15
15:15
M
100 Metres
Final
23:30
16:30
M
50 Kilometres Race Walk
Final
23:30
16:30
W
50 Kilometres Race Walk
Final
Day 3: Sunday, September 29
LOCAL TIME
US EASTERN TIME
SEX
EVENT
ROUND
20:05
13:05
M
200 Metres
Heats
20:40
13:40
W
Pole Vault
Final
21:20
14:20
W
100 Metres
Semi-Final
21:45
14:45
M
Triple Jump
Final
21:55
14:55
M
800 Metres
Semi-Final
22:35
15:35
X
4×400 Metres Relay
Final
23:20
16:20
W
100 Metres
Final
23:30
16:30
W
20 Kilometres Race Walk
Final
Day 4: Monday, September 30
LOCAL TIME
US EASTERN TIME
SEX
EVENT
ROUND
16:30
09:30
W
Javelin Throw
Qualification Group A
17:05
10:05
W
200 Metres
Heats
18:00
11:00
W
Javelin Throw
Qualification Group B
18:20
11:20
W
400 Metres
Heats
20:05
13:05
M
110 Metres Hurdles
Heats
20:30
13:30
W
High Jump
Final
20:50
13:50
M
200 Metres
Semi-Final
21:15
14:15
M
Discus Throw
Final
21:20
14:20
M
5000 Metres
Final
21:50
14:50
W
3000 Metres Steeplechase
Final
22:10
15:10
W
800 Metres
Final
22:40
15:40
M
400 Metres Hurdles
Final
Day 5: Tuesday, October 1
LOCAL TIME
US EASTERN TIME
SEX
EVENT
ROUND
16:30
09:30
M
Hammer Throw
Qualification Group A
16:35
09:35
M
400 Metres
Heats
16:50
09:50
M
High Jump
Qualification
17:30
10:30
W
400 Metres Hurdles
Heats
18:00
11:00
M
Hammer Throw
Qualification Group B
18:15
11:15
M
3000 Metres Steeplechase
Heats
20:05
13:05
M
Pole Vault
Final
20:50
13:50
W
400 Metres
Semi-Final
21:20
14:20
W
Javelin Throw
Final
21:35
14:35
W
200 Metres
Semi-Final
22:10
15:10
M
800 Metres
Final
22:40
15:40
M
200 Metres
Final
Day 6: Wednesday, October 2
LOCAL TIME
US EASTERN TIME
SEX
EVENT
ROUND
16:35
09:35
M
100 Metres
Decathlon
16:45
09:45
W
Shot Put
Qualification
17:05
10:05
W
100 Metres Hurdles
Heptathlon
17:30
10:30
M
Long Jump
Decathlon
17:35
10:35
W
1500 Metres
Heats
18:00
11:00
W
Discus Throw
Qualification Group A
18:15
11:15
W
High Jump
Heptathlon
18:25
11:25
W
5000 Metres
Heats
18:50
11:50
M
Shot Put
Decathlon
19:25
12:25
W
Discus Throw
Qualification Group B
20:05
13:05
M
110 Metres Hurdles
Semi-Final
20:30
13:30
W
Shot Put
Heptathlon
20:35
13:35
M
400 Metres
Semi-Final
20:40
13:40
M
High Jump
Decathlon
21:05
14:05
W
400 Metres Hurdles
Semi-Final
21:40
14:40
M
Hammer Throw
Final
21:50
14:50
W
200 Metres
Heptathlon
22:35
15:35
W
200 Metres
Final
23:00
16:00
M
110 Metres Hurdles
Final
23:15
16:15
M
400 Metres
Decathlon
Day 7: Thursday, October 3
LOCAL TIME
US EASTERN TIME
SEX
EVENT
ROUND
16:35
09:35
M
110 Metres Hurdles
Decathlon
16:40
09:40
W
Triple Jump
Qualification
17:30
10:30
M
Discus Throw
Decathlon Group A
18:15
11:15
W
Long Jump
Heptathlon
18:35
11:35
M
Discus Throw
Decathlon Group B
19:05
12:05
M
Pole Vault
Decathlon Group A
19:20
12:20
M
Shot Put
Qualification Group A
20:05
13:05
M
Pole Vault
Decathlon Group B
20:10
13:10
W
Javelin Throw
Heptathlon
20:40
13:40
M
Shot Put
Qualification Group B
22:00
15:00
M
1500 Metres
Heats
22:05
15:05
M
Javelin Throw
Decathlon Group A
22:35
15:35
W
Shot Put
Final
23:00
16:00
W
1500 Metres
Semi-Final
23:10
16:10
M
Javelin Throw
Decathlon Group B
23:50
16:50
W
400 Metres
Final
00:05
17:05 (3 OCT)
W
800 Metres
Heptathlon
00:25
17:25 (3 OCT)
M
1500 Metres
Decathlon
Day 8: Friday, October 4
LOCAL TIME
US EASTERN TIME
SEX
EVENT
ROUND
20:05
13:05
M
1500 Metres
Semi-Final
20:15
13:15
M
High Jump
Final
20:40
13:40
W
4×100 Metres Relay
Heats
21:00
14:00
W
Discus Throw
Final
21:05
14:05
M
4×100 Metres Relay
Heats
21:30
14:30
W
400 Metres Hurdles
Final
21:45
14:45
M
3000 Metres Steeplechase
Final
22:20
15:20
M
400 Metres
Final
23:30
16:30
M
20 Kilometres Race Walk
Final
Day 9: Saturday, October 5
LOCAL TIME
US EASTERN TIME
SEX
EVENT
ROUND
16:30
09:30
M
Javelin Throw
Qualification Group A
17:15
10:15
W
100 Metres Hurdles
Heats
17:50
10:50
W
Long Jump
Qualification
18:00
11:00
M
Javelin Throw
Qualification Group B
19:55
12:55
W
4×400 Metres Relay
Heats
20:05
13:05
M
Shot Put
Final
20:25
13:25
M
4×400 Metres Relay
Heats
20:35
13:35
W
Triple Jump
Final
20:55
13:55
W
1500 Metres
Final
21:25
14:25
W
5000 Metres
Final
22:05
15:05
W
4×100 Metres Relay
Final
22:15
15:15
M
4×100 Metres Relay
Final
23:59
16:59
M
Marathon
Final
Day 10: Sunday, October 6
LOCAL TIME
US EASTERN TIME
SEX
EVENT
ROUND
19:02
12:02
W
100 Metres Hurdles
Semi-Final
19:15
12:15
W
Long Jump
Final
19:40
12:40
M
1500 Metres
Final
19:55
12:55
M
Javelin Throw
Final
20:00
13:00
M
10,000 Metres
Final
20:50
13:50
W
100 Metres Hurdles
Final
21:15
14:15
W
4×400 Metres Relay
Final
21:30
14:30
M
4×400 Metres Relay
Final