2019 Worlds Women's 800 Preview: Ajee' Wilson's Time Has Finally Come
By Jonathan Gault
September 23, 2019
No event has seen more upheaval in 2019 than the women's 800 meters. For better or worse, the decision handed down in April by the Court of Arbitration for Sport in the case of Caster Semenya vs. IAAF was going to define the season.
And it has. The 800 meters has gone from the most predictable event in women's track to…the most predictable event in women's track.
Okay, that's oversimplifying things just a tad. But after CAS upheld the IAAF's hyperandrogenism guidelines — which mean that XY DSD women like Semenya cannot compete in the 800 without undergoing testosterone-lowering treatment — the women's 800 has, in effect, traded one dictator for another. Semenya won all 30 of her 800 finals from 2016-19; American Ajee' Wilson has finished as the top non-XY DSD athlete in 28 of her 29 since the start of 2017 — including four wins from four races since Semenya left the scene in July.
(Related: The most popular article in LRC history: LRC What No One Is Telling You About Caster Semenya: She Has XY Chromosomes)
But aside from the presence of one dominant athlete, the event has changed dramatically. With Semenya and Francine Niyonsaba no longer pushing the pace at the front of races, times have slowed significantly. From 2016-2018, the average winning time in a Diamond League race was 1:56.66. The average winning time of the five DL 800's without Semenya in them this year? 1:59.95.
Article continues below player.
Wilson is one of the biggest favorites of the entire championships, but the battle for silver and bronze should be compelling. Could the Americans complete a historic 1-2-3 sweep? Let's dive in…
How to watch: TV/streaming information *Full 2019 Worlds schedule/entries/results
Other LRC event previews: M 100 * W marathon
LRC $200,019 prediction contest * LRC 2019 Worlds coverage hub
Race times
Prelims: Friday, September 27, 10:10 a.m. ET
Semis: Saturday, September 28, 12:15 p.m. ET
Final: Monday, September 30, 3:10 p.m. ET

2019's fastest performers (among women entered)
1. Ajee' Wilson, USA 1:57.72
2. Natoya Goule, Jamaica 1:57.90
3. Hanna Green, USA 1:58.19
4. Lynsey Sharp, Great Britain 1:58.61
5. Raevyn Rogers, USA 1:58.65
It's Finally Ajee' Wilson's Time
Had the XY DSD hyperandrogenism rules in place now been in effect since the start of 2016, we might be talking about Ajee' Wilson as one of the event's all-time greats. She finished second behind Niyonsaba twice at World Indoors, third behind Semenya and Niyonsaba at the 2017 Worlds, and missed out on a spot in the 2016 Olympic final because Niyonsaba and Margaret Wambui were in her semi.
Semenya has been the person most affected by this whole situation, with details of her private life laid bare for the world to see; her poise has been remarkable. But it hasn't always been easy for the women who have had to race Semenya either, as demonstrated by Lynsey Sharp's trackside interview after the 2016 Olympic final — and the subsequent abuse she received from Semenya's supporters.
Wilson, for her part, has consistently remained above it all, preferring to keep her head down and work. Wilson will race whoever is on the start line.
| | |
| --- | --- |
| Overall | |
| Comfort | |
| Cushioning | |
| Durability | |
| Appearance | |
| Value | |
"I definitely haven't thought about it that in-depth and what it actually means in the grand scheme of things," Wilson said, when asked last year what the IAAF's new hyperandrogenism regulations meant for the sport. "I definitely know that I enjoy racing with them. I'm glad that they're allowed to race still."
The situation, of course, has changed. And on the track, no one has benefitted more than Wilson. Finally, it seems, the time has come for her to win a global title. She owns the fastest time in the field this year (1:57.72), has won three Diamond Leagues in 2019, including the final, and hasn't lost to an XX woman in over a year. She is the heavy, heavy favorite.
We already know how Wilson is going to run the World Championship final. She will get the lead by 200 meters, and she will do whatever it takes to protect it. Around 700 meters, there may be a few women on her shoulder, but on the home straight, Wilson will use her strength to separate and win.
Here's a picture: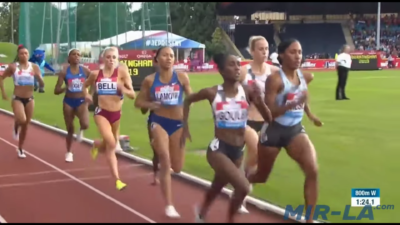 This moment, on the backstretch of the Birmingham Diamond League on August 18, is the only time Wilson has surrendered the lead after the first 200 meters of an 800 in 2019 (Semenya races excluded). For perhaps a second, Goule edged her chest ahead of Wilson. It wasn't enough for Goule to cut in and grab the rail. But for a moment, she was ahead. Almost immediately, Wilson responded, upping her pace to thwart Goule's attack.
Wilson would hold that lead all the way to the finish line en route to another victory. Goule, spent from the move, would fade to sixth.
This race — or indeed, any of Wilson's races in 2019, since her strategy never changes — showcases the unsolvable problem Wilson's opponents face. How do you get the lead if the person in front is faster than you and doesn't want to be passed?
There are two approaches. One option is the Alfred Kipketer approach: go out so fast that Wilson has no option but to cede the lead. That would require a first 200 of 26-low or (gulp) faster. The risk, of course: you only get one move in an 800. And if you make it in the first 200 meters, you may not have anything left for when the rest of the field makes their charge on the second lap.
Approach #2: let Wilson keep the lead, and try to outkick her. That's the approach that everyone has tried so far in 2019. How's that working out?
Potential spoilers
Wilson could lose. It probably won't happen, but in a one-off race, anything is possible. Former men's WR holder Wilson Kipketer never won an Olympic gold (of course he missed the Olympics during his unbeaten 1996 season after transferring his allegiance from Kenya to Denmark).
The best candidate to beat Wilson is either Jamaica's Natoya Goule or Kenya's Eunice Sum. Well, the real best candidate to beat Wilson may be  Sifan Hassan, but she didn't enter the 800 at Worlds, as she's going to run two of the following: 1,500 – 5,000 – 10,000.
Sum has some impressive credentials. She was the world champ in 2013, the bronze medalist in 2015 (the winner that year, Maryna Arzamasova, has since been busted for doping), and is one of only three women in the field with a sub-1:57 pb (Wilson and Goule are the others). Sum owned the women's 800 before Semenya returned to the scene in 2016, and while she has struggled in recent years — she didn't make the final at the 2016 Olympics and didn't run Worlds in 2017 — she is coming on strong at the right time. In her last three races, she's posted two wins in Zurich and Bellinzona and a runner-up finish at the Kenyan trials in 1:58.99 — her best time since July 2017. (Jackline Wambui, the winner of the Kenyan trials, won't be in Doha after failing to take a testosterone level test).
Outside of Wilson, Goule may have the greatest upside in the field. Her PR (1:56.15) is #2 behind Wilson, as is her SB (1:57.90). She's not afraid to challenge Wilson (see: Birmingham) and gave Wilson her biggest scare of the season, finishing just .18 behind her in Monaco. She's also the last XX woman to defeat Wilson, in Monaco last year. In terms of their ceiling for a one-off performance, they're close.
In terms of consistency, however, Wilson is miles better. Goule's DL results this year read like dice rolls in a craps game: 8, 8, 6, 2, 7, 6, 2, 5. She was just 5th at the DL final, and, at age 28, has never made it out of the first round at Worlds or the Olympics.
Uganda's Winnie Nanyondo, 3rd at the DL final, should also be in the medal mix. But like Goule, she's never even made the semis at a global champs. Catriona Bisset, who began the year with a 2:03.48 pb but ran a 1:58.78 Australian record in her last race, is also intriguing — though that last race came on July 21.
If you're looking for someone who has made a final before, there aren't many options. Wilson and Brit Lynsey Sharp are the only women entered in Doha who made either the 2016 Olympic or 2017 World final. Sharp has run 1:58 twice this year, but her last two races — 2nd at the British champs, 6th in the DL final — weren't great.
How many Americans land on the podium?
This may be the strongest women's 800 squad the US has ever sent to a global championships. And yes, that includes the 2013 edition of Brenda Martinez, Alysia Montaño, and Wilson that went 2-3-5 in Moscow in 2013.
They're in this section and not the one above because, combined, Hanna Green, Raevyn Rogers, and Ce'Aira Brown are 0-38 against Wilson over 800 meters (0-44 across all distances). Though Rogers, with her 400 speed, could be dangerous in a slow final (she went from 6th to 2nd over the final 100 in Brussels), we have enough evidence at this point about who is the better runner (22 of those losses at 800 meters belong to Rogers).
Just because the Americans have never beaten Wilson doesn't mean they can't beat everyone else. Make no mistake: Green, who won the Paris Diamond League on August 24, and Rogers, second behind Wilson in the DL final, are serious podium contenders (Brown, who has battled a heel injury, hasn't broken 2:01 outdoors this year and likely won't be a factor in Doha). An American medal sweep isn't likely — it never is — but this is one of the few events where it's a legitimate possibility.
JG prediction: 1. Wilson 2. Rogers 3. Goule
We saw training partners go 1-2 in the men's 1500 in 2017, and I'm betting it happens in the women's 800 in 2019. When in doubt, bet on talent, so Goule for third — though it wouldn't be a total shock if she didn't make the final.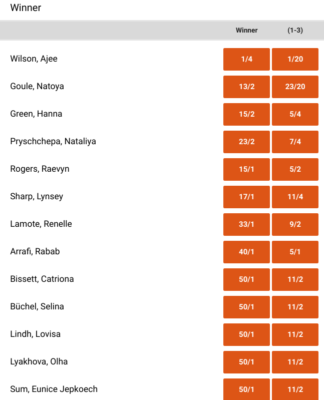 Betting advice: Eunice Sum to medal at 11/2 is tasty, and throwing a couple bucks on her to win at 50-1 could offer a big payoff if something goes wrong with Wilson. Rogers to medal at 5/2 is pretty good odds for a woman who just finished second in the DL final. The same thing is true for Winnie Nanyondo, who was 3rd in the DL final and isn't even shown in the screenshot above as she's 15-2 to medal. That's implied odds of just 11.8% for a medal.