2019 Worlds Women's Marathon Preview: Five Sub-2:20 Women Do Battle in Midnight Marathon Along Doha Corniche
By Jonathan Gault
September 24, 2019
Day one of the 2019 IAAF World Championships will come to an end with a marathon like no other. Or, more accurately, day two of the 2019 IAAF World Championships will begin with a marathon like no other.
One of the problems with staging Worlds in a city where the average September high is 102 degrees Fahrenheit is that there isn't a good time to run the marathon. Doha may have built an air-conditioned stadium for the track & field events, but you can't air-condition 26.2 miles of road.
Holding the marathon during daylight hours would pose a severe health risk to all involved. So instead, the women's marathon — the first final of these World Champs — will begin at midnight (technically, 11:59 p.m. on Friday, to avoid schedule confusion).\32 44 28
As a result, the weather will be cooler, though it will still be hot — as I type this at 1:00 a.m. Doha time on September 21, exactly one week from race day, it is 86 degrees in Doha with 78% humidity for a "feels like" temperature of 99, per Weather.com. Expect temperatures to be similar during the race.
Article continues below player.
Update: The weather forecast is worse than that. According to DarkSky, the forecast for the start of the race is now 89 degrees (34C) with 80% humidity and a dew point of 82 (28) so it feels like 111 (44C).  A French website is reporting the race may be cancelled as a result: MB: UNBELIEVABLE: French website is reporting that 2019 World Championship marathon may be cancelled due to hot weather.
The late start presents other problems. For one, the athletes will have to prepare their bodies to be at their best from 12:00-2:30 a.m. In this area, athletes traveling a long distance — who have to adjust their bodies to a new time zone anyway — could gain a minor advantage over the East Africans, since Doha is in the same time zone as Ethiopia and Kenya. And what will the fan support be like? How many Qataris will be lining the streets to watch this race at 2:00 a.m.?
Admittedly, even without any fans, the race could look pretty cool on TV as the athletes will run six laps of a 7k course along the Doha Corniche, a waterfront promenade on Doha Bay that looks rather beautiful at night.
And from a US perspective, the timing works out great. Midnight in Doha is 5 p.m. ET in the US. What better way to kick off your weekend than by watching the first final of the 2019 Worlds?
There are plenty of unknowns that could produce an unlikely medalist or two, but let's do our best to break down this field.
Start time: Friday, September 27, 4:59 p.m. ET
How to watch: TV/streaming information *Full 2019 Worlds schedule/entries/results
Other LRC event previews: W 800 * M 100
LRC $200,019 prediction contest * LRC 2019 Worlds coverage hub
Notable entrants (full entries here)
| | | | |
| --- | --- | --- | --- |
| Name | Country | PB | Comment |
| Ruth Chepngetich | Kenya | 2:17:08 | Broke CR in Dubai in Jan. to become 3rd-fastest woman ever |
| Ruti Aga | Ethiopia | 2:18:34 | Won Tokyo in March; also entered in NYC on Nov. 3 |
| Roza Dereje | Ethiopia | 2:19:17 | Set Dubai CR in '18 before Chepngetich smashed it; 3rd in London in April |
| Lonah Chemtai Salpeter | Israel | 2:19:46 | Ran huge pb to win Prague in May |
| Edna Kiplagat | Kenya | 2:19:50 | Highly-decorated marathoner won Worlds in '11 + '13; 2nd in '17 |
| Shure Demise | Ethiopia | 2:20:59 | 5th at '17 Worlds, 3rd in Tokyo in March |
| Visiline Jepkesho | Kenya | 2:21:37 | Bombed '16 Olympics but won Rotterdam & Ljubljana last year |
| Helaria Johannes | Namibia | 2:22:25 | Ran nearly 4-min PR at age 38 to win Nagoya in March |
| Shitaya Eshete | Bahrain | 2:22:39 | PR for 2nd in Prague in May |
| Rose Chelimo | Bahrain | 2:22:51 | Reigning champ hasn't done much since |
| Volha Mazuronak | Belarus | 2:23:54 | Euro champ won Hong Kong in Feb; 5th at '16 Olympics |
| Eunice Chumba | Bahrain | 2:24:27 | 2nd in Abu Dhabi & Hong Kong last 2 times out |
| Roberta Groner | USA | 2:29:09 | 41-year-old ran nearly 2-min PR in Rotterdam in April |
| Carrie Dimoff | USA | 2:30:53 | 14th in NYC last year |
| Kelsey Bruce | USA | 2:31:53 | Ran PR in Houston in Jan; ran for Team LRC at World XC in March |
With five sub-2:20 women and five more below 2:23, this field is better than most you'd find at a World Marathon Major, in part because, unlike in WMM events, there's no race director with final say over entries. Which means that women with suspicious progressions who may not receive an invite at WMMs can get into Worlds no problem.
Take Ruth Chepngetich. Her progression has been remarkable: a 2:22 debut win in Istanbul in 2017, followed by a huge PR of 2:18 in Istanbul last year — yes, she ran 2:18 by herself in Istanbul — followed by a 2:17:08 course record in Dubai in January, the third-fastest time ever run. Normally the majors would be drooling over someone like that, but she has yet to run one — perhaps because her agent, Federico Rosa, also represented notorious dopers Rita Jeptoo and Jemima Sumgong.
So Chepngetich is here. So too is Volha Mazuronak of Belarus, another woman who hasn't been able to sniff the majors since taking 5th at the 2016 Olympics. Instead, she's run second-tier marathons, and she's cleaned up: she comes in with three straight wins at Dusseldorf, the European Champs, and Hong Kong.
But there are plenty of women with established track records in WMM events as well, none more so than the ageless Edna Kiplagat, who will be seeking her fourth World Champs medal after gold in 2011 and 2013 and silver in 2017. Ruti Aga of Ethiopia, who has five top-5 finishes in majors and  is coming off a win in Tokyo (though she's also entered in NYC on November 3, so who knows if she'll make it through this race), is also entered. Roza Dereje, who ran 2:19 in Dubai last year and was third behind studs Brigid Kosgei and Vivian Cheruiyot in London in April, is also a serious threat for the win.
In some ways — with the course being run in the dark and with a simple flat loop course along the water — this race will be similar to Dubai, which could help Chepngetich and Dereje, the last two Dubai champions who have a proven ability to run well in flat, warm conditions (although the weather here will be 15-20 degrees Fahrenheit hotter than Dubai). Of course, the race dynamics couldn't be more different. Instead of following pacers through a crazy halfway split, this race will probably go tactical; the last two World Championship marathons have seen the first four places separated by 10 seconds or less.
More than their Dubai experience, Chepngetich and Dereje will be favored because they're the best marathoners in the field. Yes, Dubai times have to be taken with a grain of salt, but 2:17 is still 2:17; just ask all those women who doubted Worknesh Degefa, who ran 2:17:41 behind Chepngetich in January and then ran away with the Boston Marathon in April. Dereje, meanwhile, is coming off third place in the most competitive marathon in the world (London), where she finished behind last year's World #1 in the marathon (Vivian Cheruiyot) and the 2019 World #1 in Brigid Kosgei.
Edna Kiplagat can't be counted out, however. She may turn 40 years old in November, but she has excelled in championship-style marathons throughout her career, with wins in NYC and Boston in addition to her two world titles. And she may well have won Boston again in 2019 had she moved just a little earlier — she wound up second after covering the stretch from 35k to 40k in a blazing 16:08.
Kenyan-born Lonah Salpeter of Israel will be in the medal hunt as well as she has been on fire in 2019. Salpeter has run PRs in every distance from the 5k to the marathon this year (14:59/31:15/66:09/2:19:46) and comes in off a big win in Prague, which she won by almost four minutes.
One woman who hasn't impressed of late is defending champ Rose Chelimo. Since outsprinting Kiplagat for gold over Tower Bridge two years ago, she has finished just 6th (2018 London) and 9th (2019 Tokyo) in her two WMM appearances, sandwiched around a win at the Asian Games (where she didn't face much competition en route to a 2:34 victory). It will be a surprise if Chelimo retains her title.
America isn't sending a strong team to Doha, but there are some cool stories on the roster. Roberta Groner took a decade off from the sport after college, but returned in her 30s. And this year, at age 41, the full-time nurse and mother of three, ran a PR of 2:29:09 in Rotterdam. Now she gets to represent the US for the first time.
Also making her US debut: Kelsey Bruce. If that name sounds familiar, it's because Bruce is the same woman who dropped everything in March to fly out to Denmark and run World XC representing LetsRun.com. Now, thanks to her 2:31:53 in Houston in January, Bruce is back at the World Championships, this time representing the US. You can read about her journey from Team LRC to Team USA here: LRC From Aarhus to Doha: Team LRC's Kelsey Bruce Tells Us How She's Preparing for the World Championship Marathon
JG prediction: Chepngetich has run 2:18:35 and 2:17:08 in her last two marathons; in the most recent one, she beat the Boston Marathon champ by 33 seconds. She has to be the favorite here.
I'm not sure what to expect from Aga given she is slated to run NYC five weeks later, so I view Dereje and Kiplagat as the best bets for the minor medals.
But honestly, who the hell knows what is going to happen in this race? It's going to be run late at night in stifling heat and humidity. If some of the big names melt in the conditions, we could see some unlikely medalists. A repeat of 2017, which saw 14 women still in the lead pack at 35k, wouldn't be a surprise.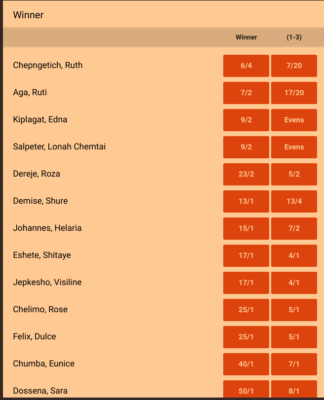 Ruth Chepngetich's implied win odds are 40%. Believe it not, that may offer some value even though we almost always say when offered a single marathoner versus the field, take the field.
But here is the best bet: Roza Dereje's implied medal odds at 5/2 are just 28.6%. Those are incredible odds for someone who won Dubai and was 2nd in Chicago last year before getting third in London this year.