USAs Day 4 Men's Distance: Brazier Beats Murphy (Again), Engels Takes Down Centrowitz, and Lopez Lomong Pulls Off A Stunner
By LetsRun.com
July 28, 2019
DES MOINES, Iowa — The 2019 Toyota USATF Outdoor Championships came to a close this evening and there were three men's mid-d and distance finals — 800, 5000 and 1500 – which we recap and analyze for you below.
The 800 went very much according to form as the three fastest Americans on the year went 1-2-3 as Donavan Brazier won his third straight outdoor 800 title in 1:45.62, 2016 Olympic bronze medallist Clayton Murphy was second in 1:46.31, and 2019 NCAA champ Bryce Hoppel held on for the third Worlds spot in 1:46.31 as the 2018 NCAA champ Isaiah Harris was fourth in 1:46.45. Had Harris finished third, he wouldn't have made the Worlds team as he didn't have the 1:45.80 Worlds standard. The only other guy in the field with the standard besides the top three was the Brooks Beasts' Brannon Kidder, who was 6th in 1:46.98. Harris led through a slow opening 400 of 54.91, then Brazier seized the lead about 570m into the race and wouldn't give it up. Clayton Murphy was boxed with 200m to go and would get out if the final 100 and close a little on Brazier but Brazier still won by 3 meters.
Article continues below player
In the 1500, the names of the top two finishers were not a surprise, although the order of finish did surprise a few. Heading into this weekend, 89.3% of LetsRun.com nation picked either Matthew Centrowitz or Craig Engels to win the 1500 in the Running Warehouse prediction contest, but the Olympic champion was the most popular pick by nearly a 2 to 1 margin as he Centrowitz garnered 58.4% of the vote to Engels' 30.4%. 
After running a masterful tactical race reminiscent of Centrowitz's Olympic win in 2016, Engels was the champion in a race that he led for the final 800. Once he got the lead, he never let anyone get ahead of him on the rail.  Centrowitz had no excuses as he was right next to Engels at the bell (technically .03 ahead on the outside) but Engels won in 3:44.93 to Centrowitz's 3:44.97 after a 51.92 final lap. The Bowerman Track Club's Josh Thompson was a shock third in 3:45.25 but he won't be going to Worlds as he doesn't have the 3:36.50 standard. Instead, fourth placer Ben Blankenship (3:45.93) will be going.
The men's 5000 was the lone men's distance race with a really surprising winner. Paul Chelimo took this out hard (58 seconds the first lap and 2:30.4 at the 1000m) and only 2018 and 2019 US 10,000-meter champ Lopez Lomong  and Lomong's Bowerman Track Club teammate Woody Kincaid went with him. Chelimo tried to get Lomong or Kincaid to take the lead a few times, but they wouldn't, so just before 3,000 he let the pace slow and the chase pack caught the leaders.  On the final lap, the original leading three plus Drew Hunter and Hassan Mead were kicking for the win.  Lomong and Chelimo were clearly best the final 100 with Lomong getting the win in 13:25.53 to Chelimo's 13:25.80 after a 53.85 final lap. Finishing in third was Kincaid , who PR'd at 13:26.84, but won't be going to Worlds as he was short of the Worlds standard (13:22.50). Lomong doesn't have the standard either (although he said he'd just do the 10,000 even if he had it) so that means the 4th and 5th placers will be going to worlds in Hassan Mead (13:28.04) and Drew Hunter (13:29.19). If Chelimo somehow wins the DL title in the 5000, then Ben True (7th in 13:33.13) will also go to Worlds.
Below we present the results of those three races and then our quick take analysis.
Men's 800 Results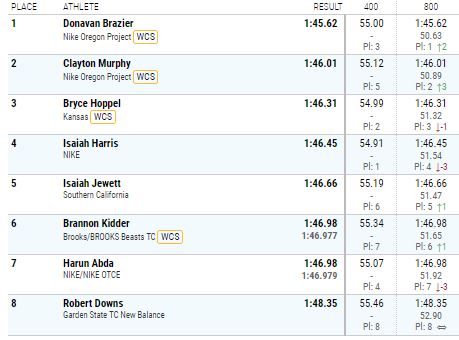 Men's 1500 Results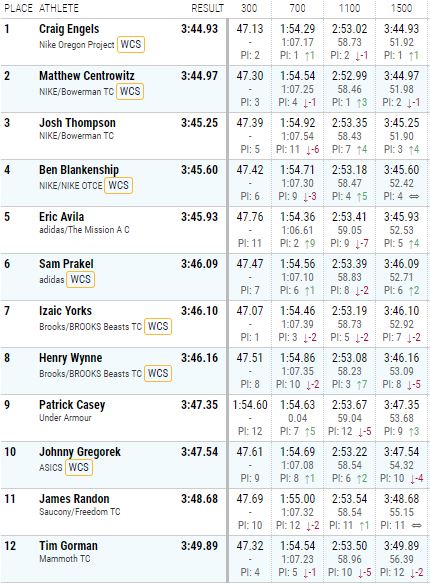 Men's 5000 Results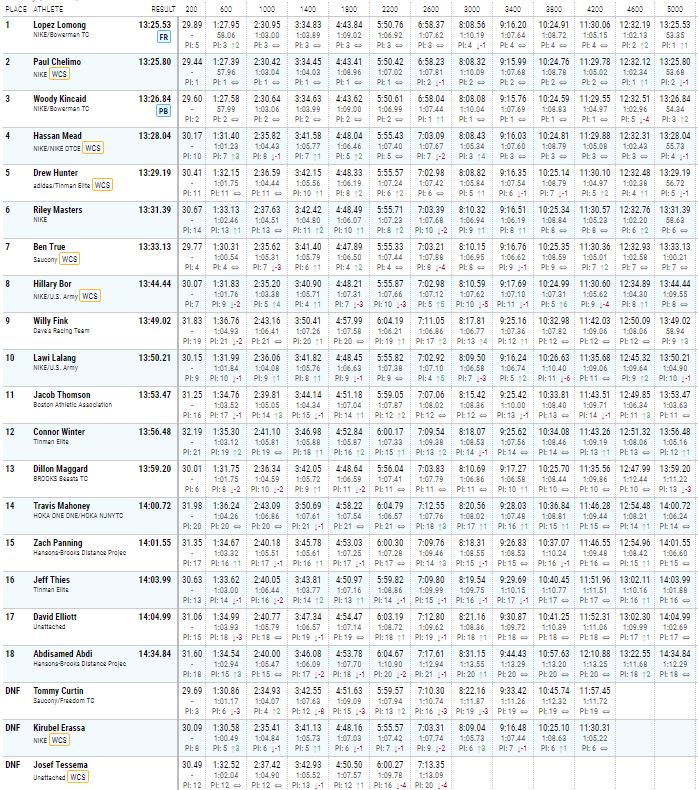 Overall Men's Quick Take
It was quite a week for Nike (and not a good meet for teams like HOKA NJ*NY, Brooks Beasts, etc). Check out the sponsors of the top 3 finishers in all of the mid-d and distance events for the men.
800: Nike, Nike, Kansas (an adidas school)
1500: Nike, Nike, Nike
Steeple: Nike (WCAP sponsor), Nike, Nike
5000: Nike, Nike, Nike
10,000: Nike, Nike, Nike (WCAP sponsor)
MB: BROOKS BEASTS GO HOME DEVASTATED
Men's 800 Quick Takes
QT #1: Joining the Oregon Project has been everything Donavan Brazier could have hoped for so far
Brazier has had supreme talent for quite some time — he ran 1:43.55 as a 19-year-old in 2016, which remains his personal best today. During his first two professional seasons, Brazier showed flashes of brilliance and won a pair of national titles (2017 outdoors, 2018 indoors) but didn't always get the most out of his talent, failing to make the final at World Outdoors in 2017 and World Indoors in 2018.
Brazier decided that a change was needed in order to reach his full potential, and he moved west to join the Oregon Project. So far, it has proven to be a great decision. He set the world record at 600 meters indoors, won his first Diamond League in Rome, and looked terrific today in winning the US title. In previous years, Brazier may have panicked coming through 400 meters in 55.00. Today, he thought to himself, "it's going to be a good race," drawing confidence from the extra strength work he's put in under coach Pete Julian.
"55 feels a lot easier than it did a couple years ago," Brazier said.
The ultimate test, of course, will come at Worlds, and that meet is still a long way off. But Brazier feels great about where he's at right now.
"I definitely just feel like I'm in the best situation possible," Brazier said. "Oregon Project, they have a real big medal count, you know what I mean? They're the best of the best. So when you're training with a group like that, when you step on the line, you have no doubt that you are the most prepared athlete on the line — you know, as well as Clayton, because he's part of the group."
Quick Take: Does Brazier now own Murphy?
With his win today, Brazier now takes his record all-time against Murphy to 4-1. Murphy won their first encounter in the first round of the 2016 US Olympic Trials (Murphy won, Brazier was 5th), but now Brazier has won four in a row (two of those losses were in events where Murphy didn't contest the final), including three in 2019.
This was also a big weekend for Pete Julian. Brazier beat the Alberto Salazar-coached Murphy to win the 800, and Engels (whom Julian also coaches) won the 1500.
Quick Take: Props to Robert Downs for an amazing meet
We know what many of you were thinking when you were scrolling down the results for the men's 800: Who is Robert Downs?
As recently as 2017, Downs, now 25, was just a 1:51.45 performer for South Plains (Tex.) College (Tilastopaja also lists him running that same time in 2014). In 2018, he ran for Texas A&M-Kingsville, where he was 3rd at the NCAA DII meet indoors and 6th outdoors, producing a 1:48.68 pb. This year, he joined the Garden State Track Club in New Jersey and improved to 1:48.43 in April in Houston before lowering that to 1:47.73 at the Eastern Track League meet in DC on July 13. The PR train was just getting started, however as at USAs he ran 1:47.03 in the first round before getting into the final on time with a 1:46.46 in the semis. 
So in conclusion, this year, he's PR'd by 2.22 seconds and at USAs, he PR'd by 1.27 seconds. 
Tonight, midnight struck on his Cinderella season and he was last in the final but he's had a heck of a year.
Men's 1500 Quick Takes
Craig Engels studied film of Centrowitz's races in order to beat him today and his tactics were perfect
In order to beat Matthew Centrowitz in a championship final, you need to be fitter than him and you can't make a tactical mistake. Engels is arguably slightly fitter than Centrowitz right now, but also he needed to run smart to win this race, and he did.
Engels knew coming in that to win this race, he had to beat Centrowitz. So to beat Centrowitz, he went back and studied tape of Centrowitz' old races and le what strategies worked against him. All week, Engels watched those races and fell asleep dreaming of beating Centrowitz and winning the national title. Today, he didn't need to wait until falling asleep to win the race.
The plan coming in was for Engels to make his move with 200 meters to go, but coach Pete Julian gave him the go-ahead to call an audible if he needed to, and that's what Engels did. Sensing the race was going slow, Engels made a smart move and took the lead and the rail with 800m to go. He would never give it up. Part of the benefit was that he was able to make his move before Centrowitz.
"He goes at similar times every time and I knew I had to go early this time and I did," Engels said. "I've watched enough videos to know you're supposed to be in position with 400 to go."
But holding the lead at 800 in a slow 1500 offers other benefits. For one, you can control the race (assuming you are fit enough to hold off someone trying to pass — and Engels was). For another, you can run the shortest distance on the final lap. That is a massive advantage when it's a slow race; Engels ran his final lap in 51.92. So to beat Engels, someone would not only have had to run faster than 51.92, but they would have had to run extra distance as well. That's extremely difficult to do.
The key moment of the race came at the start of the first turn. Centrowitz technically had the lead, but Engels had inside position. Centrowitz tested Engels' defenses, trying to go by, but Engels used his forearm to fight him off and protected his position, forcing Centrowitz to run wide. In a race decided by .04 of a second, that may have been the difference.
Centrowitz may have run 1500m faster than Craig Engels today, but Centrowitz was running the entire portion of the final lap on the outside shoulder of Engels so he ran more distance than Engels.
"I did know it was going to be pivotal and I think that could have been the deciding factor right there," Centrowitz said. "It was going to be hard for me to really get around him without making a really hard move somewhere in that last lap. He just had the whole inside and forced me to run those extra few meters that probably made the difference."
Quick Take: It's hard to believe, but Craig Engels is now 7-5 all-time against Matthew Centrowitz
Coming into today's 1500 clash, Engels led 6-5 in his head to head matchups with Centrowitz at all distances, but three of Engels' wins came in the 800 (and one in a road mile).
If you looked at championship events only, however, Centrowitz had never lost to Engels before today, having defeated him at USAs in the 1500 each of the last three years before today.
Centro: "I promise you, if I end up staying healthy these next two months, I'm gonna be in pretty damn good shape"
Centrowitz knew Engels was super fit and actually viewed Engels as the favorite coming into the race. He didn't regret not fighting harder for the lead at the bell (he tried a similar move in 2017 and wound up losing to Robby Andrews), but, upon reflection, did regret not responding harder to Engels' move with 150 meters to go. Centrowitz, at that time, was worried that if he went too hard, he might not be able to hold it and lose his spot on the Worlds team. But after closing the gap to Engels over the final 50, Centrowitz said he may have underestimated his own strength and may have been able to go with Engels at 150 after all.
Regardless, Centrowitz is on the team — his seventh straight — and after missing time early in the season due to injury, he likes his chances in Doha, provided he stays healthy.
"I promise you, if I end up staying healthy these next two months, I'm gonna be in pretty damn good shape," Centrowitz said.
Quick Take: Where in the world did this performance for Josh Thompson come from?
The 26-year-old Thompson, who before tonight was best known for finishing 4th in the 1500 at the 2017 NCAAs for Oklahoma State and for being a rare distance runner that can dunk a basketball, shocked everyone to finish third. Thompson had run four 1500s this year prior to USAs and in only one of them did he break 3:40 — he ran 3:38.71 at the Sunset Tour meet on July 9 (6th in his heat). Last week in Portland, he was just 8th in a 1500 in 3:41.93 and yet tonight he somehow had the fastest close in a race that included the reigning Olympic champion? That's correct. His final lap was 51.90 – .02 faster than Engels 51.92. 
LRC Archives: Meet The Most Interesting Man In NCAA Running: He's 5'9″, Can Dunk A Basketball And In One Year Has Gone From 4:17 To The #3 Time In NCAA History: Meet Oklahoma State's Josh Thompson
Men's 5000 Quick Takes
Lopez Lomong is a monster
At the end of 2017, Lomong was 32 years old and had finished 6th, 10th, and 5th in the 5,000 the last three years at USAs. His days of winning national titles and making teams appeared to be over.
Yet flash forward to 2019 and Lomong is suddenly unbeatable, becoming the first man since Galen Rupp in 2012 to win the 5k and 10k at the same USA meet. Lomong says the difference is simple: he's finally healthy, thanks to the efforts of noted chiropractor John Ball.
"I was injury-free this year and I can be able to go back and really follow all the routine and all the stuff we wanted to do," Lomong said.
Lomong also said that he was serious when he said he wanted to come back and run the 1500 after winning the 10,000 on Thursday, but was overruled by coach Jerry Schumacher. 
"Jerry was like, you already won the 1500 on this track [in 2010], why not just go for the 5,000 meters?" Lomong said.
This was not a good sign for Paul Chelimo
Chelimo has had an uneven year, to say the least. He was 2nd in the 2-mile at the Pre Classic, but only 12th and 6th in the two Diamond Leagues that sandwiched it (Shanghai on May 18 and Lausanne on July 5). Lomong is clearly in great form at the moment, but has never been a serious global medal contender. To lose to him today wasn't a great sign for Chelimo (particularly since Lomong was doubling back from the 10k and Chelimo was fresh).
One telling detail: Chelimo still wanted to make the pace fast early in the hopes of thinning the field and not allowing the race to come down to a kick. It makes sense since a fast race increases Chelimo's chances of making the team. But if he doesn't trust himself to outkick the Americans, can he trust himself to outkick the Ethiopians in Doha?
That said, Chelimo was only 3rd at the Olympic Trials in 2016 and went on to take silver at the Olympics. Count him out in Doha at your peril.
Drew Hunter is going to Worlds
Had Hunter enrolled in college immediately upon graduating high school, he'd have just finished up his junior year — he's a year younger than Grant Fisher. He took a risk by turning pro instead, but that risk has clearly paid off. He's the youngest American to make the 5k team since another guy who turned pro early — Evan Jager made it as a 20-year-old a decade ago.
It's kind of lame the IAAF can't figure out a way to just say, "If you are top 3 at the US Trials and the US is going to send 3 anyway, you get to go Worlds/Olympics."
The 5th placer in this race is going to Worlds. And we're not thrilled about it. Yes, the only thing that makes it palatable is the 5th person going is 21-year-old Drew Hunter, who will be on the global stage for the first time, but that doesn't mean we like the system.
Those in charge of our sport are constantly on the lookout for ways to market the sport better. We've got a novel idea. Take the top 3 at the US meet to Worlds. 
The reality is track and field isn't a very popular sport when the meet everyone is watching is nothing more than a glorified practice/time trial. But when a race is full of drama (the Olympics), track and field is quite popular. There is no better drama than top 3 are the winners, whether it's at the Olympics or USAs.
This has the potential to be an even bigger issue next year as the Olympic standards are way stiffer.
USATF should have allowed people to chase the standard, or held USAs at a later date
Look, we are all for marketing the sport better. And so we can understand why USATF, from a marketing standpoint, wants to be able to announce the team on TV as it happens. But explaining the 5th place finisher gets to go to Worlds but the 3rd placer does not isn't good for TV either. If you want things to be explainable for TV, there is a simple solution: hold the meet at the end of August. By not letting people chase the standard, the reality is a US distance runner needed to get fit by the middle of June so they could hit the standard and then taper a little bit for USAs. That's not good for an October World Championship. 
We asked USATF why they chose not to allow chasing this year (in previous Worlds years, athletes have been allowed to chase the standard). This is the explanation we received:
"Due to the extraordinary lateness of the World Champs, the number of meets this summer, and the varied selection procedures, the Sports Committees decided not to have chasing."
That explanation makes no sense. Worlds is a month later than usual, but so is USAs. In 2015, the schedule was nearly identical to this year, just shifted back a month. That year, Worlds began eight weeks after USAs and athletes had six weeks after USAs to chase the standard. This year, Worlds begins nine weeks after USAs and the IAAF is giving athletes six weeks from now to achieve the standard. And why is the number of meets this summer relevant?
Hopefully, the world ranking system going into place for the Olympics in 2020 makes it more likely that the top 3 at the US Trials make the team, but it may not in the distance races because a) the world ranking system treats all national championships the same and undervalues the US Olympic Trials; b) does not factor in who you beat in a race and; c) is heavily weighted towards time, which penalizes people who do well in championship-style distance races.
A simple solution for the IAAF would be to allow any country that has a Trials race and would be sending three anyway to send the top three from the Trials.
Bowerman TC's strategy of not racing often backfired today
Few coaches are better at peaking their athletes than Jerry Schumacher, and it showed this weekend. Bowerman earned wins in the women's 1500 and 5k and men's 5k and 10k and notched nine top-three finishes in the distance events in Des Moines.
But Schumacher has also developed a reputation for not racing his athletes much, and in the case of Woody Kincaid, it came back to bite him today. Kincaid said that he was healthy this year, yet in the 10 weeks before USAs, Kincaid raced a grand total of one time, clocking 13:28 at the Sunset Tour meet on July 9.
Schumacher apologists may argue that by racing more, Kincaid wouldn't have been able to finish in the top three today. But in the 5k — where the winning time was under the 13:22.50 IAAF standard just twice from 2007-2018 — it's better to come into the meet with the standard at 90% fitness than without it at 100% fitness. The point of being a professional runner is to make World Championship teams, and Scenario A gives you a better shot to make the team than Scenario B.
Woody Kincaid: "I don't think I could have done it any differently"
Kincaid has always been a big closer — he was 5th at NCAAs in the 5k in 2015, battling it out with Edward Cheserek on the final lap — and 2nd at USA Indoors in the 2-mile in 2017, beating out his teammate Ryan Hill. Today, he used that close to run the best race of his career to date, blitzing a 54.34 last lap to finish well clear of Hassan Mead and finish 3rd at USAs.
The problem is, Kincaid won't be going to Worlds as he doesn't have the IAAF standard. And in the aftermath, there are some serious questions to be asked of him.
For one, he only took one shot at the standard this year, skipping both Stanford meets and putting all his eggs in one basket: the Sunset Tour on July 9. Why didn't he take more shots at the time?
"I was just training and I thought that I could do it [at Sunset]," Kincaid said. "[Worlds] has always been the priority. Jerry knows what he's doing. I was only three seconds off the standard [today] (actually 4.34). It's not like there was no chance I was going to get it. It just didn't break that way."
Even today, however, Kincaid was granted a golden opportunity to get the time after Chelimo towed them through the first half of the race on pace for the standard (Kincaid hit 2600m on 13:23 pace). Yet Kincaid had no interest in driving the pace. At one point, Chelimo stepped aside and motioned for Kincaid to take over; Kincaid shook his head. Chelimo had to practically ambush Kincaid to force him to take the lead, moving out to lane 2 on the home stretch. And once Kincaid got it, he let the race go slow, running his first full lap in the lead in 70.04 — 14:35 pace.
Kincaid said that he tried to make a push with 1200 to go, but he didn't think he'd be able to sustain the move and still be able to finish in the top three. Overall, he still felt pleased with his performance.
"I feel kinda good about it still," Kincaid said. "…It is frustrating, but sometimes the ball doesn't bounce that way."
But it's not that the ball didn't bounce Kincaid's way. He had a chance to push the pace and didn't take it, choosing to race for place over making a concerted effort to hit the time standard. He shares some responsibility for not making this team today.
Talk about the final day of USAs on our world famous messageboard/fan forum: