WTW: Someone Break Up The Women Of The Bowerman Track Club, Putting Drew Hunter's Run In Perspective, Much-Improved US 5k Running, And Galen Rupp Imitates Alberto Salazar
by LetsRun.com
February 24, 2016
What a week. First, the Globen Galan meet was held on Wednesday and three world records were set. Then on Saturday, Mo Farah competed on an indoor track for the first and only time at the Glasgow Indoor Grand Prix (coverage here and here) and then 2016 Millrose Games enraptured U.S. fans with A LOT of high-quality action. We broke down much of it as it happened but now that we've had a little time to reflect, we give some more perspective below.
Past editions of The Week That Was can be found here. Questions or comments? Please email us or post them in our running messageboard.
Article continues below player
---
****
Stat of The Week
18 years, 5 months, 15 days — Age of Drew Hunter when he ran his 3:57.81 indoor mile at Millrose as a senior in HS.
18 years, 3 months, 26 days — Age of German Fernandez when he ran 3:55.02 for the indoor mile as a freshman at Oklahoma State.
(Many thanks to messageboard poster "Still…." for helping us realize this was the case. In case you are wondering, Alan Webb was 18 years, 4 months, and 14 days old when when he ran his 3:53.43 at the Pre Classic).
There is no doubt that Hunter, who broke his own HS indoor mile record by running 3:57.81 last week, is a supreme talent. But the idea that we haven't seen a talent like him since Webb may be obscured by the fact that the ages of high schoolers vary. In terms of the IAAF calendar and World Juniors, Hunter and Stanford freshman Grant Fisher are the same year as both are born in 1997. Fisher is just 4 months and 14 days older than Hunter.
Speaking of Fisher, while Hunter's 7:59.33 3000 on January 30 generated a ton of headlines as it was the HS record, Fisher ran the second-fastest indoor 3000 in US junior history — 7:50.06 on an oversized track on February 13, the day of the US Olympic Marathon Trials. Only Fernandez (7:47.97) has gone faster among American juniors indoors.
With teenagers, the performances are viewed drastically differently based on what grade they are in. We need to remember that each year some of the athletes are overage (Edward Cheserek), some are on the older side for the grade (Hunter), some on the younger side (Fisher) and some underage (Fernandez). In the end, running often becomes when do people stop improving: age 18? 25? 30? 35?

*MB:Grant Fisher – 7:50.06 3K @ Husky, wins fastest section
*MB: DREW HUNTER 3:57.81
*Hunter IS overrated
****
Someone Break Up The Ladies Of The Bowerman Track Club
Over the years, Jerry Schumacher's Bowerman Track Club has mainly been known for the exploits of its men's team, which has always been larger than the women's. But over the last year, the women's team has more than doubled in size as Shelby Houlihan, Colleen Quigley, Betsy Saina and Amy Cragg joined the group. Since then, the results have been terrific. Over the past two weekends, the ladies of the Nike Bowerman Track Club have done the following.
Amy Cragg – won the US Olympic Marathon Trials.
Shalane Flanagan – finished third at the US Olympic Marathon Trials to qualify for Rio.
Betsy Saina – Won the Millrose 5k in an indoor PB of 14:57.18, only the second sub-15 clocking of her career despite her 14:39 pb.
Emily Infeld – Run the 3rd fastest 5000 in US indoor history, 15:00.91, an outright pb for her (15:07.18 was her previous pb).
Shelby Houlihan – Run 15:06.22 at Millrose, moving her to #6 on the all-time US indoor list, a massive improvement of her 15:49.72 pb.
While the Bowerman Track Club women have been having a great winter campaign, the women of its biggest rival club Nike Oregon Project, coached by Alberto Salazar (LRC Nike Coaches Alberto Salazar And Jerry Schumacher Have Heated Exchange, Have To Be Separated After Men's 3,000 At 2014 USA Indoors, Eyewitness account of Salazar trying to go after Schumacher: "It was like a volcano that was just building up to erupt, and we saw the complete eruption and the meltdown."), have been struggling with the exception of Shannon Rowbury.
Treniere Moser – DNF in both Boston (fell) and Millrose (not sure what happened).
Jordan Hasay – lapped in the women's 5000 at Millrose, where she was last in 15:46.45.
Mary Cain – hasn't run faster than 4:13 for 1,500 indoors this year. Remember, two years ago, she was crushing everyone at USAs by running 4:07 at altitude.
Shannon Rowbury – dominated Millrose mile in 4:24.39.
More: LRC Amy Cragg Gets Vengeance From 4th Place Finish 4 Years Ago, Desi Linden Runs Smart For 2nd And Shalane Flanagan Hangs On – Full Recap and Analysis
*LRC Rest Of The Meet: Betsy Saina Wins A Historically-Fast 5k, Shannon Rowbury Comes Up Short In Her AR Attempt, Ajee Wilson Wins As Does Duane Solomon
*MB: Mary Cain runs 4:13.55 in a 4:01 race in Glasgow.
Indoors means very little in an Olympic year.  Check back with us after the Olympic Track Trials.
****
Coincidence of The Week?
"Nikita Kamayev, the former executive director of the Russian Anti-Doping Agency (RUSADA), had reportedly planned to reveal details about drug use in sport before he passed away earlier this month.
"The 52-year-old died on February 14 after what was described as a 'massive heart attack' with his sudden death coming just a fortnight after RUSADA's founding chairman, Vyacheslav Sinev, also passed away….
"Kamayev reportedly wrote to Sunday Times journalist David Walsh offering to reveal information about cover-ups….The information Kamayev was set to reveal to Walsh allegedly included details about a 'secret lab' being used in Russia."
-excerpt from an InsidetheGames.biz piece from last week.
More: Did Putin do it? Former chief of Russia anti-doping agency dies unexpectedly of 'massive heart attack'
****
A World Record Holder's Coach and Husband Thinks We Should Abolish The Olympic Trials
"All our Trials system does is it assures that we won't send some of the best people. It just allows our best athletes to trip up.
"Here's what someone said to me once: 'You could take someone who does fantasy football every day. They could probably pick a better team of our pro track athletes than our trials system produces.' We know who the best people are in most of our events. We should have them on the team. Our trials system will never produce the potential that our team has to win. It will never do it…
"They're not taking into consideration the stress on the athlete. Think how much is involved in the athlete not even knowing until 6–7 weeks before the Olympic Games, if they are even in the Olympic Games. And then they have to organize 5 gazillion things to get done in that six weeks' time.
"Think about trying to get travel arrangements for 10 members of your family and you only have 6 weeks to do it, going to Rio de Janeiro. It disrupts the training; you have to peak twice. These are all things our competition, the top five or six women in the world, don't have to go through. It's not just our event, it's all of them."
–Rick Suhr, husband and coach of pole vault star Jenn Suhr ripping the US selection process in Track and Field News.
Suhr fails to recognize what the US's 'top 3 qualification system" does do:
1) Create incredible drama that makes the Trials the best track meet in the US by far.
2) Give hope to the athletes who aren't ranked in the top 5 in the world — the large majority of the Trials fields.
3) Take politics out of the selection process.
Every four years, USATF can't even select the entrants into the Trials without ridiculous controversy (1996 example here, 2008 example here, 2012 example here). How in the world is anyone going to trust them to objectively select the team when their #1 sponsor — far and away — is Nike?
Who in the hell would Suhr choose for the men's 3000 team indoors this year? Ryan Hill is the world leader. But he only beat Hassan Mead by .03 at Millrose. Evan Jager is one of the World's best in the 3000 steeple. Galen Rupp just rocked the marathon Trials.
We imagine Suhr would advocate giving someone like his wife a bye and then jumping off for the next spot (if indoors) or two (if outdoors). So then none of America's best stars have to compete at the Olympic Trials? No thanks.
The reason why the Olympics is must-see drama is because it's not fair. It's once every four years. Win and you are the champion. Using Suhr's logic, why not just hand out the medals for the Olympics by committee?
More: Rick Suhr No Fan Of U.S. Team-Selection System
****
Thumbs Up To All of The National And World Record Holders
Thumbs Up / Thumbs Down  feature used to be a regular feature of The Week That Was. How about a thumbs up to:
Abdelaati Iguider – The Moroccan had quite a week as he ran world leaders at both 3000 (7:39.04 in Sweden where he beat Yomif Kejelcha and Yenew Alamirew, since surpassed at Millrose) and 1500 (3:34.94 in Glasgow where he trounced 1000 world record holder Ayanleh Souleiman by 1.36) last week.
Melissa Bishop – Canada's 2015 World championship silver medallist ran two national records last week as she ran 2:00.96 on Wednesday in Ireland and then 2:00.19 on Saturday in Glasgow.
All of these people who set national/world records:
Men
Mo Ahmed (CAN) – 7:40.11 NR in 3000 – previous record was 7:40.17 (Kevin Sullivan), previous pb was 7:54.22.
Kemoy Campbell (JAM) – 7:40.79 NR in 3000 – previous pb and NR was 7:46.95.
Mark English (IRL) – 60.93 NR in 500.
Abdalelah Haroun (QAT) – 59.83 – a new world record (world's best) in the 500. He's just 19. Previous WR was 1:00.06.
Jakub Holuša (CZE) – 2:18.27 NR in the 1000, previous NR was his own 2:19.45.
Ayanleh Souleiman (DJI) 2:14.20 – a new world record in the 1000. Previous WR was Wilson Kipketer's 2:14.96.
Women
Genzebe Dibaba(ETH) – 4:13.31 WR in mile, previous record was 4:17.14 (Doina Melinte).
Ciara Mageean (IRL) – 4:28.40 NR in mile – previous record was 4:30.06 (Roisin McGettigan), previous pb was 4:30.64 outdoors.
Sara Lahti (SWE) – 4:30.42 NR in the mile, previous NR was Johanna Nilsson's 4:32.49.
Sandra Eriksson (FIN) – 4:30.91 NR in mile.
Dominique Scott (RSA) – 4:31.57 NR in mile – previous record was 4:36.11 (her own pb).
****
Thumbs Down To The New York Times For Writing A Fluff Piece On The NYRR Millrose Games
In terms of thumbs down, we think this post-meet article in the New York Times on the 2016 NYRR Millrose Games – "Five Years In, Millrose Games Have Found Their Footing at the Armory" – wasn't up to the standard of what we normally find in the New York Times. The article read like a press release, so much so that we wondered what PR agency floated it.
There is no doubt that the 2016 NYRR Millrose Games was a GREAT track meet. Going to it each year is one of the highlights of our winter. But that doesn't mean the article by Ken Belson was good. It wasn't, as it omitted some key points.
In the excerpt below, the Times praised the meet for finding its financial footing:
The event, which was held for the 109th time on Saturday, now roughly breaks even and has better television exposure than in years past. The event has sold out every year, including this year, when the top ticket cost $210. New Balance, Coca-Cola, Uber, Con Edison and others have signed on as sponsors.
Yet the article somehow failed to mention that the official name of the meet is the NYRR Millrose Games and that another non-profit – the NYRR – is the title sponsor and provides the vast majority of sponsorship revenue. To write an article about the finances of the modern Millrose Games and not mention the name of the title sponsor is a huge omission and huge disservice to the NYRR.
The NYRR works very closely with the Armory on the event. In addition to paying a title sponsorship fee, the NYRR provides the money for and organizes the premiere events at Millrose – the Wanamaker miles – and they also do other things like help with marketing and PR and organize a series of trials for 3,000 kids that culminated in the youth boys' and girls' 800m finals on Saturday.
Here is another part of the article that we thought was poorly done.
The Armory, Sander said, still spends about $500,000 to produce the meet, which includes paying meet directors, athletes and staff to publicize the event. But in contrast with arrangements at the Garden, the organizers do not have to pay rent or the concessionaires.U.S.A. Track & Field, meanwhile, could focus on developing its media rights and building a bigger indoor circuit, which now has four meets…
U.S.A. Track & Field, which controls the media rights, also secured a television deal with NBC Sports, which broadcast the elite portion of the all-day meet from 4 to 6 p.m., a window that lets the Armory more effectively market the event to families. When the event moved uptown, it was broadcast on ESPN3 and YouTube.
Our dislike of that segment isn't due to an error of omission – it was factually inaccurate. Here's how we would have written that part.
The Armory, thanks to a huge donation by the New York Road Runners, spends about $500,000 to produce the meet, which includes paying meet directors, athletes and staff to publicize the event. But in contrast to the arrangements at the Garden, the organizers do not have to pay rent or the concessionaires…
That means in theory, USATF could focus on developing its media rights and building a bigger indoor circuit, which hasn't happened. The series now has four meets – the same as it did back when USATF ran the Millrose Games, and only three of those are on TV as one of those meets, the Armory Track Classic, was largely an amateur meet this year.
Four years ago, USATF's indoor championship series had a title sponsor – Visa – and the entire series was broadcast on the more prestigious ESPN family of networks. This Olympic year, even with World Indoors in the U.S., there is no title sponsor for the indoor series and one largely amateur meet. (When contacted in December by LetsRun.com if there was even going to even be a U.S. indoor circuit this year as there had been no mention of the Armory Track Classic, USATF failed to respond.) It's true that in 2012, when the Millrose Games were held at the Armory for the first time, the meet was only broadcast online (YouTube and ESPN3.com) but USATF also put on its own meet at Madison Square Garden that year — the U.S. Open — and that meet was broadcast on ESPN2.
It is a great thing the Millrose Games continues to exist, but let's not pretend that moving Millrose to the Armory has let USATF increase the visibility of track and field as a spectator sport in the U.S. Track and field continues to struggle in that area.
More: Five Years In, Millrose Games Have Found Their Footing at the Armory
****
The US's 5000-Meter Women Are Very Much Improved From 2012
Four years ago, in the winter of 2012, Abbey D'Agostino had a 15:40.69 pb and had zero NCAA titles on her resume. Yet she ended up missing the Olympics by an extremely narrow margin – just .19 of a second – when she ran 15:19.98 at the Olympic Trials. Four years, later she has seven NCAA titles on her resume and a 15:03 pb and yet her Olympic chances are far from a sure thing.
On Saturday at the Armory, D'Agostino ran 15:24.44 at Millrose. That only placed her fifth among Americans. The 5000 has gotten a lot better in the US since 2012.
In all of 2012, indoors and out, there were a grand total of three women who broke 15:10 in the 5000.
15:01.32 Molly Huddle
15:05.38 Julie Culley
15:08.52 Julia Lucas
In 2016, it's still only February and already five women have done it.
14:57.31 Molly Huddle
15:00.91 Emily Infeld
15:06.05 Marielle Hall
15:06.22 Shelby Houlihan
15:09.31 Kim Conley
Plus Nicole Tully (15:05.58) and D'Agostino (15:03.85) did it in 2015 and Shalane Flanagan came within three-hundredths of doing it as well.
It will be interesting to see who ends up on the 5000 team in 2016. If Molly Huddle is healthy and decides to double back from the 10k (she didn't in 2015), she seems like a virtual lock for the team. Infeld would have a very good shot as well, though she was only 4th after doubling back from the 10k last year. Doubling back at USAs is also easier in 2016 than 2015 as athletes had just two days between the 10k and 5k finals in '15 but that gap is seven days in '16 (with a 5,000 prelim in between). If Huddle and Infeld elect to run only the 10k, then there is a lot more Olympic opportunity for everyone else in the 5000.
That realization led us to this crazy thought: MB:Has an Olympic Trials 4th placer ever paid a two-event top 3 finisher like $20,000 to not double at the Games?
It was great to see coaching legends Frank Gagliano and Ron Warhurst at the NYRR Millrose Games last week.
****
Tweet Of The Week
Coming back to the US from Glasgow and the immigration officer tells me professional running is not a real job. #livingthedream

— Benjamin Blankenship (@benfblankenship) February 21, 2016
****
Email of the Week
I worked at the USOT recently, and observed something I thought amusing. When Galen Rupp passed, I saw a flash back to Los Angeles in 1984. I think at least Robert and Weldon might find the attached image a bit funny.
Good job on the website, and best of luck.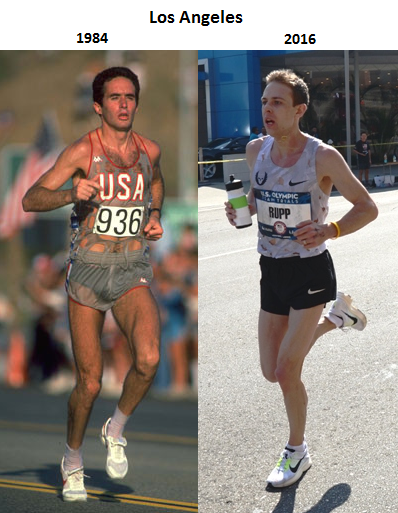 Personally, we were struck by the similarities between Rupp's fist-pump victory celebration and Salazar's at the 1981 New York City Marathon.
Speaking of Olympic Marathon Trials uniforms, we meant to say this last week but forgot: it's clear to us that Nike won the uniform war. It was hot in LA and Nike had white singlets available to the runners. A very smart move. Kara Goucher's red, white and blue Oiselle jersey was great looking but way too dark, as was Desi Linden's Brooks singlet. The Army's Elkanah Kibet even was allowed to switch out of his normal WCAP jersey into a white Nike one.
More: MB: Has Rupp/Salazar made the hole-in-jersey thing too pompus? It's a good idea…
MB: Galen Rupp's Jersey
*MB: Galen Rupp's first pump celebration after Trials = Salazar's from what marathon?
*Photos from 2016 US Olympic Marathon Trials
****
Quotes of The Week (That Weren't Quote of The Day)
#1 Alan Webb is Mentoring Drew Hunter
"The best advice Alan [Webb] gave me was to enjoy moments like today and to cherish them. I'm learning from him. And I'm going to make my own legacy."
–Drew Hunter talking to the New York Times on what he's learned from Alan Webb.
More: A Quick Turnaround as Drew Hunter Breaks High School Mile Mark – The New York Times
#2 Superstitions Are Overrated
"I thought the world was going to end last night when I got to the track and realized I forgot my pink bow in my hair!! Turns out superstition is rubbish and I can run fast without it!! So pleased to run a 1500m PB 4:11.07 and to qualify for World Championships next month. It's always nice to do it on home soil!"
– 29-year-old Irish runner Rose-Anne Galligan talking to lindienaughton.com after racing at the AIT International Arena Grand Prix in Ireland on Wednesday.
****
Recommended Reads
LRC The Best Moment at Olympic Trials Press Conference- Meb Brought to Tears by Galen Rupp, Amy Cragg, Jared Ward, and Desi Linden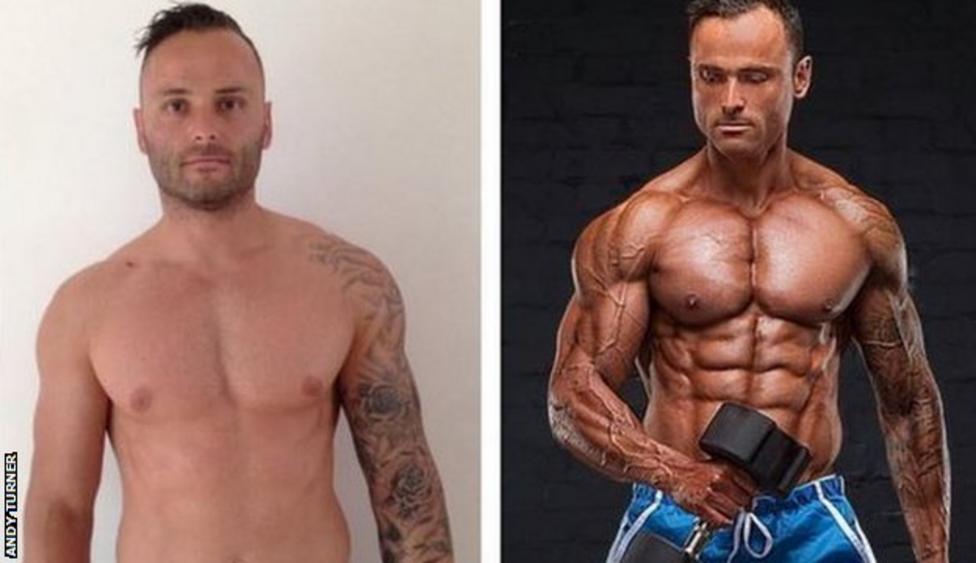 GB's Former Commonwealth Games 110H Champ Andy Turn Is Now A Professional Bodybuilder The former track star explains the ins and outs of a bodybuilder's training routine, which include some ridiculous and unhealthy diet routines that sound absolutely miserable.
Hey Race Cheaters, Race Directors Are On To You – You've Been Warned Race directors are finally catching up to what LRCers have been proficient at for years – catching cheaters. An indepth look at the methods RDs are using to catch course cutters.
Shalane Flanagan Q&A On Dehydration, Delirium, And Drama At The Olympic Trials Flanagan goes step-by-step through the race from reacting to Keylln Taylor's move to teamwork with Amy Cragg and getting so dehydrated she needed an IV afterwards. She says her issues were due to dehydration rather than fitness and is concerned about performing in hot Rio.
The Guardian's Sean Ingle: "Isn't It Time For An Independent Commission Into Kenyan Athletics' Drug Problem?" The time was probably quite a while ago.