The Best Moment of the Olympic Trials Press Conference – Meb Keflezighi Brought to Tears by His Fellow Olympians Galen Rupp, Amy Cragg, Jared Ward and Desi Linden
by LetsRun.com
February 17, 2016
Usually all the drama and tears at the Olympic Marathon Trials are on the course, but in our opinion the most touching moment at this year's Olympic Trials was at the post-race press conference when author Mike Sandrock asked the other Olympic qualifiers on stage (Galen Rupp, Amy Cragg, Jared Ward, and Desi Linden) what their opinion was of Meb Keflezighi.
Article continues below player.
Rupp got the ball rolling, saying what a great competitor Meb was, and then Meb's former teammate, Amy Cragg, took over, relaying what a great person Meb is. Then Jared Ward talked about the great balance in Meb's life and how Meb is a hero of Jared's. Desi Linden took it one step further, flatly stating "Meb is a hero."
Meb was left wiping back tears and the media members gave a round of applause to Meb. The Olympic Trials participants are all part of a brotherhood and Meb is the epitome of what nearly every Trials participant aspires to on and off the roads. We've got the video at the bottom with textual highlights first.
Galen Rupp:  "It speaks volumes about him and his coach that they've been consistently good for so long."
Highlights from Galen: "Obviously he's a tremendous competitor. It speaks volumes about him and his coach that they've been consistently good for so long. He never really has a bad race ever. He's always right up there and he's always a tough competitor."
Amy Cragg: "He truly is just a wonderful person. He believed in me and saw something in me way before someone should have and always encouraged me."
Highlights from Amy: "Meb is an incredible athlete and that pales in comparison to how wonderful as a person he is. I was teammates with him for four years in Mammoth Lakes, California, and he was the guy, when you would show up at practice and were having a rough day, he was the one who would go to the side and make sure you were doing ok. He truly is just a wonderful person. He believed in me and saw something in me way before someone should have and always encouraged me. He's just…wonderful."
Jared Ward: "Meb is nice to everybody…He exemplifies such a positive personality. "
Highlights from Jared. "Meb is nice to everybody…At my first race against Meb, after the race, he talked to me and then at the airport came up and called me by name. He's a very good people's person… He exemplifies such a positive personality. If I was guessing, I'd say that has given him a lot of balance in his life. It's something I hope to have in my life and my running career as well. I'm looking forward to being able to spend some time with all of these guys, with Galen as well, with the girls on this Olympic team, a lot of people I've looked up to for a long time, an opportunity for me to spend some time with some heroes of mine and get to know them better."
Desi Linden: "Meb is a hero"
Highlights from Desi. "Meb's the epitome of a hero. He's Mr. Consistency, he's put your head down and go grind it out… He's very loyal, a good guy. He's what we strive to be. He's an amazing model for us to look up to and we're super lucky to have him. There's great athletes, there's incredible competitors, and Meb, Meb is a hero."
Video (3:45)
Meb earlier in the day: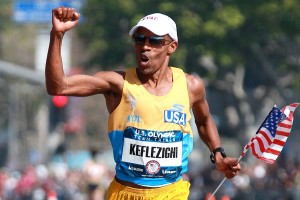 But This May Have Been Just as Emotional: