Mary Cain's Lackluster 2016 Continues – Cain Runs 4:13.55 in Glasgow
by LetsRun.com
February 20, 2016
Mary Cain's less than amazing results continued today as she raced in the women's 1500 at the Glasgow Indoor Grand Prix. In a race won by 2015 World Championship bronze medallist Sifan Hassan in 4:01.40, Cain finished 8th of 9 in 4:13.55 – a time nearly identical to the 4:13.46 she ran in Ireland on Wednesday.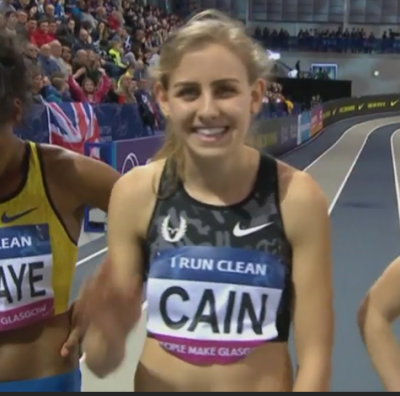 Cain potentially could have run faster but she struggled over the last 400 which we had unofficially in the 72.5 range.
Article continues below player
The race was fast throughout and Cain started out in the back. She was third to last after the first lap but she had people to run with throughout. She'd moved up to 6th  with 400 to go but she wasn't able to finish off the race well. With 400 to go, Cain was roughly one second ahead of 2011 World Championship silver medallist Hannah England who ended up closing well and beating Cain by nearly four seconds.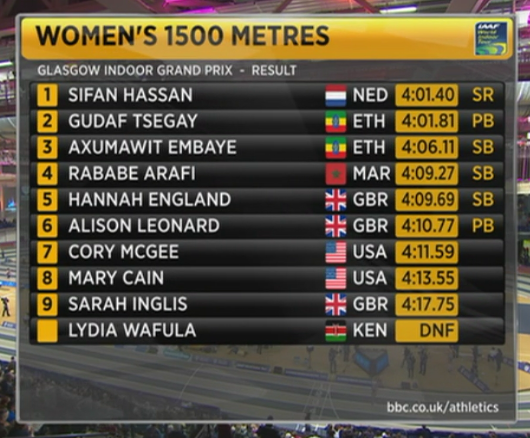 We'd estimate Cain's split to be:
400 66ish
800 – 212-3
900- 2:29 flat
1100- 301 high-302.
1300 – Really guessing here – 336??
Discuss this race and the meet in our fan forum: MB: Mary Cain runs 4:13.55 in a 4:01 race in Glasgow.
*MB: Official 2016 Glagow Indoor Live Discussion Thread – Mo Farah vs. Augustine Choge & Blankenship
*LRC Mo Farah's 2016 Track Campaign Gets Off To A Successful Start As He Wins Glasgow 3000 in 7:39.55
Quick Take Analysis: Cain's struggles need to be kept in perspective.
Given the hype around Cain, many are shocked she's not running great right now. It should be remembered however that none of these athletes are robots. The fact of the matter is Cain was well ahead of recent 2011 World Championship silver medallist Hannah England for much of this race. Yes Cain ended up losing to England by a lot and England is herself on the comeback trail, but perspective is key here.