Jama Aden-Coached Athletes Genzebe Dibaba (4:13.31 Mile), Ayanleh Souleiman (2:14.20 1k) And Abdalelah Haroun (59.83 500*) All Set World Records In Stockholm
By LetsRun.com
February 17, 2016
It was a night to remember for Jama Aden's training group as three of his athletes ran faster than anyone else in history on Wednesday night at the Globengalen meet in Stockholm. Ethiopia's Genzebe Dibaba (4:13.31) and Djibouti's Ayanleh Souleiman (2:14.20) broke world records in the mile and 1000, respectively, while 19-year-old Qatari sprinter Abdalelah Haroun (59.83) became the first man to ever run under one minute in the 500.
In other action, World Championship medalists Abdelaati Iguider of Morocco and Adam Kszczot of Poland got world leaders, with Iguider running 7:39.04 to edge Yomif Kejelcha in the 3000 and Kszczot running 1:45.63 in the 800.
Article continues below player
Like our coverage from Albuquerque?
We recap the world records in the order they were achieved and recap distance action below.
Discuss the meet on our messageboards
MB: Official 2016 Globen Galan Live Discussion Thread – G Dibaba goes for 1mile WR, Souleiman goes for 1k WR!
MB: Souleiman 2:14.20 1000m World Record – What do you think of it?
MB: Jama fu*king Aden
Men's 1000: Souleiman takes down Kipketer's record
Ayanleh Souleiman of Djibouti got the world record evening going as he ran 2:14.20 for 1000m to easily erase Wilson Kipketer's 2:14.96 from the world record books.
Dutchman Bram Som was Souleiman's rabbit and led for the first 600m. 200m was reached in 25.42, 400 in 52.08 (26.66), and 600 in 1:19.44 (27.36). It was then Souleiman versus the clock as Thijmen Kupers and Elijah Manangoi were falling back.
Souleiman reached 800 in 1:46:97 and as long as he did not run his first 28-second lap of the race, at least a share of the record would be his.
Souleiman did even better, finding another gear to crush the record in 2:14.20 (27.23) as he smiled and pumped his fist into the air upon seeing the record flash on the screen.
He was then embraced by his coach Jama Aden on the turn as they celebrated the first world record of the night.
Analysis below. Discuss world record here.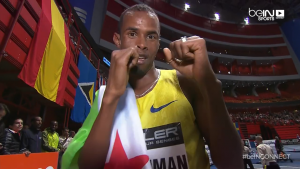 Results
1 Ayanleh Souleiman 92 DJI 2:14.20 WR
2 Thijmen Kupers 91 NED 2:17.02 PB
3 Elijah Manangoi 93 KEN 2:17.09
4 Jakub Holusa 88 CZE 2:18.27 PB
5 Fouad El Kaam 88 MAR 2:19.71 PB
6 Antoine Gakeme 91 BDI 2:20.25
7 Marc Alcala 94 ESP 2:20.45
8 Dale Clutterbuck 92 GBR 2:20.84
Bram Som (pace) 80 NED DN
Leader's splits
25.42
52.08 (26.65)
1:19.44 (27.36)
1:46.97 (27.53)
2:14.20 (27.23)
Quick Take #1 Aden's Group Can Run Fast Indoors
Indoor world records aren't the easiest thing to make sense of as a lot of athletes do not take the indoor season too seriously. To crush a world record by Wilson Kipketer is an impressive feat. Even more impressive is this was the first race of the season for Souleiman. Aden's group has shown it can run fast indoors the first time out the gate.
QT #2: Indoor vs Outdoor World Records
Below are the indoor world records in the 800, 1000 and 1500 with the outdoor world record and the ratio of each. The 800 and 1000 ratios are right in alignment now. It would be interesting to see someone take a crack at 3:30 indoors. If the ratio of 1500 were similar to those of 800 and 1000 the record should be between 3:29.50 and 3:29.60.
800      1:40.91/1:42.67  =  .9828
1000    2:11.96/2:14.20 = .9833
1500    3:26.00/3:31.18  = .9754
Men's 500: A world best for 19-year-old Qatari Abdalelah Haroun
Haroun, who, like the other record-breakers Dibaba and Souleiman, is coached by Jama Aden, became the first man to officially break one minute as his 59.83 took down Brycen Spratling's world best of 1:00.06 from last year. In the other heat, American Erik Sowinski ran 1:01.72.
Haroun's time is the new world best (the 500 is not an offical IAAF event), but it's not the fastest 500 ever run indoors. Speed Endurance has the cool story of Roddie Haley who ran 59.82 at the 1986 NCAA indoor meet on a ten lap to the mile track. However, the track did not have a rail so technically it is not eligible for world record purposes. The reason it didn't have a rail? One wasn't needed as the track was elevated off the ground.
Women's mile: Dibaba gets another world record
For the third consecutive year, Ethiopia's Genzebe Dibaba came to the Ericsson Globe in Stockholm and left with a world record. After taking down marks in the 3000 (8:16.60 in 2014) and 5000 (14:18.86 in 2015), Dibaba smashed Doina Melinte's 26-year-old world record of 4:17.14 in the indoor mile, running 4:13.31 on Wednesday night. Dibaba's is the second-fastest mile ever by a woman, indoors or out, trailing only Svetlana Masterkova's outdoor record of 4:12.56 from 1996.
Rabbit Joanna Jozwik hit 409 meters in 63.59 seconds with Dibaba close behind, and by 609 meters (1:34.98), those two had separated from the pack. One lap later, Jozwik dropped out (Dibaba came through 809 in 2:06.69) and it was Dibaba against the clock. Though she slowed to 32.14 seconds from 809 to 1009 (her slowest lap of the race), she picked it up each lap from there to the finish, going 31.93-31.54-31.00 to close out the world record. Fellow Ethiopian Gudaf Tsegay was second in a very respectable 4:24.98, but it was all Dibaba tonight.
Leader's splits
209: 31.73
409: 63.59 (31.85)
609: 1:34.98 (31.38)
809: 2:06.69 (31.71) Rabbit steps off
1009: 2:38.84 (32.14)
1209: 3:10.77 (31.93)
1409: 3:42.31 (31.54)
1500: 3:56.27 at 1500
Mile: 4:13.31 (31.00)
Quick Take #1: World record #6 for Genzebe Dibaba
Of the three world records/world bests tonight, this was the most predictable. Dibaba always runs extremely well indoors, had broken world records in Stockholm in each of the past two years and her outdoor 1500 best of 3:50.07 (worth about 4:09 in the mile) suggested Dibaba would have no problem taking down Melinte's mark of 4:17.14 if she was in shape. Dibaba's complete list of records now reads as follows:
1500 (indoor): 3:55.17, Karlsruhe, 2/1/14
1500 (outdoor): 3:50.07, Monaco, 7/17/15
Mile (indoor): 4:13.31, Stockholm, 2/17/16
3000 (indoor): 8:16.60, Stockholm, 2/6/14
2-Mile (indoor): 9:00.48, Birmingham, 2/15/14*
5000 (indoor): 14:18.86, Stockholm, 2/19/15
*officially a world best as the 2-mile is not an IAAF event
Quick Take #2: Dibaba's run was phenomenal, but she missed a couple of other records tonight
4:13.31 — almost four seconds faster than the previous mark — is obviously a tremendous time, but Dibaba also just missed out on two additional records tonight. First was her own mark in the indoor 1500 (3:55.17) — there was a clock at 1500 and Dibaba came through in 3:56.27, just over a second outside her best. The other was the overall mile world record of 4:12.56, which Dibaba missed by .75. One would think that if Dibaba makes a concerted record at it outdoors, that 4:12.56 mark will fall this summer, but women rarely run the outdoor mile at the professional level so it may survive another year.
One outdoor record that could go down this year, however, is the women's 5000. Currently Dibaba's sister Tirunesh has the record at 14:11.15, but with Dibaba and world champ Almaz Ayana clocking 14:15 and 14:14, respectively, last year, that mark is looking like it is on borrowed time.
Men's 800: Adam Kszczot wins fourth straight
By halfway (49.73), Qatar's Musaeb Abdulrahman Balla had built up a lead of over five meters over two-time World Indoor champ Mo Aman in second, with Poland's 2015 World Championship silver medalist Adam Kszczot a few meters back of him in third. Aman and Kszczot began closing the gap on Balla, and by the bell Kszczot had passed Aman for second. The gap was almost erased by the final turn, and Kszczot blew by Balla at the top of the home stretch to take the win in a world-leading 1:45.63. Balla's 1:45.93 was good enough for second.
It was Kszczot's fourth straight win this indoor season.
B heat results
Quick Take #1: What a month for Adam Kszczot
Kszczot has certainly been busy in February. In the last 15 days, he's won four 800s in three countries, none slower than 1:46.18.
Adam Kszczot in 2016
1st 1:46.00 Dusseldorf (Feb. 3)
1st 1:45.96 Karlsruhe (Feb. 6)
1st 1:46.18 Torun (Feb. 12)
1st 1:45.63 Stockholm (Feb. 17)
Kszczot has taken silver at each of the last two World Championships (2014 indoors, 2015 outdoors). If he can hold his form for another month, he may be able to upgrade to gold at World Indoors in Portland. A friend of LRC in Poland informed us that Kszczot is not doing World Indoors as he feels it is too late in the season with his training focused on Rio.
Men's 3000: Iguider gets world leader
The men's 3000 came down to a close battle between Morocco's World Championship 1500-meter bronze medalist Abdelaati Iguider and Ethiopia's Yomif Kejelcha, last year's world leader at 5000 meters. Iguider held the lead entering the final lap and Kejelcha moved up onto his shoulder with 100 meters to go in an attempt to pass. But Iguider held him off, and though the two battled throughout the final turn and the entire home straightaway, Iguider remained a few inches ahead until the finish, holding on to win in a world-leading 7:39.04 with a 26.88 last 200. Kejelcha wound up just behind in 7:39.11, an indoor pb.
More screenshots from the meet