Women's 1,500: Mary Cain Remains Unbeatable As She Defends Her US Title With A Blazing Time; After Race 7 Women Walk off Track Hand-in-Hand of Protest of USATF 3k DQ
32-Year-Old Treniere Moser Finishes Runner-Up; Many Non-Nike Athletes Hold Hands In Sign Of Solidarity For Gabe Grunewald
by LetsRun.com
February 23, 2014
Article continues below player
Albuquerque, NM – In our preview of the women's 1,500 at the 2014 US Indoor Track and Field Championships we said that based on 2014 results, it was a pretty easy call to make that Mary Cain would defend her US indoor title and be joined on the team for Poland by Nike Oregon Project teammate Treniere Moser. And that is exactly what happened, as Cain continued the dominance we've come to expect from her this indoor season as she won the fast paced race in 4:07.05 thanks to a brilliant last 400 of 61. Moser was well beaten, but still quick finishing second in 4:09.93 as Team USA Minnesota's Heather Kampf ran a solid race for 3rd (4:13.04).
The Race

The start of this race was similar to the women's 800 in the sense that there was an unofficial rabbit leading most of the way at a fast pace with not a ton of movement going on behind her. Right from the break Kampf took the lead and took the field through a 66.7 first 400 and 2:16 for 800. Behind her, Cain sat in 2nd and Moser in 3rd. Then at 1,000m, the real racing started as Cain made a surge around her and was followed by Morgan Uceny, who had moved from 6th to 4th on the previous lap. Moser followed those two and with 2 laps to go (3:06), Cain had just under a half a second lead on Uceny and Moser.
From this point it was the Mary Cain show. After breaking the race open with a 32.86 on the previous lap, she ran a penultimate lap of 31.06 and a then closed in 30.02 to win convincingly in 4:07.05, 2.88 seconds in front of Moser, who only managed a 32.26 last lap. Behind those two, Uceny had died badly as she went from 4th to 8th in the last 200m, closing in about 40 seconds. On the flip side, early rabbit Kampf had fallen back to 6th with 400 to go, but fought back hard to take 3rd over Oiselle's Amanda Winslow.
Post Race Most of Field Walks off the Track in Protest of DQ in 3000m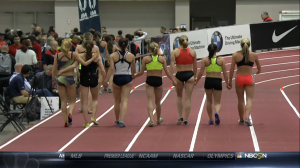 After the race, many of the non-Nike athletes left the track holding hands in a sign of protest against USATF's controversial decision to DQ Gabe Grunewald from the 3,000. (Editor's note: Message board posters have noted we were incorrect when initially in this this story said "the non-Nike athletes" left the track holding hands as there were 13 non-Nike athlete in the field and only 7 of them walked off together in protest) Nike athlete Will Leer criticized the DQ on national TV after the men's 1,500, and with so many athletes united against the DQ, USATF should be ashamed that it's come this far. (If you have no idea what the 3000m DQ controversy is about, click here.)
Quick takes, results and interviews are below.
Quick Thought #1: Mary Cain keeps getting better. After she won Millrose some people were complaining about how her competitors never gave themselves a chance because they let the race go out so slow. Here Kampf took the race out fast and still Cain responded and won unchallenged. Her 4:07.05 at altitude is truly impressive. That converts to a 4:01.67 at sea level which is an outright PR for her as she ran 4:04.67 last year outdoors. Even if you take her 4:24.11 mile from this season, her race today was still more impressive, as 4:24 for the mile is also 4:04 and change for 1,500.
QT#2: Cain is ranked 3rd in the world this year and the fact that she just ran a converted 4:01 only makes her more of a medal possibility at Worlds. Obviously she's still a long way from the top 2 women in the world, but a bronze medal is completely realistic for the 17-year-old Cain, as aside from the top 2, no one in the world has ran under 4:05 this year. It'll be exciting to see what she can do in a race in a race where she's really pushed to the line in competition as she's won all her races this year pretty handily.
QT #3: On the post-race NBCSN broadcast, Cain was asked about the 3k controversy. She said something along the lines of, "It's always tough but I know the officials went through and they watched the race and I trust US Track and Field."
Our post-race interview with Cain appears below. Cain's interview was a whole 39 seconds as you can see Salazar hovering in the background telling the USATF escort to move her along. She did say that today gave her a lot of confidence going into World Indoors and even joked about beating WR holder Genzebe Dibaba.
QT#4: A great performance for Heather Kampf. All the women in the field who ran altitude-converted PRs can thank her as she made this a fast race as she took it out hard and rabbited the field through 1,000. A lot of times you see the early leader die and fade badly, but here she battled back from 6th to 3rd and finished hard with a 32.15 (a faster last lap than Moser actually). The only two who beat her were the two who were clearly the class of the field coming in.
QT#5: It was great to see Morgan Uceny mixing it up there for a while. After her crushing falls in the finals at 2011 Worlds and the 2012 Olympics, she had a rough 2013 as she struggled with injury and just never seemed like herself in races. Here, even though she eventually faded to 8th, she was up challenging for a leading position and trying to follow Cain and was in 2nd place with 400m left. And this was in a fast, honest race, too. Maybe she's not quite back yet fitness-wise, but it's good to see her making moves in big races again.
QT#6: Our interview with Moser is below. Moser was asked about the controversy yesterday with her coach Alberto Salazar, but she didn't have much to say, stating that her coaches do a good job of keeping all that away from them.
Place
Athlete
Time
1
Mary Cain
Nike
4:07.05
2
Treniere Moser
Nike
4:09.93
3
Heather Kampf
Asics / Team USA Minnesota
4:13.04
4
Amanda Winslow
Oiselle / NJNY TC
4:14.38
5
Katie Mackey
Brooks
4:16.24
6
Sarah Brown
New Balance
4:17.81
7
Becca Friday
Adidas/RogueAC
4:18.70
8
Morgan Uceny
adidas
4:20.49
9
Rebecca Tracy
Unattached
4:22.55
10
Sara Vaughn
Brooks
4:22.93
11
Dana Mecke
Unattached
4:23.44
12
Carmen Graves
Roanoke Valley Elite
4:26.51
13
Melissa Agnew
Twin Cities Track Club
4:27.32
14
Amanda Mergaert
Oiselle
4:28.32
15
Brigitte Mania
Connecticut
4:31.10
*Race Photo Gallery
*Race Video here
Previous:
LRC 1,500: How Do You Possibly Handicap This Stacked Men's Field? Look For Cain And Moser To Repeat 1-2 Finish From Last Year In Women's