Post-NYC
US News
UK Stuff
Administrative News
Non-LRC NYC Coverage
Previous

Previous NYC News
Non-LRC NYC Coverage
More Post-NYC
LRC Going To The Top Of The Empire State Building With Geoffrey Mutai And Priscah Jeptoo Before we left NYC, we got to go to the top of NY literally with the man and woman who were on top of NY last Sunday. We give you the inside story. Which champ loved it and which was scared of heights? Which one was limping and which was smooth as silk?
*LRC Empire State Photo Gallery With Mutai And Jeptoo
Weekly Recap - Better Late Than Never
LRC Week That Was: Did Mark Wetmore Pull One Over On Everyone At PAC-12s? Wisconsin Men Lose, A Savior For The Providence Women, A 3:49 Miler Runs New York, And Is Indoor Track Faster Than Outdoors? This week we tell you about the 3:49 miler that ran NYC just months after running 3:32 (no, not Nick Willis), take a look back at the NCAA conference actrion and wonder if Mark Wetmore totally pulled one over everyone at PAC-12s and let you know Providence has taken our advice and trotted out a new 5th woman. Plus we try to answer the age-old question, "Is indoor track actually faster than outdoors?"
MB: Are indoor tracks faster than outdoor tracks? Nick Willis says yes*. What say you?
MB: Did Mark Wetmore outfox everyone in the Pac 12 and haver his guys go out harder than everyone else?
Upcoming
International Elites In The News
International: Bolt Wants Sub-19 In 2014
News From Russia
Not Your Everyday Reads
News From Kenya
Post-NYC / Distance News: Dennis Kimetto Says Chicago Was A Missed WR Opportunity
Women: LRC 6 Takeaways From The Fascinating Women's Race Big props to runner-up Buzunesh Deba, an awful day for the Americans and - most importantly - did a mysterious man on a bicycle save the day for Priscah Jeptoo, who is the greatest women's distance runner in the world right now?

Race Recap Priscah Jeptoo Comes From Behind For $625,000 Victory RRW 14 miles into the race, Priscah Jeptoo was 3:24 behind 2011 runner-up Buzunesh Deba. Jeptoo had to catch her if she wanted to win $600,000. She did it in impressive fashion as Deba held on for second. Top results. Adriana Nelson was the top American. *Results
Other News
*LRC Photo Gallery link fixed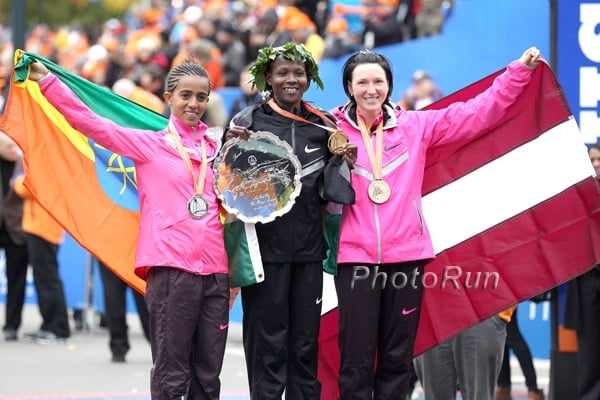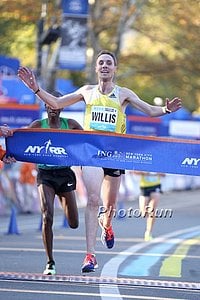 LRC Nick Willis Over Sam Chelanga, Aaron Braun link fixed
Nick Willis showed he's pretty good at 5k with a big kick the final 800m to get the win over Ben True's new training partner Sam Chelanga and Aaron Braun. Recap, results, post-race video.
LRC Chris Solinsky's Still Got The Fire After His 14th Place Finish: "It's Embarrassing" ... "It Was Really Bad" ... "A Shit Performance" Video and text.
*Discuss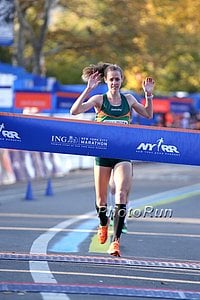 LRC Molly Huddle Over Emily Infeld & Shalane Flanagan updated Molly Huddle got the best of Jerry Schumacher-coached athletes Emily Infeld and Shalane Flanagan as she won in course record time. Recap, results, post-race video.
*Discuss

LRC Photo Gallery
News From Europe
LA News
USA Today: "Films On Lance Armstrong Have Titantic-Like Appeal?" A long look at the three movies and documentary (The Armstrong Lie) that are in the works. The documentary is set to be released in select cities Friday.
Olympic Games News
More NCAA (Full Updated Conference Champs Coverage Farther Down)
Big West: *Men Results *Women Results
*Cal Poly Sweeps Big West Men And Women's Titles Laura Hollander led Cal Poly, winning by over a minute with a new CR. Cal Poly's Chris Frias won the men's race.


West Coast: *Men Results *Women Results
*Jason Witt Takes 1st Place To Help BYU Men Win West Coast Conference Champs Portland was 2nd by 18 points.
*San Francisco Women Win Fifth-Straight WCC Title, Led By Bridget Dahlberg, Who Took The Individual Title
*Meet Video Highlights


Big 10: *Men's Results *Women's Results
*Indiana University Wins Big 10 XC Title To End Wisconsin's 14-Year Streak The top 3 teams were relatively close with Michigan 2nd and Wisco 3rd.
*Michigan State Women Win 3rd Big 10 Title In 4 Years Rival Michigan was a close 2nd with Minnesota 3rd.
*Wisco Freshman Malachy Schrobilgen Gets Big 10 Individual Title On losing "the streak," Coach Mick Byrne said, "The message is that this is just one race. We still have two races to run and we can either hang our hats up or we can come out fighting."
*Michigan's Erin Finn Wins Big 10 Individual Title To Lead Team To 2nd Place Finish


PAC-12: *Men's Results *Women's Results
*Colorado Men Are Back-To-Back PAC-12 Champs
*University Of Arizona Wins PAC-12 Title With Close Win Over Colorado
*Edward Cheserek Wins PAC-12 Title, Leading Oregon Men To 2nd Place Team Finish
*Stanford's Aisling Cuffe Takes PAC-12 Individual Title Stanford women finished 5th as a team.


Heps: *Men Results *Women Results
*Columbia Men And Dartmouth Women Wins Heps Team Titles Abbey D'Agostino dominated on the women's side while Harvard's Maksim Korolev won handily for the men.


Big 12: *Men Results *Women Reults
*Oklahoma State Men Get Their 6th Straight Big 12 Title
*Iowa State Women 3-Peat At Big 12 (W/ Video)
*Texas Tech's Kennedy Kithuka Repeats As Big 12 Individual Champ
*Marielle Hall Is Texas' First Big 12 Individual Champ Ever


Big East: *Men Results *Women Results
*Freshman Patrick Tiernan Leads Villanova Men To Big East Title Providence was 2nd.
*Emily Sisson Claims Big East Title To Lead Women's Cross-Country To Its Sixth Conference Crown Georgetown was 2nd.


ACC: *Syracuse Wins ACC XC Champs
*FSU Wins 6th Straight Women's Title
*Results On the men's side, #14 Syracuse faced #18 North Carolina and #23 Notre Dame, while for the women, #5 FSU was up against #10 Virginia, #19 Syracuse and #22 Notre Dame.


Friday's New York City Marathon On The Run Video Show (Meb, Mutai, Alisha Williams, Jason Hartmann, David Epstein, Wejo). More Episodes Here.
Don't Think You Can Run 2:03 Clean? Geoffrey Mutai Wants To Talk To You (More Here).
Episode #2 On The Run With Frank Shorter, Bill Rodgers, Joan Benoit, Stephen Kiprotich, More (Larger Here). Each Night At 8pm Eastern Here.
Random Stuff: Harry Potter Is Seb Coe