IAAF Beijing World Challenge Was Yesterday: Brimin Kipruto Loses Again *Full Results
IAAF Recap: David Oliver Wins 110 Hurdles In WLing 13.16 As Jason Richardson Was Well Beaten In 3rd (13.48) Justin Gatlin won the 100 over Mike Rodgers 9.91 to 9.96 (something went wrong for Doc Patton, who was last in 12.05), Olympic champ Anna Chicherova set the HJ WL at 2.02m, Allyson Felix dominated the 200 in 22.36, as did LaShawn Merritt the men's race in 20.40, and Kellie Wells won the 100H in 12.87. In the LJ, world leader/hometown favorite Li Jinzhe won in 8.31m, but was forced to exit the stadium after suffering an injury to his left arm. SA's Godfrey Mokoena was back in 4th (7.97m). *Full Results
Kenyan Distance Events: Kenya's Hilary Yego Won The Steeplechase In 8:09, Beating 2008 Olympic Champ Brimin Kipruto By 6 Seconds In the women's 1,500, Eunice Sum out-sprinted Mary Kuria, 4:04.49 to 4:05.17, while in the men's 800, Alfred Kirwa Yego beat Edwin Melly on the line, 1:46.43 to 1:46.46.
US News: Men's Moscow Marathon Team Announced
Running Science
(In Case You Missed It Over the Weekend) Week #2 Of IAAF Season Is In The Books *Full Results *LRC Shanghai Photo Gallery (Videos In Race Recap Below) (Non-LRC Coverage Further Down Page)
LRC 2013 Shanghai Recap: Asbel Kiprop Pulls Off A Houdini Act, Do We Have A New King & Queen In The Men's Steeple And Women's 5,000? Asbel Kiprop amazed, a new phenom emerged in the men's steeple and perhaps as well in the women's 5,000 & Francine Niyonsaba dominated the women's 800. Plus lots of great sprint/field action with Kirani James, Shelly-Ann Fraser-Pryce, Jason Richardson, and Chinese hero, jumper Jinzhe Li.
*IAAF Full Meet Recap
LRC Shanghai Photo Gallery
MB: Official 2013 Shanghai Diamond League Discussion Thread
Sunday Road Results: Ryan Hall 2nd At Bay To Breakers
WADA Head David Howman Says They Are At A Financial Breaking Point "It seems that each year we get asked (for) more and each year we do not get any more money."
Non-LRC Shanghai Coverage
UK News: Jessica Ennis Gets Married
Recomended Read: Think Aries Merritt Came Out Of Nowhere Last Year? Not Quite, As He Was A World Jr. Champ In 2004 But Then Always Injured And Not As Dedicated After That Good interview with Merritt, who knew he could be good when Jason Richardson won in Daegu because he "murdered" him in college. He talks about changing diet, technique, playing tons of video games, and how he thinks he would be a "monster" at a 200m hurdle race.
Random But Interesting
Random ... Less Interesting
A Few Recommended Reads
Young Phenoms In The News
MB: 21-yr old Laura Weightman runs 8:43.46 for 3k to open up 2013 Weightman is very, very good. Basically as good but a year younger than Jenny Simpson was in 2009 and Simpson is now a World Champ.

Oregon Signee Christian Brennan Of Canada Hoping To Break 51.70 In Upcoming Meet The #1 time in college is 51.57.
News From Kenya (A Deceased Phenom In The News)
2nd Anniversary Of Sammy Wanjiru's Tragic Death Passes - Mausoleum In His Honour Was Unveiled As His Lawyer Claims Agent Federico Rosa Has Stolen Money

Patrick Makau (2931) Loses To Peter Kirui (2915) At Administration Police Championships
Ultramarathon News
Jon Olsen Named USATF Athlete Of Week As He Won World 24-Hour Champs And Led Team USA To Team Gold

Previous: Ultrarunning.com Americans Dominate World 24-Hour Championships ultrarunning.com
*Modesto Bee: Modesto's 38-Year-Old Middle School Teacher Jon Olsen Wins World 24-Hour Championships

Pre-Race: Modesto Ultramarathoner Jets To Holland For A 24-Hour Race

Inside The Mind Of GBR Ultra Runner Robbie Britton, Who Was 19th At 24-Hour Worlds Last Weekend
Running Science: Kenyan/Ethiopian Dominance - Is It In The Genes?
Kim Smith 15:02 5k, Molly Huddle 8:57 3k At New Balance Boston Twilight Meet Abbey D'Agostino won the 800 in 2:08.11. *Full Results
Sunday Results
Next Weekend: World Cross-Country Champions Japhet Korir And Emily Chebet Lead Fields For May 19th TCS World 10K Bangalor Road Race Korir will face Moses Masai, Ukranian Sergiy Lebid and GB's Scott Overall, while Chebet will race Lucy Kabuu and Pascalia Kipkoech (second-fastest woman over road 10k in 2012).
Mid-D News
Two Interesting Reads From The UK
Re:Run San Diego
San Diego Tribune On Mary Cain's Great Run Nice read by Mark Zeigler. We wish people would stop comparing Cain to Mary Decker. Mary Decker has a drug offense on her record and is not someone to emulate.

Results: Duane Solomon Wins 800 In 1:46.54 Over Erik Sowinski And Lopez Lomong; Brenda Martinez (1:59.59) Wins Women's 800 As Mary Cain Runs 2:01.68 In 4th (updated with splits) In the mile races, Paul Robinson won in 4:04 after the field went out in 2:10, beating Jordan McNamara in 2nd (4:04.71); David Torrence was 6th (4:05.38). For the women, Susan Kuijken won in 4:27.13 over Brie Felnagle (4:28.90).
*OTB: Mary Cain 2:01.68!!! *Mary Cain-2:01.68 @ Re:Run *Re:RUN San Diego Results & Discussion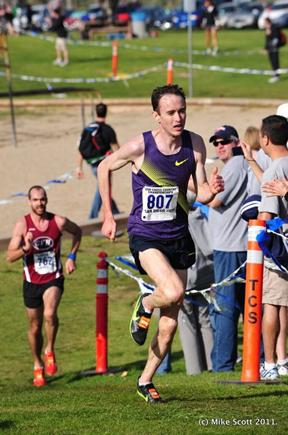 Non-Conference Results: Ethiopia's Belete Assefa (34:21) Wins Bloomsday 12k Over Kenya's Emmanual Bett (34:33) Brent Vaughn was the top American in 8th place (35:28) as Abdi Abdirahman was 10th (35:46) and Zach Hine 13th (36:09). For the women, Ethiopia's Buzunesh Deba dominated in 39:53 as Kellyn Johnson was the first American in 5th (40:42). *Top Results *MB Thread
*Kenyan James Kirwa Defends His Title To Win Pittsburgh Marathon In 2:13:37 As American Mary Akor Won The Women's Race In 2:37:35 Kenyans Julius Kogo and Risper Gesabwa took the 13.1 mile titles in 1:02:32 (CR) and 1:13:16 respectively.
*AP: Pittsburgh Marathon Run Amid Tightened Security
*Feisha Ayelle (47:02) and Askale Merachi (53:45) Win Broad Street Run 10 Miler In Philadephia (results)
*HS: Oregon Recruit MaryBeth Sant Runs High School Leading 11.38 To Win 100 At St. Vrain Invitational In CO She also ran 23.91 at the same meet.

Big 12: *Big 12 Full Results *Texas Men, Kansas Women Claim Big 12 Titles Both meets were close with Texas beating Oklahoma 146.5 points to 133 and Kansas winning with 158 over Texas with 145. Final day highlights included Oklahoma going 1-2 in the 1,500 as Patrick Casey set a Big 12 record of 3:40.04, beating out Riley Masters (3:41.22), OK State going 1-3 in the 5k led by Kirubel Erassa (13:53.53), who won over Girma Mecheso (13:54.62) and Tom Farrell (13:55.47), Betsy Saina winning the 5k by 33 seconds in 15:41, Natalja Piliusina winning her 3rd straight outdoor 800 title in 2:03.99 and Texas' Trevor Van Ackeren winning the steeple (8:49).
*Texas Article *Big 12 Meet Site

Heps: *Full Men's Results *Princeton Men Win 3rd Straight Heps Princeton was trailing Cornell, but put 3 in the top 5 of the 5K to pull ahead, led by Michael Franklin's win (who also won the 10k). Princeton's Peter Callahan won the 1,500 in 3:49.74.
*Full Women's Results *Cornell Women Defend Heps Title, Beating Columbia By 24 Points Abbey D'Agostino dominated the 1,500 in 4:11.94 and also won the 3k in 9:21.79. Cornell's Rachel Sorna won the steeplechase in 9:58.96. All-Americans Sorna and Katie Kellner had impressive distance triples, each winning their specialty event, to help the Big Red cause.
*Day 2 Highlight Video
*Hepstrack.com

Big East: *Men's Results *UConn Men Win Their Big East Crown In Close Battle With Notre Dame Notre Dame's Jeremy Rae won the 1,500 in 3:47.76.
*Women's Results *Notre Dame Women Dominate Big East Championships Villanova's Emily Lipari won the 1,500 in 4:24.25.

Patriot: Patriot League Report, Final Day: Bucknell Sweeps Men's And Women's Titles *Results

PAC-12: Oregon's Dakotah Keys Wins PAC-12 Decathlon Title; Arizona State's Keia Pinnick Won The Heptathlon Multi events are the week before the rest of the meet for the PAC-12. *Results
2 Reviews & 1 Book Excerpt From John McDonnell: The Most Successful NCAA Coach In History
LRC Book Review By Former Hog Marlon Boykins: "Two Thumbs Up:" - "The book is full of insight into the hard-working, team-first ethos that made us such a successful." We had two people review the book, including the 1:47 man Boykins, who was at Arkansas at the pinnacle of its heyday. "It was a self-contained UBER-COMPETITIVE atmosphere ... the sprinters, jumpers and distance guys all trying to show which group reigned supreme ..."

Book Excerpt The Legendary Story Of The 1989 Penn Relays DMR, Where 4 Kids From Arkansas, Texas And Missouri Beat 4 African Olympians And The Olympic 1,500m Champ The 1989 Mount St. Mary's Penn Relays DMR team featured 4 African Olympians, including 1988 Olympic 1,500m champ Peter Rono. John McDonnell's Arkansas squad featured 4 kids from Texas, Missouri and Arkansas. A legendary motivational speech by McDonnell and Joe Falcon on the anchor made for one of the great upsets in Penn Relays history. Read all about it in this excerpt from the new John McDonnell biography.

LRC Review #2 John McDonnell D2 Coach Torrey Olson We had Olson, who has an MFA in creative writing, give his take. "It's got a lot to offer anyone interested in an incredibly sustained passion for the both the sport and the profession."
International News
Other Upcoming
Non-Oxy/Shanghai Track Results: Asafa Powell Injured Again
College Running News
News From Kenya
Big Administrative News
Upcoming Pro Action
Doping News
Upcoming Action
Saturday's Pro Action - US 25km Champs At Fifth Third River Bank Run / UAE 10km *USA 25km Results *UAE Results
Doping News: Well Done, WADA
Interesting Distance Runner News
Two Recommended Reads
Interesting Reads From Africa
News At Home
The Virgin London Marathon - The World's Most Competitive *Top Results LRC: Photo Gallery
Vivian Cheruiyot Won't Race This Year
Vivian Cheruiyot Is Pregnant And Will Not Defend Her World Titles At Moscow 2013 "I am very happy to announce that I will take some time off from athletics this year as I am pregnant with my first child. I have been running for many years and at 29 feel that now is the right time to start a family."
*CapitalFM Article
The Week That Was
LRC Mary Cain Rewrites The Record Books, German Fernandez & Robby Andrews Struggle, Molly Huddle Impresses, WADA Testing Alert, And Is Alan Webb Done? We offer some extra insight into last week's action at Oxy, Shanghai, Bay to Breakers (aka Ryan Hall's comeback) and more.
International News: Oscar P Won't Be Racing In 2013
RR: T&F News Article On Bryshon Nellum's Long Road From Gunshot Victim In 2008 To Olympian (And 4 X 4 Silver Medalist) In 2012 Interesting to note that he made the Olympics last year after not even making the NCAA final.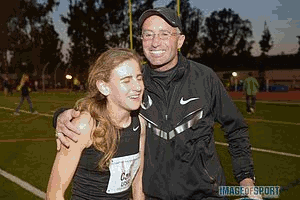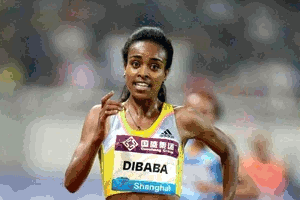 US News
LRC

Win Upgraded VIP Tickets To The adidas Grand Prix (aka The Best Value In NYC Pro Sports)

As part of their advertising package, the adidas Grand Prix gave us 2 Diamond Level VIP Tickets to the meet. And we're giving them to you. You're welcome. Instead of enjoying VIP perks, we'll be slaving away for you for free.
16-Year-Old Track Runner Who Spent 5 Months In The Hospital Recovering From Leukemia Is Going To NYC adidas GP As Part Of The Make-A-Wish Foundation He'll also get to meet his favorite athlete, Tyson Gay.
Doha Destroyers Abeba Aregawi And Hagos Gebrhiwet Added To Fields At NYC adidas GP Gebrhiwet will line up in the 5,000 while Aregawi will take on 2008 Olympic 1,500 champion Nancy Langat in the 1,500. Previously announced in the 800, David Rudisha will take on Nick Willis, Erik Sowinski, Robby Andrews, former Olympic silver medalist Mbulaeni Mulaudzi and Brit Andrew Osagi.
9 More Olympic/World Champions Added To Fields Sanya Richards-Ross vs. Amantle Montsho and Christine Ohuruogu in the 400, Christian Taylor vs. UK's Phillips Idowu in the TJ, Reese Hoffa vs. Ryan Whiting in the SP and Tianna Madison vs. Kelly-Ann Baptiste in the 100.
Veronica Campbell-Brown Leads "Parade Of Caribbean Stars" For adidas GP She'll be in the 200 Olympic bronze medalist (ranked #1 in 2012) Javier Culson will lead the 400H. Warren Weir, Nickel Ashmeade, almost-Bolt-slayer Kemar Bailey Cole will also compete.
US Pro News: Deena Kastor Going To Worlds
Another One Bites The Dust: Russian Ultramarathoner Natalia Volgina Tests Positive For Steroid And Is Set To Lose Her Two Oceans Marathon Title And $27,000 Prize Money
BAA Offers Invitations To 2014 Race To 2013 Boston Marathon Racers Who Were Prevented From Finishing Race Due To Terrorist Attack
Our Weekly Recap - The Week That Was
LRC Is Tyson Gay Better Than Usain Bolt? Lawi Lalang The NCAA 1,500 Fav? Abbey D Does The 10k? Is Faith Kipyegon On Drugs? Is The PAC-12 > The SEC? This week we declare the US women's 1,500 medal chances are over unless your name is Jenny Simpson, anoint a new NCAA men's 1,500 favorite, try to move Abbey D'Agostino up to the 10k (or marathon), wonder if the PAC-12 is better than the SEC at track, ask if Kenyan star and Mary Cain slayer Faith Kipyegon is on drugs (not unless Alan Webb was), and give kudos to Brittney Reese, Garrett Heath, and the Dartmouth and Oregon State women.
Doping News - Smoke Up
Gone Over The Weekend? 2013 IAAF Diamond League Started Friday *Results *Flash Photo Gallery
*IAAF Full Meet Recap

Men: LRC Men's 3,000: Hagos Gebrhiwet Makes A Statement With Impressive 3,000 Win - 18-Year-Old Phenom Seems To Be The Man To Beat In 2013 Mo Farah's probably going to be training a bit harder tomorrow after seeing this one as Ethiopia may soon have a third king in the Haile-Kenenisa line of rulers.


LRC Men's 800: David Rudisha Has To Work For It But He Opens 2013 Season With World-Leading 800 Win Rudisha put on a clinic on how to control an 800 from the front. The entire field was right behind him with 200 left but he closed faster than he did in London to win.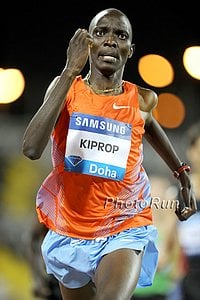 LRC Men's 1,500: Asbel Kiprop Is Back - Kenyan Dominates 2013 Diamond League Opener In Doha Kiprop may have flamed out at the Olympics but lots of people seem to have forgotten he was injured. He killed everyone in Doha.
*Johan Cronje Breaks South African 1,500 Record With 3:33.46 For 8th Place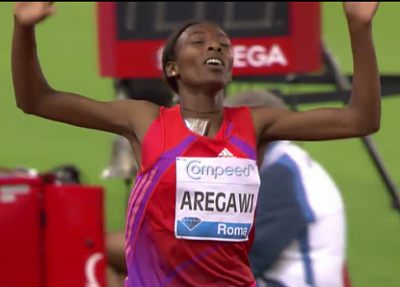 Women: LRC Women's 1,500: Sweden's Abeba Aregawi Wins As Three Women Run 3:57.54 Or Better!!! In terms of quality, the women's 1,500 was race of the night. Coming into the race, only two clean women had run 3:57.54 or better in over a decade. Three did it in the season opener, including a new teen star from Kenya, Faith Kipyegon, who didn't even win. One other person who didn't win - a very happy American in Gabriele Anderson.

LRC Women's Steeple: Lydiah Chepkurui Pulls Off A Big Upset Five of the top six from the Olympics lined up but a non-Olympian got the win thanks to a 2:57 last 1k.
LRC The #1 Recruit In The Land Signs With ... New Mexico? The #1 recruit in the land has decided where he'll be running next year and coach Joe Franklin is a very happy man as a result. Whom do we consider to be the top recruit???
Think The Sub-2-Hour Marathon Is On The Horizon? Think Again
LRC The Myth Of The Sub-2-Hour Marathon The mainstream media thinks it may be close but in reality most people reading this will be dead when it happens.
*Science of Sport's Ross Tucker agrees: Pacing, fatigue and the brain. Lessons from London.
*MB: Sub 2 Hour Marathon Discussion: My Thoughts and Yours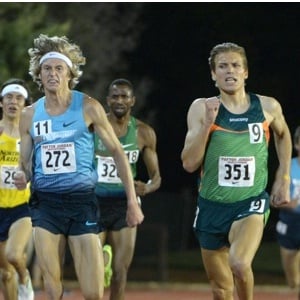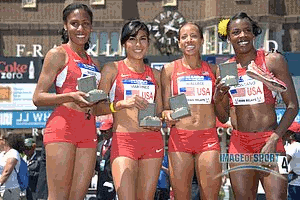 Blue Collar / Inspirational Runner Of The Week
LRC Meet Conner Paez: "Please don't cut off my leg. Please just don't amputate my leg. I can't lose my leg. I need to run." Two years ago, Conner Paez was on top of the world as a freshman at the University of Pennsylvania (8:16, 14:18). Then his life turned in a second as he was broadsided by a car while on his motor bike. The injuries were bad, very bad. He almost lost his leg, then some toes. Doctors told him he'd never compete again. What's he doing this weekend? Competing again.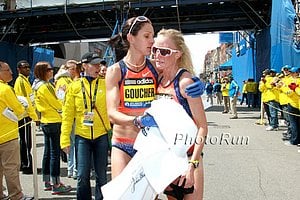 Learn From The Pros
LRC Ten Training Tips From Bernard Lagat, Dathan Ritzenhein And Abdi Abdirahman The American men took center stage at the NYC Half on Thursday. You can watch video interviews with the top American men (Lagat here, Ritz here and Abdi here) and we will have more on their race preparations on Friday, but in the meantime we compiled ten training tips from Bernard, Dathan, and Abdi that you can use in your own training.