LRC W3k: The Coronation: Abbey D'Agostino Completes The Double The NCAA has a new queen and American distance running may have its leading face for the next decade as D'Agostino became the first American 5,000 and 3,000 NCAA indoor champion ever, let alone at the same NCAA meet. Jordan Hasay finished second in what she called "probably the best race of my life" as she gave Oregon the points that gave them their 4th-straight team title. Emma Coburn won the mile and Natoya Goule the 800.
*Abbey D'Agostino Post-Race *Jordan Hasay Post-Race

Meanwhile, On The Boards:
Friday Night
LRC 5ks: Abbey D'Agostino And Kennedy Kithuka Dominate In Different Ways The women's 5,000 came down to the final mile between stars Abbey D'Agostino, Betsy Saina and Jordan Hasay - and it was no contest. D'Agostino was clearly best. On the men's side, Kennedy Kithuka put in an early surge and that was all it took despite a game effort by Diego Estrada to keep it honest throughout.

*Friday Photo Gallery Here *Friday Video Highlights From NCAA (1:24) *LRC Friday Interviews
Meanwhile, On The Boards:
Pre-Race
LRC Arrival Day In Fayetteville: Chris O'Hare's Incredible Look, The Pre-Meet Press Conference, And A Free History Lesson With A Haircut Rojo is on the ground in Arkansas and is now certain that Chris O'Hare is going to win the mile as he won best-dressed award at the banquet. Will Cas Loxsom run the DMR? What did Chris Bucknam say about the pressure he feels to win NCAA title #1? How confident is Mike Holloway that Sean Obinwa can match the Hogs in the 800? Did you know George Washington wasn't the first US president?
*Good Read: RRW: Chris O'Hare Doesn't Mind The Added Pressure Of Being The Defending Champ And NCAA Record Holder Going Into The NCAA Mile

LRC 2013 NCAA Division I Indoor Track & Field Previews *Discuss
Non-NCAA Weekend/Upcoming: US 15k Champs Are Saturday
NYC Half Is March 17th
Looking Ahead To Other Future Action
International News
Get To Know USATF's Head
In Life, Like Track, The Finish Is More Important Than The Start
Recommended Read USATF CEO Max Siegel Overcame A Really Rough Childhood To Be A Huge Success "(All my homes) were all bad. It is hard to measure degrees. There was a lot of violence, a lot of alcohol. I grew up feeling uneasy, craving stability. ... I didn't enjoy my childhood at all. ... From an early age, I made a conscious decision not to let what anyone else thought of me affect me emotionally."

More US News:
*It Takes A Strong Man To Apologize: After Message Board Backlash To RW Interview, Dathan Ritzenhein Apologizes For Comments About World XC "No Longer Being Significant"
Day 2: LRC Mary Cain Dominates & Wins Her First US Indoor Title Cain was simply brilliant and thrashed the field. In the process, she showed a technical savvy and closing speed way beyond her years.
*Sunday Photo Gallery *Video Of Cain's Win

*LRC Rest Of Mid-D & Distance Action: Will Leer Completes Heart-Warming Double As Erik Sowinski's Dream Season Continues And Teen Phenom Ajee Wilson Joins Cain In Winner's Circle The 2013 USA indoor meet ended up being fantastic from a fan's perspective. With his cancer-stricken father in the stands, Leer found the guts to complete the 3k/mile double as Erik Sowinski just held off Robby Andrews and Wilson led throughout.
*Short On Time? Men's 800 Recap Only
*Women's 800 Recap Only
*Men's Mile Recap Only
*USATF Recap Of Day 2 Ryan Whiting threw a world leader in the shot put (21.80), Mississippi State's D'Angelo Cherry ran the world's 3rd-fastest 60m of the year (6.49 - world leader is 6.48) and 2004 Olympic gold medallist Jeremy Wariner won his first-ever US indoor crown with a 45.82 clocking (#4 in the world).
*AP Recap Of USAs From A Guy Who Clearly Doesn't Cover Track
*IAAF Recap

More 2013 USA Indoor News

Updated: LRC Day 1 Distance: Chelsea Reilly Wins National Title As Lisa Uhl Nearly Impales Herself, Will Leer Dominates
Chelsea Reilly won her first national title in NASCAR fashion as she and Lisa Uhl collided right before the finish with Uhl catapulting herself head first off the track. Fortunately, both women survived without serious injury. Will Leer dominated the men's as expected. Can he pull off the 3k/mile double tomorrow? In the 800, the "names" - Mulder, Andrews, Centro, Sowinski - all advanced except for Mark Wieczorek.
*Photos
(Video of 3k finish in article or to right on homepage)
Milers In The News
LRC Meet Jacob Burcham: West Virginia's 4:02 High Schooler Wants To Go Sub-4 This Spring Joel Wolpert has produced a short film on the WV star, who while certainly very talented, is far from obsessed with running. Burcham, "I used to think of myself as a football player all of the time. I still kind of do in my head."
LRC Farah Outkicks Gebremariam, Meseret Defar Over Shalane Flanagan, Kara Goucher Way Back Meseret Defar's second half marathon was much like her first one, a win (1:07:25) over Shalane Flanagan (1:08:31). Mo Farah doesn't lose and he found a way to beat Gebre Gebremariam 1:00:59 to 1:01:00.
*On The Boards: Cool Race Blow by Blow

*Farah Says Running The First Half Of The London Marathon Isn't About The Money
Stockholm Meet *Results
LRC Friday Tidbits From Stockholm: Update On Galen Rupp's Record, Plus Dibaba News We've got splits for Galen Rupp's last 600m, plus news that Genzebe Dibaba is not now coached by Jama Aden, the coach to Taoufik Makhloufi, who has strong USA ties.
On The Boards: Jama Aden Coaching Philosophy


LRC Galen Rupp 7:30.16 American Record! Aregawi Just Misses 1,500m World Record Galen Rupp's tremendous 2013 continued with his finest performance yet. Not only did he get the American record, but perhaps most importantly he got his first European win of note. The other big news was new Swedish citizen, Abeba Aregawi, just missing the world record by .12 in the women's 1,500m. In other action, Genzebe Dibaba blitzed an 8:26.57, Mohammed Aman ran a world leader in the 800m, and Matt Centrowitz came up well short of the American 1,000m record. Flash recap.
*IAAF Recap: Olympic Silver Medallist Yarisley Silva Breaks Her Own Cuban Record And Sets World Lead In PV With 4.71m Shelly-Ann Fraser-Pryce set a PR in her 2nd-ever 60m to win with 7.04.
*Pre-Race Interview With Rupp

On The Boards: *Rupp 7:30.18!!! *GALEN RUPP NEW 3000 AR 7:30.18 *STOCKHOLM MEET updates! *Galen Rupp Will NOT Break U.S. 3000m Record In Stockholm
US Distance News
Kenya Gives The US Some Respect: Kenya World XC Team Reports To Training Camp: Mercy Cherono Says She "Relishes The Challenge From Ethiopia AND USA Athletes" Other good news for the US, it seems Kenya is going back to it's potential killing pre-championship training camps as 28 are at the camp, but only 24 make the team. The head coach said, "We will have a serious and tough training. And those who want to escape the axe must prove their mettle."
LRC: Records Galore At 2013 Millrose Games: Lagat, Mary Cain, 2 X 600, Chris O'Hare Mary Cain started the record-setting night in the women's mile and it continued all night after that until Chris O'Hare set a collegiate record in 4th place in the Wanamaker Mile. In between, Bernard Lagat barely got back his 2 mile record, unheralded Erik Sowinski upset Duane Solomon AND Nick Symmonds to set the American record in the 600, and Alysia Montano crushed the field and the AR in the 600.
*IAAF Recap
Daring To Ask The PED Question
A Must Read: Daring To Ask The PED Question: "If everyone is secretly suspicious of so many athletic achievements, why aren't we talking about it?" In our last Week That Was, we said, "There are two types of runners - those that either 'get' letsrun.com or don't." Well, sports writer Bill Simmons might not be talking about running, but he definitely "gets" LRC as he explains why questioning today's professional athletic performances in is not only okay, but has become part of sports. As he says, "There is no such thing as 'the benefit of the doubt' anymore. Not in sports. Too many people took advantage. All the benefits are gone." It is for this reason that we allow threads like this one to exist: MB: Solomon suddenly world class and Rupp soloing 3.50 indoor miles - Come on Letsun, ask the questions!
LRC Photo Gallery


LRC Chris Derrick!?! - National Champion! link fixed The wait is over. Arguably the greatest American collegiate distance runner not to win an NCAA title, Derrick pulled away from Dathan Ritzenhein and Matt Tegenkamp to win his first national title in his first race as a sponsored pro. It was a good day for Jerry Schumacher's crew as they had 3 of the top 4 in the men's race plus Shalane Flanagan winning the women's.


LRC Shalane Flanagan Wins 2013 Women's US Cross-Country Championships Flanagan was the class of the field (World XC bronze in 2011), but Olympian Kim Conley put up a brave fight. Afterwards, Flanagan said she will not run World XC as she prepares for the Boston marathon.

Jr. Races: *LRC 2013 Jr. Girls Results - William & Mary's Emily Stites Dominates
*LRC 2013 Jr. Boys Results - Ok. State's Craig Nowak Wins
*USATF Athlete Quotes
A MUST Read - One Of The Greatest Races Ever Run - The US Women's Version Of The Billy Mills 10,000 Win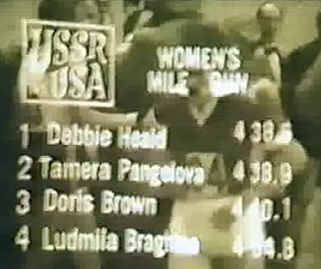 RWorld Re-Introduces The World To Debbie Heald, Who 40 Years Ago Incredibly Ran The US HS Indoor Mile Record Of 4:38.5 Steve Friedman's piece on Heald is moving to say the least. Heald, whose father had committed suicide, who had been molested and who was always battling injury (13 different running-related surgeries), somehow at the US vs. USSR meet at age 16 in 1972 beat the greatest runners in the world, including the indoor 1,500 record holder and that year's eventual Olympic 1,500 champion, by running an a 8.5-second PR of 4:38.5. She came from way back to win thanks to a ferocious kick and she was known for having no kick. Her life since then has been full of struggles with schizophrenia but her HS indoor record still stands.
MB: Debbie Heald article in RW
LRC M Mile/3k: What A Double - The Great Lawi Lalang Is Back Lalang, who up until this time last year was viewed as unbeatable at the NCAA level, got his mojo back with some major style points thrown in as he had one of the greatest nights in NCAA history, as he won both the mile (3:54) and 3,000 (7:45) in meet records. The Arkansas Razororbacks won NCAA title #41.


LRC 800s/W Mile: Elijah Greer Outduels Cas Loxsom; Emma Coburn Adds The Mile Title To Her Résumé, And Natoya Goule Wins NCAA Title #1 The men's 800 ended up being the mano vs. mano battle between the two American seniors that everyone wanted to see - Greer and PSU's Casimir Loxsom with Greer coming out on top.


AP Recap: Arkansas Gets Its 20th Indoor Title and 1st Under Coach Chris Bucknam It's NCAA title #41 for the program as legend John McDonnell won 40.
*LRC Coach Chris Bucknam And John McDonnell Talk About Bucknam's NCAA Title #1
*Oregonian: Oregon Wins Its 4th Straight Women's Indoor Title

More:
LRC DMRs: Vig Does It Again With Princeton, Michigan Woman Win Coach Jason Vigilante's mid-d magic continued at the NCAA meet this time at his third school - Princeton. The Ivy Leaguers got the NCAA title thanks to a blistering final 200m by Belgian-American Peter Callahan. The Michigan woman passed up on individual success to get the team DMR title.

LRC Miles & 800 Prelims: Emma Coburn Cruises, Favorites Advance In Men's Mile, The #1 Seed Crashes Out In Men's 800, LSU Looks To Go 1-2 In Women's 800

More NCAA Day 1 News:
IAAF Names More 2005 Dopers: 4 Belarusians And 2 Russians
IAAF Reveal 6 More Positive Tests From 2005 Helsinki Retests Shot putter Nazdeya Ostapchuk, who was stripped of her London Olympic gold, tops the list of Belarusians that also includes Ivan Tsikhan and Vadim Devyatovskiy, the gold and silver medallists in the men's hammer in Helsinki, and Andrew Mihhnevich, who finished 6th in the shot put final. The two Russians were women's hammer gold medalist Olga Kuzenkova and long jump silver medallist Tatiana Kotova.
*IAAF Release
US Distance Runners In The News
US Admin News
UK/European News
2024 Games
Science Of The Sport
The Guardian Lists 10 Of The Best Running Documentaries List includes "Steve Prefontaine: Fire on the Track."
Previous NCAA/US News
Sprinters/Hurdlers In The News
African News: Kenyan Elections, Stephen Kiprotich In Car Accident
Al Sal Defends Mo's Lucrative London Payday "If they think this is in the best interests of their race, I don't know how anybody can criticize Mo."
Man, 46, Suffers Massive Cardiac Arrest As He Starts Swim During Alcatraz Triathlon In Calif.

Wow: British Columnist: TV Interviewer's Mo Farah Gaffe Is Typical Of The Self-Absorbed United States Of Amnesia "Large parts of the United States of Amnesia still exist in a cultural vacuum. If it doesn't happen between sea and shining sea, it doesn't make the cut."
LRC Photo Gallery


Men's 3k: LRC Galen Rupp Is Defeated As Hagos Gebrhiwet Sets New World Junior 3,000 Record Of 7:32.87


Women's 2-Mile: LRC Mary Cain Runs 9:38.68 For 2 Miles - The Greatest Distance Performance In US HS Girls History Tirunesh Dibaba was way ahead of the field as she won in 9:13.17.

LRC The Rest Of The 2013 New Balance Indoor Grand Prix - Centro, Lakhouad And Wright Win As Suhr Takes Crack At AR
Rest In Peace Will Steele - aka "The Cancer Guy"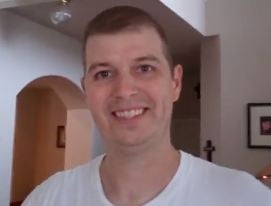 LRC Celebrating The Life Of "The Cancer Guy" Will Steele Will Steele was running 18-minute miles last year. And never has there been a more inspirational runner on LetsRun.com. We pay our respects to this great man who contributed so much to the LetsRun.com community and lost his battle with cancer one month ago on Christmas eve.
Jade Johnson Says Moscow Shouldn't Host Worlds Because Of Doping Problems "Countries need to take responsibility for what's going on with athletes."
Sydney Track Classic: Nick Willis 3:34.68 Over Ryan Gregson, Gets World Champs "A" Standard *MB
More On Oscar Pistorius
Other Non-NCAA News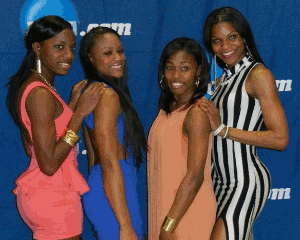 Week That Was
LRC WTW Forget About Jenn Suhr, Lopez And Mary Cain: The Best Closes In Track History, Meet Brannon Kidder, Erik Sowinski's HS Coach, Praise From Nick Willis, And An Apology To Kara Goucher On a week that saw Lopez Lomong's AR on Friday, Jenn Suhr's world record on Saturday and Mary Cain making history on Sunday, we cover everything else making news in the running world.
Jamaica Anti-Doping Commission Chairman Says Steve Mullings Brought In 3 Different Firms Of Lawyers To Try To Get His Lifetime Ban Overturned
And Speaking Of Drug Cheats Who Will Lie Through Their Teeth In Court To Get Out Of Trouble ... Lance Armstrong Does Interview With Sports Illustrated Legal Columnist Armstrong said he was strongly considering giving Tom Brokaw his first interview before deciding to go with Oprah.
Renaud Lavillenie Almost Clears The 2nd Highest PV In History
Jamaican News: Steve Mullings Lifetime Ban Upheld
Jenn Suhr World Record *Photos
Jenn Suhr Breaks World Record Suhr was perfect all day until she broke the world record at 5.02 meters. She then attempted 3 times at 5.07 (the highest vault indoors or out).
*Video Of World Record Vault
*Reuters: "Gritty Suhr Happy To Finally Reach New Heights"
Didn't Visit LRC Over the Weekend? We Help You Out
Jerry's Boys Take On The Big Apple
LRC
Lopez Lomong Sets New American Indoor 5,000 Record - Runs 13:07.00!!! We recap the historic night in NYC that saw Lomong get the AR, Chris Derrick get the "A" at 13:12.00 and the rest of Jerry's boys struggle a bit at the end as the pace was super hot. Includes exclusive post-race interviews that include Teg, Lomong, and Derrick, who talks about German Fernandez and Alan Webb.
*Photo Gallery *Race Video *Post-Race Interviews *Race Results Weekly

*Great News From Another Schumacher Stud: Chris Solinsky's 1st Track Race In Nearly Two Years Is Successful - Dominant 8:05 Win At UW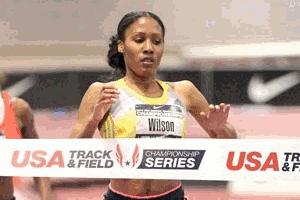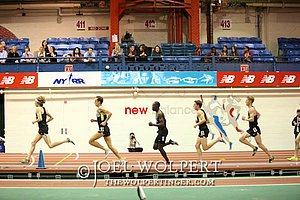 Crazy Finish Of Women's 3k (More Here)
LRC TWTW Part II: College: A Look Back At The 2013 NCAA Indoor Track And Field Conference Championships In part II of our weekly recap, Arkansas' Chris Bucknam gets praise, the nation's longest winning streak is snapped, we talk about the arbitrariness of victory and Mississippi State's one-woman track team, and introduce you to Nick Rivera, a freshman at Texas Tech who hasn't broken 1:52.03 this year but is a Big 12 champ. Plus props for the Virginia Tech and Washington State men, Betsy Saina, Abbey D'Agostino and Johns Hopkins in the D3 ranks.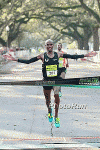 LRC TWTW Part I: Pros: Galen Rupp Runs 7:30, Japan Over US At The Marathon, New Orleans, Chris O'Hare, Dennis Kimetto And More We span the globe from New Orleans to Tokyo to Stockholm to give you some perspective on our sport. From analyzing Galen Rupp's incredible 7:30.16 to the awkward interview of the week, we've got it covered.
Jerry Schumacher's Group
Usain Bolt Does The Harlem Shake
Ryan Hall Speaks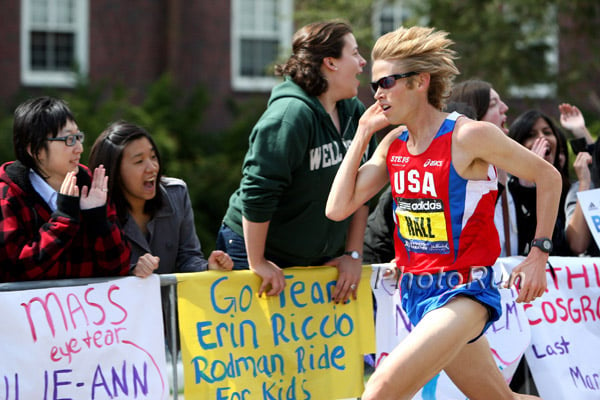 LRC Ryan Hall Talks About Cam Levins' 190-Mile Weeks And Is Impressed Hall: "It's working for him. My hat's off to him. He inspires me. That's why I started following him on Twitter. I feel like I'm training hard and I'm not doing nearly that kind of training."
LRC Ryan Hall Talks About His Running Shoes Hall says he has different shoes for every speed he runs and that he has an "unhealthy attachment" to the Asics Gel Hyper Speed.
Beautiful People: NCAA Banquet Photos (Click On Photo)