Mid-D/Distance Action
Friday At The Trials - Day 1
British Trials
LRC The Inside Story Of How Jeneba Tarmoh First Saw The 100m Finish Photo On The LetsRun.com Laptop Roughly 3 Hours After The Race Caremelita Jeter won the 100m, but the story was the battle for the third spot between training partners Jeneba Tarmoh and Allyson Felix. At first, Tarmoh was announced in third by .001 but then after the stands had emptied, a dead heat was announced. We thought we were the only ones not knowing what was going on, until next thing we knew Tarmoh was looking at the finish photo on Wejo's laptop.
*Oregonian Recap Of Felix, Tarmoh Tie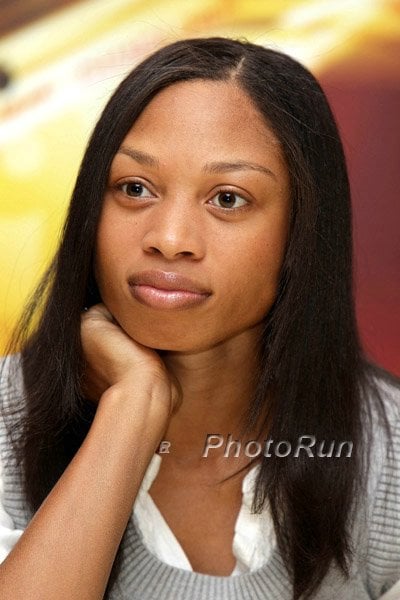 LRC An Exclusive Interview With The Man Responsible For Reading The Allyson Felix 100m Finish Picture LetsRun.com exclusively caught up Roger Jennings, the man whose job it is to determine who finished third and who got fourth, and the timing whiz explained how it was determined there was a dead heat. Plus we do a little bit of research and determine that even though USATF has said there is no protocol for breaking a tie, that the USATF rule book does in fact envision such a scenario and has a solution - a old-fashioned drawing of lots!!!
MB: BREAKING NEWS FELIX TIES FOR 3RD IN REVISED RESULTS??
MB: Exclusive Interview With Man Responsible For Reading Women's 100 Final (Allyson Felix's Race) Finish Image
*Official USATF Press Release

LRC Lolo Jones' Third Place Steals The Show In The Olympic Trials Hurdles Final Lolo turned around her season in 24 hours after a "reality meltdown" following round one. She said, "I woke up today and did not think I would make the team. I was fighting a constant head battle to get through this. I had my sports psychologist on speed dial 1, my pastor on speed dial 2, and my mom on speed dial 3 ..."

Shot Put Stunner: LRC 5-Time World/Olympic Silver Medallist & One-Time World Champ Adam Nelson Misses Final, Gives Emotional Presser And Advice For Us All Nelson may still compete but had great advice for us all: "When you do it the right way and you do it every single day, the hard work pays off time and time again." Full video and recap.

Is He Fit Or Struggling? Jeremy Wariner Lets Up At The Line And Almost Goes Home Early The question becomes did he really let up? We guess we'll find out in today's final. LaShawn Merritt spoke on the line between letting up and finishing hard, saying, "You have to go from the gun to the finish line. I've lost thousands of dollars in prize money by a tenth of a second."

Women's 100H Hurdles Protest Warranted? The officials came out and dried the track more between heat 1 and heat 2 of the 100m hurdles semis. Heat 1 ran at a disadvantage.
LRC Women's 10,000m Amy Hastings Outkicks Suprising Natosha Rogers And Shalane Flanagan For Redemption This race had no drama for the Olympic spots the final mile but it was full of drama. Lisa Uhl's shoe came untied, Natosha Rogers fell and then got up and in the fourth 10k of her life beat Olympic medallist Shalane Flanagan. The laurel wreath went to Amy Hastings, the fourth place finisher at the Marathon Trials.
*LRC 10,000m Photos
*Post-Race Reaction

10,000s On The Boards:
Bekele Is Back/International News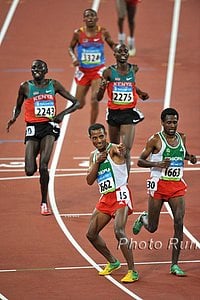 Kenenisa Bekele Is Back As A Winner - Wins UK/Ethiopian Trials The King (27:02.59) beat his brother Tariku (27:03.24), Gebre Gebremariam (27:03.58), and Mr. Silver Sileshi Sihine (27:03.65) in the battle for the three Olympic spots and declared himself to be ready to defend his Olympic crown. "I hope to show to the world great things. Absolutely I am back, 100 per cent." *MB Discussion Of Race

*Mo Farah Watches As Bekele Returns To Form & As Bekele Says He's Ready To Three-Peat

*Dedication: After Missing 200 "A" By .02, Irish Sprinter Travels 18 Hours Through 4 Countries To Try Again And Misses By .04
*Moscow City Championships: Yekaterina Kostetzkaya Wins 1,500 In 4:04.97; Yelena Kofanova Takes 800 In 1:58.51
Day 1 Trials Photo Gallery
LRC Hammer Time Kicks Off 2012 Olympic Trials Successfully And The First LetsRun.com Hammer Interview Ever With The Guy In The Green T-Shirt Best hammer throw we've ever seen. Plus the exclusive first-ever LetsRun.com hammer interview with the guy (Chris Cralle) who finished second in a plain green T-shirt.
*Kibwe Johnson And Amber Campbell Win Hammer Throws To Kick Off Olympic Trials In Portland
Non Mid-D/Distance Trials News
Latest USATF On The Boards
Today: Geoffrey Mutai, Caroline Kilel And Sharon Cherop Highlight BAA 10k
*Sam Chalenga And Kim Smith Hoping To Win B.A.A. Distance Medley Overall $100,000 Prize
Video Of The Day From Saturday (Listen Closely)
Matt Taylor Speaks #2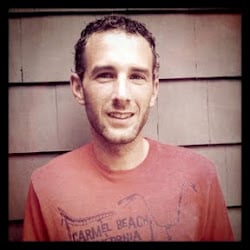 LRC Redefine Running: Who's In Charge Of "The Sport" (link fixed) Last week Matt Taylor, the guy behind ChasingTradition, ChasingKimbia, ChasingGlory, and an upcoming Usain Bolt video game, told you running was dying. This week he tells you it's thriving. He explains the inconsistency. While the activity of running is thriving, the sport is dead with the mainstream sports fan. In the internet era, diehards get their fix, while Joe Sports-Fan has no idea who Matt Centrowitz is. How do we fix this?