Latest World Champs Updates
Everyone Is Wondering The Same Thing: What Kind Of Shape Is Bekele In?
Kenenisa Bekele's Manager Says He Is Definitely Running Worlds 10k And That He Is "Training Well" He has never lost a 10k on the track, but he also hasn't raced since Jan. 2010 and hasn't raced on the track since Sept. 2009. As defending champ, Bekele could do both the 10k and 5k, which his manager says he might depending on how the 10k goes. *MB: Game On: Kenenisa Is Going Try To Defend His Title
Athletes Feeling The Anticipation Ahead Of World Champs
It's Official (Sort Of): Steve Mullings Left Off Jamaica Team For Worlds But Jamaican officials left themselves an out by saying "... if the matter is resolved in his favour, there is a provision where he (Mullings) can be re-instated at a later date." The Jamaica Anti-Doping Commission disciplinary panel for Mullings is next Monday, August 22, only 5 days before Worlds start.
*Jamaica Names The Rest Of Their Team
Week That Was
LRC Week That Was In our weekly recap, LetsRun urges everyone to calm down on the anti-doping front so mass hysteria doesn't turn the Mike Rodgers and Steve Mullings cases into a repeat of the Salem witch trials; then we wonder if history will repeat itself again at the 2011 Worlds if Kenenisa Bekele tries to do what Haile G couldn't do in 2001; we then introduce you to the score of America's 3:55 milers on the year and tell you how lucky Gabe Jennings was to be born in 1979 and not 1989. We end the weekly recap by turning our famed analysis to the sprint world. All of that plus an old-fashioned lesson in sportsmanship and lots of talk about New Balance Falmouth.
From Sunday: Thorpe Cup: German Men Win Decathlon, US Women Win The Heptathlon On the men's side Ashton Eaton, Trey Hardee, and Bryan Clay all competed. Eaton did especially well, running 10.26 in the 100m to come within .04 seconds of the 100m decathlon WR. *Full Results
More Earth-Shattering Scientific Studies Covered By The NY Times We bet you'll never have guessed that cross training can help maintain your "cardiovascular capacity" but won't help your running performances as much as running will. Or that weight/resistance training can be beneficial. Amazing stuff.
Usain Bolt Gets Record For Jamaican With "Most Fans On Facebook"
Update: Mike Rodgers Waiting On A Hearing And "B" Sample Test To Find Out If He's Eligible For Worlds Penalties for a positive test for stimulants can range from a warning to a suspension of several months. His agent wants to emphasize that he tested positive for a stimulant, and not "steroids or anything of that nature."
*American Lewy Boulet Wins Falmouth While Kenyan Lucas Rotich Gets Men's Title With the overall and American, win she "double-dipped" and pocketed 20 thousand. US steeplechaser Brian Olinger was 4th overall and 1st American on the men's side as Abdi Abdirahman was 5th and Ben True was 6th.
*Jordan McNamara Wins Falmouth Mile In 3:54.89, Leads Ten Sub-Four Jeff See was 2nd (3:55.24) as AJ Acosta was 3rd (3:55.30). Will Leer was back in 8th (3:58.41). McNamara won $3,000 for his victory ($2,000 for the win plus $1,000 for breaking four minutes).
*Falmouth Prize Money Draws Big USA Field, But May Impact Strategy With so much American-only prize money on the line, the fear is it could turn into two separate races, one between Americans and one with everyone else ahead. Isn't that ususally the case? The 1st and 2nd place Americans will make more than last year, but 3rd place gets the same in American-only money.
Falmouth Pre-Race News
Boston Globe: "Falmouth's Essence Remains The Same" But some things have changed. How about this: "When Bill Rodgers first won this seaside ramble in 1974 he lost money on the deal. He won a Waring blender but had his car towed." Good read.

Today: Will Leer To Try To Defend New Balance Falmouth Title Versus Ciaran O'Lionaird, AJ Acosta And Jordan McNamara

Previous: Micah Kogo And Wude Ayalew Headline 2011 New Balance Falmouth Road Race Kogo won TD Bank Beach to Beacon last weekend and is the favorite. There is $10,000 on the line for the winners and $10,000 on the line for first American.
World Championships-Related News
The Legendary Joe Newton (Elmhurst York High School, IL) Admits Getting Softer The Older He Gets "The big thing now is I am just listening more. You do that as you mature as a coach."
San Diego Runner Jon Tumilson Was One of 22 Navy Seals Killed When Helicopter Was Shot Down In Afghanistan A memorial run will be held for him on San Diego on Tuesday.
Wanna Be A Pro Runner?
Minnesota Star Tribune Takes A Look At How To Take A Stab At A Pro Running Career The Team USA Minnesota people put on a camp, the RunPro Camp, last month trying to help aspiring pros learn how to live a life of poverty pursue their dreams. "Even if you're not one of the superstars of our sport, you have a certain amount of limelight and stardom. To be out there and pursue your dreams is not a reality for a lot of people. It's fantastic to do something you love every day."
Team USA Is Final
Team USA Announced For World Championships And Bryan Clay And Lauren Fleshman Are On It The good news that results from USATF having bureaucrats like John Chaplin with dictator-like powers is they don't have to follow their own rules and as a result Lauren Fleshman, America's top 5,000m runner right now, is now on the team, as the rumors of Desiree Davila giving up her spot were true. USATF rules state only 4 runners can chase times but thankfully that stupid rule was somehow ignored.

Lots Of Nike Oregon Athletes On Team USA
World Championships News
More Worlds News
Kenya: Ezekiel Kemboi Shows Up At Kenyan Camp After Secretly Training In Warm-Weather Spot In Kenya Running Road Race In Italy Kemboi claimed to be training in warm weather; instead, he was at a road race in Italy. Thanks to the LRC tipster for sending us the results. Hopefully, Athletics Kenya does not kick him off the Worlds team.
*Silas Kiplagat Hoping For Kenya's First 1,500m Gold Ever At Worlds Stat of the day: 4 - the number of medals the US and Kenya have both won in the history of the World Championships at 1,500. Yes, the US has won as many medals as Kenya.
A Heart-Wrenching Story, But He Still Shouldn't Run Worlds: In Boarding School, Oscar Pistorius' "Friends" Hid His Legs, Then Started A Fire With Lighter Fluid And Watched Him Scramble

Japan: 2:23 Marathoner And 2009 World Champs Silver Medallist Yoshimi Ozaki Has Been Doing Overdistance Training In Colorado And Is Ready For Worlds

US: Lauren Fleshman Blogs About Her Amazing Turnaround In London, Crying After Her Debacle In Sweden She could even be named to the US team today, as USATF fortunately may not follow its rules.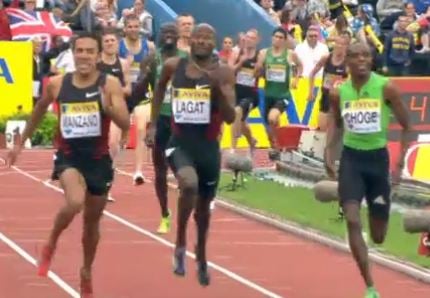 LRC Day 2: Leo, Lisa And Sanya Impress On day 2 of 2 at the final big meet before Worlds, Leo Manzano got Americans excited for WCs by coming from way behind to get a shock victory in the men's 1,500; British fans got excited by Lisa Dobriskey's win in the women's 1,500; American fans also were probably thrilled by Sanya Richards-Ross' return to form in the 400 (49.66). Plus two Americans got the "A" standard in the women's 5,000, as Lauren Fleshman crushed the field - but was it the right two?
*MB: Leo Wow!!!! 3:51 FTW *Lauren Fleshman 15 flat for 5000m *Desi Davilla!!!!!!!!
*Wetmore: Coburn Can Run Faster Than Her New 9:37 PR
LRC Round 1 Of Kaki Vs. Rudisha Goes To Rudisha On day 1 of 2 at the final big meet before Worlds, the matchup between the two greatest 800m runners on the planet, David Rudisha and Abubaker Kaki, did not disappoint, as Rudisha took down Steve Cram's UK all-comers record. Kenia Sinclair lost her first 800 of the year to Jenny Meadows, as NCAA 400m champ Kirani James appeared for the first time since NCAAs and stamped himself as a favorite in Daegu, Dayron Robles beat David Oliver again as did surprisingly Jason Richardson, Yohan Blake showed he's one to watch in the 100 at Worlds, Jenn Suhr showed she is back, Kaliesha Spencer blasted the 400m hurdles, and Mo Farah ran a 25-second last 200m to toy with the men's 3,000m field.

More Coverage:
Berlin Is 7.5 Weeks Away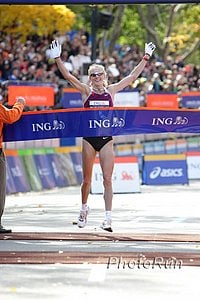 LRC Paula Radcliffe Healthy And Excited For 2011 BMW Berlin Marathon Friends of LetsRun, Losse Veter, were in Belgium for the new opening of a cool place called Runners Service Lab, and Paula was there too. They talked to Paula about her preparations for Berlin. Paula talks about Berlin, her goals, London 2012, getting it right at the Olympics and even getting older.
We 100% Disagree: Tiffany Ofili-Porter Says She's No "Plastic Brit"
We 100% Disagree: Usain Bolt: "I am serious, I believe I could be good at (soccer), I think I could compete well."
The Gouchers In The News
Janeth Jepkosgei In The News
Hurt Hamstrings
*World High Jump Champ Blanka Vlasic May Miss Worlds With Hamstring Injury Sounds legit as she article is very specific about scans revealing a "partial rupture." She will announce Friday whether or not she's going to compete.
*Defending 800m World Champion Mbulaeni Mulaudzi Withdraws From World's With Hamstring Injury
World University Games *Schedule/Results *Watch Live Here *Photos (Note: The time in China is 12 hours ahead of EST (NY))
On Doping:
*Jamaica's Observer Puts Out Cartoon Poking Fun At Jamaican Dopers Didn't get a good reaction from one Jamaican reader.
*CAS To Come To A Decision On LaShawn Merritt's Case By End Of Next Month After this, Britain's Olympic drug ban policy may be under legal threat even though they say they won't change their minds.
*Neil Wilson: "Suspension Not Enough, Just Jail The Dopers"
*2 Drug Cases Pending From World Masters Champs
Some US News
*After Winning Falmouth Magdalena Lewy Boulet Is USATF Athlete Of The Week She says that after the first mile she thought she was in the 2nd pack and didn't realize she was with the leaders.
*America's Finest City Half Marathon Elite Field Announced One in the elite field is Christian Hesch who was the 10th man sub 4 in the Falmouth Mile. He followed his first sub-4 with a 34:11 in the Falmouth 7.1 Mile race, and now a week later is doing a half marathon. Definitely a busy week of racing.
*10 Questions With NJ HS Star Edward Cheserek He says in his free time he likes to watch "great Kenyan runner" Bernard Lagat on TV.
*Abdi Says He's "Back" After Finishing 5th Place (2nd American) At Falmouth He says his focus right now is training for the Olympic Trials for next year.
US News
Other International Stuff
*The Olympic Park Was Meant To Be A Target Of London Rioters, But Was Saved By Police Monitoring Of Twitter
*French Pole Vaulter Renaud Lavillenie Wins "Berlin Flies" Competition Between US, Russian, Germany & France Was "to mark 50th anniversary of the building of the Berlin Wall." They'd probably prefer to mark its deconstruction, but it would be a lot harder to hold the meet in November.
World University Games/World Champs News
IAAF Preview: NCAA And US Champ Jeshua Anderson Headlines World University Games
*Blog From Aussie 1,500m Runner Brenton Rowe, Who Is At WUG

US Injuries:
*World Indoors 400m Gold Medallist Debbie Dunn Withdraws From Worlds With An "Unspecified Injury" It has also been announced that steeplechaser Delilah DiCrescenzo (3rd at USAs) is out with an injury and replaced by NCAA runner-up Stephanie Garcia.

Getting Ready For Worlds:
*Japan's Yuki Kawauchi Says If He Finishes In The Top 8 At World Champs, He Will Reward Himself With A Cup Of Coffee
*World Indoor 1,500m Champ Deresse Mekonnen Hopeful Going Into Worlds Despite Early Season Injury
*Silas Kiplagat Benefits From The Coaching Of 3-Time World Steeplechase Champ Moses Kiptanui AK training camps are smartening up and actually letting the athletes still be coached by their own coaches/do their own training.
*Polish Champs Recap And Polish Daegu Squad Released Some noteworthy mid-d and distance performances included Adam Kszczot (1:44.30), Marcin Lewandowski (1:44.61), Lukasz Parszczynski (8:15.47 SC) and Renata Plis (4:04.57 w1,500m).
*Norwegian Champs: World & Olympic Jav Champ Andreas Thorkildsen Reaffirms Himself As Heavy Worlds Favorite With 90.61m Heave
*Estonia Is Sending 9 To Daegu

Looking Ahead To After Worlds
*4 Days After Worlds, Weltklasse Zürich Will Host 18 Events & 17 Will Include The World Leader In That Event
*Preliminary Weltklasse Entries Highlights from an American distance perspective include Leo Manzano in the 1,500, Morgan Uceny (and Montano) in the women's 800, another AR attempt by Shalane Flanagan in the 5,000 (which also tentatively includes Bizzarri, Fleshman, Goucher and Hastings), and Bruce/Nelson in the men's steeple.
*Strenuous Worlds Schedule Causes Bolt To Pull Out of Weltklasse, Which is 4 Days After Worlds
Weekend Results
US News
Another Drug Bust
The Most Ridiculous "Plastic Brit" Yet Come 2012, Yamile Aldama will run for her third country in three Olympic Games.
Liam Adams Wins Close Race At Australia's City2Surf 14k
Good News Surgeon Says Lolo Jones' Operation Went Perfectly
Ridiculous 18-Year-Old Skier Urinates On 11-Year-Old Girl During JetBlue Flight; Kicked Off US Ski Team Apparently he was drunk and didn't realize he wasn't in the bathroom.
Drug Corner
"Will be interesting to see if athletes withdraw from Daegu with illness or injury due to IAAF introducing all athletes to blood testing." - Former 400m bronze medallist Katharine Merry writing about the universal blood testing in Daegu. We hope some cheats get out but think the bigger implications will be down the road because the blood test in Daegu is to establish the baseline to catch the cheats in the future. Related On The Boards: Deagu "Drop Outs" Thread

Details On Steve Mullings
Caster Semenya Pulls Out Of World University Games With "Niggling Back Injury" We're not sure if this is a made-up excuse but the world champ should never have been contemplating running the WUG. Ridiculous. Someone please hire her a good manager immediately, as a few weeks ago, a ridiculous press release was issued talking about double world records.
*Cas Loxsom Does 1:14.6 600m To Get Ready For World University Games
Recommended Read Science Of Sport Continues It's Look Into How Genes & Practice Influence Athletic Performance
Bizarre, Bizarre Links
Steve Mullings Tests Positive Yet Again The man whom the Letsrun.com nation got pulled from the 2005 NCAA meet after we started a petition (as we were irate that the NCAA wasn't honoring an IAAF drug suspension) has tested positive for a masking agent. It's big news when the man is ranked #3 in 100 and #5 in the 200, but will probably become even bigger when it's pointed out his training partner is Tyson Gay. In fairness to Gay, Mullings was busted once before for cheating before training with Gay and Gay has been a part of the voluntary extra stringent USADA drug testing program.
*LRC MB: "Major" Drug Bust From Jamaican Trials
Recommended Read Thanks To A "Crazy" HS Coach, Charles Jock Has Finally Realized He Was Born To Run Despite being the San Diego middle school mile champ, Jock hated running and loved basketball and only agreed to do the long jump, but after fouling on his first three jumps, the coach made him do the 800 instead and the rest is history. *LRC MB Talk on Jock Article
A Highly-Recommended Read Science Of Sport Blog Analyzes Whether The 10,000 Hour Rule Of Deliberate Practice, As Popularized By Malcolm Gladwell, Is True The answer? Nope.
2011 ING New York City News
Week That Was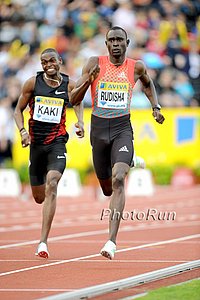 LRC Week That Was We go beyond the great action in London to talk about Mo Farah running in Somalia, Ciaran O'Lionaird talking about what it's like to be going to Worlds but not scoring a point at the NCAA meet (when your team lost by 1 point), bureacracy, and good old fashioned hard work.
American Mainstream Journalists Continue To Blow It
Ethiopia's Food Prices Up By Nearly 50 Percent
Northern Kenya Is Suffering From Big Drought
Allen Iverson Agrees ... It's Not About Practice
Science Of Sport: Success In Sport is Not Just About Practice
Weekend Road Action
Triathlon: Lukas Verzbicas Wins US Triathlon Junior Title, Then Crashes On Bike In Team Competition And Needs 13 Stitches
On The Boards: LV in bike wreck


Saturday: Micah Kogo And Aheza Kiros Hammer Fields At 2011 Beach To Beacon 10k Despite feeling tired at the start, the Olympic bronze medallist Kogo soon got going and went through 5k in 13:37 as he won in 27:46. Patrick Smyth (9th 29:28) and Sara Slattery (6th 33:36) were the top Americans, as Deena Kastor was uanble to start as she had the flu. State senator and former US star Louie Luchini was the first Maine finisher in 30:35. *MB: 2011 Beach To Beacon Talk With State Senator *Photos

Providence: Kim Smith Wins Rock N Roll Providence In 1:11:54

Iten, Kenya: Dubai Marathon Champ Diana Chepkemoi And Rotterdam Runner-Up Jonathan Maiyo Win Iten 10k As Dan Komen The Older And Edna Kiplagat Watch
Worth A Read
Worth A Read
Assault & Battery-Related News
The Olympics
*Look Who's Talking China Scolds West, Says London May Not Be Fit To Host Olympics After Riots Great comment from one reader: "It takes an oppressive police force, underaged athletes and serious air pollution to host a successful Olympics. Thanks for the feedback, China - Crash Fu."
*South Africa Will Not Bid For 2020 Olympics But say, "We will certainly go for 2024." So without SA, that leaves Istanbul, Madrid, Rome and Tokyo as the confirmed bidders, with Doha still deciding whether or not to bid.
Looking Way Ahead Post-Worlds
*Milcah Chemos Going For Steeplechase WR At Final Diamond League Meet In Brussels, Belgium Sept. 16th IAAF It will be Sept. 16th in Brussels, Belgium. Her PR is 9:08.57 and the WR is 8:58.81 set by Gulnara Samitova-Galkina at the 2008 Olympics. Chemos also says that she thinks Kenya can sweep the steeplechase at World Champs.
Our Sport's History Is A Selling Point
Last Lap Or Full Race Of Manzano's Mile Victory In London (More London Coverage Here, UK Visitors Here)
Rudisha Vs. Kaki Lives Up To The Hype (More London Coverage Here, UK Visitors Click Here)
Lauren Fleshman Runs Away From The Field
NCAA Star Kirani James Gets World Leader In 400 In London (More London Coverage Here)
Paula Speaks On Berlin (Story Here)
Poll: Vote Online For The Bowerman Award As of now, Washington State's Jeshua Anderson is winning for the men and Texas A&M's Jessica Beard for the women.
Monaco Photos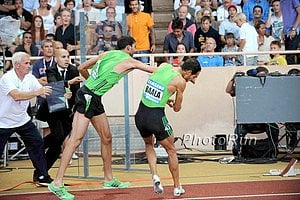 LRC Contest Recap - The Greatness Of You
LRC USA Nationals Contest Recap As usual we had a couple of ringers come out on top in our contest. Our winner is in the elite of the elite of LetsRun.com, as not only has he been to watch the World Championships and Olympic Trials, he has a @runner.org email address, and a real-life wife. Our runner-up was a state champion in high school and has started a post-collegiate group in Utah.
A Must-Watch (We're Not Sure How We Missed This) - Sammy Wanjiru's Mom Theatens Others With A Machete 2 Weeks Ago (More Here)
Women's World XC In Photos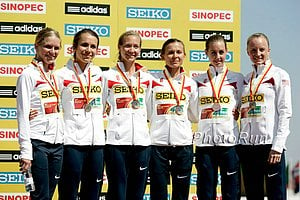 Men's World XC In Photos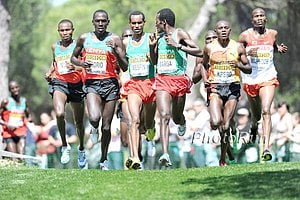 Great Deals

Universal Sports Back To Top