Falmouth This Weekend (Mile Saturday, Road Race Sunday)
Boston Globe: "Falmouth's Essence Remains The Same" But some have changed. How about this: "When Bill Rodgers first won this seaside ramble in 1974 he lost money on the deal. He won a Waring blender but had his car towed." Good read.

Today: Will Leer To Try To Defend New Balance Falmouth Title Versus Ciaran O'Lionaird, AJ Acosta And Jordan McNamara

Previous: Micah Kogo And Wude Ayalew Headline 2011 New Balance Falmouth Road Race Kogo won TD Bank Beach to Beacon last weekend and is the favorite. There is $10,000 on the line for the winners and $10,000 on the line for first American.
World Championships-Related News
Latest: Andrey Mikhnevich Throws 22.10 PR (#2 In World)
*World Champ Yaroslav Rybakov May Compete In Korea As His Foot Is Better

More:
The Legendary Joe Newton (Elmhurst York High School, IL) Admits Getting Softer The Older He Gets "The big thing now is I am just listening more. You do that as you mature as a coach."
San Diego Runner Jon Tumilson Was One of 22 Navy Seals Killed When Helicopter Was Shot Down In Afghanistan A memorial run will be held for him on San Diego on Tuesday.
Wanna Be A Pro Runner?
Team USA Is Final
Team USA Announced For World Championships And Bryan Clay And Lauren Fleshman Are On It The good news that results from USATF having bureaucrats like John Chaplin with dictator-like powers is they don't have to follow their own rules and as a result Lauren Fleshman, America's top 5,000m runner right now, is now on the team, as the rumors of Desiree Davila giving up her spot were true. USATF rules state only 4 runners can chase times but thankfully that stupid rule was somehow ignored.

Lots Of Nike Oregon Athletes On Team USA
World Championships News
More Worlds News
Kenya: Ezekiel Kemboi Shows Up At Kenyan Camp After Secretly Training In Warm-Weather Spot In Kenya Running Road Race In Italy Kemboi claimed to be training in warm weather; instead, he was at a road race in Italy. Thanks to the LRC tipster for sending us the results. Hopefully, Athletics Kenya does not kick him off the Worlds team.
*Silas Kiplagat Hoping For Kenya's First 1,500m Gold Ever At Worlds Stat of the day: 4 - the number of medals the US and Kenya have both won in the history of the World Championships at 1,500. Yes, the US has won as many medals as Kenya.
Tegla Laroupe Talks Positively About Kenyan Team At Worlds

S. Africa: South African Team Named For Worlds And It Features Oscar Pistorius, Caster Semenya, LJ Van Zyl
*No More Lily-Whites For S. African Teams Track and field is a meritocracy. If whites - or in this instance, blacks - aren't on the team, usually it means they aren't good enough.
A Heart-Wrenching Story, But He Still Shouldn't Run Worlds: In Boarding School, Oscar Pistorius' "Friends" Hid His Legs, Then Started A Fire With Lighter Fluid And Watched Him Scramble

Japan: 2:23 Marathoner And 2009 World Champs Silver Medallist Yoshimi Ozaki Has Been Doing Overdistance Training In Colorado And Is Ready For Worlds

US: Lauren Fleshman Blogs About Her Amazing Turnaround In London, Crying After Her Debacle In Sweden She could even be named to the US team today, as USATF fortunately may not follow its rules.
Weekend Nationals
Spain: After 1st 800 In 2:17, Manuel Olmedo Closes Last 300 In 38 To Win Spanish 1,500m Title And Become A Worlds Contender?

Brazil: South American Women's 200m Record (Lemos Silva 22.48), 10,000m Record (Alves da Silva 31:16) Set At Brazilian Champs

Uganda: 30 People Show Up To Watch Ugandan Champs
Good News
Flanders Cup Belgium: Latavia Thomas Runs 1:59.67 - Nearly A 2-Second PR!, Former World Junior Mile Record Holder Ilham Tanui Özbilen Runs 1:44.25, David Torrence Wins 1,500 Congrats to Thomas. Tanui Özbilen is William Tanui Biwott, the world junior record holder in the mile, who would be a darkhorse candidate for gold in Daegu, but he can't compete because he switched to Turkey.

Ireland: Irish Nationals Recap: Youngters Impress John Coghlan, Eamonn's son, got second in the 1,500.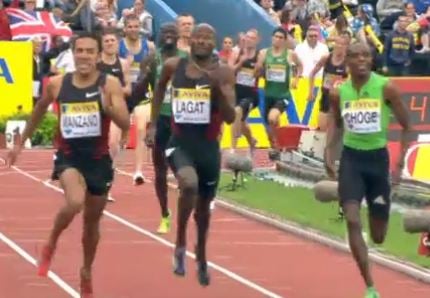 LRC Day 2: Leo, Lisa And Sanya Impress On day 2 of 2 at the final big meet before Worlds, Leo Manzano got Americans excited for WCs by coming from way behind to get a shock victory in the men's 1,500; British fans got excited by Lisa Dobriskey's win in the women's 1,500; American fans also were probably thrilled by Sanya Richards-Ross' return to form in the 400 (49.66). Plus two Americans got the "A" standard in the women's 5,000, as Lauren Fleshman crushed the field - but was it the right two?
*MB: Leo Wow!!!! 3:51 FTW *Lauren Fleshman 15 flat for 5000m *Desi Davilla!!!!!!!!
*Wetmore: Coburn Can Run Faster Than Her New 9:37 PR
LRC Round 1 Of Kaki Vs. Rudisha Goes To Rudisha On day 1 of 2 at the final big meet before Worlds, the matchup between the two greatest 800m runners on the planet, David Rudisha and Abubaker Kaki, did not disappoint, as Rudisha took down Steve Cram's UK all-comers record. Kenia Sinclair lost her first 800 of the year to Jenny Meadows, as NCAA 400m champ Kirani James appeared for the first time since NCAAs and stamped himself as a favorite in Daegu, Dayron Robles beat David Oliver again as did surprisingly Jason Richardson, Yohan Blake showed he's one to watch in the 100 at Worlds, Jenn Suhr showed she is back, Kaliesha Spencer blasted the 400m hurdles, and Mo Farah ran a 25-second last 200m to toy with the men's 3,000m field.

More Coverage:
Molly Huddle Hoping To Run Her First Worlds
Molly Huddle Planning On Doing Her First Worlds But Plantar May Keep Her Out She also talks about running the marathon and not breaking the women's 10,000m record.
News From Kenya
Drug Corner
"Will be interesting to see if athletes withdraw from Daegu with illness or injury due to IAAF introducing all athletes to blood testing" - Former 400m bronze medallist Katharine Merry writing about the universal blood testing in Daegu. We hope some cheats get out but think the bigger implications will be down the road because the blood test in Daegu is to establish the baseline to catch the cheats in the future. Related On The Boards: Deagu "Drop Outs" Thread

Details On Steve Mullings
Caster Semenya Pulls Out Of World University Games With "Niggling Back Injury" We're not sure if this is a made-up excuse but the world champ should never have been contemplating running the WUG. Ridiculous. Someone please hire her a good manager immediately, as a few weeks ago, a ridiculous press release was issued talking about double world records.
*Cas Loxsom Does 1:14.6 600m To Get Ready For World University Games
Recommended Read Science Of Sport Continues It's Look Into How Genes & Practice Influence Athletic Performance
Bizarre, Bizarre Links
Steve Mullings Tests Positive Yet Again The man whom the Letsrun.com nation got pulled from the 2005 NCAA meet after we started a petition (as we were irate that the NCAA wasn't honoring an IAAF drug suspension) has tested positive for a masking agent. It's big news when the man is ranked #3 in 100 and #5 in the 200, but will probably become even bigger when it's pointed out his training partner is Tyson Gay. In fairness to Gay, Mullings was busted once before for cheating before training with Gay and Gay has been a part of the voluntary extra stringent USADA drug testing program.
*LRC MB: "Major" Drug Bust From Jamaican Trials
Recommended Read Thanks To A "Crazy" HS Coach, Charles Jock Has Finally Realized He Was Born To Run Despite being the San Diego middle school mile champ, Jock hated running and loved basketball and only agreed to do the long jump, but after fouling on his first three jumps, the coach made him do the 800 instead and the rest is history. *LRC MB Talk on Jock Article
A Highly-Recommended Read Science Of Sport Blog Analyzes Whether The 10,000 Hour Rule Of Deliberate Practice, As Popularized By Malcolm Gladwell, Is True The answer? Nope.
2011 ING New York City News
Week That Was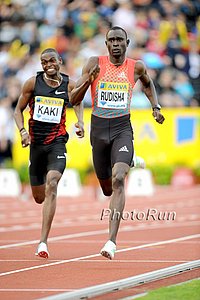 LRC Week That Was We go beyond the great action in London to talk about Mo Farah running in Somalia, Ciaran O'Lionaird talking about what it's like to be going to Worlds but not scoring a point at the NCAA meet (when your team lost by 1 point), bureacracy, and good old fashioned hard work.
American Mainstream Journalists Continue To Blow It
Ethiopia's Fodd Prices Up By Nearly 50 Percent
Northern Kenya Is Suffering From Big Drought
Allen Iverson Agrees ... It's Not About Practice
Science Of Sport: Success In Sport is Not Just About Practice
Weekend Road Action
Triathlon: Lukas Verzbicas Wins US Triathlon Junior Title, Then Crashes On Bike In Team Competition And Needs 13 Stitches
On The Boards: LV in bike wreck


Saturday: Micah Kogo And Aheza Kiros Hammer Fields At 2011 Beach To Beacon 10k Despite feeling tired at the start, the Olympic bronze medallist Kogo soon got going and went through 5k in 13:37 as he won in 27:46. Patrick Smyth (9th 29:28) and Sara Slattery (6th 33:36) were the top Americans, as Deena Kastor was uanble to start as she had the flu. State senator and former US star Louie Luchini was the first Maine finisher in 30:35. *MB: 2011 Beach To Beacon Talk With State Senator *Photos

Providence: Kim Smith Wins Rock N Roll Providence In 1:11:54

Iten, Kenya: Dubai Marathon Champ Diana Chepkemoi And Rotterdam Runner-Up Jonathan Maiyo Win Iten 10k As Dan Komen The Older And Edna Kiplagat Watch
Worth A Read
Bureaucrats In The News
Worth A Read
Assault & Battery-Related News
Berlin Is 7.5 Weeks Away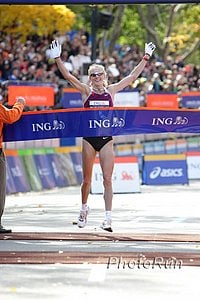 LRC Paula Radcliffe Healthy And Excited For 2011 BMW Berlin Marathon Friends of LetsRun, Losse Veter, were in Belgium for the new opening of a cool place called Runners Service Lab, and Paula was there too. They talked to Paula about her preparations for Berlin. Paula talks about Berlin, her goals, London 2012, getting it right at the Olympics and even getting older.
We 100% Disagree: Tiffany Ofili-Porter Says She's No "Plastic Brit"
We 100% Disagree: Usain Bolt: "I am serious, I believe I could be good at (soccer), I think I could compete well."
The Gouchers In The News
Janeth Jepkosgei In The News
World Champs News
Our Sport's History Is A Selling Point
Last Lap Or Full Race Of Manzano's Mile Victory In London (More London Coverage Here, UK Visitors Here)
Rudisha Vs. Kaki Lives Up To The Hype (More London Coverage Here, UK Visitors Click Here)
Lauren Fleshman Runs Away From The Field
NCAA Star Kirani James Gets World Leader In 400 In London (More London Coverage Here)
Paula Speaks On Berlin (Story Here)
Poll: Vote Online For The Bowerman Award As of now, Washington State's Jeshua Anderson is winning for the men and Texas A&M's Jessica Beard for the women.
Monaco Photos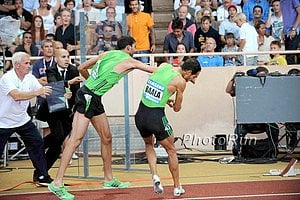 LRC Contest Recap - The Greatness Of You
LRC USA Nationals Contest Recap As usual we had a couple of ringers come out on top in our contest. Our winner is in the elite of the elite of LetsRun.com, as not only has he been to watch the World Championships and Olympic Trials, he has a @runner.org email address, and a real-life wife. Our runner-up was a state champion in high school and has started a post-collegiate group in Utah.
A Must-Watch (We're Not Sure How We Missed This) - Sammy Wanjiru's Mom Theatens Others With A Machete 2 Weeks Ago (More Here)
Women's World XC In Photos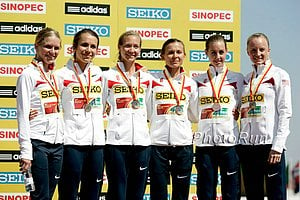 Men's World XC In Photos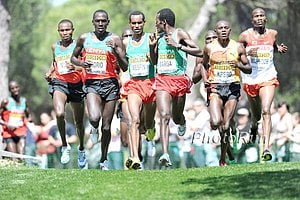 Great Deals

Universal Sports Back To Top