Absolute Must Read: Tyson Gay Tired Of Being In Usain Bolt's Shadow The Independent sent a writer from the UK to Florida to do a feature on Gay and it's a must-read in our minds. Learn what Gay has to say about Bolt, fatherhood and visiting his coach in jail. Plus coach Lance Brauman is unapologetic about what sent him to prison as he helped 30 Olympic athletes in the process.
*Usain Bolt Reaffirms That He's Not Running Commonwealth Games
Anna Pierce Has Big Goals For 2010: Sub-3:57 And Sub-1:56 Her days as a steepler may be over for the most part, as she's finding "my speed is getting better the more I train my strength side, which is weird."
22-Year-Old Ethiopian Wins Women's Marathon In 2:31 As 3-Time Champ In American Mary Akor Struggles To 4th Akor collapsed at the finish line. Next Up For Akor? Surgery on Friday To Remove Tumors
Philemon Kemboi Win Men's Marathon Kemboi, who has a 2:10:58 PR, picked up $10,900 in his US debut for running a time that is slower than Paula Radcliffe's world record for women as he won in 2:15:44. The race was run into a headwind or crosswind throughout.
Kenyans Sweep Garry Bjorklund Half Marathon The race served as a comeback for Fernando Cabada, who talked big before the race before finishing fifth in 1:05:55. The course record is 1:04:19 and the winning time was 1:04:24.
2008 World Jr. 10k Champ Josephat Bett Wins Race In Kenya
The article makes a big deal of how he's moving up to the senior ranks. We don't think a 12:57 guy will have too many problems.
NCAA News
NCAA Keeps Super Regionals For Next 2 Years Texas A&M coach Pat Henry and Oregon coach Vin Lananna probably aren't happy. But all it means to them is a week where one of their top people could screw up and not make nationals.
Discuss: NCAA Keeps Outdoor T&F Post-Season Format From 2010 For The 2011 Season

We Guess We're More Powerful Than Henry And Lananna Combined: LRC Editorial: The Case For (Pure) Regionals We've got some research on what would happen under various scenarios.


Vin Lananna - "I think we moved the needle last week." We agree. The meet and interest in Eugene/Oregon were incredible.
*Reader Photo: Wheating After His 800 Win Most intense moment of the meet.

Utah Addition Makes It A 12-PAC Article points out: no men's track for Utah.

NCAA Indoor/Outdoor Mile/1,500 Champ Charlotte Browning Pays Tribute To Kelly Holmes And "On Camp" Scheme Says Holmes' program stuck by her through tough times. Suggests UK needs to be more loyal to athletes in general.
Road Action This Weekend:
Good Reads For HS, College Kids Looking For Perspective
Upcoming - No Big Meets This Weekend!!! (First Time Since New Year's)
Post-NCAA News
Tyson Gay In The News
Tyson Gay Diary He says he's not injured but not totally healthy. Describes the problem as "muscle soreness."
LRC The Week That Was We travel the globe from Rome to New York to Eugene tell you how Oregon could have won, how Florida may have really won (if it wasn't for a blown call), but how Texas A&M really did win. Along the way, we talk about those that struggled last week and shined, including Nancy Langat, Jeff Demps, Pat Henry, Nick Symmonds, Andrew Wheating, Lisa Koll and of course Oklahoma State cross-country. Plus we talk about Bernard Lagat's future at 10k and more.
At Age 39, Allen Johnson Is Still Hungry His goal is to break 13.20, which undoubtedly will be an age group record.
Brit Iwan Thomas Expects Martyn Rooney To Break His British 400m Record Of 44.36 This Year Rooney is confident after he broke 45 for the 1st time this year last weekend.
Bryan Clay Pulls Out Of Decathlon In Czech After Injuring Self In 100m
NCAA Team Title Decided By Tiny Margin (Or Should It Have Been A Tie?)
*Final Results
Boards: NCAA Shot Put mismeasured? Should Florida have won?

Florida's Mesic: "I'm third, but they put me at fourth. They did a mistake, the officials. I cannot believe it, that that happened at nationals."

*Did Shot Put Mismeasurement Cost Florida Share Of NCAA Men's Title? Register Guard
*More Debate: Was Oregon's Gergel Robbed In The Pole Vault? trackandfieldnews.com

LRC NCAA Final Day - Oregon 1, 2, 3 In 1,500; A&M Squeaks Out Sweep
Andrew Wheating became the first male in over 25 years to win the 800/1,500 double, Texas A&M got their 2nd-straight team double, David McNeill showed again he has a better kick than Sam Chelanga and a record number of fans saw the 2010 NCAA championships in Eugene. Plus, AJ Nation came up with a ridiculous kick to put the icing on the cake for Oregon's milers and Calvin Smith almost set a world record trying to win the title for the Gators in the 4 x 4.

More: An Actual Track Meet That Wasn't 90% Boring ...
*Record-Setting Oregon Crowd Wows Athletes The crowd was packed and into it all weekend.
*Queen Harrison First Woman To Win Both Hurdle Events At NCAAs Whiting, Wheating, Koll and Okagbare were the other double individual winners.
*More Quotes From Ron Bellamy's Article On Meet-Defining 1,500m Final It did look like AJ could have won it but who wouldn't start celebrating if they knew their team was going 1-3 at NCAAs?
LRC Day 3 Recap - Wheating!!!
*LRC Photos Days 1 & 2
Saying he'd never been more nervous for a race, Andrew Wheating delivered the goods in the biggest race of the 2010 NCAA championships by winning the 800m final by over 1 second in 1:45.69. Lisa Koll also came through with a big win as she did what even Sally Kipyego couldn't and won the 10k/5k double, causing NCAA XC champ Angela Bizzarri to sit down on the infield with 1,400m to go. Other winners included Phoebe Wright, Jeff Demps in a sub-10, Ashton Eaton barely missing the NCAA decathlon record and Matt Hughes in the steeple.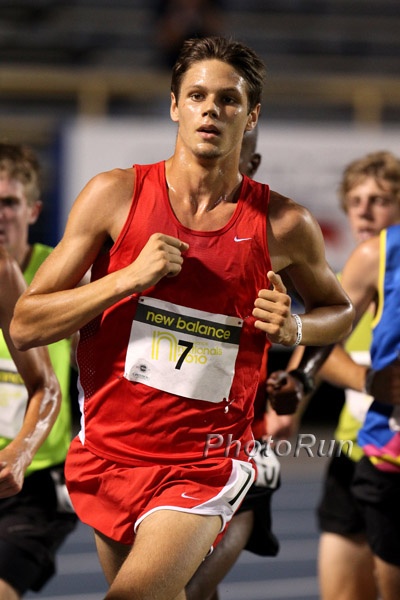 Day After Spliting 1:47.15, Chris FitzSimons Runs 4:05.7 To Lead Team To DMR Victory/HS Girls DMR Record Is Lowered To 11:31.26 FitzSimons will be going to Nova next year.
Not Making This Up: HS Soph GIRL Splits 2:00.59 For 800 In Sprint Med
HS Soph BOY Splits 1:47.99
On The Boards: Ajee Wilson, sophomore from NJ, splits 2:00 on a relay leg. Could we see Kim Gallagher's legendary record go down soon? She is quite the talent, as we know from this thread: High School Sophmore Girl runs 2:04.94 800m and 4:43 1600m

Rosa Brothers Go 1-2 As Joe Rosa's 8:44 Crushes Fast-Starting Lukas Verzbicas In 2-Mile
Discussion here.

5k Results (HS nationals in N.C.) Matt Mizereck (14:37) and Katherine Walker win 5,000s.

HS Forum
British Newspaper Says Tyson Gay Says False Start Rule Could Ruin Sprints The problem is Gay never said that. He is against the rule, however.
Elites: This Artwork May Help You Get Funded
USATF Auctioning Artwork Honoring Legends - Prints Going For $2,500 Eccentric javelin thrower Roald Bradstock made this piece being sold on ebay Friday at 1:30 Eastern. Can you identify every runner from this enlarged picture?

Must Read For Coaches: Stephanie Hightower, USATF, Responds To Coaching Registry Criticism
NCAA Awards - Oregon, Distance Runners Dominate
Coaches Name Lisa Koll NCAA Track Athlete Of The Year Koll set an NCAA 10k record and destroyed the fields at NCAAs. But what about this record setter?

Queen Harrison USATF Athlete Of The Week - Beaten By Koll In USTFCCCA Voting Hokie Queen Harrison became first woman to win both hurdles events at NCAAs.

Eaton And Whiting Named Co-Field Male Athletes Of The Year Can't argue with these 2 studs sharing the award.
*Wheating Named USTFCCCA D-1 Track AOY, Ducks Top Team

We Were Thinking: Latest Results Show Ashton Eaton May Be World #1 Among Healthy Decathletes Eaton's 8400+ points at NCAAs were impressive considering he was "off" in most of the non-running events (he wears tennis shoes to shot put).
Friday Random Links Section (This Should Get You Through The Afternoon)
LRC Exclusive: An Inside Look At The After Effects Of The Rome Golden Gala Fiasco At 400 Meters With their focus on NCAAs, many Americans missed out on one of the more bizarre episodes in track and field history as four runners were nearly wiped off the track by the overheard television camera on the giant arm, which mistakenly swept onto the track in the middle of the men's 400.
Women's Marathon News
Britain's European Hopes Lessened With Pullout Of Meadows, Ohuruogu

Kenya's Sprinters And Field Event People Getting The Short End Of The Stick
Tyson Gay And Usain Bolt Both In The News
To The Victor Go The Spoils
LRC $20,010 Prediction Contest Recap A former 800m runner for Frank Gagliano's Georgetown Hoyas came out on top of our NCAA prediction contest. The top 5 were filled out by a genius, a current D1 runner, an ex CU buff, and a high schooler formerly coached by American record holder for 800m Johnny Gray.
In Case You Missed It
Final Regional Analysis - We Show You The Hard Data And Argue For Pure Regionals
LRC Editorial: The Case For (Pure) Regionals By comparing regionals to the NCAA basketball tournament, we tell you why we think the Pure Regional system of qualifying for NCAAs is a winner and tell the BCS coaches to stop whining.

LRC Exclusive Unbiased Research Of Current And Proposed 24/8 Regional System: Men
LRC Exclusive Unbiased Research Of Current And Proposed 24/8 Regional System: Women
We have finished up hours and hours of research and analyzed how the first year of Pure Regionals worked out. We show you what percent of the top 10 and top 24 on the descending order list in each event (and event group) made it to the show in Eugene. We also conclude our analysis of the 24/8 Plan and show you which conferences would benefit from that proposed plan the most. See how many (if any) of the conference champions that might get in next year, got in this year.
AJ Says He Didn't Let Wheating Have It (Some Disagree)
Kaki's 1:43.48 In Turin
Men's 1,500 Final - Oregon Thrills Fans With Sweep
Asafa Powell Leaving Nike Nike reportedly cut the less-marketable Asafa Powell's annual guarantee from $750k down to $300k and word is Li Ning of China is stepping in to add the currently on-form Jamaican to their Thorkildsen and Isinbayeva stable of track stars. Hard to believe, but Nike now won't represent any of the top 3 men's sprinters in the world.
*IAAF Chat: Powell Says Big Times And Big News Are Coming
The Best Thread On LetsRun The Last 6 Months?
If Letsrun was around in the years before The American Revolution ...What Kind of Threads Would We See? Trust us - this thread is great. If you've seen a better one, email us.
LetsRun.com Exclusive:
Autographed Copies Of Best Efforts For Only $14.95 An epic running book.
Recommended Reads - You Can Buy The Books Online
One For The Mind: Running Within
One For The Soul: Best Efforts
More Great Deals