The Week That Was In Running - June 7 - June 13, 2010
By LetsRun.com
June 15, 2010
To read last week's LRC Week That Was, click Here.
To read any 2010 LRC Week That Was, click Here.
(Editor's Note: We don't recap all of the events from last week here but rather try to make observations of note from the major events. If you missed last week's events, you can read about last week's major events in the table below. Alternatively, you can review each day's home page from last week via the links found at the end of this weekly review.)
There was a ton of action in the world of running last week. We travel the globe from Rome to New York to Eugene tell you how Oregon could have won, how Florida may have really won (if it wasn't for a blown call), but how Texas A&M really did win. Along the way, we talk about those that struggled last week and shined, including Nancy Langat, Jeff Demps, Pat Henry, Nick Symmonds, Andrew Wheating, Lisa Koll and of course Oklahoma State cross-country. Plus we talk about Bernard Lagat's future at 10k and more.
Winners And Losers From Last Week
The Amazing Lisa Koll
The biggest winner of last week for the women had to be Iowa State's Lisa Koll. Koll was utterly dominant in winning the NCAA 10k and 5k titles Eugene. So dominant in fact that she won the women's 5k by more than 30 seconds. Think about that. Winning an NCAA 5,000 title by more than 30 seconds. Unreal.
2009 NCAA cross-country champ Angela Bizarri dared to try to run with Koll and she ended up with a DNF as a result. With Deena Kastor nearing the end of her career (as well as Paula Radcliffe), we imagine Koll will be signing a very lucrative shoe contract very soon, as undoubtedly someone will be looking for the next female GWH (Great White Hope).
Andrew Wheating - Biggest Male Winner
The biggest winner on the men's side was of course Andrew Wheating, who pulled off the first 800/1,500 double on the men's side in 26 years. We were thrilled to see Wheating win the 800 title. Why? Because the guy could have easily gone pro after making the Olympic team in 2008. Instead, he stayed in school, had a lot of fun and got to relive the Eugene magic once again.
Wheating's match-up versus Robby Andrews in the men's 800 at NCAAs was THE matchup of the weekend for US track and field fans. Hell, it might have been THE matchup of the entire year for US track fans. Yes, we know there were two Golden League matchups in Europe last week but, honestly, a win or a loss in a Golden League meet only means an addition or subtraction to one's bank account. At NCAAs, history and titles are on the line and track and field competitions that actually mean something are the best part of the sport.
After Andrews blitzed a 1:45 mid with a 26.60 last 200 in the prelims of NCAAs, we're sure many Wheating fans were unbelievably nervous. Going into NCAAs, most people thought, "Well if it's slow, Andrews will win as he did indoors and at Penn with his amazing kick, but if it's fast, Wheating has a good chance." But then Andrews unleashes a 26.60 final 200 in a 1:45 race and suddenly many people, including ourselves, are asking, "How does Wheating possibly win the final?"
Wheating won by running a 26.20 final 200 in a 1:45 race. As amazing as Robby Andrews was in the prelims, Andrew Wheating was a ton better than that in the final. In the final, Andrews actually closed in 26.61 - just .01 slower than he did in the prelims. Wheating, who was ahead of Andrews the entire race, closed .41 faster and won by nearly a full second.
After Wheating's win, those on the message board that said that "Robby Andrews ran a horrible final" had it all wrong and are failing to appreciate the greatness of Wheating's run. As for Andrews, he ran just fine. Sure, he may not have been quite as sharp as he was for the prelims, but it wouldn't have mattered. Wheating was utterly dominant.
For comparison's sake, remember when Andrews won indoors in 1:48.39, his last 200 was a 27.14. Now he's closing .54 faster and running 1:45 on one day and .53 faster and running 1:46 the other. Certainly nothing to be disappointed about.
Can we please have a rematch at USAs with Nick Symmonds and Khadevis Robinson thrown into the mix?
We think it's worth thinking about how much the two titles mean. Had Wheating not won once in Eugene, his prospects would be a lot different right now. Instead of being the dominant figure in collegiate track and field, he'd be viewed as the guy who, while making an Olympic team in 2008, found a way to lose NCAA titles in 2008, 2009 and two in 2010.
As for the 1,500, we were impressed how Wisconsin's Jake Bolas closed in 1:51.93 in the prelims. That seemed pretty impressive to us. In the final, he closed even faster - 1:51.34 and only finished 4th - as the three Oregon Ducks, led by Andrew Wheating, all closed faster. Wheating's last 800 was 1:50.58.
Crazy to think Bolas would be only the 4th-best miler at the U of O (and maybe 5th if you remember that Mac Fleet was the NCAA runner-up).
Nearly all of the men's milers deserve a Thumbs Up in our book, as the top 9 all finished within 1.01 of each other and all closed in 1:52.13 or better.
Other Winners From Last Week
Texas A&M Coach Pat Henry. The guy picked up NCAA titles #30 and #31 as the Aggie men and women swept the outdoor titles for the second straight year, and he narrows the gap on Arkansas' John McDonnell. Henry certainly is the best in the business at loading up on sprint talent and bringing home NCAA titles - even if that means his teams don't win their conference crown. As we pointed out last year after NCAAs, Henry has won way more NCAA crowns than conference crowns. In fact, his Texas A&M men have never won the Big 12 title indoors or out but now have won two NCAA titles.
Altogether now at A&M and LSU, Henry's teams have won 27 SEC or Big 12 conference titles and 31 national titles. Ignoring vacated titles, John McDonnell won 84 conference crowns and 42 NCAA crowns.
Jeff Demps - Florida Gator sprinter. The US Junior record holder at 100 meters, thanks to his 10.01 from 2008, captured his first NCAA outdoor 100 title and broke 10.00 for the first time as he won in a wind-aided 9.96. Yes, a 9.96 with a 2.5 wind at your back "equates" to a 10.08, but sub-10 is sub-10 in our books and it's been a resurgent year for Demps, who struggled last year as a freshman and never ran faster than 10.30. Demps is now the fastest collegian period - not just the fastest collegiate football player.
Nancy Langat - Kenyan 1,500 runner. In 2008, she was the surprise Olympic champ at 1,500. Last year, she raced twelve 1,500s and only won two. Well, so far in 2010 she certainly looks like the Olympic champ, as she's been dominant. Four 1,500s races have resulted in four victories, including a world-leading 4:01.60 in New York.
Jenny Barringer - US 1,500 runner. The jury won't be in for a long, long time on whether she made the right move to switch coaches earlier this year, but Barringer did win the battle of "Who's The Best American 1,500 meter runner early in a year when there are no World Championships?"
Barringer beat anyone who might have a claim to that title as all three of the sub-4 American 1,500 meter runners from last year plus world championship bronze medallist Shannon Rowbury were in the field. In the race, within the race, the results were as follows for the best American:

Jenny Barringer 4:03.63 SB
Shannon Rowbury 4:04.00
Morgan Uceny 4:04.01 PB
Christin Wurth-Thomas 4:05.56
Anna Pierce 4:05.96
Shalane Flanagan 4:06.44 SB
Erin Donohuse 4:07.22
Sara Hall 4:10.11
Lindsey Gallo 4:15.07
However, we want to give props for Christin Wurth-Thomas for going for it. The pace wasn't particularly fast relative to the credentials of the women in the field and Wurth-Thomas was the only one to go with it.
Nick Symmonds - American 800 meter runner. Symmonds is experimenting with opening up his season later in 2010 so he can see if it helps him peak better at the end of August. Well, the early results are positive. The adidas Grand Prix served as the latest outdoor 800 opener of Symmonds' career and it also served as the fastest one of his career.
Yes, Symmonds got beat by world champion Mbulaeni Mulaudzi of South Africa. But there is nothing wrong with losing to the world champion - particularly if you run 1:45.05 and your previous best opener was 1:46.14. Khadevis Robinson also ran well with a 1:45.77.
Oklahoma State Men's Cross-Country Team. No, the Cowboys didn't do anything of note at NCAAs. in fact, it was kind of surprising that the NCAA cross-country champions only qualified one individual to NCAAs in track distance events. But the Cowboys had a great week, as their cross-country nemesis Colorado bolted the Big 12 for the PAC-10. As a result, Oklahoma State - which doesn't really care about track and field - can now totally dominate the Big 12 in cross-country, as most of the other schools in the Big 12 that normally would be at the top of the conference standings in most sports (like Texas A&M, for example) don't really care about cross-country.
As for the new PAC-10 (should we call it the PAC-11?) ... they could practically just make their conference meet the NCAA championships as every year Oregon, Colorado and Stanford will toe the line at conference. Wow.
Linet Masai - Kenyan distance great. The world champion at 10,000 meters dominated world cross-country champion Emily Chebet to take home $10,000 and the NYRR New York Mini 10-K title in Central Park, as she won in 30:48.
It's too bad we didn't get to see Masai square off with double Olympic champ Tirunesh Dibaba, who also raced and won in New York on Saturday. Dibaba won the adidas Grand Prix 5,000 in a tactical 15:11 (58-second last lap). In 2009, the adidas meet (then called Reebok) featured the Dibaba vs. Masai matchup at 5,000 and Masai was the winner in 14:35 to Dibaba's 14:40. Can we get a rematch in 2011?
Race Results Weekly states that Masai "did not get an invitation to defend her title" in New York.
New world leaders and meet record holders. The new world leaders in New York that we haven't mentioned included Teddy Tamgho (17.98m in the triple jump) and Veronica Campbell Brown (21.98 in the 200). Kenyan Nicholas Kemboi ran a meet record 3:33.29 in the 1,500 and Mbulaeni Mulaudzi's 1:44.38 was a meet record in the men's 800.
In Rome, Dwight Phillips' 27'7.5" long jump was a new world leader. Jeremy Wariner's 44.73 also was a world leader and Asafa Powell's 9.82 in the men's 100 was as well. Walter Dix didn't run a world leader, but his 19.86 is a non-Usain Bolt world leader and a great sign that Dix is truly back (just as we said he was last month) in great form in 2010 after struggling in 2009.
Those That Had A Tough Week Last Week
Picking out disappointments from a week is never the funnest job we have at LetsRun.com and we're sure there were lots of people who went home disappointed form the various competitions last week. But it's hard to ignore the disappointments that Will Leer, who had run a 3:37.26 PR in his last race in May, and 2009 World Championships team member Dorian Ulrey, who redshirted the 2010 outdoor season for Arkansas, felt at the adidas meet. Leer was next to last in 3:45 and Ulrey was last in 3:47. Ouch.
Others that had a tough week include:
NCAA Meet Officials. Apparently the officials blew it in the men's shot put and mismeasured a mark by Kansas freshman Mason Finley. As a result, Finley ended up second in the shot put and, more importantly, Florida's Kemal Mesic ended up 4th instead of 3rd. That cost Florida one point and the Gators lost to Texas A&M by one point. So instead of co-champs, the Aggies are the only champs.
Certainly a travesty in our book. Things like this happen all the time at track meets and it's a shame that the officials won't reverse decisions, especially when the competitors themselves are telling the officials they got it wrong. At the Ivy League champs this year, one discus thrower's coach even told the officials, "My kid didn't throw it that far," and the official still wouldn't reverse it.
One last comment on this controversy. Can the NCAA please come up with a way to break ties at track meets? In our minds, if there is a tie, the team that placed higher in the 4 x 400 should be declared the winner. If neither team scored in the 4 x 400, then maybe take the team that had the most first place finishes, then second and so on (or maybe the team with the most scorers? - just use some criteria). A tie is ridiculous. Actually, if neither team was in the 4 x 400, we say make the teams run a 4 x 400 and see who wins. That would be hilarious and way better than a tie.
More: NCAA Shot Put mismeasured? Should Florida have won? *After review, A&M's on top
Cyrus Hostetler - Oregon Javelin Thrower. Hostetler went into NCAAs with the top mark in the country. He failed to make the final, let alone win and score 10 points. Oregon lost the meet to A&M by ten points. However, if Hostetler had won, Oregon would have been the champs, as Texas A&M scored 4 points in the javelin. With Hostetler in there, A&M would have lost a point and the final team score would have read Oregon 54. Florida 53, Texas A&M 53.
But a big Thumbs Up to men's javelin winner Craig Kinsley of Brown. The Ivy Leaguer only went into NCAAs with the 10th-best throw in the land but came out as the champion.
And The New American 10,000 Meter Record Holder Is ... Quote Of The Week (That Wasn't Quote Of The Day)
"Someone told me if I can run 64-second laps, that will be 26:44. After running 62s at Bislett, I don't think it will be impossible."
- Bernard Lagat talking about his prospects at the 10,000 meter distance in a column by Running Times Editor-At-Large Jim Gerwick. Lagat's prospects at 10,000 might actually be better than his prospects at 1,500, as it's clear he's losing his finish in the shorter races. At the adidas Grand Prix, he was only 5th place. More: *LRC MB: Bernard Lagat may try 5000/10000m double in 2012...discussion and predictions
Recommended Reads
*Editorial: Has USATF Declared War On U.S. Coaches?
*LRC The Case For (Pure) Regionals
*LRC Exclusive Unbiased Research Of Current And Proposed 24/8 Regional System: Men
*LRC Exclusive Unbiased Research Of Current And Proposed 24/8 Regional System: Women
Last Week's Quotes Of The Day:
Sunday/Monday: "It was a riot, an absolute riot."
- Andrew Wheating commenting on the last 100m of the 1, 2, 3, Oregon 1,500m sweep on Saturday at NCAAs in Eugene.
Best Videos *1,500 Final *800 Final Stretch *Wheating After Tough 4 Days
Saturday: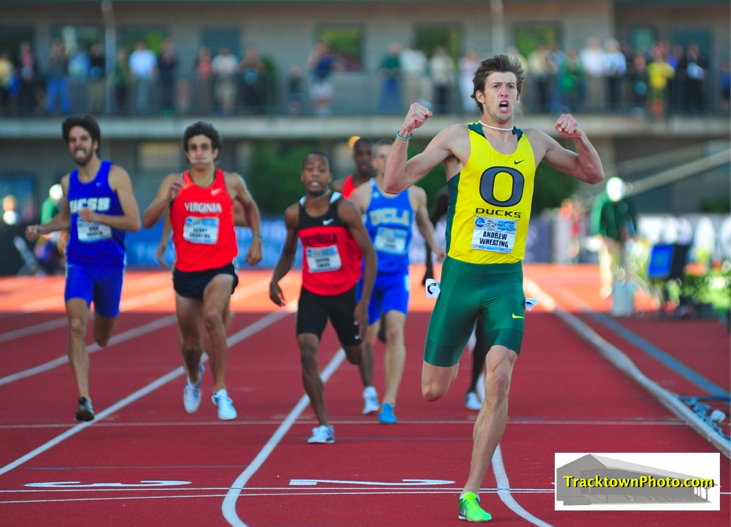 Friday: "He's a great closer, it's definitely going to be a case of who's got the mightier kick."
- Andrew Wheating after the 800m semifinal rounds that saw the tall Oregon senior easily win his heat in 1:48 (Wheating: "The easiest 1:48 I've ever run") while UVA freshman Robby Andrews closed in 26 to run 1:45.54 and win the first heat where 5th place was 1:46.19 (Andrews: "It was just like any other race").

Thursday: "The third world war that we declared has been won."
- Makhenkesi Stofile, the South African Minister of Sport and Recreation. Thursday, Caster Semenya is expected to announce that she will be allowed to return to competition. IAAF head Lamine Diack is expected to be at the press conference so it seems like this time the claims are true.

Wednesday: "Well you know I've been vocal as someone who opposes the regional qualifying system. But I will say, having now looked at it, I'm REALLY opposed to regional qualifying."
- Vin Lananna at the NCAA press conference on Tuesday. You can get our take on regionals below. Despite our disagreement on regionals, the best athletes are here in Eugene and the Oregon people have got the whole town buzzing with track excitement.

Tuesday: "I went into the stands and watched it, it was a fantastic race. Those guys just absolutely went for it. I was on my feet after the first 100 metres and I'd lost my voice by the end of the race. To be there and watch that sort of a race, and the crowd getting into it as well, was very exciting."
- Olympic gold medallist pole vaulter Steve Hooker on the David Rudisha - Abubaker Kaki 800m clash last Friday in Oslo. You can watch the race here.
Last Week's Homepages
*Mon (June 14) *Sun (June 13) *Sat (June 12) *Fri (June 11) *Thur (June 10) *Wed (June 9) *Tue (June 8)
---
Runner's World &
Running Times



Combined Only $22
a Year
Save $87

---

Running & Track and Field Posters
---


More Nice Offers: Nike Lunar Glide Savings Super popular shoe from Nike featuring Flywire and Lunar Foam

*Nike Air Max Moto Sale $69.99 for this shoe from our partner.
---