NCAA Final Day Recap - Aggies Grab Team Titles, Oregon 1, 2, 3 In Men's 1,500
By Emory Mort
LetsRun.com
Eugene, Oregon
June 12, 2010
Andrew Wheating became the first male in over 25 years to win the 1,500/800 double, Texas A&M got their 2nd-straight team double, David McNeill showed again he has a better kick than Sam Chelanga and a record number of fans saw the 2010 NCAA championships in Eugene. Plus, AJ Nation came up with a ridiculous kick to put the icing on the cake for Oregon's milers and Calvin Smith almost set a world record trying to win the title for the Gators in the 4 x 4.
Final Men's Team Scores
Final Women's Team Scores
1 Texas A&M, 55
2 Florida, 54
3 Oregon, 45
4 Arizona State, 37
5 Southern California, 35.5
1, Texas A&M, 72
2, Oregon, 57
3, Florida, 40
4, Penn State, 34
5, Virginia Tech 33
Men's Team Race Comes Down To 4 x 4 For 2nd Year In A Row - Calvin Smith 43.69 Split Comes Up Just Short
There's a reason the 4 x 400m comes last on the program. After 4 days of competition, the Florida and Texas A&M men were virtually tied on the scoreboard heading into the 1,600m relay. In a situation eerily similar to 2009, A&M's Tabarie Henry was able to hold off Mississippi's Tavaris Tate on the anchor leg to win the relay for the Aggies and give them enough of a cushion to win the title by 1 point.
But perhaps the more fascinating race was for 2nd place, which was easy to miss with the drama up front. Florida and anchor Calvin Smith had the baton well back in 3rd but thanks to a reported 43.69 from Smith almost caught Tate, who split 44.75. This means that for the 2nd year in a row, Florida lost a national championship by 0.21 seconds in the 4 x 4. Incredible. See the top 3 results and splits below. In case you don't remember, Florida lost last year by 2 points as Baylor's 4 x 4 anchor couldn't quite catch A&M.
Men's 4 x 400 Top 3 Results And Splits
1
Texas A&M
3:00.89
10
1(1)

| | | | | |
| --- | --- | --- | --- | --- |
| | Tran Howell (JR) | Demetrius Pinder (JR) 1:31.04 | Bryan Miller (JR) 45.07 | Tabarie Henry (JR) 44.79 |
2
Mississippi State
3:01.66
8
1(2)

| | | | | |
| --- | --- | --- | --- | --- |
| | O'Neal Wilder (SO) | Dwight Mullings (SR) 1:31.20 | Emanuel Mayers (JR) 45.71 | Tavaris Tate (FR) 44.75 |
3
Florida
3:01.87
6
1(3)

| | | | | |
| --- | --- | --- | --- | --- |
| | R.J. Anderson (SR) | Tony McQuay (FR) 1:31.49 | Christian Taylor (SO) 46.70 | Calvin Smith (SR) 43.69 |
Unfortunately, the men's long jump ran overtime and actually was not completed until after the 4 x 400, so the team title recipient remained in doubt. In the end, Florida's Christian Taylor finished 4th, moving Florida to their final 55-54 deficit. The long jump was won by Texas freshman Marquise Goodwin (right), who last year jumped 26'10" in high school to set a US record. His winning jump at NCAAs was 26'9".
Women's Team Race Decided Early - Ducks Get Consolation With 4 x 4 Victory
After Texas A&M's women's team lost one of their top stars at the regionals and then lost star Gabby Mayo before the NCAA meet, Oregon and their balanced team was supposed to have a good chance to upend the sprint-heavy Aggies.
When all was said and done, the women's team race ended up as a runaway win for the Aggies as legendary NCAA coach Pat Henry's team scored more points (54) in the 100, 200, 4 x 100 and 4 x 400 than all the other complete teams (Oregon finished with 52).
Oregon did put up a good fight, and finished the meet in fantastic form, though the team title was out of reach. Keshia Baker, anchoring the 4 x 400 against Texas A&M's Jessica Beard, lunged ahead after a neck-and-neck duel down the stretch to take the title by 0.03 seconds (photo of the 4 x 4 finish and the NCAA record weekend crowd at Hayward, left).
After the meet was decided, Oregon head coach Vin Lananna said he is not sold on the idea that competing at home is an automatic boost for the team. "I think home field advantage was not a home field advantage necessarily," the coach said. "Although it was a great crowd, you have one extra thing added to the competition. It's both good and bad."
Women's 4 x 400 Top 3 Results
1
Oregon
3:28.54
10
1(1)

| | | | | |
| --- | --- | --- | --- | --- |
| | Jamesha Youngblood (JR) | Amber Purvis (SO) 1:45.11 | Michele Williams (JR) 52.84 | Keshia Baker (SR) 50.59 |
2
Texas A&M
3:28.57
8
1(2)

| | | | | |
| --- | --- | --- | --- | --- |
| | Andrea Sutherland (JR) | Ashika Charan (SR) 1:45.09 | Donique' Flemings (FR) 53.07 | Jessica Beard (JR) 50.42 |
3
LSU
3:30.61
6
1(3)

| | | | | |
| --- | --- | --- | --- | --- |
| | Latoya McDermott (FR) | Cassandra Tate (SO) 1:45.24 | Kayann Thompson (SR) 52.94 | LaTavia Thomas (SR) 52.44 |
Pat Henry Now Has 31 National Titles
Texas A&M head coach Pat Henry now has won 31 indoor and outdoor NCAA titles as head coach at LSU and in College Station. The Aggies swept the outdoor titles in 2009 and now again in 2010. "This is tough business to win a track meet like this," Henry said. "What a great accomplishment for us today. This is what track's all about."
Men's 1,500m: Event Of The Day, As Wheating Tops Himself And Leads Oregon To 1, 2, 3, Sweep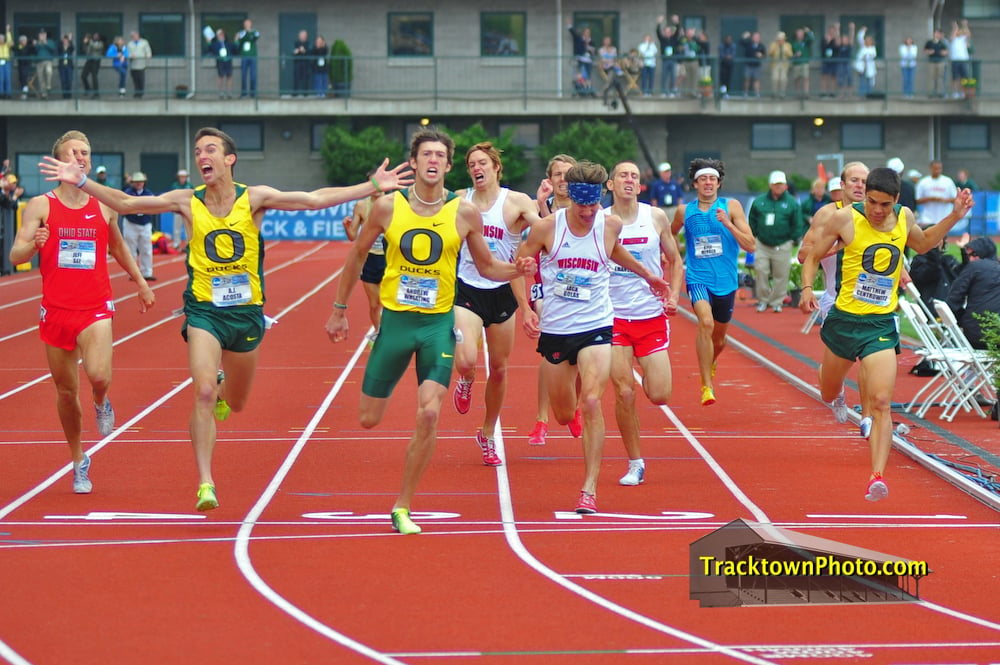 The men's 1,500m went out in 2:12 through 800, setting up a wild finish made even crazier when Oregon's AJ Acosta sprinted forward to join tiring Andrew Wheating and Matt Centrowitz for a raucous 1, 2, 3 UO sweep in the anticipated final (finish photo, right).
The 1,500 may have even eclipsed the 800 final in terms of crowd response. Running 8-wide from Centrowitz in lane 1 to Jeff See in lane 5, the men's field powered home in a scene reminiscent of the 2008 Olympic Trials 800m, where Nick Symmonds, Wheating and Christian Smith made it an Oregon sweep for the Olympic spots.
With the metric mile win combined with his emotional 800m title run Friday night, Wheating became the first runner since Brazilian-born Oregon Duck Joaquim Cruz in 1984 to win the 1,500/800 double at NCAAs.
Wheating would say after the race that the tactics were perfect for him. Nobody took the pace until New Mexico's Lee Emanuel made his patented charge to the front with 600m to go. We timed the next 400m split (900-1,300m) at a sick 53.1 for Emanuel. Wheating would say after, "If he made that move earlier I would have been toast. But when he made it was perfect because it just felt like my 800 pace."
Andrew Wheating relieved after winning twice under pressure at home.
Centrowitz had the speed to cover Emanuel's move and power to the front with 200 to go. Acosta looked to be fading back in the final lap but found an extra gear in the last 150. In fact, if the race was a few meters longer, Acosta would have been the NCAA champion, as Centrowitz and Wheating were struggling more than he. "This race could have been a little better for me," Acosta would say. "At some point no one was leading, so the three of us decided to move up to the front. With 150 meters to go I heard the crowd cheering us and I thought I could still win this. I was close on winning in heart, but Andrew (Wheating) just had some extra strength." (LRC Video: AJ talks after the race)
Because the race essentially came down to a 600m sprint, the field was actually struggling to hang on coming down the homestretch. Even Wheating was feeling the surge by the end of the race, saying "If it was 3 to 4 meters longer, I probably would have gone from 1st to 5th." Fanned across the track, responding to deafening roars, the Oregon mid-distance trio did what coach Vin Lananna told them was possible before the race - go 1-3 at NCAAs. "The coaches were telling us before that we had a chance," said Centrowitz, "We all knew it was realistic to finish 1-2-3. We all had different strategies but it all worked out down the stretch."
Oregon = "Miler U."
Oregon's 1,500 sweep performance is even more amazing when you consider the Ducks who weren't running. Mac Fleet, an Oregon freshman, finished 2nd at the indoor NCAA mile (he did not qualify for the outdoor nationals) and senior Jordan McNamara made the NCAA 1,500 final last year (he ran the 5,000 this year and placed 8th).
2010 NCAA Men's 1500m Finals                                                                          
  1 Andrew Wheating           SR Oregon                 3:47.94   10            
  2 A.J. Acosta               JR Oregon                 3:48.01    8            
  3 Matthew Centrowitz        SO Oregon                 3:48.08    6            
  4 Jack Bolas                SR Wisconsin              3:48.21    5            
  5 Jeff See                  SR Ohio State             3:48.37    4            
  6 Lee Emanuel               SR New Mexico             3:48.61    3            
  7 Craig Miller              SR Wisconsin              3:48.85    2            
  8 Mark Matusak              SR California             3:48.91    1            
  9 Dylan Ferris              SO Stanford               3:48.95                 
 10 Kyle Merber               SO Columbia               3:49.75                 
 11 Riley Masters             SO Maine                  3:51.37                 
 12 Daniel Clark              SR Notre Dame             3:51.87                    
*Click here for all of LetsRun.com's YouTube videos from the 2010 NCAA meet
Men's 5,000: McNeill Kicks Away From Content Chelanga
NAU junior David McNeill won a well-deserved 5,000m crown against an half-inspired Sam Chelanga. After what was described as an "awkward" early pace, McNeill showed he was far and away the class of the field with a strong 1:55 final 800m to sprint clear of the highly-credentialed Kenyan.
The first 1,000m was relatively modest before McNeill threw in a 64 second lap that began the "not hard, but not easy" pace mostly led by Stanford sophomore Chris Derrick. Derrick, now recovered from a winter Achilles injury, was disappointed after being passed by Andrew Bumbalough in the final straight to drop to 4th.
Also of note, Princeton's Donn Cabral scored in his 2nd event of the weekend. He ran the 3,000 steeplechase prelims on Wednesday and won his heat before coming back to finish as the runner-up in Friday's final. On Saturday, he toughed out the 5,000 and placed 6th, beating a lot of talented guys competing while fresh.
Event 7  Men 5000 Meter Run
=======================================================================         
 Final only. Random draw. Double waterfall. 2/3 on main                         
    American: A 12:54.12  6/4/2010    Bernard Lagat, Nike                       
College Best: C 13:08.4h  5/13/1978   Henry Rono, Washington State              
   NCAA Meet: M 13:20.63  6/2/1979    Sydney Maree, Villanova                   
     Hayward: S 13:07.83  1998        Luke Kipkosgei, Kenya                     
    Name                    Year School                  Finals  Points         
=======================================================================         
Finals                                                                          
  1 David McNeill             JR Northern Arizona      13:44.81   10            
  2 Sam Chelanga              JR Liberty               13:45.35    8            
  3 Andrew Bumbalough         SR Georgetown            13:46.17    6            
  4 Chris Derrick             SO Stanford              13:49.11    5            
  5 William Mulherin          SO Virginia Tech         13:50.76    4            
  6 Donn Cabral               SO Princeton             13:53.33    3            
  7 Ryan Hill                 FR NC State              13:53.99    2            
  8 Jordan McNamara           SR Oregon                13:54.30    1            
  9 Richard Medina            SO Colorado              13:55.66                 
 10 Jake Riley                JR Stanford              13:55.80                 
 11 Brandon Bethke            SR Arizona State         14:00.26                 
 12 Ben Hubers                SO Indiana               14:01.40                 
 13 Andrew Poore              SO Indiana               14:05.06                 
 14 Festus Kigen              JR TCU                   14:06.31                 
 15 Deus Rwaherus             SO Western Kentucky      14:06.75                 
 16 Michael Maag              SR Oregon                14:07.98                 
 17 Ben Cheruiyot             SO Auburn                14:08.00                 
 18 Jacob Kirwa               SR New Mexico            14:11.83                 
 19 Kyle Soloff               JR Princeton             14:15.54                 
 20 Chris Rombough            SR Minnesota             14:21.39                 
 21 Elliott Heath             JR Stanford              14:23.22                 
 22 Brad Miller               JR Syracuse              14:24.78                 
 23 Zeke Van Patten           SO Arizona State         14:29.28                 
 24 Jean-Pierre Weerts        SR Auburn                14:32.21                        
Women's 1,500: Indoor Mile Champ Charlotte Browning Wins Again, Hasay 3rd
Florida's Charlotte Browning ran a brilliant tactical race to win the women's 1,500. Hailing from Great Britain, Browning stayed relaxed and near the front in lane 1 and struck with her kick at the perfect time. Freshman Jordan Hasay played a different tactical hand, running wide around the field and pushing the pace with 2 laps to go. After a 73 felt too slow for her suiting, Hasay led the field through a 68 before closing in 63 seconds to hold on for a surprising 3rd. Minnesota's runner-up Gabriele Anderson actually had the fastest close (62.33) in the field, but Browning simply had the better tactical position.
Many pundits thought this race was one of the more wide-open contests on the card. It certainly turned out that way, as 2009 NCAA runner-up Brenda Martinez finished in last, many people's pre-race podium favorite Katie Follett finished 10th, last night's 5,000m 3rd-placer Alex Kosinski managed 11th, and Thursday semifinal winner Lucy Van Dalen was 8th.
Hasay, who has tired towards the end of a long freshman year, talked about her expectations coming into the NCAA meet: "I was trying to do my best to win points for my team. I didn't even think I'd get into the finals and I got here, so this was great." After becoming such a recognized star in high school, Hasay has enjoyed being part of a team and not always being the center of attention. "In high school I kind of just ran for myself, but it's been great having a team to run with," Hasay said after. "I always check how they are doing, I love being part of the Oregon team."
2010 NCAA Women's 1500m Finals                                                                          
  1 Charlotte Browning        SR Florida                4:15.84   10            
  2 Gabriele Anderson         SR Minnesota              4:16.25    8            
  3 Jordan Hasay              FR Oregon                 4:16.43    6            
  4 Sheila Reid               SO Villanova              4:16.66    5            
  5 Pilar McShine             SR Florida State          4:16.72    4            
  6 Karly Hamric              SR West Virginia          4:17.78    3            
  7 Lauren Bonds              SR Kansas                 4:18.06    2            
  8 Lucy Van Dalen            JR Stony Brook-SUNY       4:18.42    1            
  9 Keri Bland                JR West Virginia          4:19.98                 
 10 Katie Follett             SR Washington             4:20.19                 
 11 Alex Kosinski             JR Oregon                 4:20.93                 
 12 Brenda Martinez           SR Riverside              4:25.60                                    
Though 5 women broke 10:00 in a fast race, Penn State senior Bridget Franek was far and away the class of the field, as she ran away to a 9:38 victory. Two Colorado 19-year-olds - Emma Coburn (2nd, 9:51) and Shalaya Kipp (4th, 9:59) - broke the 10-minute barrier with Princeton's Ashley Higginson earning 3rd (her teammate Donn Cabral earned 2nd in the men's steeple on Friday) and Indiana junior Sarah Pease getting 4th. Franek's PR is 9:36 set last yeat at USAs, where she was 3rd.
Penn State ended up 4th in the women's team standings.
Event 26  Women 3000 Meter Steeplechase Top-8 Results
=======================================================================         
 2 Heats.  Advance top 6 from each heat plus next best 2 times                  
    American: A 9:12.50  8/17/2009   Jenny Barringer, Colorado                  
College Best: C 9:25.54  6/12/2009   Jenny Barringer, Colorado                  
   NCAA Meet: M 9:25.54  6/12/2009   Jenny Barringer, Colorado                  
     Hayward: S 9:27.59  2008        Anna Willard, USA                          
    Name                    Year School                  Finals  Points         
=======================================================================         
Finals                                                                          
  1 Bridget Franek            SR Penn State             9:38.86   10            
  2 Emma Coburn               SO Colorado               9:51.86    8            
  3 Ashley Higginson          JR Princeton              9:52.73    6            
  4 Sarah Pease               JR Indiana                9:56.91    5            
  5 Shalaya Kipp              FR Colorado               9:59.37    4            
  6 Shelby Greany             FR Providence            10:00.88    3            
  7 Kristen Hemphill          SR Colorado State        10:07.40    2            
  8 Marie Lawrence            SO Washington            10:10.60    1            
     
More From Saturday ...
Best Final Day Performance: Ryan Whiting, Arizona State 72'1" Shot Put
ASU senior Ryan Whiting threw so far on his 6th attempt that they had to "steel tape it" for record purposes. His throw of 21.97m was 3cm short of John Godina's NCAA record. Whiting, who won the discus on his last attempt, took home two NCAA titles.
Biggest Upset: Illinois' Andrew Riley In The 110s
Ronnie Ash of Oklahoma was the huge favorite in the high hurdles but was visibly upset after a late false start was called on Johnny Dutch. On the restart, Illinois' Andrew Riley ran to the win and said afterwards, "We are prepared for false starts so it didn't really distract me. I ran under no pressure, just for fun." Many people expected Angela Bizzarri to perhaps come home with a championship for Illinois, but instead she DNFed in the 5,000 and Riley got the hurdles win.
NCAA 2010 - The Year Of The Double Champion
Andrew Wheating (800/1,500), Lisa Koll (10,000/5,000), Blessing Okagbare (100, Long Jump), Ryan Whiting (Shot Put, Discus), Porscha Lucas (200, 4 x 100), and Jeff Demps (100, 4 x 100) were the double champions from the weekend.
*Correction: In our first edition of this article we overlooked Virginia Tech's Queen Harrison who became the first woman in NCAA history to win both hurdle events (100 and 400). Apologies for the omission.
---
More:
*Full Results
*More LetsRun Videos
*LRC Photos Days 1 & 2
LRC Day 3 Recap - Wheating!!! Saying he'd never been more nervous for a race, Andrew Wheating delivered the goods in the biggest race of the 2010 NCAA championships by winning the 800m final by over 1 second in 1:45.69. Lisa Koll also came through with a big win as she did what even Sally Kipyego couldn't and won the 10k/5k double as NCAA xc champ Angela Bizzarri sat down on the infield with 1400m to go. Other winners included Phoebe Wright, Jeff Demps in a sub-10, Ashton Eaton barely missing the NCAA decathlon record and Matt Hughes in the steeple.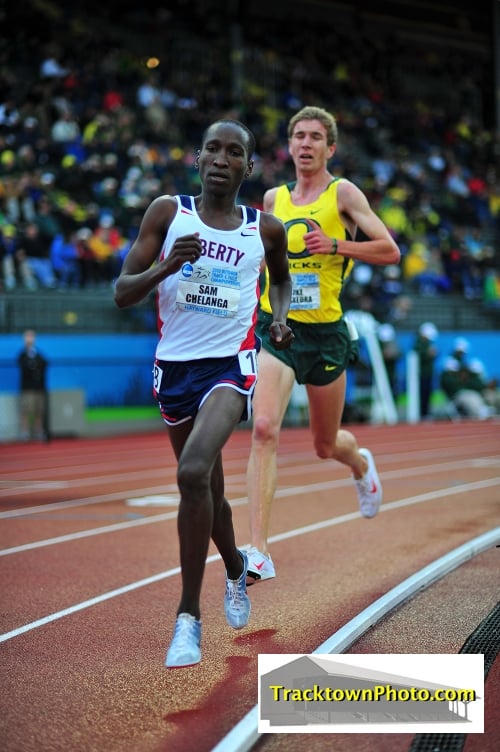 NCAA Day 2 Recap - Chelanga Wins Big, 1,500 Finals Set


LRC Andrews 1:45.54! - 800m Semifinal Recap

LRC Day 1 Distance Recap - Koll Dominates 10k After the race, it was hard to tell if Koll had just completed an easy tempo workout or an NCAA 10k final. Next up for the NCAA 10k record holder and 2-time champ is a showdown with Illinois' Angela Bizzarri in Friday's 5,000m. Koll's teammate Betsy Saina was 2nd while Nicole Blood responded to the home crowd to get 3rd.

---
Runner's World &
Running Times



Combined Only $22
a Year
Save $87

---

Running & Track and Field Posters
---

Running Shoe Savings: Nike Lunar Glide 20% Off Super popular shoe from Nike featuring Flywire and Lunar Foam
---