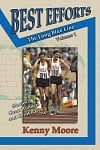 One day this summer a package showed up in the mail. When I opened it, a book came out. "BEST EFFORTS" scrolled across the top. "The Long Blue Line" darted diagonally underneath the capitalized phrase on a zigging and zagging blue line. "Stories of Great Runners and Great Races" hides below and to the left of a picture featuring two men arm-in-arm in USA jerseys. As I would learn soon enough, one man is Frank Shorter and the other Kenny Moore. Near the bottom of the paperback cover is Kenny Moore's name, written in red. Furthermore, at the top, beneath the other writing is "Volume 1" and behind all of this is a computer model of the earth with stenciled longitudes and latitudes.
I was confused. I had never seen this book before, and now that I had I couldn't figure out what the title was. It did say something about stories of great runners and races, so that was a good start, and it had a note inside it addressed to me, so that was certainly really cool. But I had questions, and they needed answered. I asked around the house, and here are some responses I got: "Holy sh*t! That book is one of the top-2 running books I've ever read! Where did you get that?" And, "That thing went out of print years and years ago! I've heard of people paying hundreds of dollars for it."
Inside the cover a note was hiding. It read, "Hope these guys still come alive. Kenny." Judging by my housemates' reactions, they still were coming alive for them. I was psyched. I also had a lot to learn.
In brief, "Best Efforts: Stories of Great Runners and Great Races" is an eclectic conglomeration of stories about runners written by Kenny Moore mostly during his Sports Illustrated years. Mr. Moore, a native Oregonian, ran for Bill Bowerman during his tenure as the University of Oregon's cross country and track and field coach. A late-blooming prep runner of modest accomplishments, Moore developed into a world-class distance runner, highlighted by his fourth place finish in the 1972 Munich Olympic Marathon. As a writer, Moore has also written the highly (and deservedly) acclaimed "Bowerman and the Men of Oregon: The Story of Oregon's Legendary Coach and Nike's Co-Founder."(hardcover available now for $19.95 autographed) Moore, described as "the philosopher-marathoner" by the press before his second crack at Fukuoka, is driven to describe to us the body and mind of the men and women whose speed and triumphs, whose graceful aging and defeats we find so fascinating. And he does it better than anyone else.
If you are like me, books are something you may like to buy as gifts and they also end up on your wish list. For the runner, sports fan, or general book-nut on your list, there are tons of options. Just in the running genre, you will find sub-genres in fiction, (auto)biography, training philosophy, exercise physiology, "running joy" books, historical, ecological, running psychology… there are so many options it becomes quite difficult to make the decision. Usually when I have to make this decision, I crack. I head to the counter to get a boring gift certificate.
Best Efforts is none of those sub-genres entirely and all of them in its entirety. It's a book that will be a great gift. It is a "must read" for any runner or sports fan as it transcends most of the mediocre, worn-out sports writing out there. There are 19 chapters in the book and an updated introduction. Each chapter is based on an experience Moore had either while competing against or traveling to visit with the most intriguing runners in the world (hence the digitized map on the front cover). The stories take place in Japan, Boston, Ireland, Australia, Tanzania, Eugene and many places in between. Just off the top of my head, Hawaii, Germany, Texas, Norway and Uganda are other places I would be remiss to omit. Moore's mission on his trips seemed to be, first and foremost, to uncover the person that was behind masterful runners we know as Steve Prefontaine, Henry Rono, Eamonn Coghlan and Grete Waitz. It is not a collection heavy on opinion, but a book interested in telling stories for the reader to evaluate and ponder.
The extraordinary feature of Best Efforts is the wide variety of perspectives, backgrounds, and experiences concisely presented by a remarkably neutral and muted author/story-teller. This collection is not a training book inclined towards data, schedules or logs, yet Best Efforts offers great insight into the training of the best. Moore's observations and his subjects' quotes teach lessons about the lives each of these legends lived. I apologize for the clichés, but for this collection of stories, these clichés are appropriate. There are too many books and writers out there professing that they know the way to success; too many cookie-cutter approaches. Moore, in assembling these stories teaches us that for every amazing runner (and for that matter, any remarkable human being), there is a different path and a different obstacle, a different mind and a different body, a different plan and a different mentor. There are striking commonalities between runners from different continents, and striking contrasts between runners who live down the street from one another. I'll let you decide on your own what those specific commonalities and contrasts are, but for me the fundamental lesson was more important than the specifics.
Mr. Moore's note inside the book cover read, "Hope these guys still come alive." Do they ever! Today we have all-too-few athlete-heroes who come alive in a way we can truly relate to. What I love about Best Efforts is that none of the amazing athletes talk about their 24/7 obsession with athletic excellence (in fact they were for the most part still amateurs). Some appear wholly uncomfortable with the attention their sporting greatness has brought into their humble family lives and their jobs as teachers and police officers. For example, Moore could hardly get Lasse Viren, a small-town policeman, to say a word about his running while visiting him and his wife in Finland. The best chuckle of the whole visit arose from Moore's attempt to swallow a few drops of Viren's moonshine from the basement. Viren and Moore came to life for me about as much as Moore's throat and taste buds seemed to on that wintry day.
There are other delightful contrasts between the 1970's era of distance running and the 2000's era. Back then track races were seldom lines of anonymous stick figures knocking off 61-second quarters behind a slew of pace-makers. In Best Efforts, the races come to life, as do the competitors. Moore has great quotes from 40+ different athletes from the pre-race festivities and lounging around, from the heat of the race (e.g. Shorter cursing at traffic during marathons) and from their post-race reactions. The athletes are so real, so easy to relate to, and it seems they haven't been overly influenced by the drab media jargon most of today's athletes have. Take Craig Masback's quote from the hotel after Seb Coe took down John Walker's mile world record in the Oslo Golden Mile in 1979: "In the time I sat there, Walker got three calls from New Zealand newspapers. He said all the right things: 'Yes I'm sorry it's gone, but it was a great effort by Coe. I'm only glad to have had such a chance to be in the race…' All the right things, but with such an expression of anguish on his face that I had to look away." You're not going to get that Masback quote or the sense of that scene anywhere else, because Moore had way more access than one of "them" (the media), and he really understands the human competitor's mind (Moore also had his pen and pad with him, seemingly, at all times, including when he was running through Hawaii and the streets of Munich. He had an understanding, a sense of touch and a level of access, both physically and psychologically that one can almost take for granted while reading his stories.
A few days ago I chatted with a father of a current college runner. We were talking about our high school running experiences and how we really got into running. My running history commenced in the summer of 2001 when I decided I was going to try to run in college. I would work from 7 to 4 and settle down on my bed to rest for a few minutes, letting my body and the pavement cool down a bit before running 7 miles as hard as I could. While lying on the bed, I would read John L. Parker's Once a Runner (now available on reprint), given to me by my high school track coach as a graduation gift. I knew nothing about running, and neither did a single member of my family or friends, so Once a Runner was my mentor for the summer. I loved the book, but had no idea until a few years later that it was the most popular running book ever written, at least among hard-core runners (note: I have matured to realize that my high school coach was a genius with exquisite taste and sense of timing. He knew exactly what he was doing when he gave me Once A Runner and told me to come back and tell him stories about running). The father relayed a similar story about Parker's novel, and remarked how well that it had withstood the test of time, passed from one generation to the next with its voice we can all relate to.
I believe a great work only receives the label "great" if it has passed the test of time. Best Efforts passes the test because it will refresh the man or woman who was following the runners of the 60's, 70's and 80's. For the younger runner, 19 intimate glimpses into the foundational figures of the modern sport we love help strengthen our roots in the sport, and teach us about ourselves as athletes, family members and employees as the sport moves forward. I highly recommend Best Efforts by Kenny Moore as I think it will be a work that runners from around the world will be able to discuss and dissect, a common piece of history that we should all familiarize ourselves with as members of the running fraternity.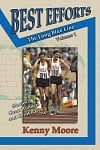 Purchase: LetsRun.com Special Promotion: Get an Inscribed Autographed Copy of Best Efforts for Only $14.95. Click Here
Note: LetsRun.com does get a referral fee for each copy sold of the books it reviews.