Ryan Hall (and Samuel Wanjiru) Running 2008 London Marathon This is big news and we'll have more on it later. Hall is perfectly suited for the marathon and we're glad to see him facing the world's best again. This also confirms a lot of people's belief that the Olympic Marathon Trials don't have to be in the fall. Oh yeah and in case you didn't know the London field is sick. Top marathoner in the world Martin Lel, World Champ Luke Kibet, Paul Tergat, Moroccans Abderrahim Goumri and Jaouad Gharib, Olympic champ Stefano Baldini and Meb Keflezighi, and now the top 2 young marathoners in the world in Wanjiru and Hall. Boston seems like it has to get Cheruiyot or it won't have ANY of the top guys in the world. Maybe hosting the Women's Trials and not having a title sponsor is making it cut back on its other races.
*Message board thread
*BBC article
Former High Jump World Champ Kajsa Bergqvist Retires
Kenya Unrest Week 2
*NY Times With Lengthy Article on Violence in Kenya and How it Is Affecting Runners
*Opposition Leader Raila Odinga Rejects Power Sharing Agreement in Kenya
We Remember: Lucas Sang
Photo Of Slain 1998 Kenyan Olympian Lucas Sang Sang lost his life during the political unrest last week
2000 Olympic Champ Noah Ngeny Had to Identify Body of Lucas Sang


18 Year Old Zhang Yingying Runs 2:22:38 Junior World Record at Xiamen International Marathon Impressive. Plus she made the Chinese Olympic team.
Paul Ereng, Moses Tanui and Others Remember Lucas Sang
Athletics Kenya Hoping to Move Athletes Involved in Standard Chartered Greatest Race on Earth Series to Nairobi
Previous Kenya: *Kenyan Athletes Coping With Political Unrest The situation is tense but agents report most athletes are doing ok but not training much.
*Bronze Medallist Röthlin Makes Difficult Journey Home from Eldoret
*UTEP Coach and Olympic Champ Paul Ereng Pays Tribute to Lucas Sang Who Was Stoned to Death IAAF
*Some of Worst Violence in Kenya is in Eldoret Washington Post
*Times of London Talks About Violence Spreading to Kenyan Runners
*Video on Violence in Kenya A day old but educational if you haven't seen any pictures.
Naoko Takahashi Consults With Coach Who Trained Her For 2000 Olympics
TV Station Issues Apology to Mike Conley over Erroneous Recruiting Claim By the time we had linked to the article apparently the station had retracted the report. Our apologies for not realizing that.
Should Athletes See Doctors Who are Athletes? New York Times
Violence Right in Center of Running World
Violence in Iten; Lornah Kiplagat's High Altitude Center Evacuated; World Marathon Champ Luke Kibet Suffers Head Wound
Lornah Kiplagat's high altitude training center was forced to feed a mob and World Marathon Champ Luke Kibet suffered a head injury after being hit by a stone (the main article above mentions a machete attack that apparently is a bit of an exaggeration). Hard to believe the serene place portrayed by Wejo here and here is now the place where human beings are burning other human beings trapped in a church (the church that was burned was just 5 miles outside of Eldoret, the main training city in Kenya, and where Kip Keino's Training Center is). Iten is the small town where St. Patrick's High School, Kimbia Athletics, and Renato Canova train.
More: Savages Threw Baby Back Into Burning Churhc Outside of Eldoret
*Luke Kibet Hit in Head by Stone in Kenyan Election Violence
Horrible:Kenyan Violence Escalates Kenya has historically been one of the more stable African nations as its 40-odd tribes have generaly gotten along fairly well. But after a possibly rigged election, the tribes are going after each other. The NY Times is reporting that the violence is at its worst in the Rift Valley (where the runners mostly train). The Rift Valley is where the most disturbing violent incident occured as a mob of mostly Kalenjin (almost all of the famous runners are Kalenjin) barricaded and then torched a church with approximately 200 Kikuyu in it, resulting in 50 people being burned alive, just outside of the training mecca of Eldoret.
*Thursday Could Prove To Be Critical As A Banned 'Million Man' Peaceful March Apparently Will Take Place In Nairobi
*1988 Olympian Lucas Sang Is One of 316 Known To Have Been Killed So Far He ran on the 4 x 400 in Seoul but also ran the 800 and was a well known European rabbit. His death was reported by his business partner and former world champ and Boston marathon winner Moses Tanui.
*Kenyan Article On Sang's Death Reveals He Was A Neighbor of Noah Ngeny Sang was well respected in Kenya and had called 2000 Boston marathon champ Elijah Lagat to congratulate him on winning a parliamentary seat on Sunday - one day before he was murdered..
Earlier: Savage Tribal Killings As Kenya Erupts in Violence Following Elections Kibaki says he was reelected but international authorities have not giving their blessing to the results. Meanwhile, things seem to be getting worse every day in Kenya in terms of violence. Election chief now says, "I do not know whether (Mwai) Kibaki won the election"
Justin Gatlin By 2-1 Ruling Gets His Doping Suspension Reduced to 4 Years, Other Arbitrator Wanted Less Gatlin says he was "robbed" and we have some sympathy for him getting 4 years while others get less, but Gatlin still has not confessed to the doping. If he admitted to doping, we'd have a lot more sympathy.
Documents:
*Justin Gatlin's 53 Page Arbitration Ruling
*22 Page Dissent in Justin Gatlin's Arbitration Hearing
More: Justin Gatlin Says He Was Robbed
*Jason Gardener Does Not Think Justin Gatlin Will Compete in 2012
Russians Olesya Bufalova, Tatyana Veshkurova, and Svetlana Cherkasova May be In Trouble with Doping Authorities
IAAF Year in Review:
*800 and 1500
*Steeple, 5k, 10k
*Road Racing and Marathon
*Sprints
Leonard Mucheru to Defend His Marathon Title in Israel as He is Now Competing for Kenya Once Again
Charlie Wells, Marion Jones' Ex Agent, Gets 2 Year Suspension from USATF after He Plead Guilty to Bank Fraud Charges
Profile Of Kenya's Mid-D Sensation Janeth Jepkosgei: Jepkosgei is the latest of a series of amazing 800 runnners to come from her village which has already produced two sub 1:42.3 guys. Unbelievable. Her 2007 season was also unbelievable.
FormerAbilene Christian Track Coach J. Oliver Jackson Dies at 87: He coached athletes that won 4 gold medals and set 15 world records
Paul Kipsiele Koech Came From Behind To Win Lotto Cross Smart running paid off as he was 50m behind early on
Falsely Convicted Gareth Turnbull Wins Boxing Day Greencastle 5 Miler and Breaks Course Record This is the deadest time of the year for running. Take a break from letsrun.com until 2008 and you won't miss much.
No Chance: Organizers Think Junior Stephanie Twell Can Have Impact in Senior Edinburgh XC Race on January 12th
Lee McConnell Quits 400m Hurdles for 400 Due to Injury Concerns
World Master Athletics President, Italy's Cesare Beccali Dies IAAF
For Some Reason IOC, USOC Don't Believe in Following Precedent in Marion Jones Relay Case A case went to CAS and said Jerome Young's teammates got to keep their medals. Young didn't run in the final, but it seems like the cases are otherwise similar.
World Junior Champ Record Holder and All Africa Games Champ Willy Komen Has Eyes on Olympics EA Standard
Sunday's Action: Veerle Dejaeghere and Paul Kipsiele Koech Win Brussels Lotto Cup XC Race, Lornah Kiplagat Suffers Calf Strain At this point it does not look like the calf strain will keep Kiplagat from going for the biggeest payday in the sport of running, the $250,000 Standard Chartered Dubai Marathon on January 19.
Roger Clemens Issues Video Denial It took him 2 weeks to come forward. His denial means nothing. Remember, Bill Clinton didn't have sex with that woman and Marion Jones took up all of page 166 of her biography with this. Hopefully, the truth one way or the other will come out.
*Message board thread
Documents Released Related to Marion Jones' Doping in Conjunction With Her Court Case We're reminded by Steroid Nation, how Marion in her biography flatly denied ever doping and pointed to a lie detector test she took. The documents revealed show how comprehensive the doping was. Insulin, HGH, EPO, roids, and not much of a concern for testing positive. She was taking EPO a week before most meets and never tested positive, although she did have an EPO "A" positive and "B" negative. But we're a bit surprised USADA wasn't able to nail her for a non-analytical positive with all the info apparently out there.
*Marion Continued to Lie After Agreeing to Cooperate With Prosecutors
*Message board thread on Marion's Doping
World XC Champ Lornah Kiplagat, Moses Masai, Paul Kipsiele Koech Headline Sunday's Brussels Lotto Iris Cross Cup This is Kiplagat's only race before she goes for the biggest payday in all of running, the $250,000 first prize at the Dubai Marathon. Masai ran a 2:10 world junior record in the marathon at 18.
Bernard Lagat and Lornah Kiplagat 2007 RRW Athletes of the Year
For Every Death in a Marathon, 1.8 Lives are Saved From Less Traffic Fatalities Due to Road Closure Not to mention the thousands of lives saved from people living healthier lives.
*Study Recap here
A New Challenger to Paula and Noguchi in Athens? Kayoko Fukushi to Make Marathon Debut in Osaka She's the Japanese 3k, 5k, and half marathon record holder and smashed Olympic Champ Noguchi with her 1:07:26 half debut. But the marathon is a whole different beast which the Japanese know more than anyone. In fact, the Japanese have such respect for the marathon, that Fukushi has entered Osaka as an independent runner instead of as an elite runner. "We entered as an independent runner rather than as an elite to show that she is aware that she is new to the marathon and is not resting upon her past achievements." How bad ass is that? The other big news from Japan is that Yoko Shibui, the former national record holder in the marathon, has given up on trying to qualify for the 2008 Olympics.
Lagat and Mottram to Square off Again at Wanamaker Mile Our sport should be embarrassed if they can not sell out the Garden. A Cornell-BU hockey game sold out the Garden this year. The 100th Millrose wasn't even a sellout.
Good Read: "It has limited my life. I'm a prisoner of routine, but I've become comfortable with it."
-Robert Kraft who has run every day since January 1, 1975 in an excellent article in ESPN the Magazine (only $14.95 a yr) on running streaks. Kraft is only 11th on the US list. The US leader is a former Olympic Marathon Trials runner Mark Covert, who has averaged 9.7 miles a day for 39 years (and hasn't missed day). Incredible. Plus he claims the streak doesn't consume him.
Tokyo International Women's Marathon Cancelled, Does This Open the Door for the Tokyo Marathon to Join the World Marathon Majors? In one simple word - yes.
A New Star Emerging in Kenya? Sammy Kitwara Wins 4th XC Meet of Winter in Kenya If you win 4 races on your block in Kenya, much less the whole nation, you're probably pretty damn good.
Spain: Ethiopia's Tadesse Tola and European Champ Marta Domínguez Win in Spain IAAF
Japan: Team Mitsui-Sumitomo Wins 2007 All Japan Women's Ekiden IAAF
MLB Drug Scandal: Drug Researcher Don Catlin Says He Could Take a Lot of Steroids Without Being Caught Latimes.com We've said for a long time that testing is not that effective unless you 1) Put much, much more into research and/or 2) do sophisticated profiles of athletes' over time.
*Blood HGH Test Supposed to be Completed Soon New York Times
*Don Catlin Says MLB Was Antsy About Sen. Mitchell Talking to Him Perhaps they didn't want Mitchell to know that their funding for anti doping research is a joke.
*Without HGH Test, Drug Testing in MLB (and Everywhere Else) Is All Academic New York Times
Ted Corbitt RIP 1919-2007 We knew very little about this man until people on LetsRun started talking about him recently but he is definitely someone we would have loved to meet. An Olympian, an ultrarunner pioneer, the godfather of all course measurers, second president of the Road Runners Club of America, and co-founder and first president of the New York Road Runners, Corbitt definitely had a full life and contribute so much to the sport we all love. The grandson of slaves born on a S. Carolina cotton farm, Corbitt remembered stories of his grandfather being a runner. Corbitt was a true pioneer who will be missed.
*Ted Corbitt Message Board Remembrance Thread
*Great article from 2002 on him here (He went 300 miles in 6 days at the age of 82)
*Ted Corbitt NYRR Obituary
*IAAF Obituary
Zatopek Classic Today in Australia IAAF
*Dan Batman Running 400 in Zatopek
LRC The Week That Was
(The week that was is on hiatus until 2008)
We review the last week in the running world. Of course we cover the big stories like Foot Locker's, Xman's arrest, Honolulu, European XCs, (and the biggest race of the week in terms of money the Lagos Half Marathon) but we also go behind the scenes and tell you of some people you might not be aware of like Sgt. Nathan Pennington and Lineth Jepkirui (get used to seeing her name). Plus we praise the winners and losers of the week and are doing our part to make the 100th finisher at NCAAs All American.
"(Perhaps) Marion Jones isn't a villain or bad person. She just picked the wrong sport. If she was in the NFL or MLB, she could sit out a month, and now come back and train for Beijing while starring in Nike commercials."
-LetsRun.com writing about the MLB drug policy in our well received new feature, "The Week That Was"
Footlocker XC
Boys: 2007 Footlocker Boys Recap: Midwest Champ Michael Fout Wins Luke Puskedra took it out in a suicidal pace and Fout, the Midwest champ, hung just a few seconds back and stormed to the win as the Midwest Region swept 5 of the top 10 spots. Pre Race Favorite German Fernandez was third.
*Results
Photos:
*2007 Foot Locker Boys Race Photos
*Photos of All 40 Footlocker Boys
*More Post Race Coverage: Dyestat, Milesplit
On the boards: Move Delaware to the South It and Arkansas have never qualfied anyone for the finals.
LetsRun.com Contest Recap: Women Dominate 2008 LetsRun.com Men's Marathon Trials Contest
8th Grader Wins Contest and 4 from Her PE Class in the Top 30
Yes, ladies and gentleman an 8th grade girl who does not even do track won our contest. It's a great story. Read up on how a letsrun.com fan, got his PE class to follow the 2008 Olympic Marathon Trails.
LRC The Week That Was In what we hope will be a weekly take on the week that was in distance running action, LRC takes a look back at the last two weeks of action (hey it was Thanksgiving). We give big props to young upstart Sammy Wanjiru who could become the man who overcomes Kenya's failure in the Olympic marathon (Kenya has 2 medals ever in the Olympic marathon, all from Japanese based Kenyans. Guess where Wanjiru trains?) We totally break down the NCAA meet and tell you who had the best and worse days and seasons. We give out a slew of Thumbs Ups to everyone from the last-place Stony Brook women to the 3rd-place Oklahoma State men as well as a many Thumbs Downs including one to the entire Northeast Region. Josh McDougal gets official Old School Status andSammy Wanjiru is labelled a Sensation. Wanna guess how many people watched the NCAA XC meet live on the Internet? We tell you the answer. We even tell you how Rojo got a UVA runner All-American honors.
Editor's Note:Updated 9am eastern with story on Devine Racing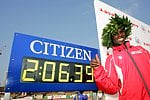 Fukuoka Marathon: Sammy Wanjiru Runs 2:06:39 for Win in Fukuoka in His Marathon Debut World half marathon record holder Wanjiru pulled away from Deriba Merga over the final 2k to get the win in the most competitive marathon ever in Japan (2 sub 2:07s, 3 sub 2:07:15). Wanjiru is barely 21 and his marathon future is bright (the marathon debut record is 2:05:50 by Evans Rutto)
*More on Race from Japan Running News Blog
*Fukouka Photos
*200+ Thread With Live Race updates and Impressions

NCAA Men: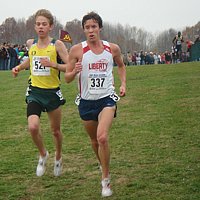 LetsRun.com Men's Recap: OREGON and McDougal
McDougal Triumphs in Great Stretch Battle over Rupp on Live TV
Josh McDougal had won everything in collegiate cross country except for the NCAA championships. That changed on Monday thanks to a thrilling victory over Galen Rupp. Rupp however got some redemption as he put a #1 on the board in team scoring, as Vin Lananna's Oregon Ducks got the NCAA team title, restoring Oregon's XC tradition much quicker than anticipated. Don't underestimate the gutsy performance of Oregon's Mercado twins. Plus we tell you who bombed at nationals, and how some big time streaks in collegiate XC could be coming to an end next year. Article edited to reflect Iona was within 20 poionts at 8k. Photo of McDougal at Finish.
*Results: Men's Team Results
*Men's Individual Results
*LetsRun.com 2007 NCAA Cross Country Men's Photo Gallery
*Video Archive of Race (Once you log in you can skip to any point in the CSTV coverage)
*Photo of the Day: Rupp Celebrates Earlier we thought it was Salazar as well but not any more.
More: Nice Recap from Terre Haute Paper: "I think we probably ran right around 14 minutes for that last 5K … that was into the wind and that's not fast conditions. It was just flat out in the last mile-and-a-half almost. That last 50 meters I almost fell over my legs were so heavy" -Josh McDougal
*Post Race Recap and Quotes from GODucks.com
*CSTV Post Race Recap
*Post Race Interviews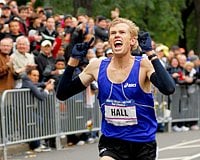 RYAN HALL 2:09:02 Ryan Hall put on one of the most impressive performances ever in American marathoning history, as he destroyed the field and coasted to victory in an incredible 2:09:04 (after a 1:06:17 1st half, yes that's a 1:02:47 2nd half on the hills of Central Park) on the very difficult NYC course. Dathan Ritzenhein ran a very impressive 2:11:07 to get 2nd while Brian Sell got the 3rd Olympic spot in 2:11:40. Former World Record holder Khalid Khannouchi ran a very gutsy race to finish 4th.
Ryan Hall is the real deal in case you didn't know. Here are his 5k splits on the very difficult NY course to prove how incredible he is at the marathon: 16:44, 15:41, 15:27, 15:12, 15:05, 14:48, 14:28. Yes that's right a 14:28 from 30 to 35k. Hall pumped his fist, pointed to the heavens, and waved to the crowd the final mile savoring the incredible run and still ran a 15 minute 5k pace for the final 7.2k (14.56 from 35 to 40k)
*Results
Race Recap From RunnersWorld's Amby Burfoot Amby did an excellent job covering the lead up to the Trials so it is fitting we link to his race article.
*NBCOlympics Recap of 2008 Olympic Marathon Trials: Triumph and Tragedy
*Quotes
*Video: Watch the on Demand (For Free, Skip to Any Crucial Point Instantaneously. Thank you NBC)
*Post Race Press Conference Videos Top 3, Meb, Culpepper, Khannouchi, Lehmkuhle
*Dathan Ritz Quotes
*Brian Sell Quotes
*Khalid Khannouchi 4th at Trials A great great run for Special K. He got 4th hobbling around the park.
*Photos Excellent ones from letsrun.com message boarders skylon
2007 ING NYC Marathon: Paula Radcliffe and Martin Lel Win With Big Finishing Kicks For the second straight day, there was thrilling action in New York's Central Park. Paula Radcliffe led for nearly 26 miles before Gete Wami took her first lead with less than a half mile to go. That move sparked an amazing finishing kick by Radcliffe who got her second NY title in her first marathon in two years. Wami gota nice consolation prize - the $500,000 world marathon majors title. In the men's race, Martin Lel outsprinted Abderrahim Goumri just as he did in London.
Video: Highlight Video from NBC Sports (3:47) NBC did a great job on its coverage this weekend. You can watch for free the entire men's trials here on demand (skipping to any point you want). If you paid $3.99 using code RUN2007 you can watch the full NYC marathon on demand.
LetsRun.com 2008 Men's Marathon Trials Preview Radio Podcast-Relive the glory of Wejo picking the top 3 in the Trials perfectly. Now available on demand to listen or download. We give you our genius opinions and break down the incredible field. And until talking to Toni and Matt we didn't realize the blowout profiles/stories/video on Chasingglory.com this week.
Ryan Hall Officially the Favorite
On the Trials preview radio podcast we first revealed the votes and Ryan Hall is the favorite followed by a close second in Abdi Abdirahman. 7 guys are clearly head and shoulders above everyone else in the voting.
More on Woodruff: 1936 800m Champ Olympian John Woodruff Dies New York Times
*More on John Woodruff from NYTimes Last Year
*More on John Woodruff from ESPN

LaSalle Bank Chicago Marathon Men
Unvelievable:
Invuti Wins Unbelievable Finish in Chicago Words don't do it justice just watch the video above.
*Chicago Tribune Recap of Ivuti's Narrow Win
It's hard for words to describe the greatest finish in (Chicago) marathon history. It came down to two time world champ Jaouad Gharib and former track/xc star Patrick Ivuti, fresh off his 59:27 half marathon. Gharib surged ahead going up a slight incline down the finishing straight. Ivuti then battled back and took the lead on the downhill. Gharib dug back and retoook the lead as they barreled towards the finish and the two guys still standing there with the finish tape which is only about 5 feet wide. Ivuti surged back right at the finish and it was too close to tell but Ivuti got the win. Hot weather took its toll on everyone.
*Video: Patrick Ivuti Talks About His Narrow Win In Chicago
Lengthy Video Interview With Gebrselassie with Sean Hartnett After His World Record Hartnett knows his stuff so we're sure this is a great interview without even watching it. Hartnett knows virtually every top runner in Kenya and Tergat turned to Hartnett for advice prior to moving to the marathon.
Victah Sailer's Berlin Marathon Photos See Geb make history.
Hundreds Mourn NYC Marathon Start Coordinator Vic Navarra In running circles, Navarra was known for being the start coordinator at the NYC marathon for 25 years. He also was an eternal optimist, a 9/11 hero, a retired NYC firefighter, and a great guy who could hobnob with everyone from the guy next door to Mayor Bloomberg. He died at age 55 last Monday after a 2-year battle with cancer.
*Race Results Weekly Article

Weekend XC Action:
Spain: Men: T. Bekele Avenges Defeat To Micah Kogo Last Year And Hand Kenya's Joseph Ebuya His First Loss Of The Season The previously unbeaten Ebuya didn't go down lightly as he lost by a scant 1 second as an Ethiopian won for the 16th straight year in the 54th Cross Internacional Zornotza.
*Women: Vivian Cheruiyot Wins Easily She won by 26 seconds but will face a tougher task next week at the BUPA Great Edinburgh International Cross Country
Italy: Edwin Soi Edges Sergiy Lebid, Kate Reed Dominates at Campaccio EAA Cross Country in Italy
*Katie Reed Win In Italy XC Was A Big Breakthrough telegraph.co.uk
Belfast: Moses Kipsiro, Hayley Yelling Win in Belfast XC
*Linet Masai Forced to Miss Belfast XC Meet As She Couldn't Get Out of Country Due to Violence
*2008 Belfast International Cross Country Photos
Sunday: Tariku Bekele, Joseph Ebuya, and Micah Kogo Squaring Off in Amorebieta Spain on Sunday IAAF
Interesting Read: Lee Troop Profile: "There's no money, there's no glamour, unless you are at the top of your game and that does come when you're 25." Troop is Australia's top marathoner.
Ryan Hall Mentioned Before Michael Phelps But we've seen Phelps mentioned like crazy so far in 2008. He'll be the star of the 08 Games. Hopefully the Tyson Gay - Asafa Powell showdown will garner a lot of attention.
Komazawa University Wins Hakone Ekiden as 3 Teams Don't Finish For First Time Ever A bunch of teams had guys staggering on the course for various reasons.
BAA Director Guy Morse Has Prostate Cancer
This Weekend: Belfast XC Preview: Stephanie Twell To Get Test Vs World Junior XC Champ Linet Masai IAAF
Drug News: HGH Use Seems Fairly Common and Anti Dopers Still Can't Detect It
*Roger Clemens Uses Justin Gatlin Defense B12 Injections
Upcoming: Mottram, Willis, T. Bekele, Rupp Set for 3k Matchup at 2008 Reebok Boston Indoor Games
*Elva Dryer, Dan Browne Running Aramco Houston Half, Could We See First Sub 2:10 in Texas in Marathon?
Marion Jones Lawyers Ask For Probation They point out that she's already lost a lot in terms of reputation, money, gold medals, etc.

New Year's/ New Year's Eve Action:
Brazil: Robert Cheruiyot Does it Again Wins Sao Silvestre in Sao Paul Now he can turn his focus to London and the 2008 Olympics. IAAF
Madrid: Kiprono Menjo and Vivian Cheruiyot Win Madrid Sao Silvestre IAAF
*Kate Reed Pushed Cheruiyot to the Line in Madrid
Italy: Edwin Soi and Sylvia Kibet Win 2007 BoClassic on New Year's Eve
Angola: Eliajah Nyabuti of Kenya Wins Angola Sao Silvestre
Previous: Craig Mottram Runs 3.59.10 to Win Handicapped Mile in Tasmania
Arkansas News: Wallace Spearmon Parts with Lance Brauman and Tyson Gay to Be Coached by His Father His father was a international 200m sprinter himself.
Japan Ekiden Mania:
Japan is the only country in the world where distance running is on LIVE national television for 5 or 6 hours a day, 3 straight days in a row. Things started on New Year's Day with the pros:
Team Konica Minolta Wins New Years Ekiden in Japan (Led by Takayuki Matsumiya Sub 1:00 Half Marathon Equivalent Stage)
but as Brett Larner reports the most popular Ekiden in Japan and the most widely watched is the 2 day Hakone University Ekiden. Yes 2 days, all live on national TV, something only the Boston Marathon can manage to accomplish in the US.
*Recap of Day One of Hakone Ekiden
*Excellent Preview and History of Hakone Ekiden Read what it is all about.
Front Page NY Times Article on Beijing Air Pollution It looks like there is a forest fire going on. But during the Olympics the Chinese will keep cars off the roads and shut down factories. Authoritarian rule has a few positive perhaps.
Olympic 10k Bronze Medallist, Great North Run Founder Brendan Foster Gets CBE From Queen BBC
Former World Steeple Champ Dorcus Inzikuru Has a Healthy Baby Girl
Micah Kogo Runs 27:56 Course Record in France
Why Do Track & Field Athletes Cheat? The question sounds kind of stupid but the article is fairly interesting. Promoters, shoe companies, human greed and the nature of the sport are to blame.
Double World Champ Gharib Suffers Minor Injuries In Car Accident Where He Flipped His 4*4
Arbitrators Using Technicalities to Prolong Doping Cases and Violate USADA Rules They're supposed to decide cases 10 days after hearings but don't. They should be fired if they don't. It's pretty simple, athletes have to follow the rules, so shold USADA. Washington Post
Marathon Documentary That Cost $1 Million Coming out January 24th
Yukiko Akaba Runs 31:23 Olympic Qualifier in Japan
Nawal El Moutawakel Won 1984 Gold in 400m Hurdles for Morocco And Has Used That To Put Herself in Position to Help Hundreds of Thousands of Women in Morocco
Great Read: The Future of World Records This article has it all. Drug allegations against FloJo that we had never heard of (and the claim her world record of 10.49 will never be broken) a look back at Bob Beamon's incredible 29 foot jump in 1968 (no one went even 28 feet for 12 years), and the claim that there will be no more world records after 2060, and in half of the events no records after 2027. Times of London
Mo Farah and Christine Ohuruogu Voted British Athletes of Year Paula Radcliffe somehow was only in 4th place.
Tyson Gay In Carl Lewis's Tracks He's got a long way to go (and he'd better start long jumping)
Recap of Japanese High School Ekiden You know nothing is going on when we're featuring a high school race in Japan.
Kenyans Are Told: Beware of Herbs (Including Marijuana) in Training
World Silver Medallist Vivian Cheruiyot Gets Chance to Turn Tables on Gelete Burka at Edingburgh XC on January 12th on Worlds Course
Vivian Cheruiyot Ran 14:22.59 in 2007 And Hardly Anyone Noticed A moment of silence in respect for Meseret Defar's 14:16. Truly incredible and it is the reason she was athlete of the year.
One of Xavier Carter's Friends is Cleared, Case Against Him Still Pending
Good Read: In Depth Interview with Paula Radcliffe As She Talks about 2007, 2004, and Of Course The Big Thing on Her Calendar, Beijing Independent
Ryan Hall Running Strong and in Memory of Ryan Shay Sports Illustrated
2007 Coming to an End: Meseret Defar Track and Field News 2007 Female Athlete of the Year She never lost and smashed the 5k world record.
*Tyson Gay Track and Field News 2007 Male Athlete of the Year
Kara Goucher Making Headlines as One to Watchin 2008
2008 is Almost Here:
Indoor Track: LSU Women #1 in PreSeason Indoor Rankings
*Florida State Men #1 in PreSeason Indoor Rankings
Bev Kearney Headlines Latest Class Inducted into USTFCCCA Hall of Fame Also inducted was Cyrus Jones who won 17 DIII titles at Lincoln. Who says we ignore DIII?
Marc Bloom Remembers New York PSAL Coach Marty Lewis He was also the NE director of Foot Locker's for 27 years. Foot Locker celebrates it's 30th year as the high school champs next year.
Report Delivers Premature Blow to Olympic Hopes of Oscar Pistorius It's pretty obvious he shouldn't report. Times of London
*More on Pistorius form BBC
Track Drug News: Chryste Gaines Trying to Come Back After Drug Suspension, Denies She Took Drugs We don't believe her. For a host of reasons.
1) In "Game of Shadows" Conte Said He Gave Drugs to Chryste Gaines
2) Tim Montgomery Had Allegations versus Gaines and she was busted once for a different Balco drug:
3) Chryste Gaines Sanctioned For Using Modafinil Plus, Remi K, the coach busted in Balco, was her coach
Britain's Ron Hill Has Run Every Day for 43 Straight Years His streak is impressive. He ran the day after a head on car collision, and ran with a boot on. But even more impressive is during his streak he got a Commonwealth Games Gold in the marathon and ran 2:09 in the marathon. (He's not the founder of SportHill as we said earlier)
Everyone is Running London Once Again Next Year Top marathoner in the world Martin Lel, World Champ Luke Kibet, Paul Tergat, Moroccans Abderrahim Goumri and Jaouad Gharib, and Stefano Baldini and Meb Keflezighi for good measure. There has to be someone left to run Boston but we can't think of anyone. (Oh wait Wanjiru, Ivuti, and Khannouchi)
*When Will 2 Hours Be Broken in the Marathon? London Director Dave Bedford thinks by 2030. Jos Hermens worries about the motivation of the Aficans as they get richer like the Europeans.
Footlocker XC
Girls: 2007 Footlocker Girl Recap: Ashley Brasovan Wins
Brasovan the LetsRun.com darkhorse pick for the meet came out on top as she stayed off of the suicidal opening pace set by Jordan Hasay and rallied for the win over the final mile. Next year, the past 3 champs will all be back to race one another for supremacy.
*Results
*Foot Locker 2007 Webcast Archive
*2007 Foot Locker Girls Race Photos
*Photos of All 40 Footlocker Girls
*More Post Race Coverage: Dyestat, Milesplit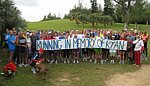 Ryan Shay Run in Bermuda a Huge Success
Organizers Ashley Couper Estwanik and Chris Estwanik were expecting a handful of people, but instead hundreds showed up.
UK Doping News: Paula a Bit Disappointed Christine Ohuruogu Didn't Do More to Get to Her 2nd Missed Test
*UK May Get an Independent Drug Agency
Cuban Hurdling Star Dayron Robles Only 21
Nike Trying to Buy Adidas (and Reebok)? That's the rumor, but that doesn' t seem to make sense as somehow Asics is in the talks as well and Asics has a market cap of $3 billion, 5 times smaller than Adidas (which owns Reebok) and 10 times smaller than Nike. Nike's purchase of Adidas would face a lot of antitrust scrutiny.
Head of UK Athletics Says Bad Press for Ohuruogu Was Her Own Fault
Brooks #1 in Specialty Running

Nike Team Nationals
Chris Derrick Wins & Leads Team To 2 Point Win - Fayetteville Manlius Repeats On Girls Side The power of letsrun.com was on full display as letsrun.com fan Derrick got the individual and team title by handing Footlocker South champ Colby Lowe his first loss of the year. The FM girls, who are located less than an hour from LRC headquarters, repeated. Coincidence? We think not.
*Rewatch the Races on Dyestat
*Runnerspace.com the newest running social network site has a lot of Videos
*More Coverage from MileSplit.Us
Footlocker CC Road Race West Regionals
*German Fernandez Wins as Jordan Hasay 3-Peats Fernandez followed up his unreal performance from states last week to make a statement that he may will be tough to beat next week.. The race was run on a road course due to rain. Funny we thought that running in all conditions and all terrain was the definition of xc.
Dreams Become Reality
"Now, when I watch the final mile of the race part of me gets embarrassed at my enthusiasm as it is very uncharacteristic of my nature, but part of me remembers what I was feeling when I was out there. After years of struggle I was realizing my dream. It was overcoming all the hard times that made that moment so sweet and sharing it with my friends, family; and teammates made it even sweeter. I will never forget running through Central Park that fall morning, running through my sanctuary."
-Ryan Hall talking about his stunning run at the 2008 Olympic Marathon Trials. To watch it again click here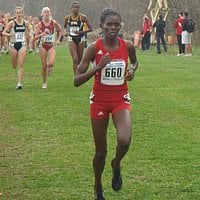 NCAA Women:
LetsRun.com Women's Recap: Stanford Three peats, Kipyego Dominates Sally Kipyego showed she is still head and shoulders ahead of the competition and Stanford showed there was a reason they were #1 in the country all year. Plus we take a look at next year's NCAAs. The Pac10 is so tough Stanford could go from three peating at nationals to 4th in their conference.
*Results:
*Women's Team Results
*Women's Individual Results
*LetsRun.com 2007 NCAA Cross Country Women's Photo Gallery
More: Sally Kipyego Cruises to Another NCAA XC Crown www.tribstar.com
*The Oregon Women Hadn't Made NCAAs Since 2000 and They Leave the NCAA Runnerups www.oregonlive.com
Olympic Champ Noguchi Wins Tokyo Marathon in 2:21:37 She booked her ticket to Bejing with the win.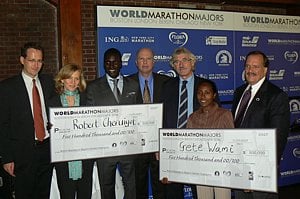 Robert Cheruiyot and Gete Wami Honored With Inaugural World Marathon Majors Titles and Their $500,000 Checks in NYC Both athletes were very humble as they accepted their prizes and were already focused on the future instead of spending their paydays. Cheruiyot is the greatest rags to riches story in sport. Text, photos and video.
*NY Times Article on World Marathon Majors Awarding $500,000 to Cheruiyot and Wami
*London Director Dave Bedford Expects World Marathon Majors to Raise Purse
Pre Race NYC/Trials News:
Friday: Paula Stronger Than Ever? Paula Radcliffe blew into the press area in advance of Hurricane Noel on Friday and she got the star treatment. Paula indicated that her pregnancy has left her stronger than in the past. That's a scary thought. LetsRun.com story above with photos/video of the press conference.
More Paula:
*Philip Hersh Profile in LA Times
*British Article on Comeback
*Brendan Foster: Paula is Britain's Best Hope for Gold in 2008
Thursday: US Men Ready to Rumble
Abdi and Hall the Favorites
Thursday the majority of the favorites for the US Olympic Trials addressed the media (Brian Sell, Dathan Ritzenhein, Alan Culpepper, Ryan Hall, and Abdi Abdirahman).Sell and Hall looked nervous for sure but that all means nothing on Saturday. It is almost time to forget about the hype and let them lace them up and take to the streets of NYC in the most anticipated Olympic Marathon Trials in ages. The media was out in full force on Thursday and the US stars are getting a lot of press, although not much of note was said.
Hall: Ryan Hall Profile in LA Times: "A silver medal trumps a 2:08" Latimes.com
*Full Video of Press Conference With Amerian Men and International Men
Wednesday: 2008 NYC Media Day 2 (Wednesday): Jelena Prokopcuka, Wami Battling for Half a Million $$$$
American Darkhorses: Jason Hartmann, Clint Verran and Ryan Shay Address the Media, Pete Gilmore Sick LetsRun.com recaps Wednesday's Media news. Text, photos, video.
Tuesday at the Trials: Khannouchi, Meb Ready to Go A candid Khalid Khannouchi addressed the media along with Meb Keflezighi. Khannouchi took on a wide range of issues (the fall trials date, the 1 shot American system, and Haile Gebrselassie's new world record in the marathon) as arguably the greatest marathoner of all time tries to make the Olympics for the first time. Both Khalid and Meb say they're training has been good of late.
*Video of Press Conferences
Spira CEO Writes an Open Letter to Letsrun.com Readers You know the company that is dependent on USATF "banning" it's shoes.
*LetsRun.com Readers Respond With an Open Letter to the Spira CEO
LaSalle Bank Chicago Marathon Women
Unbelievable
Adriana Pirtea Blows It
Just watch the video above. Shorter video here if you're impatient
*Chicago Tribune Recap of Ivuti's Narrow Win
Adriana Pirtrea, a runner basically no one has heard of (including ourselves) (she did finish 2nd at an NCAA indoors once), was on her way to winning the Chicago Marathon. She had been clear of Berhane Adere for miles. Pirtrea, as she took the final turn, was high fiving the crowd. She had a 15 second lead with 58 seconds of runing left. Little did she know that Adere had overcome whatever problems she had had and was quickly making up ground. Pirtrea never looked back and was strolling into the finish thinking about her career changing win. Meanwhile, Adere was in an all out sprint on the other side of the road. She flew by Pirtrea and Pirtrea had no chance to respond. A truly incredible turn of events as Adere made up a 15 second deficent in 47 seconds. Watch it to believe it.
*Former Yalie Kate O'Neill 3rd in Her Debut
*Wheelchair Race Decided by 1 Second All the races in Chicago were close.
AL OERTER 1936-2007 The death of this legend basically is being ignored in the US but thankfully the NYTimes gave him the homage he was due in this tremendous article by Frank Litsky on Oerter. And we like Oerter's anti drug stance and honesty (admitting to trying roids in 1976). When he quit competitive throwing he said, "The drug culture had taken over."
*Daily Telegraph in Britain Remembers Al Oerter
*Kansas City Star Remembers Al Oerter
*More Oerter: *Message Board Thread
*More on Oerter from Florida Paper
*Article on Oerter and His Painting: "I know this won't sound right but painting is the same dadgum thing I found in training for the Games"
LetsRun.com 2007 World's Coverage:
*Sunday Homepage Ndereba marathon
*Saturday Homepage
*Friday Homepage Tyson Gay
*Thursday Homepage Lagat
*Wednesday's Homepage Lagat
*Tuesday's Homepage Bekele 10k
*Monday's Homepage Tyson Gay
*Sunday's Homepage Dibaba/Goucher 10k
*Saturday's Homepage Kibet Marathon