Robert Cheruiyot and Gete Wami Honored With Their $500,000 World Marathon Majors Checks in New York City
by: LetsRun.com
November 5, 2007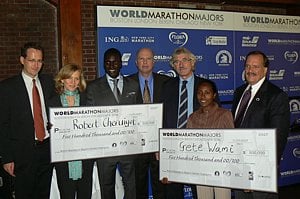 Robert and Geti
and the WMM Race Directors
Robert Cheruiyot and Gete Wami were honored and awarded their $500,000 checks for winning the inaugural World Marathon Majors titles Monday at a luncheon at the Boathouse in Central Park.
Cheruiyot and Wami both were well deserved winners of the inaugural World Marathon Major series. Cheruiyot started the series out by winning the 2006 Boston Marathon. He then followed that up with an impressive win at the 2006 LaSalle Bank Chicago Marathon, where he suffered a horrendous fall at the finish. Cheruiyot, a man who has overcome abject poverty and homelessness in his life, did not let his medical problems from the fall stop him (Cheruiyot reportedly was still seeing brain doctors this year when he was in NY for the half marathon in August). He rebounded to defend his Boston Marathon title and to basically wrap up the inaugural World Marathon Majors title before the fall marathons.
Wami faced a significant challenge this fall as she attempted the unprecedented Berlin and NYC double to try and secure the $500,000 prize. After winning in Berlin, Wami came back incredibly strongly to run stride for stride with Paula Radcliffe for 26 miles of the New York marathon before settling for 2nd to secure her Marathon Majors title.
Appreciative Winners Honored to Accept Prizes
The humble Cheruiyot was glad to accept the $500,000 check, but at the same time was very cognizant of how much his life has changed because running. He wanted to, "thank the World Majors for coming together to honor a small boy like me. My life was difficult before and now the World Majors have decided to give me something in my life..." He added in perhaps the understatement of the weekend, "I was not expecting something like this in my life...In school I used to use hard. but I was a medium student. But after I left school life was very hard." (this from someone who lived on 30 cents a day).
On a similar note, Wami was very appreciative of how far she had come from her first days of racing when she was amazed by a few hundred dollar paycheck. She said,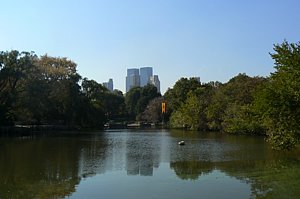 The Boathouse View
"I just never anticipated reaching this kind of achievement. I feel like I have been blessed."
Wami and Cheruiyot Always Focused on Winning
Monday's luncheon was primarily to honor the past achievements of Wami and Cheruiyot, but both champions showed at the press conference some of the traits that have made them so successful, as they clearly have an incredible strong desire to succeed.
When Wami was asked if she was worried that trying to go stride for stride with Paula Radcliffe might cause her to lose the World Marathon Majors title (all Wami had to do was beat Jelena Prokopcuka in the race and Wami would win the $500,000), she said she never entertained the thought of not going for the win, as she noted, "When I entered the field, I had no thoughts what so ever about the money. My focus was on winning the race."
The reporters tried to get the once destitute Cheruiyot to say what he would spend his new found fortune on, but he clearly has his mind on bigger things- more World Marathon Major titles (and making the Kenyan Olympic team. He said his thoughts were not on how to spend the money but "think(ing) about my career. Now I (already) am think about next year's races.
Video from World Marathon Majors Luncheon
| | |
| --- | --- |
| Robert Cheruiyot Accepts His $500,000 Check and Gives a Brief Speech (2:11) | Part 1 of Robert Cheruiyot World Marathon Majors Acceptance Press Conference (Talks About His Humble Upbringing) (8:30) |
| Part 2 of World Marathon Majors Acceptance Press Conference - Wami And Cheruiyot Talks About Winning and Spending the Money (15:50) | |
More: Reuters Artilce on World Marathon Majors Acceptance
*NY Times Article on World Marathon Majors Awarding $500,000 to Cheruiyot and Wami New York Times
*London Director Dave Bedford Expects World Marathon Majors to Raise Purse