Train for the Marathon With Olympic Trials Hopeful, Get Colllege Credit
January 3, 2007
by: Lake Superior College
(Duluth, Minn.) -- Among the thousands of runners who will participate in running events during Grandma's Marathon weekend this June, a few dozen will be there to take a final exam. Lake Superior College is offering its unique online marathon training course again this spring, providing an opportunity to train for and run Grandma's Marathon or the Garry Bjorklund Half Marathon for college credit.
The course provides race training and nutritional information in addition to history, etiquette, and basic skills. Course work is presented online through the Lake Superior College Virtual Campus, making it easily accessible to students at a distance. Enrolled students are guaranteed entry into the marathon or half marathon. They may also arrange to compete in a comparable race to meet course requirements.
Native Duluthian Katie Koski will teach the online physical education course. Koski is an elite runner who hopes to qualify for this year's Olympic trials in Boston. She was asked to teach the online course for Lake Superior College because of her experience competing in Grandma's Marathon. She has run in the event eight times, finishing in the top ten on several occasions.
The option to take the class as a non-credit course is also available for those who would benefit from the course content, but don't need college credit.
More than 17,000 runners and 50,000 race fans from around the world are expected to participate in the June 19-21, 2008 Grandma's Marathon weekend. The registration deadline to sign up for the Grandma's Marathon course is March 21, 2008. For more information, contact Christine Torma, (218) 733-2030, [email protected], or visit www.lsc.edu/online/.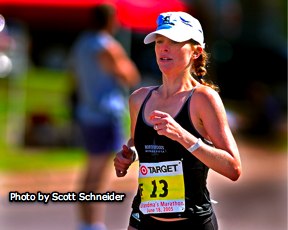 LSC is a member of the Minnesota State Colleges and Universities system. With more than 4,300 students enrolled this fall semester, LSC is Northeastern Minnesota's largest two-year college. LSC provides a wide range of programs and services, including liberal arts and science courses for transfer, technical programs intended to provide occupational skills, continuing education, and customized training for business and industry. LSC is also the leader in Internet-delivered courses and programs in Minnesota.
---
Runner's World &
Running Times



Combined Only $22
a Year
Save $87

---

Running & Track and Field Posters
---

Great Offer: Nike Lunar Glide Sale Multiple colors of this shoe available.

*Nike Air Max Moto 7 Get 2 Pairs for a Crazy $112
---