2008 NYC Media Day1: Khalid Khannouchi Still Striving for the Elusive Olympics
Meb and Special K Talk About the Trials
Plus: Khannouchi Doesn't Have a Lot of Respect for Geb's World Record
*Video at Bottom
by: LetsRun.com
October 31, 2007
Khalid Khannouchi is arguably the greatest marathoner ever. 2 world records, 3 sub 2:06 clockings, 4 Chicago Marathon titles, 1 London Marathon title (his epic victory over Paul Tergat and Haile Gebrselassie in 2002). Despite all his credentials, Khannouchi, like all but 4 of the competitors in Saturday's trials (Meb Keflezighi, Alan Culpepper, Dan Browne, and Dathan Ritzenhein), has never made an Olympic team.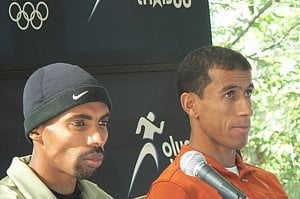 Khannouchi is hoping that changes Saturday in the start studded Olympic Men's Marathon Trials on the streets of New York City. A candid Khannouchi addressed the media in NY on Tuesday with Olympic silver medallist Meb Keflezighi on his side. Khannouchi's refreshing and honest answers stole the show.

This is the third Olympic Trials during which Khannouchi has been an American citizen, but Saturday will be the first time he makes it to the starting line hoping to represent the red, white and blue in Beijing. In 2000, Khannouchi was unsure whether his expedited citizenship request would get through in time so he ran the London Marathon instead of the Olympic Trials. In 2004, he suffered a foot injury and missed the Trials.

This year Khannouchi has battled a foot injury, and his most recent performance just three weeks ago was a very subpar 1:05:04 half marathon at the Rock N Roll Half Marathon in San Jose. But anyone thinking Khannouchi, now 35, has given up on making the Olympics, had better think again.

Khannouchi Says He "Sucked" In San Jose 3 Weeks Ago
Khannouchi was very frank in assessing his performance in San Jose, "To be honest I suck(ed) I did not run well. That's not what I expected. I was in better shape than that... A lot of people called me and tried to make excuses (for me)... (but) I said (to them), 'I sucked.'' I was not happy, I'm still not happy with the race. I really was looking for a race that could give me more confidence".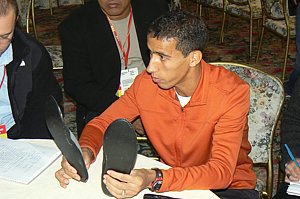 Heading into San Jose, Khannouchi had a few things going against him. First, the half marathon was just 2 days after the end of Ramadan, the Muslim holy month, when Khannouchi was fasting from dawn to dusk. Secondly, Khannouchi has been dealing with a neuroma on his right foot that has caused him a lot of problems since the London Marathon in 2006. 2 months ago, Khannouchi was concerned his foot would keep him out of the Trials. A few special pairs of orthotics from Dr. Eduardo Osorio in Spain and a new pair of specially designed shoes from New Balance have Khannouchi confident he can get 100% healthy again.

Khalid said, "I've been feeling good (since San Jose). The training has been going according to plan... I feel like the pain (in my foot) is a lot reduced with the new orthotics...I'm not thinking about the foot anymore."

Although Khannouchi's body may not yet be 100%, he is reassured by the fact that he has run very well in the past when he was not 100%. As he said, "I ran 2:07 back in Chicago in 1998 with a stress fracture in my hip. I think I can do it (make the team) here."

Khannouchi Focused on the Present
While most of the media wanted to ask Khannouchi about his past accomplishments, or his injury problems over the past couple months, Khalid was totally focused on the task at hand, performing his best on Saturday and making the US Olympic team.

Khalid said, "I'm a mature person. I have to perform well. I have to be at my best. That is not something new to me. The focus is there... Everything is falling into place. I think, I hope I can, rise to the occasion. This is very important to me, to my fans, all the people coming from different parts of the world to come watch so I've got to do better... I did a couple of fast workouts (since San Jose). I did a couple of tempos and I feel like I'm ready for Saturday."

Khannouchi did not want to talk much about his past accomplishments because they will be of little assistance on Saturday. He noted, "That's history (his past accomplishments). I was very happy to be a part of history. Now we're talking about the present. I have another dream. My dream is represent the United States in the next Olympics. The dream (of making the US team) my family has, my dad has been talking about it every time I call him. So I'm going to try my best and do the best I can... It would be nice if I can put a lot of smiles on people's faces in New York... I'm very excited, prepared. I hope I can rise to the occasion and do the best I can. "

Khannouchi Still Has the 'Weapons to Win Major Marathons'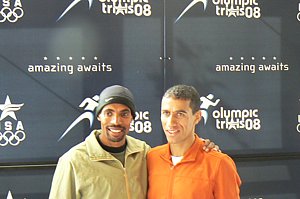 The forthright Khannouhi said an ideal marathon build up is 4 months, yet, "The trials came at the wrong time.. Two months ago I didn't think I was going to make it... You have to take it the way it is."

While Khalid's immediate focus may be Saturday's Olympic Trials, Khannouchi talked about getting back to the pinnacle of the sport. "The comeback is going to take time. I feel I can do it. I still have the weapons to win major marathons and I know that... I just have to be patient and work hard. With injuries, I lost a little bit of motivation. I did not want to work out how I was (doing in the past), but now I am getting there (again)."

We will all find out Saturday whether Khannouchi's comeback has progressed far enough to book a ticket to his first Olympic Games. If it has not, Khannouchi likely will go down as the greatest track and field athlete never to make the Olympics.

More Khannouchi comments: (There is info on Meb at the bottom of this article)
On Haile Gebrselassie's World Record in the marathon in Berlin: When asked about Haile Gebrselassie's recent world record in the marathon in Berlin, Khannouchi's answer was surprising especially in today's age when the goal of most interviews seems to not say anything that could be construed as controversial. Here is what Khannouchi said on Geb, "It's great for sport but he did it alone. It's not fair he's running alone. He should give a chance to others...I would give him more credit if it was other than Berlin. But if it is Berlin, I think that course in Berlin is under 2:04, (nods his head), 2:04... I will call him a marathoner win he will win London or he wins Chicago. It doesn't matter to go out there to run 2:04, 2:03..." Khannouchi otherwise was full of praise for Gebrselassie. Khalid said "He doesn't need a world record to be great"

On the course: "I would be more worried if I was preparing for a fast race like 2:06, 2:07, 2:05 race... I feel like because of what I did (in training) I can be right with the top 5 guys," he said on the hilly Central Park course and the tactical nature of the trials. He also said, "When I prepare a marathon my approach is to prepare for the distance. You can not prepare for a course. When you prepare for the distance really well that will take care of everything."

On his strategy in the race: "You can't make a strategy on Tuesday"

On the fall marathon date for the Trials: Khannouchi favored the fall date as he said the spring date would make it very hard to actually get prepared in time for Beijing. "I think that (the spring date) is too risky...I think that is pretty tough."

On the 1 day, 1 race US system for the Olympic Trials: "The system is fair but the system hasn't been fair to me.... (In 2004) I got injured at the wrong time. 5 months, 6 months later, I was winning major marathons"

On possibly running for Morocco in the Olympics if he does not make the US team (this idea was brought in this NYRR article and Khalid sounded like he was entertaining the idea): "It's not a possibility. I want to represent the United States."

Whether he feels any pressure: "I like to go to races and go to them and enjoy them do what I can do... but sometime with the pressure from the fans and the pressure from the race directors you feel like these people are not giving you time to come back (from injury) and sometimes you make a mistake just because of the pressure you are feeling. The comeback is going to take time. I feel I can do it. I still have weapons to win major marathons and I know that... I just have to be patient and work hard. With injuries, I lost a little bit of motivation. I did not want to work out how I was (doing in the past), but now I am getting there (again)"

On Meb: "Meb is a great inspiration. He says I'm a role model to him. He's a role model to me the way he behaves, he's very humble and he really did represent us very well at the Olympics..."

Other Press Conference Notes:
Meb Asks About Adam Goucher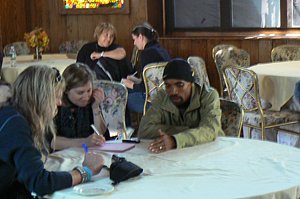 NY Times and Meb

We apologize for giving short shift to the reining Olympic Silver Medallist, Meb Keflezighi, but when we talked to Meb, he seemed totally focused on the task at hand, performing his best so he can making the Olympic team and defend his Olympic medal. While the media likes to focus on the head to head matchups, both Meb and Khalid showed that their primary focus is on their own preparations for the Trials. Meb showed how focused he was when the talk turned to guys who were taking advantage of using track qualifiers to make their marathon debut at the Trials. Meb asked Wejo if Adam Goucher was going to run the race. He seriously had no idea.

Meb said his calf injury that prevented him from running the San Jose Rock n Roll Half Marathon is behind him. "The calf is ok. There was a little concern over San Jose weekend." He has run well in the past in NY and is hoping to do so again, "I got my debut here, where I got my Phd (in running). I've learned a lot. I've raced well here and hopefully it will be the same Saturday."

Meb and Khalid also did a national teleconference. Notes of that conference can be found here if you want more on Meb. Meb said he liked our live radio broadcast of the men's 10,000m race at the nationals, so maybe we can talk him to joining our Olympic Marathon Trials radio preview on Thursday, but don't count on it.
| | |
| --- | --- |
| Khalid on How He 'Sucked' in His Last Race And His Thoughts on Haile Gebrselassie WR in the Marathon (3:30) | Meb and Khalid (8:38) |
Marílson Gomes dos Santos
Defending champ Marílson Gomes dos Santos kicked off the press conference. He comes into NY on a tremendous high after his stunning 59:33 half marathon in Italy two weeks ago. dos Santos does not speak English and his coach did not want him to reveal his strategy for Sunday. No doubt he won't be able to run away from the field like last year in a surprise attack. On item of note is that his wife is Juliana Paula de Azevedo who won the 1500m gold at the Pan Am Games this year and is a former World junior bronze medallist at 800m.
*Video from Press Conferences Here