The Week That Was
December 11, 2007
LetsRun.com

By LetsRun.com - At LetsRun.com, this is the second of what we hope will be a weekly recap of the week's happenings in the world of distance running. If you missed our first installment, you can read "The Week That Was: Nov. 26 - Dec 2, 2007" by clicking here.

The Week That Was: Dec 3 - Dec 9, 2007
2007 Foot Locker Cross Country Championships
In America, the biggest action this week came at the 29th annual Footlocker Cross Country Championships. The race that annually crowns the US's #1 high school distance star on the men's and women's side. We won't recap the races here (If you want a recap, see our 2007 Foot Locker boys recap and 2007 Foot Locker girls recap here or just watch the race replay on the Internet) but will point out a few interesting tidbits from the race.



First of all, the races reminded us that despite their talent, the Foot Locker finalists are still young high schoolers. Combine their youth with the fact that they are used to winning races by ridiculously large margins, and often times, you end up with less than brilliant race implementation. Both the boys and girls races were run in the same fashion. They featured suicidal starts that likely killed the early leaders' chances for victories. In the girls race, 2005 champ Jordan Hasay took it out in a ridiculous 2:31 and 5:20 whereas in the men's race Luke Puksedra took it out in 2:10 and 4:28. Leading a race wire to wire is hard under any conditions, but starts that fast are almost guarantees for failure.

In the end, the two winners - Ashley Brasovan and Mike Fout - both had a something in common other than being national champs. Both athletes learned from previous experiences and that proved critical to their success. Fout's coach knew from last spring that Puksedra liked to take it out very fast, so he correctly told Fout to stay 3 to 5 seconds off the lead. That strategy worked to perfection. Brasovan's coach Doug Butler told her similar advice. His recap of what he told her prior to the start proved to be very true.

"There's no need to lead out here. Usually there's some kid that's going to take it out hard anyway. Usually the person that's in the lead in the mile is not the kid that wins. Let the race go, it will come back to you," recounted Butler in a post-race video interview. Brasovan's win was sweet vindication for the 4 foot 11 inch, 87-pound junior who had in year's past peaked way too soon. During her first two years of high school, she failed to qualify for the finals at all despite being favored to do so. So very well done Ashley.

That being said, we still think she should start racing later in the year. Running a 16:36 road 5k in August as a high school girl is ridiculous. If she starts later, she likely would dominate Foot Locker regionals and Nationals the same way she did her early season meets (Brasovan was only 6th in her regional this year).

The following stat sums up the difference between boys and girls high school running.
Of the 38 Foot Locker finalist finishers on the girls side, 22 of the 38 weren't seniors (57.89% - 13 were juniors, 8 sophomores, 1 freshman). The top 3 finishers were all non-seniors.

Of the 40 Foot Locker finalist finishers on the boys side, only 6 weren't seniors (15%). The 6 non-seniors were all juniors and the highest placing junior finished 18th (Does anyone think those 6 junior boys will be over-recruited besides us?).

It's unbelievably rare for there not to be a freshman girl at Foot Lockers. Likewise, it's unbelievably rare for there to be a freshman boy Foot Locker finalist.

Did you know?
Next year, for the first time, you'll have the winners of the last three Foot Lockers Finals on the girls side racing each other. 2005 Champ Jordan Hasay, 2006 champ Kathy Kroeger and 2007 champ Ashley Brasovan. Given the above stat about the success of youngsters in women's HS running, it wouldn't surprise us if none of the previous 3 champs won.

2007 European Cross Country Championships

Overseas, the big event of the weekend was the 14th annual European Cross Country Championships. The event should probably be renamed - at least on the men's side as the Ukraine's Sergey Lebid won his 7th individual title. "The 7th Annual Sergey Show" is a better name than European XC. It's remarkable to think that a) he's won that many times and b) that he's run in all 14 championships.

On the senior women's side, Paula Radcliffe is the only two-time champion. Meanwhile, Lebid has won 7 times. Amazing.

We should point out that the Britain's Stephanie Twell, won her 2nd straight junior title over the weekend. Very impressive. Twell is a talent and we think it's great that she looks up to Paula Radcliffe as a role model as we imagine most young female distance prospects do. However, do other people besides us think it's ridiculous that she's already talking about running the marathon in the 2020 Olympics?

"The plan is to run the 1,500 metres or the 5,000 metres in 2012, the 5,000 metres in 2016 and then I'd love to step up to the marathon in 2020," Twell said. "For me, the marathon is the ultimate event. I watched Paula win in New York and was inspired by what she can put her body through."

Maybe it's not that crazy considering that in America they now rank junior high basketball prospects. That's truly ridiculous.

Our advice: If the marathon truly is your event, follow the model of Sammy Wanjiru and get their sooner rather than later. Far too many athletes never run a great marathon as they get there past their prime (Although if your goal is to make the most money in your career, maybe wait).

**
The women's 2007 European cross country title went to Spain's Marta Dominguez, who got the win in front of the home crowd and led Spain to the team title in the process (GB was 2nd, Portugal 3rd). It was good to see Dominguez back in action after she missed the entire track season due to injury. Dominguez is the reigning European 5k champ.

We failed to mention the team scores on the men's side - Spain won, Portugal was 2nd and 4-time defending champ France was 3rd.

2007 Honolulu Marathon
*Recap
Just as Lebid was competing in his 14th-straight European cross race, Kenya's Jimmy Muindi competed in his 14th consecutive Honolulu Marathon. At first glance, Muindi - a five-time Honolulu champ - appears to be losing some of his Honolulu magic as he had to settle for runner-up honors for the 2nd straight year. The race was won by Ethiopia's Ambesse Tolossa in 2:17:26 as Muindi held on for second in 2:18:53. But when you look a little bit closer and see that Muindi vomited during the final miles, we give him a pass for finishing 2nd. (And speaking of vomiting, all the youngsters need to learn that at the 1996 Olympic Marathon Trials Bob Kempainen vomited during the 24th mile while beginning his surge which led him to victory. Wish someone would put it up on youtube)

On the women's side, Russia's Alvetina Biktimirova took the lead for the first time at 15 miles before taking it again for good at the 22 mile mark. Her winning time was 2:33:07.
Lagos Half Marathon and the Emergence of Lineth Jepkirui
*Recap here
We know a lot of you probably didn't click on a recap of this race, but perhaps you should have. Nigeria may be off the general running map, but Nigeria has a ton of oil money and it is starting to put some of it into running. This race had a generous prize pool with $50,000 going to the winner. And that type of money attracts the stars of the sport (Chicago champ Berhane Adere showed up perhaps trying to pick up an easy $50,000. In the year 2007, however, there isn't such a thing in the sport and she finished fifth).
On the men's side the winner was Dieudonne Disi. And he is from Rwanda. Yes Rwanda. But he is someone you might want to remember. He was 6th at the World Road Running Championships (for which he only picked up $3,000. The IAAF needs to vastly increase its prize money if it wants something to really be considered a World Championship). He followed that up with a $20,000 win at the New Delhi Half Marathon. And then he picked up $50,000 in Lagos. Not a bad 2 months of work for Disi, especially considering Rwanda does not have a tradition of distance running success and is not that far removed from a genocide. (We do note that Rwanda is nestled between Tanzania and Uganda which have great distance running traditions so maybe they'll start being a major player now that the political situation is a bit calmer)
The womens winner was Lineth Jepkirui who is only 19. Last year as an 18 year old she won the Philly Distance Run. This year she has raced very little but when you're 19, you can only race once a year if you're going to pick up $50,000. Not only did she beat Adere, but she also beat Mary Keitany who was 2nd at the World Road Running Champs. And we shouldn't use the word beat, she destroyed the field winning by 3 minutes. Look out for her in the future.

X Man Gets Arrested - Again
Last week also saw track phenom Xavier Carter got arrested for the 2nd time in the last 5 months. From reading the article on the arrest, it appears Carter was simply associating himself with the wrong people at the wrong time of night. In this instance, it was nearly 3 o'clock in the morning when he ran from police who were coming to arrest some of his friends. His friends apparently refused to pay for some potato chips at a Jimmy John's and then threw things at the employee when he said they had to pay.

We actually believe Carter's attorney, Jay Augustine, when he says, "It's an unfortunate misunderstanding. It's a circumstance of being in the wrong place at the wrong time. So I'm confident once the state attorney receives the facts applicable to this case the matter will be resolved. At least that certainly is our hope."

That being said, the X man needs to grow up and he needs to grow up starting yesterday. The attorney claims the dispute involving Carter earlier in the year was all taken care of because the X man paid for all the damages he inflicted when he climbed on another person's vehicle in a dispute. Perhaps so, but the earlier charge against the Xman was quite serious, a felony.

The X man had a disappointing 2007 track season and perhaps he was living too much of the high life after his breakout 2006 season. (Yes we know he got injured at Nationals but injuries can result from not preparing properly) You would think he'd learn from his lessons and realize that in less than a year, he has the opportunity to make history, win gold(s) and set himself up financially for the rest of his life.

Instead he'd rather hang out with two guys who can't even afford potato chips. Actually, they probably can afford them. It's their (and Carter's) attitude that needs to change.

We received an email from a LetsRun.com visitor who says Carter tried to attend a high school state playoff football game a few weeks ago without paying, saying, "Do you know who I am?"

A classic response would have been. "An accused felon?"
This week also witnessed Club Cross Country Nationals and Casey Combest's Return which we discuss below.
---
Save $$$ and Support LetsRun.com
---
More Thoughts On Ryan Shay
Last week, Ryan Shay's father shared a paper with the LetsRun.com community that Ryan Shay wrote for a freshman writing class at Notre Dame. We, like many in the running community, are still obviously quite shaken by Shay's death last month at the Olympic Marathon Trials. However, while nothing will bring Ryan back or make us ever quite understand why he had to leave at such a young age, it was reassuring to read the first and last lines of the paper and feel that in many ways Ryan in his 28 years of life, accomplished his life dreams. Something that many of us can't say after 60, 70 or even 80 years.

Ryan opened the essay with following line: "My goal in life is to become an elite distance runner."

9 NCAA All-American certificates and 5 US titles on the road suffices in our mind.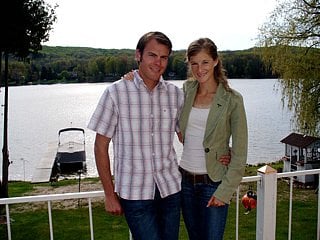 Ryan concluded his essay with the following: "In analyzing American distance running, I have learned what I need to establish as a runner, what steps I must take, and what mind set I must have to become an elite runner. I must have the same attitude as did one of America's best distance runners Steve Prefontaine who once said: "I don't run a race to see who is the fastest, but to see who has the most guts." This is what will make Americans great runners. This is what will make them heroes for eternity."

Ryan, like his hero Prefontaine, certainly will live on through his legacy. The outpouring of support that his passing has generated proves this. His legacy likely will be his legendary training sessions which many are still talking about.

Thread of the Week
It's hard to say what the actual message board Thread of the Week was objectively, when one of our own submissions garnered major publicity. Rojo's Are there any NFL guys that could go sub 10 in the 2 mile? thread is a great thread that has garnered 210 posts in the last week. We like the thread as while entertaining it makes one actually think about the sport of running/training, etc. So in our mind it's a running related thread. There are always entertaining politics/dating threads but for a totally non-running related thread to be the thread of the week, it must be way better than an actual thread.

Since we've spent more time writing stuff like this weekly recap and our Foot Locker coverage, we didn't have enough time to peruse the boards this week so we'll give Rojo's thread the nod although we did enjoy the thread "Attention Foot Locker Organizers: Move Delaware to the South!". The thread reference to the fact that Delaware has never had a Foot Locker Finalist. Thus it was suggested they should be moved to the South to give their runners a better chance of qualifying and to bolster the South team which is normally the weakest. Pretty clever.

Thumbs Up/Thumbs Down
Thumbs Up to The Inaugural Week That Was. In last week's edition, we told you how Rojo realized there were too few American born All-Americans in D1 cross country. Well last week's edition was read by Stanford's Minnesota's Forrest Tahdooahnippah who wrote us to tell us of two other foreign born American citizens (Haji and Mead). We forwarded the info to the USTFCCCA and they took prompt action.

Thus now Tahdooahnippah (his name belongs in the Hall of Fame that's for sure) and Princeton's Michael Maag have been named All-Americans. Rojo deserves coach of the year honors - getting a rival school's top runner All-American honors is beyond the call of duty. Only 16 more seconds and somehow his own runner, Sage Canaday, will get the nod.


It's an honor to be an All-American but the madness needs to stop somewhere. We're down to #59. Maybe a cut-off at #50?
Apparently, a lot of the coaches at NCAAs didn't realize there is an 'American born' component to the awards. It will be addressed at the coaches convention later this month. Our bet is that the distinction between American born citizens and naturalized citizens falls by the wayside. Definitely the right call. In our mind, distinguishing between American citizens is about as un-American as it can get.
Not being eligible to be President in punishment enough for the non-American born citizens. Sure we make the distinction all the time ourselves on this site, but LetsRun.com an institutions of higher learning operating in a very PC world and we aren't handing out awards entitled All-American.

Thumbs up to Chris Derrick who had the most rewarding season of any high schooler this year. A dominating win for the ages at the Illinois state meet, an individual and team title at Nike Team Nationals, and a smartly run, come from behind 2nd place finish at Foot Lockers.

Thumbs Up to LetsRun.com (we're pretty good at complimenting ourselves) for saying the following about Brasovan who was only 6th in her regional in our girls preview: "If you're looking to win the (prediction) contest, you might pick her to win and pray she comes through as most everyone else will pick Hasay, Spence, Durkin or Kroeger. She's probably likely to either be in the top 3 or not in the top 10."

Thumbs up to German Fernandez - the pre-race favorite - for not using a calf injury sustained on Monday as an excuse for this 3rd place finish. Fernandez is a phenom in our book and just might be he #1 guy in our minds if you had a draft of high schoolers (although Fout is pretty darn good considering he often runs less than 50 mpw). Fernandez clearly wasn't on top of his game on Saturday but it was good to see that he made no excuses.
Thumbs Up to USAToday for writing about Fout's win at Foot Locker's. It's the ONLY national cross country championship to get mention in USA Today this year (Yes USA Today had NOTHING, not even a tiny results blurb on NCAA Cross Country)

Thumbs Up To Foot Locker for streaming the Finals live on the Internet. A very special treat indeed. That being said, you can't just stream it live and expect it to be an enjoyable viewing experience (more below)
Thumbs Up to USATF Club Champs Delilah DiCrescenzo of the Hey There Delilah song as well Ryan Warrenburg of Zap Fitness. Major props to the team winners as well. Zap Fitness defended it's men's crown as Run Ohio won a ridiculous close women's team battles as only three points separated the top 3 teams. So close for New Balance Boston and Boulder Running Company/adidas. Results
Thumbs Up to Sgt. Nathan Pennington. Technically this happened more than a week ago, but we overlooked it. At the Cal International Marathon in Sacramento, Pennington ran 2:19:35 to finish as the first American. Pennington no doubt wanted to qualify for the recent Olympic Trials but came up short at Chicago (he ran 2:51:56 after going out in 1:11). A lot of people might have been discouraged and call it quits at least for a little while (especially considering Pennington's other marathon this year was a 2:40 at Grandma's) But Army guys are tough and don't understand the word quit. Pennington went right back out there and ran a hug pr at CIM (supposedly he was on 2:16 pace at one point). So he's the first American with a sub 2:20 since the Trials (although it won't be good enough to get him into the next Trials since the hastily, little discussed decision of USATF to change the men's standard for 2012. (yes we know the qualifying window hasn't started either))

Thumbs Up Casey Combest
Combest garners a lot of attention because he is the fastest high school runner ever at 60m and because he happens to be white. After blazing through the high school ranks he basically disappeared from the track and field ranks. Now, at the age of 27, he began this week what appears to be serious comeback. Unfortunately, he got injured in his first comeback race. Combest obviously has tremendous talent, whether it is still possible for him to attain greatness in the sport is another matter. We applaud him for at least attempting to get the most of his abilities. A lot of people in his situation, after quitting the sport once, might just continue to wonder what if. That is often the safer route than putting yourself on the line to succeed (or fail) in front of the public.
Thumbs Down
A major thumbs down to the actual production of the Foot Locker broadcast. It appears they just piped in the PA guys voice onto the internet broadcast. It sounded awful as a result and you couldn't really tell what was happening behind the top few people.


How about having some announcers? We could have done a better job of announcing from our couch in Ithaca, NY and are happy to volunteer for next year and will even do it for free. Putting compelling sport on television or the Internet isn't good enough. If so, the NFL wouldn't have announcers (although we think that muting all games on the NFL network is better than having to listen to Bryant Gumbel).

It sort of reminds of us watching the Boston Marathon every year, where we swear we could do a better job of the on-course announcing from our coach with the tv on in front us than what we actually are hearing from the announcers, particularly those in the truck.

To the know-it-alls at this website (including ourselves) for not coming close to picking the winners in the 2007 Foot Locker Prediction Contest. Only five people picked Brasovan to win and only four picked Fout. Fout was a regional champ and Brasovan was clearly the nation's best midway through the year.

Thumbs Down to Major League Baseball
MLB's anti doping policy along with that of the NFL is a joke. Last week two MLB players linked to HGH, steroids, and more, Jose Guillen and Jay Gibbons got 15 day drug suspensions. Yes 15 days. The received 15 days because the violations occurred during the previous anti doping policy. The current anti doping policy however isn't much better. It would give them 50 game suspensions (less than 1/3 of the season), a second positive gets you a 100 game suspension (still barely more than half a season). Meanwhile in the NFL, Shawn Merriman tested positive last year, missed 4 games (a quarter of the season) and got selected to the Pro Bowl and now is staring in Nike commercials. Both cases a total joke (especially considering they do not even test for HGH, one of the drugs Guillen and Gibbons were busted for).
Marion Jones isn't a villain or bad person. She just picked the wrong sport. If she was in the NFL or MLB, she could sit out a month, and now come back and train for Beijing while starring in Nike commercials.
(If anyone is serious about combating the drug problem in the pro sports and has any ideas on how to get MLB or NFL on board please email us)
Have news, info, or comments email us at letsrun@letsrun.com
---

Running & Track and Field Posters
---
Unbelievable interest
ING Orange Savings Account
Sponsor of the NYC Marathon


5 Minute Process to Open an Account
No Minimum Deposit
---
---