The Week That Was
December 4, 2007
LetsRun.com

By LetsRun.com - At LetsRun.com, this is the first of what we hope will be a weekly recap of the week's happenings in the world of distance running. Given that we had the Thanksgiving Holidays, we're going to use this column to take a look back at the last two weeks worth of action. Many of you will want to read our take on NCAAs but since that was two weeks ago, you'll have to read on down to get to that as it appears on page 2.

The Week That Was: Nov. 26 - Dec 2, 2007
The biggest action this week was spectacular marathon debut for Kenyan Sammy Wanjiru, who won the 2007 Fukuoka marathon in a stellar 2:06:39. Wanjiru, who broke the world record in the half-marathon twice this year at the ripe age of 20, didn't waste any time moving up to the marathon. The 21 year old ran Fukuoka just 7 weeks after finishing a disappointing 51st at the 2nd annual IAAF World Road Race Championships.

We have a funny feeling that over the next decade or so your going to be hear Wanjiru's name over and over as he appears to be a true distance running sensation. He is the real deal and seems to have it all at a very young age. Imagine for a minute, if Wanjiru were American. The hype would be unreal.

In the West, there is a tendency to anoint every up and comer as the next sensation. But Wanjiru appears to be the real deal and we officially are bestowing him with LetsRun.com Sensation Status.

To show you just hard it is for Westerners to compete at the world level, we think it's educational to compare Wanjiru and America's young distance prodigy - Galen Rupp, whom many (including Nike) seem to be hyping as America's big hope for the future. Both Rupp and Wanjiru are 21 years old (Rupp is 186 days older). In 2005, Rupp raised heads by setting the American Junior 10k record with a stellar 28:15.52. Had they been in the same race, Wanjiru would have been more than a lap ahead as he set he world junior record w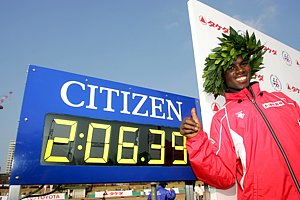 ith his 26:41.75. In the 5k that year, Wanjiru ran 13:12.40 whereas the year before Rupp had set the American junior record with his 13:37.91.

The very, very best in the world are sensational runners. Those who just assume Ryan Hall will automatically medal at the Olympics don't realize just how hard it is (although an Olympic marathon medal may be easier than winning a big major like London).

There are many reasons that make us feel Wanjiru is someone we all will be talking about for years. We love the fact that he's young and didn't wait to move up to the marathon. But the thing that makes him a real, real threat in our mind is the fact that he's Japanese based and trained. Big deal you say? How wrong you are.
Most people fail to realize that there have only been two Kenyans to ever medal in the Olympics in the marathon (remember a Kenyan has never won the Olympic marathon), Douglas Wakiihuri (bronze in 1992) and Eric Wainaina (bronze in 1996, silver in 2000). Both were Japanese based Kenyans. The Kenyans are sensational runners but sometimes they lack a long-term plan and that likely has hurt them in Olympic marathon. No such concerns in regards to Wanjiru as no one trains better for the marathon than the Japanese. The Japanese have had 3 native born athletes break 2:07 in the marathon whereas America has never had anyone do it.

The Japanese almost had a 4th on Sunday as Atsushi Sato, the Japanese half-marathon record holder, finished 3rd in Fukuoka in 2:07:13 to earn a spot on the 2008 Japanese Olympic team. Fukuoka served as one of 3 Japanese Olympic Trials races.

The End Of An Era?
It was sad to see 37 year old Toshinari Takaoka finish 10th in 2:13.40. It looks like father time may be catching up to Takaoka, who we view as the Bob Kennedy of Japanese distance running in the sense that he led the way for Japan on the international circuit for a long, long time. A 2000 Olympic finalist at both 5k and 10k, Takoaka's resume is unbelievable. Japanese records at 3k (7:41.87), 5k (13:13.40), 10k (27:35.09) and the marathon (2:06.16). Sadly, unless he does better in one of the final trial races, Takaoka will not get to run in the marathon in the Olympics. Amazingly, he wasn't selected for the 2004 Olympic marathon even though he clearly was fit as he ran 2:07:49 that fall in Chicago.

****LetsRun.com Power Proven Again****
The 4th Nike Team Nationals took place over the weekend (for non Americans - the meet is a high school team championship). The power of LetsRun.com was on full display as known LetsRun.com visitor Chris Derrick got the individual win as his team also got the win. In the process, he had handed Footlocker South champ Colby Lowe his first loss of the year as the two waged an epic dual and crushed the competition. Derrick finished 41 seconds up on 3rd.

Derrick is a beast and is likely to challenge California's German Fernandez for the Footlocker title next week (check back later in the week for our complete Footlocker Preview). However, let us follow up once again on our, "Thank God he's American" thought for the week. If Derrick were Kenyan, he wouldn't be viewed as the greatest thing since sliced bread. In the open race at NTN, a Kenyan team ran. Derrick would be their 4th man. Actually, that's pretty good given how much better Kenyans are at younger ages.

The Fayetteville- Manlius girls got coach Bill Aris his 2nd straight title. Rojo coaches one Aris' ex athletes and was amazed by Aris' the first time they met, so bravo. The scary thing is that the FM girls return 6 of their top 7. Their 7th runner is the senior. They have 3 juniors and 3 sophomores. Can anyone say 3 peat?

The Nike Team Nationals have been a great addition to American running landscape. However, it's come out that NTN is going to add individual qualifiers for next year. We think this is a huge, huge mistake. First of all, the average high school team just isn't very good. You'd have nearly all individual guys in top 40 and then the team runners behind that. Sure they likely wouldn't count the individuals in the team scoring (Does anyone else besides us think they should count everyone in the race in the team score at both NTN and NCAAS?) but it would just be embarrassing. Someone like Chris Derrick could finish 2nd overall- 20 places ahead of the next runner in the team competition, but it would only help his team by 1 point.

But the bigger issue is, is it a good idea to have a shoe company just owning all the top events in America and pushing Footlocker off the landscape? Admittedly professional running in the US is in huge part funneled by Nike's charity but we still don' t think it's a good idea. And if you're alarmed now, if a rumored merger between Nike and Adidas (which already owns Reebok) goes through, you can kiss a big chunk of running sponsorship goodbye (but neither we nor most analysts think it will happen) because Nike won't have to compete with anyone.

****2007 AGSI Canadian XC Champs****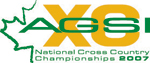 Meanwhile in the 2007 Canadian XC nationals, another known LetsRun.com visitor Reid Coolsaet got the men's win. The even better news is that we've learned the sponsor, AGSI, is putting up $8000 to help send the Canadian team to the World Cross Country Champs (in the past Canadian teams were largely self funded). This is a good step. (We're always even more shocked when countries don't send qualifiers to the World Track and Field Champs.) If it's a major world championship and you qualify, hopefully your country is sending you to compete.

****Las Vegas Marathon Pays the Bills****
Chris Devine has a lot of money. (His company Blue Point Media bought radio stations in Duluth this year for $45 million. More on him here). His other company Devine Racing bought the Los Angeles marathon for an estimated $15 million in 2004. Yet somehow Devine Racing year after year can not find the ability to pay its professional runners the thousands of dollars in prize money they are owed on time (the LA Marathon, Salt Lake City Marathon, and Las Vegas Marathon, all Devine races, have all paid their elite runners months late (try a year after the race for some of the races)). It is embarrassing and a joke. (Especially since the Vegas Marathon has a major title sponsor in Zappos.com) Chris Devine is not some struggling mom and pop trying to put on his first race with limited funds. He is a multimillionaire and if he can't pay his bills on time, then maybe he should stick to the radio business.
The 2006 Las Vegas Marathon just paid its bills last week nearly a full calendar year after the race. Devine Racing should not have to be shamed into paying its bills. (We don't think it is a coincidence the runners got paid after the non payment story hit the press again).
This year's Vegas Marathon was this past weekend and apparently it was not quite the disaster that last year's race was. (Although the elite runners in the men's half marathon did run off course. The #1 priority of a RACE should be to provide a legitimate marked course.) We're not surprised at anything that goes on at a Devine Race and urge people to think twice before running one until Devine shows a track record of putting on successful races and actually paying its runners on time. The whole Devine debacle has made us want to start a race review section on letsrun.com.
*****McDougal Shines Again*****
Lastly, major props to Josh McDougal. No, not for winning NCAAs (we give him plenty of props for that below), but rather for keeping it going and qualifying for NCAAs in both the 5k and 3k in a dinky home meet at Liberty this weekend. Unbelievable. Josh is a refreshing breath of "old school" air in this day and age of pampered distance runners ("I need a pro contract to go sub 2:20 in the marathon"). The studs of the 1970s ought to love Josh for a number of reasons.

He's certainly deserves to be considered "Mr Old School" because he:

1) He runs a ton
2) He races a lot and wins a lot.
3) He doesn't need some wimpy rabbited affair at Stanford or Notre Dame to do well (which 95% of collegians think is a prerequisite nowadays for success).
He can and does run NCAA qualifiers solo. As a result, McDougal clearly knows how to race.

College coaches across the land can now rejoice as whenever a kid on the team complains about being over-raced or not getting flown out to Stanford, they can just say "Son back in 2007, Josh McDougal pulled off the 1,500, 5k, 10k triple at IC4As and then went on to win NCAA cross that Fall before running NCAA qualifiers in the 3k and 5k by himself on a flat track at home two weeks later."

Bravo.

The Week That Was: Nov. 19 - Nov 25, 2007
2007 NCAA XC
What an unbelievable day for cross country action in Terre Haute. Where to begin?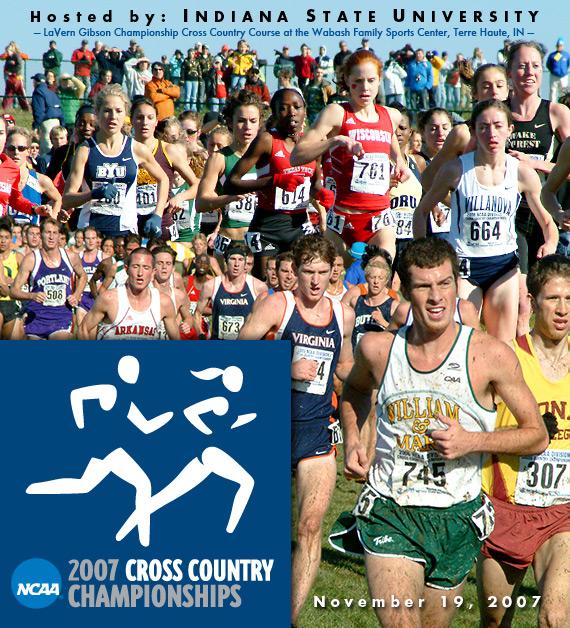 How about with the obvious? Major props to Josh McDougal for getting the individual title. We think everyone but Oregon Duck fans had to be thrilled to see Josh McDougal get the individual title. It was unbelievably refreshing to see a guy who just pounds out the miles, day after day, year after year, get the win. McDougal's win proves you don't have to be a big-time program or with a big-time program to win.

The day before the race we saw McDougal running loop after loop of the course. We'd heard he didn't want to taper very much and it certainly didn't look like he did as we figured he must have run at least an hour the day before the race. Here's a guy who learned from his past mistakes, stuck with it and got the win - passing the tag of the most accomplished current collegian to never have won an NCAA title to Oregon's Galen Rupp.

Rupp led his Ducks to the team title but couldn't get the individual win. Anyone else besides us think McDougal just wanted the title more? For McDougal, winning individually was the end all and be all. It was his sole goal. For Rupp, an individual title would be very, very big, but it wasn't the only thing on his mind since the start of the summer. The team stuff clearly had to be in the back of his mind. Plus the fact that he ran the world champs on the track proves that xc wasn't his end all and be all goal. Undoubtedly at some level, he thinks he has bigger fish to fry. The lack of a full buildup - the lack of him being a senior - that very well could have been the difference.

Major props to the Oregon Ducks for getting their first team title under the Lananna/(Nike-Rupp-Salazar) regime. Lananna is universally regarded as the greatest recruiter in college track but his coaching is often overlooked. We talked extensively about the amazing day the Ducks had in our post-race recap as the Duck team probably ran way better than they could have imagined - particularly at spots 4 and 5. But we'll talk about it some more here. At Pac 10s, Diego Mercado was 28th and his twin brother, Daniel 38th. There weren't even 20 Pac 10 guys in the top 150 at NCAAs. At Pac 10s, Diego Mercado finished just ahead of Stanford's Garret Heath who finished 162nd at NCAAs. Lananna clearly went with the right guys in Terre Haute and was paid off in a big, big way.

To be fair, we're sure the Oregon/Lananna haters (and we know there are a lot of them out there as like the Ducks are like the Yankees, you either love or hate them) would point out that Diego was 49th in NCAAs as a freshmen for the Ducks and thus he never should have been 28th at Pac 10s to begin with. Plus, even if he was struggling, couldn't one expect either of the past two Footlocker champs in Chad Hall or AJ Acosta to be top 75? Fair enough, but the Ducks got the title and could easily string together a series of NCAA XC titles.

Thumbs Up/Thumbs Down
Before We Start Praising Individuals - A Major Thumbs Up to the USTFCCCA

The US Track and Field and Cross Country Coaches Association (USTFCCCA) played an instrumental role in getting the meet on live TV for the first time ever. To us one of the main definitions of a major sporting event is whether it is on live tv. Thankfully thanks to the USTFCCCA and CSTV the meet was on tv live for the first time ever (something USATF could not do for the Olympic Marathon Trials). And in case you were at work or don't get CSTV the meet was streamed live on the internet and we've got the viewing numbers.

Quick, guess how many people watched the meet live on the internet................. 8,531. Yes, that's the total number of unique visitors. (We assume many more people watched the meet on TV). If you think the number is low, Keith Nunez of the USTFCCCA tells us that CSTV says it was the most watched NCAA championship ever online outside of March Madness (the NCAA basketball tournament). So hopefully, CSTV will continue the tradition in the future. And thankfully the meet is archived on the internet in case you missed the epic Rupp-McDougal showdown.

Thumbs Down - Men's XC

While joy was felt in many quarters, the day had to be very disappointing for a number of teams as well. Teams that came into the meet with high rankings but left with low finishes included:
#7 Arkansas finishing 23rd
a red-shirt senior laden #10 NC State team finishing 18th
#11 Michigan finishing 24th (although if they had Mike Woods they would have likely been top 12)

It may not make their coaches feel any better but we were struck by how close most of the teams are to each other. Many people fail to realize that the point differential between #14 (pretty good) and #23 (not so great) is a scant 46 points - 424 to 470. Looking farther down at the standings, one realizes it was also an unbelievably tight contest in the battle to avoid last as 26th and 31st (well there was a tie for 30th) were only separated by 35 points.

In our minds, the team that probably deserved to be last was Georgetown. Their top 4 ran very well but 5, 6, and 7 all stopped and dropped out - well there is some debate as to whether the last remaining guy, Ayale Taye, ever dropped out and left the course - before Ayale Taye went back on the course to insure they got a team score. A very good one at #13. We know freak things can happen, but come on guys, it's the NCAAs. Taye ended up nearly 3 minutes behind next to last and in our mind that's not an honest effort. Maybe their isn't an honest effort in xc but if you abandon a race, you should not be allowed to go back and finish.

Thumbs Up Men's XC
Several teams ran way better than expected. Major kudos to the
Oklahoma State Cowboys. They came in ranked #9 but ended up on the podium with a 3rd place finish. With only one senior in the top 5, they very well could become the first team to ever beat Colorado at the Big 12s next year. UVA who had been ranked in the top 10 before bombing at regionals ran nicely as a team to finish 9th despite being ranked 12th.

Looking at the season as a whole, it's interesting to look at the pre-season rankings and realize that the coaches deserve some props for doing a pretty good 1st poll.

You have to go down to #21 Michigan St. to find the first team in the first poll that didn't make the meet. Of the teams ranked in the top 30 in the first poll of the year, only Michigan St., UCLA, Princeton, Florida and Washington didn't end up making it to NCAAs.

More Thumbs Up
A major thumbs up to Rojo for garnering Emil Heineking All-American honors. What you ask? Emil is a freshman at UVA and Rojo coaches at Cornell. But yes, it's true, Rojo delivered Emil All-American honors. Let us explain. When the coaches association (USTFCCCA) announced the 2007 All-Americans, Rojo looked closely at the results as he was curious just to see how many foreigners there were in the list. Looking at the list, it didn't make sense. They either had too many Americans or too few. A few emails to the coaches association revealed that the awards are supposed to go to the top 30 overall and then the top 30
American born athletes - not top 30 American citizens as most thought. Given those facts, Rojo pointed out that they had one too few as Leonel Manzano and Lopez Lomong weren't born in this country. As a result, Heineking - the 56th placer at NCAAs - gets the nod.

So Emil, your welcome.

But in our minds, something needs to be change about the system. If you're not in the top 50, do you really deserve to be All-American?

A Last Thumbs Up to Cal and Tulsa for making it to the Big Dance for the first time ever in 2007 although we must admit we find it unbelievable and must give Cal a thumbs down for never having made it before.

Thumbs Down
To the coaches association for botching the All-American release
in the first place. The USTFCCCA is doing some really good stuff and deserves major, major kudos for helping get the meet on live tv but that's a pretty big mistake to make.

Thumbs Down to LetsRun.com for doubting the Ducks in their pre-race coverage. What we said in the preview, we still believe was true - the Ducks shouldn't have been overwhelming favorites and we don't think their own coach viewed them as such but when we write an article stating that and then they win it, well all we can say is "Well done!"

Thumbs Down To Rojo's Beloved Northeast Region. The region had a tough day at NCAAs. On the men's side individually, the regional champ and runner-up finished in 239th and 209th place respectively (that's almost impossible to do). Teamwise, the meet was a complete disaster for the New England teams other than 2nd place Iona. On the men's side, Providence finished fifth to last (27th) and the New England ladies didn't do much better as Providence was 26th and Boston College was next to last (30th) and Stony Brook was last (31st).

---
WOMEN'S NCAA RACE
We'll spend a little less time on the women's race than the men's primarily because the race went as expected on both the team and individual front.

Major props to Sally Kipyego for her second straight dominant title. Many are calling here the Henry Rono of women's distance running - the first truly great international from Kenya to compete at the NCAA level. The foreign success in men's distance running at the collegiate level is unbelievably substantial. To get the top 30 American born All-Americans, you had to go down to #56. Thus 26 of the top 56 (46.4%) were foreigners on the men's side.

On the women's side, Kipyego led the foreign contingent which seems to be growing each year. All-American for native-born Americans went down all the way to #42 in ASU's Ali Kielty. Thus 12 of the top 42 were foreign born (28.6%).

The Stanford women did their thing once again. They didn't run particularly amazing but they won for the 3rd straight time for their coach Peter Tegen, giving him 5 titles in his career. We wonder if the Wisconsin AD cares that he let him go?

We also wonder if Tegen will ever win again as the man that built the Stanford XC tradition Lananna - now has assembled a slew of talent up in Oregon on the women's side as well.

Thumbs Up/Thumbs Down
Thumbs Down

In terms of disappointment, the meet was full of a few ups and downs. Based on rankings the following teams had to leave Terre Haute disappointed:
#4 Princeton finished 14th
#5 Minnesota finished 12th
#9 Michigan finished 21st
#14 Providence finished 26th

Thumbs Up

But to make up for the disappointment, we're sure the following teams left feeling pretty good about themselves:
#20 Iowa finished 10th
#28 Florida finished 11th. That's really unbelievable. Well done Gators.
#30 Baylor finished 17th (did you know that letsrun.com coaching guru John Kellogg is a Baylor alum and former teammate of Baylor coach and NCAA mile stud Todd Harbour?) (editor's note: earlier we had the Baylor 17/30 reversed and had Michigan in the wrong list above.)

Looking at the season as a whole from the first rankings of the season, it's clear that the women's rankings weren't as accurate as the men's to start the year. In terms of surprises, Oregon leads the way as the opened up at #24 but ended up 2nd. Florida impressed again as they opened the rankings at #29 but finished 11th. Rice started out unranked but finished 16th. Major props also to Florida St. who opened up at #12 but finished 3rd, to Washington who opened up at #19 but finished 8th and West Virginia with 5 of 7 girls from W. Virginia who started out unranked but finished 9th. In terms of disappointment, two teams from the first poll's top 20 didn't make the meet at all - Virginia and Virginia Tech.
(editor's note: earlier we had left W. Virginia and Rice out of the list above and had Colorado St. included)

Lastly on the women's side - a major thumbs up to Stony Brook. Sad to see their story book season end with a 31st place finish at NCAAs but the fact that they made the meet at all may have been the story of the year.

Have news, info, or comments email us at letsrun@letsrun.com
---

Running & Track and Field Posters
---
Unbelievable interest
ING Orange Savings Account
Sponsor of the NYC Marathon


5 Minute Process to Open an Account
No Minimum Deposit
---
---