BYU's Kenneth Rooks Wins Despite Falling, Krissy Gear Snaps Emma Coburn's Win Streak in Steeplechase at 2023 USAs
By
LetsRun.com
EUGENE, Ore. — The men's and women's steeplechases at the 2023 USATF Outdoor Championships both produced thrilling come-from-behind finishes tonight at Hayward Field. In the men's race, 2023 NCAA champion Kenneth Rooks of BYU took a bad fall two laps into the race, got up, caught up to the lead pack, and then outkicked everyone to win. And oh yeah, he set a personal best of 8:16.78 in the process.
The women's steeple win maybe wasn't quite as dramatic but it was more historic as Emma Coburn's 10-0 record at USAs is now a thing of the past. HOKA NAZ Elite's Krissy Gear, who had defeated US leader Courtney Wayment in her lone steeple of the year, kicked past both Wayment and Coburn to win in a 10+ second pb of 9:12.81 (previous pb of 9:23.55, she started the year with a 9:38.62 pb). Gear now ranks #6 in US history, just .31 behind the great Jenny Simpson.
Olympic silver medalist and American record holder Courtney Frerichs did not start the final after injuring her ankle during a fall in the prelims on Thursday.
Men's Race Video
Article continues below player.
Men's Results

Women's Race Video
Women's Results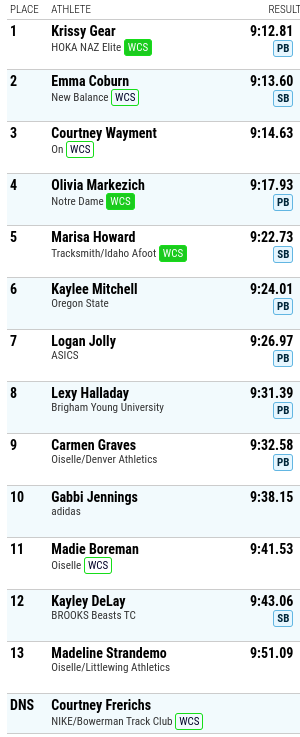 Quick Take: What a performance from Kenneth Rooks
As good as Rooks looked at NCAAs, his winning tonight wasn't a shock. With Evan Jager and Hillary Bor, who had combined to win the last 10 US steeple titles, not running due to injury, the race was there for the taking and Rooks got the job done. But to do it after a massive mid-race fall was incredibly impressive.
LetsRun bumped into Rooks' coach Ed Eyestone after the race, and Eyestone admitted that when Rooks went down, he and the BYU coaching staff thought it was over and figured it was time to look ahead to 2024. It's hard to blame him. It's very rare to see someone fall and still win an elite steeplechase. Stanford's Steven Fahy did it to win the 2019 NCAA title, but at the professional level it's almost unheard of.
But Rooks did not panic. When he fell, he didn't try to get it all back at once — he was content to methodically work his way up the field, and though he was still only 7th with 500m to go, he had gained ground in such a way that he still had something left when it came time to kick. In fact, he channeled another BYU great, nine-time US champ Henry Marsh, in mounting his comeback.
"I was like, okay, Henry Marsh used to run from the back of the race," Rooks said. "And I was like, okay, I've just gotta slowly work my way back up and I'll just see how many guys that I can get. I wanted to run competitively today whether I was able to be in the top three or not. I ended up winning."
On a terrific day of track at Hayward Field that included two great 1500s and a 48.74 from Sydney McLaughlin-Levrone in the 400m, Rooks' comeback may have garnered the largest cheers of all. The Eugene faithful was well aware of what had happened earlier in the race and the roars when Rooks broke the tape were enormous.
Afterwards, Eyestone told us he thought Rooks was in sub-8:10 shape and that wouldn't shock us.
Quick Take: Benard Keter PR'd to make his third straight team but Isaac Updike making his first US team at age 31 is a crazy story
31-year-old Benard Keter has now made the last three US teams and today he ran a small PB to finish second (8:17.19, pb was 8:17.31) but Isaac Updike, also 31, making the team in third in 8:17.69 is a really cool story. Sarah Lorge Butler wrote about Updike's backstory in 2021, but he didn't even run track in HS in Alaska, only cross country. As a walk-on at NAIA Eastern Oregon, he ran 9:46.05 in his first steeple in 2011. He didn't break 8:50 until 2015 or 8:30 until 2018 and now he's going to Worlds for Under Armour / Dark Sky.
Updike and Keter are used to finishing next to each other, however. In Updike's senior year at Eastern Oregon he ran a PB of 8:47.00 to finish second at the NAIA nationals. The winner of the race? Sophomore Benard Keter of Wayland Baptist, who ran 8:42.94.
Quick Take: The top three in this race should all be headed to Worlds
None of the top three has the 8:15.00 World Championships standard, but all three were within the world rankings quota before tonight and all three will get a bump after tonight's performances which means Rooks, Keter, and Updike should all be in Budapest next month.
Quick Take: Mason Ferlic was the 2nd-fastest 4th placer in US history
Someone has to finish 4th at USAs and tonight it was Olympian Mason Ferlic, who took the lead with 500 to go and led until the final water jump. Ferlic should take some solace in that today's race very fast by US standards. For only the third time ever, four men broke 8:20 at the US champs and Ferlic's 8:18.75 fourth-place time is the 2nd-fastest in history, only trailing Tom Nohilly's 8:16.92 from 1992. The only other US champs that saw four men break 8:20 came in 2017 when Andy Bayer ran 8:18.90.
Quick Take: This was a record-breaking women's steeplechase
For the first time at USAs, four women broke 9:20. Courtney Wayment was the third US team member tonight and she ran 9:14.64. Prior to tonight, the fastest 3rd-place time at USAs was 9:16.18 (Frerichs last year). The meet record at USAs didn't even dip under 9:15 until 2021. 
Yes, super shoes have improved times but NCAA champ Olivia Markezich of Notre Dame deserves props for running an 8-second pb of 9:17.93 to take fourth. The fastest fourth place before tonight was the 9:23.09 that Wayment ran at the 2021 US Olympic Trials.
Quick Take: A huge win for Krissy Gear and NAZ Elite
While Gear ran the steeple in college, she focused mosly on the 1500 at the end of her career at Arkansas, finishing 2nd in the NCAA mile in 2021 and 4th in the 1500 last year. She's had some success in that event this year, finishing 3rd at USA indoors and running a mile pb of 4:26 outdoors, but the steeple has been her focus and Gear has been able to translate her kick to that event. Gear showed those wheels at the Track Meet on May 6 when she overcame a three-second deficit at the bell to defeat Courtney Wayment.
But in that race, the winning time was only 9:23. Could Gear do it in a faster race at USAs? Absolutely. Though she trailed Coburn by two seconds at the bell, Gear had plenty left in the tank and pulled away for the victory in the home straight after drawing level with Coburn on the final barrier. Gear, who is nine years younger than Coburn, admitted she was a little starstruck in that moment but quickly re-engaged.
"I had a moment where I was kind of like felt really bad and wouldn't want to do it," Gear said. "I was like, It's Emma fucking Coburn. I'm like, I want to see Emma win as a fangirl. But I also want to win…she's not going to take it personal. I still can't believe it."
Gear's win was also the first US title on the track for HOKA NAZ Elite. The team has been best-known as a marathon group but has made a concerted effort in recent years to add more track athletes. Gear's win tonight validated that decision as she looks to be a force in the steeple for years to come.
Quick Take: Emma Coburn: "worse stuff has happened to me than getting 2nd at US championships"
Coburn was an incredible 10-0 in US steeple finals before tonight, but the streak finally ended, and Coburn, while disappointed not to win, was at peace with that fact. If you have watched Coburn at all over the last 10 years, you know she likes to move with somewhere from 1000 to 600 remaining and she felt that was the best plan for her tonight as she knew Gear's kick was dangerous. Coburn did succeed in opening a gap but it was not enough.
Coburn could accept losing but the bigger problem as she sees it is that she is still trying to get down to low-9:00 shape to contend for a medal at Worlds this year. The fact that she could not beat Gear tonight does not bode well for that outcome.
"I have big goals that I want to do and so this obviously isn't on par with what the goals I want for my year to be," Coburn said. "Getting second isn't part of that."
Coburn is typically one of the smartest racers around, and with world champ Norah Jeruto busted for PEDs, it may not take sub-9:00 fitness to be on the podium as it did in 2022. But one has to wonder, after a decade near the top of the event, if Father Time is beginning to catch up to Coburn.
Toward the end of her mixed zone interview, Coburn grew emotional as she reflected on the loss of her mother, Annie, who died of colon cancer in January. Annie Coburn was a fixture at Emma's meets for most of her professional career and this was Emma's first time running a US final since her passing, something that hit home after the race.
"I miss my mom a lot," said a teary Coburn, pausing to collect herself. "And that's the only reason that it would have just been super great to win this for her and be feeling like I'm doing this for her. She's watching and she doesn't care if I get first, second, third, 10th, whatever. But it's been a hard few months for my family and it would have just been super cool to have this be the cherry on top."
Quick Take: Courtney Wayment is going back to Worlds
Wayment has now finished 4th, 2nd, and 3rd in the last three US finals and will be going to her second straight Worlds team after finishing 12th in last year's final in Eugene.
Talk about the day 3 USA action on our world-famous fan forum / messageboard.