Steeplechase World Champ Norah Jeruto Suspended for Biological Passport Violation, But Even Her Agent Wants To Know Why She Wasn't Suspended Sooner
By Jonathan Gault
April 7, 2023
Reigning women's steeplechase world champion Norah Jeruto has been provisionally suspended for an Athlete Biological Passport violation, the Athletics Integrity Unit announced Friday. Last summer, Jeruto, 27, became the first athlete representing Kazakhstan to win a gold medal at the World Athletics Championships, clocking 8:53.02 in the final in Eugene to set a championship record and move to #3 on the world all-time list.
If Jeruto's suspension is upheld, she could be stripped of her world title. Silver medalist Werkuha Getachew of Ethiopia, who had never raced a steeple before December 2021, would stand to be elevated to gold, with bronze medalist Mekides Abebe in line for silver and 4th placer Winfred Yavi in line for bronze. Americans Courtney Frerichs (who originally finished 6th), Emma Coburn (8th), and Courtney Wayment (12th) would all stand to move up as well.
Jeruto's agent, Gianni Demadonna, told LetsRun.com that Jeruto was informed by the Athletics Integrity Unit in early August 2022 that she had hematocrit and hemoglobin levels in her Athlete Biological Passport (ABP) that could only have been achieved by blood doping or EPO use and was asked to provide an explanation.
Article continues below player.
"She denied [doping] and said she had ulcer or whatever," Demadonna said. "I said okay, listen, I don't want to know anything. You have the people of Kazakhstan [and the Kazakh federation] that can help you."
What's particularly noteworthy about Jeruto's case are the dates of her alleged ABP violation. Demadonna said that when the AIU reached out to Jeruto in August 2022, she was asked to explain variations in her ABP from 2020.
"She told me because I stayed 40-45 days in Kazakhstan and I didn't train and it was in winter and that is why all my parameters went down, because I was not in altitude for 40-45 days," Demadonna said. "And after that, the parameters went very high in September."
Demadonna said Jeruto's ABP values remained consistent in 2021 and 2022. What he does not understand is why the AIU waited until after the 2022 Worlds to ask Jeruto to explain her suspicious ABP values.
"They didn't stop her before World Champs," Demadonna said. "They didn't stop her immediately in 2021. Why did they wait until 2022? I don't understand why. I would like somebody to ask AIU why they act like that. If they were already having the results of biological passport from 2020, 2021, one year before the World Champs, why they allowed her to compete?"
LetsRun has reached out to the AIU for comment. Traditionally, the AIU has not commented on ongoing cases.
Jeruto's Career
Though the Kenyan-born Jeruto had been one of the world's top female steeplers for years, the 2022 Worlds was her first senior global championship. Jeruto ran at the Kenyan Olympic trials in 2016 but only finished 10th and did not make the team. She then sat out the next three global championships as she waited for her transfer of allegiance from Kenya to Kazakhstan to be approved. In 2021, she was clearly the best steeplechaser in the world as she was undefeated in the steeple and won the Diamond League title, but she had to sit out the Olympics. Jeruto was finally cleared to compete for Kazakhstan in January 2022 and proceeded to go undefeated in the steeple once again, winning all four of her races last year.
At the Worlds in Eugene, she breezed through her preliminary round in 9:01.54 — a time only 10 other women have ever run. Then, after claiming a historic gold for Kazakhstan, Jeruto did not compete at all during the rest of the 2022 track season. Jeruto had been scheduled to run Diamond Leagues in Monaco (August 10), Brussels (September 2), and Zurich (September 8), but Demadonna pulled her from the meets once he learned of the AIU investigation even though she was not officially suspended. Jeruto subsequently competed at two meets in Kazakhstan in September 2022 and February 2023.
Jeruto's suspension means that two of the three fastest women of all-time in the steeplechase have been suspended for doping violations as Kenyan-born 2016 Olympic champion Ruth Jebet of Bahrain (8:52.78 pb) was banned in 2018 after testing positive for EPO.
Women's steeplechase all-time top 10
1. 8:44.32 Beatrice Chepkoech, Kenya 2018
2. 8:52.78 Ruth Jebet, Bahrain 2016 — banned four years for EPO
3. 8:53.02 Norah Jeruto, Kazakhstan 2022 — provisionally suspended for ABP violation
4. 8:54.61 Werkuha Getachew, Ethiopia 2022
5. 8:56.08 Mekides Abebe, Ethiopia 2022
6. 8:56.55 Winfred Yavi, Bahrain 2022
7. 8:57.77 Courtney Frerichs, USA 2021
8. 8:58.78 Celliphine Chespol, Kenya 2017
9. 8:58.81 Gulnara Samitova-Galkina, Russia 2008
10. 9:00.01 Hyvin Kiyeng, Kenya 2016
American Emma Coburn, a three-time global medalist in the steeple and the 2017 world champion, wasted no time sharing her thoughts on Jeruto's bust, writing on her Instagram stories: "Friendly reminder: if a performance (or a year of performances) look too good to be true…It is" and "Remember when she ran 9:01 in the PRELIM? Lol." Coburn shared a similar sentiment when Jebet was banned in 2018 (Coburn earned bronze behind Jebet in the 2016 Olympic final but was never elevated to silver) and also expressed doubts after Chepkoech's world record later that year. Removing Jebet and Jeruto's times, Chepkoech's world record of 8:44.32 is more than 10 seconds faster than any other woman has ever run.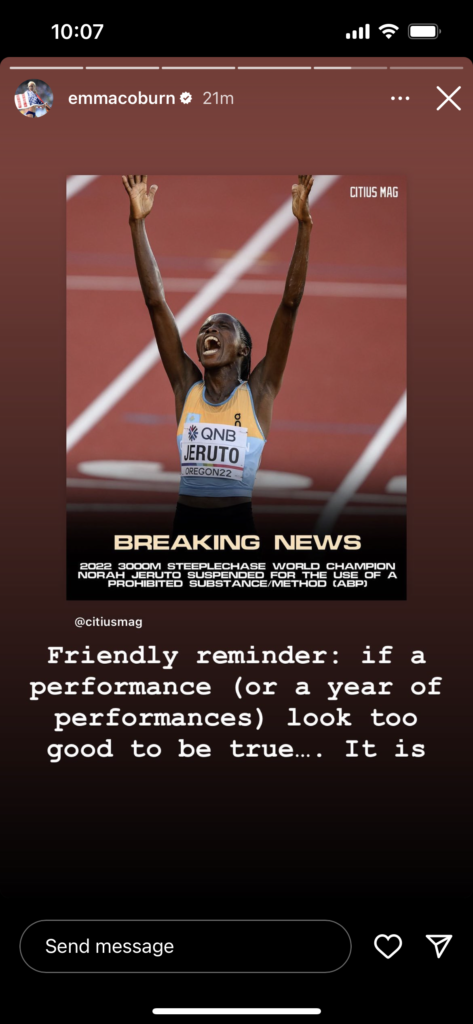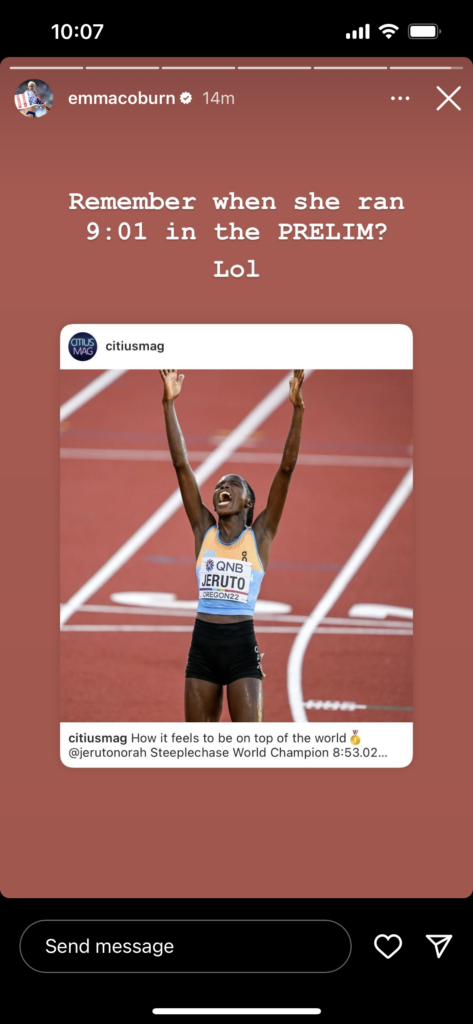 Quick Take: This is simultaneously a great day and a sad day for the women's steeple
If Jeruto's suspension is upheld, than it is good for the sport and good for women's steeplers that a doper has been caught. But it's a black eye for the sport that the second- and third-fastest women of all time — winners of two of the last five global titles — have been banned. Athletes can be elevated retrospectively, but the moments of crossing the finish line first instead of Jebet and Jeruto are forever stolen. And that's not just at the Olympics or Worlds. Consider Courtney Frerichs, who was in the shape of her life in August 2021 when she ran an American record of 8:57.77 at the Pre Classic. Frerichs, who has never won a Diamond League, was a distant second in that race behind Jeruto (8:53.65); think about the celebrations in that race had Frerichs won her first career DL on home soil in Eugene.
American marathoner Sara Hall also made a great point on Twitter, saying Jeruto's win in Eugene was a "perfect example of how dopers change how an entire race plays out for everyone else in the race." Jeruto led from virtually start to finish, pushing the pace the entire way, and as a result the times were incredibly fast — 8:53, 8:54, and 8:56 for the three medalists, putting them #3, #4, and #5 on the all-time list. Without Jeruto, the race may have gone out much slower, potentially altering the podium.
Quick Take: Another Gianni Demadonna athlete suspended
Jeruto was represented by Italian agent Gianni Demadonna, who was also the agent for 2021 Boston Marathon champion Diana Kipyokei (later stripped of her title) and Betty Lempus, two Kenyan athletes banned last year for triamcinolone acetonide. Demadonna, who condemned Kipyokei last fall, calling her completely guilty, represents a large number of athletes and said after Kipyokei's bust that he requires every athlete to inform him of any medication they are taking to ensure it is legal.
"We establish a policy: they have to tell us every time they take a medicine," Demadonna told LetsRun in October. "If they don't tell us, they are guilty. What can I do? I cannot stay with the athletes. I cannot live with them…After 30 years, I am working this business and nobody can say to me you are not correct or you are doing things that are not correct. I can defend myself always without any problem. I am so, so sad about this [Kipyokei] situation that spoiled my name and spoiled the name of [clean] athletes that are doing their own training – not with something else."
As for Jeruto's case, Demadonna said that he could not say whether she is innocent or not.
"I am very unhappy with this but I cannot say anything about Norah because biological passport is something different [than a positive test]," Demadonna said. "There are also now some people that don't agree with the biological passport, some doctors…I know that normally when it's coming up and down, it's true, that someone uses EPO. But there can be cases where maybe a body of a woman or a man can react in a different way. I don't want to defend or say anything."
Talk about Jeruto's suspension on the world-famous LetsRun.com messageboard. MB: World Steeple Champ Norah Jeruto Busted for ABP Violation