Josette Andrews (14:43) & Katelyn Tuohy (15:03) Run Fast at 2023 Track Fest; Connor Burns (13:37) Breaks High School 5K Record
By
Jonathan Gault
Track Fest, a meet staged by Sound Running as part of the On Track Nights series, was held on Saturday night at Mt. SAC in Walnut, Calif., and featured fast times and statement-making victories by some of America's top distance runners. The On Athletics Club's Josette Andrews was the big winner as she dominated a stacked women's 5,000 meters in 14:43.36 after a 2:12 final 800. Farther back in that race, North Carolina State's Katelyn Tuohy ran an 11-second pb of 15:03.12, the fastest ever by a collegiate woman outdoors (though Jenny Simpson has run faster indoors).
There were also big wins for Yared Nuguse in the 800 (1:46.30), Cooper Teare in the 5,000 (13:12.73), and a pair of upsets in the steeple as BYU's Kenneth Rooks ran 8:17.62 to take down US champ Hillary Bor and Krissy Gear of HOKA NAZ Elite ran 9:23.55 to defeat Courtney Wayment.
Ten thoughts on Saturday night's action below.
Article continues below player.
Josette Andrews dominates the 5k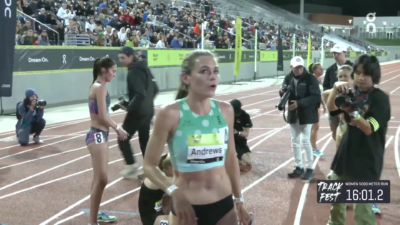 Josette Andrews came into this one hoping to run a fast time, and she didn't let anything stand in her way, running 14:43.36 to win comfortably thanks to a 4:34.35 final 1600 and 2:12.75 final 800. Originally, Andrews' On Athletics Club teammate Alicia Monson was supposed to pace this one, but she wound up getting COVID and scratching. Then Dani Jones was supposed to double back and pace after racing the 800 (Jones ran 2:04), but she wound up scratching, too. Micaela DeGenero and Whittni Morgan wound up splitting pacing duties, but once Morgan stepped off at 3k (8:57.75), it was all Andrews, and apart from the third-to-last lap where she let the pace slip slightly (71.73), she did a great job of pushing it. Andrews easily hit the 14:57.00 world standard, leading a total of five women under the mark (Venezuela's Joselyn Brea, Mexico's Laura Galvan, and Americans Emily Infeld and Elly Henes were the others to get it), and she put away Brea over the final 400 thanks to a 64.42 close.
Andrews now ranks #7 on the all-time US indoor/outdoor list.
US women's 5,000 all-time list
1. 14:23.92 Shelby Houlihan 2020
2. 14:26.34 Karissa Schweizer 2020
3. 14:31.11 Alicia Monson 2022
4. 14:33.17i Elise Cranny 2022
5. 14:38.92 Shannon Rowbury 2016
6. 14:42.64 Molly Huddle 2014
7. 14:43.36 Josette Andrews 2023
8. 14:44.80 Shalane Flanagan 2007
Andrews' move to the On Athletics Club at the start of the year – and the associated benefits of training at altitude in Boulder – appears to be paying off as she is clearly very fit right now. Her best shot of contending at the global level remains the 1500, but it's good to have the 5k standard in her back pocket. At USAs, the 1500 final is Saturday and the 5k final is Sunday, meaning that if Andrews runs the 1500 and doesn't make the team, she would still be able to come back in the 5k.
And how about some love for Joselyn Brea of Venezuela? The 2021 and 2022 world champion in the duathlon (running/cycling), the 28-year-old Brea has been focusing on running in 2023 and the results have been incredible. She began the year with pbs of 4:12 and 15:21 and has now run 4:07 and 14:47. Brea is the first South American woman to break 15:00 in the 5,000, and no one else is even close: #2 on the all-time South American women's list is Brazilian Carmen de Oliveira's 15:22 from 1993.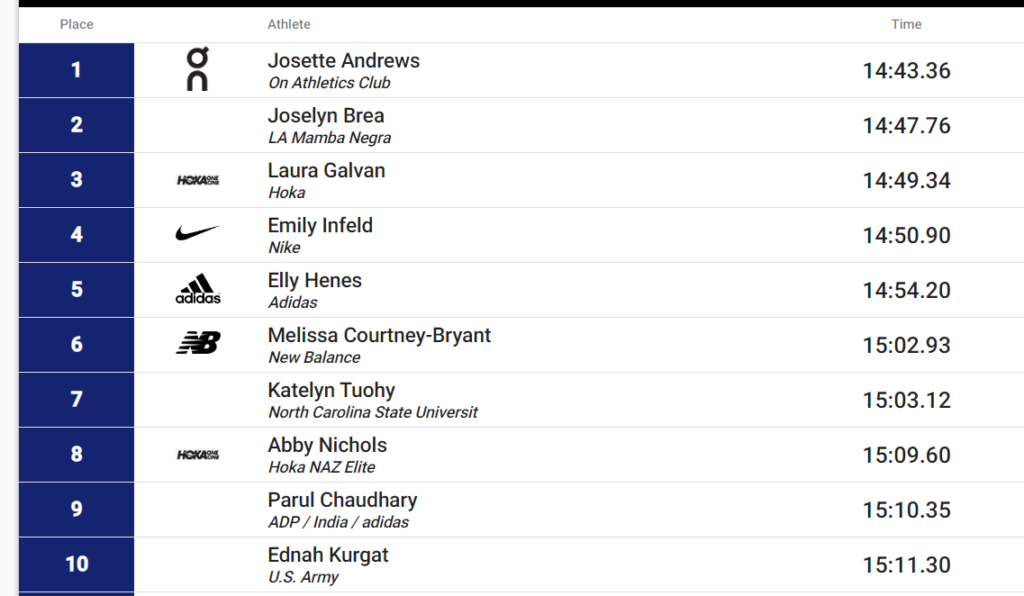 Katelyn Tuohy breaks the NCAA outdoor record but misses sub-15:00
Tuohy ran with the leaders through two miles and was still on sub-15:00 pace with 800m to go (12:35.32). But she ran her penultimate lap in 75.63 – easily her slowest of the race after running exclusively 71s and 72s to that point – before picking it back up for her final 400 (72.09) to run 15:03.12.
There were a lot of numbers in play for Tuohy in this one, and while she missed the World standard (14:57.00), sub-15:00, and Jenny Simpson's overall NCAA record (15:01.70 indoors), she did run an 11-second personal best, hit the USA standard (15:09.59), and break Simpson's NCAA outdoor record of 15:07.64.
Overally, Tuohy was pleased with her effort as she said it's been a tough week for her.
"[I] was not feeling good at all," Tuohy said on the broadcast after the race. "Training. Overwhelmed. Just finished school. It was a really rough week."
Moving forward, Tuohy said she is thinking about focusing on the 1500 at NCAAs but the plan remains to run the 5,000 at USAs in July.
MB Congrats Katelyn Tuohy New NCAA 5000m Women's Record 15:03.12
Connor Burns breaks Galen Rupp's US high school 5,000m record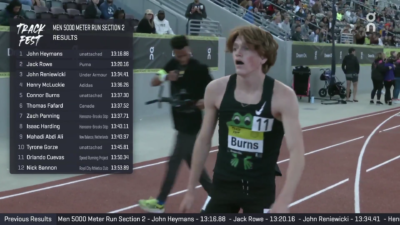 One of the performances of the night was largely invisible on the broadcast during the race as the camera mostly stuck with the leader, John Heymans of Belgium, in the B heat of the men's 5,000. But the big story from a US perspective was unfolding about 100 meters away as Missouri high schooler Connor Burns was chasing Galen Rupp's US high school record of 13:37.91 set all the way back in 2004. It was very close, but a 4:10.27 final 1600 (61.22 last lap) was just enough for Burns to duck under Rupp's record as Burns ran 13:37.30. Like Rupp, Burns will attend the University of Oregon this fall.
Burns looked totally spent at the end of the race but said he was able to close so quickly because the early stages of the race felt incredibly easy for him.
"For the first two miles, I've never felt that good in a race before, ever," Burns said.
Obviously shoe technology is much better in 2023 than it was when Rupp set the record 19 years ago, though it's worth noting Rupp had some advantages of his own (he basically ran a professional summer season that year and set the record on July 31, well after he had graduated HS). Burns broke 4:00 in the mile as a junior last year (one of only three high schoolers to have ever done so) but was only 4th in the 3200 at the Arcadia Invitational last month in 8:41.67. Tonight, he ran close to that pace for 5000m (13:37.30 is 8:43.07 3200 pace).
Burns said his next goal is to break Alan Webbb's fabled high school record in the mile (3:53.43) at the HOKA Festival of Miles in St. Louis on June 1.
Burns wasn't the only high schooler to run fast. 18-year-old Australian Amy Bunnage, who will attend Stanford this fall, ran 15:21.76 in the B heat of the women's 5,000. That's faster than Natalie Cook's US high school record of 15:25.93.
MB Connor MF Burns 13:37.30 HSR
The year of Nuguse rolls on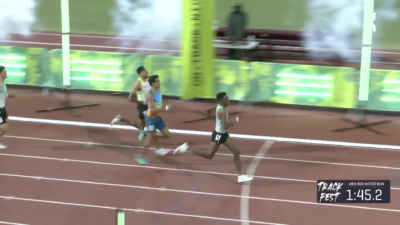 After three big wins indoors, with 100 meters to go in tonight's men's 800m, it looked as if Yared Nuguse was headed to his first defeat of 2023. In fifth place and with 800 specialists such as Tonatiu Lopez (1:43 pb) and Isaiah Harris (1:44 pb) ahead of him, Nuguse faced a tall task.
But Nuguse had an extra gear remaining, and once he shifted into it, he ran down everyone to take the win and knock almost two seconds off his personal best to run 1:46.30 in his first 800m race in four years. Nuguse showed impressive closing speed as he ran close to even splits of 52.83-53.47.
This result shouldn't come as a shock to anyone – if you can run a 3:47 mile closing in 25 seconds, you are obviously capable of running 1:46 in the 800 – but it was good for Nuguse to get out there and show he can do it, beating some strong runners in the process. For the record, Nuguse's 800 pb is now faster than Jakob Ingebrigtsen's (1:46.44), though Ingebrigtsen ran his as a 19-year-old back in 2020 and has only raced the distance once since the start of 2021.
BYU's Kenneth Rooks stuns US champ Hillary Bor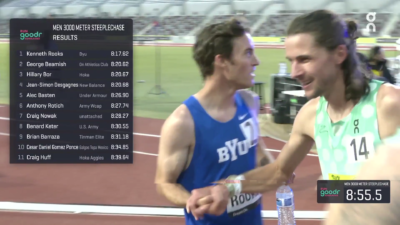 Hillary Bor has been the king of the US steeple ranks over the past four years, winning three straight US titles and finishing as the US leader in 2019, 2021, and 2022. He was the favorite heading into his 2023 steeple opener tonight and had a lead of more than a second at the bell, but in the end it was a collegian, BYU's Kenneth Rooks, who stole the show.
Rooks, a 5th-year junior at BYU, was 6th at NCAAs and 10th at USAs last year but showed no fear tonight, passing Bor on the back straight and powering away to win in 8:17.62 thanks to a 59.99 last lap.
Rooks' time broke the BYU school record of 8:21.60 set by nine-time US champ Henry Marsh way back in 1977, and it also moves him to #2 on the all-time NCAA list behind only Washington State legend Henry Rono. As good as Rooks was tonight, he's not a lock for the NCAA title: three of the top five all-time are still competing in the NCAA.
All-time NCAA men's steeple list
1. 8:05.4 Henry Rono, Washington State 1978
2. 8:17.62 Kenneth Rooks, BYU 2023
3. 8:18.70 Ahmed Jaziri, Eastern Kentucky 2022
4. 8:18.88 Duncan Hamilton, Montana State 2022
5. 8:18.88 Parker Stokes, Georgetown 2022
Behind Rooks, the On Athletics Club's Geordie Beamish, who won his steeple debut at Mt. SAC in 8:42 on April 13, lopped 22 seconds off his pb, outkicking Bor for 2nd, 8:20.62 to 8:20.67.
We have a new contender in the US women's steeple ranks
Last year, there was a very big gap between the top three US women's steeplers and everyone else – nine seconds at USAs. It's still early, but that gap appears to be closing in 2023. On Friday in Doha, Emma Coburn ran her slowest time in a steeple final since 2015 (9:29, granted she fell during the race). And on Saturday at Mt. SAC, NAZ Elite's Krissy Gear pulled the upset by erasing a three-second deficit at the bell and storming past 2022 NCAA champ Courtney Wayment to earn the win in a 15-second pb of 9:23.55. It's not necessarily time to panic for Wayment. Last year, she ran 9:26 in her steeple opener and wound up running 9:09. Tonight, she ran 9:24.
But Gear could also end up running faster this year as this was also her 2023 steeple opener and she looked terrific, running her last lap in 67.41 seconds to take the win. Though Gear did qualify for NCAAs in the steeple in 2019 (she didn't make the final) and won the SEC title in 2021, she was better known as a miler at the University of Arkansas, where she was 2nd in the 2021 NCAA indoor mile and 4th in the 2022 NCAA outdoor 1500. She's had some success at shorter distances this year (3rd at USA indoors in the 1500) but her best shot of making a Worlds team this year is clearly in the steeple. Gear missed the Worlds standard by an agonizing .55 tonight, but it will likely take a sub-9:23 to finish in the top 3 at USAs anyway.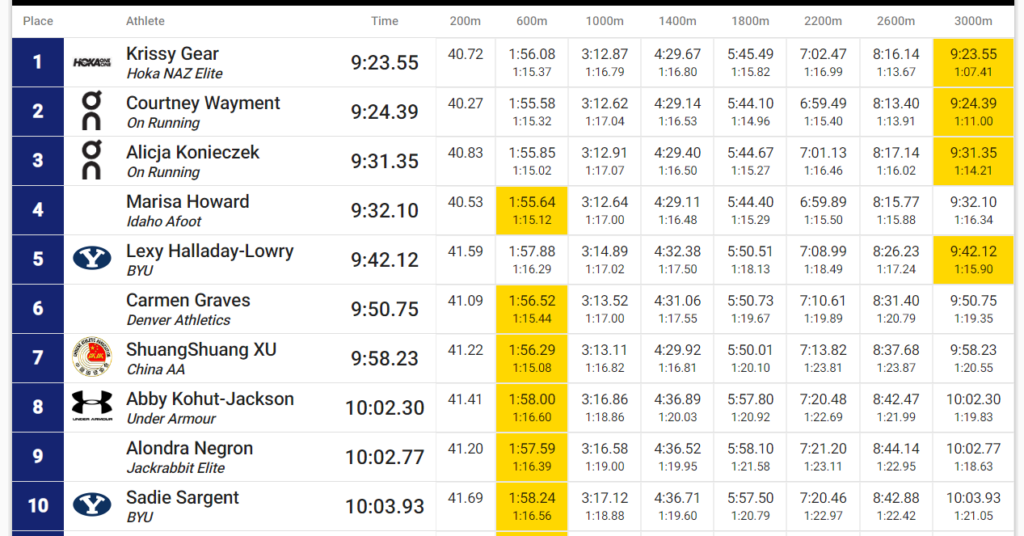 Matthew Centrowitz runs 3:40 in B heat of 1500
Centro asked to be put in the B heat of the 1500 tonight, something he admitted to the Los Angeles Times before the race was "definitely an ego check." The 33-year-old Centrowitz also reiterated in that article that his main focus is making a fourth Olympic team in 2024 and that he will not rush to try to make Worlds in 2023. While Centrowitz has an immaculate record at USAs and has made teams after starting slowly in the past, he showed tonight he still has work to do as he was only 3rd in the B heat in 3:40.63 (Eduardo Herrera won the B heat in 3:38.41). Canadian Robert Heppenstall won the A heat in 3:36.97 thanks to a 54.24 last lap as American Woody Kincaid ran a narrow 1500 pb of 3:37.32 for 2nd (previous pb: 3:37.36).
Cooper Teare earns another win
Ahead of tonight's 5,000m race, Teare's coach Jerry Schumacher told him just to focus on the win and not worry about the time. Teare, who ran 3:34 FTW in the 1500 at Bryan Clay on April 15, did his job. Though Athanas Kioko – who was 3rd when Teare won the NCAA 5,000 title in 2021 – opened up a 3+ second gap with a mile to go, Teare stayed patient, confident that Kioko would come back. And that is exactly what happened, as Teare was able to take the lead before the bell and hold off a hard-charging Morgan Beadlescomb for the win, 13:12.73 to 13:12.95 (a pb for Beadlescomb). Beadlescomb closed well, running his last lap in 54.86, but Teare was even better with a 53.82 last lap.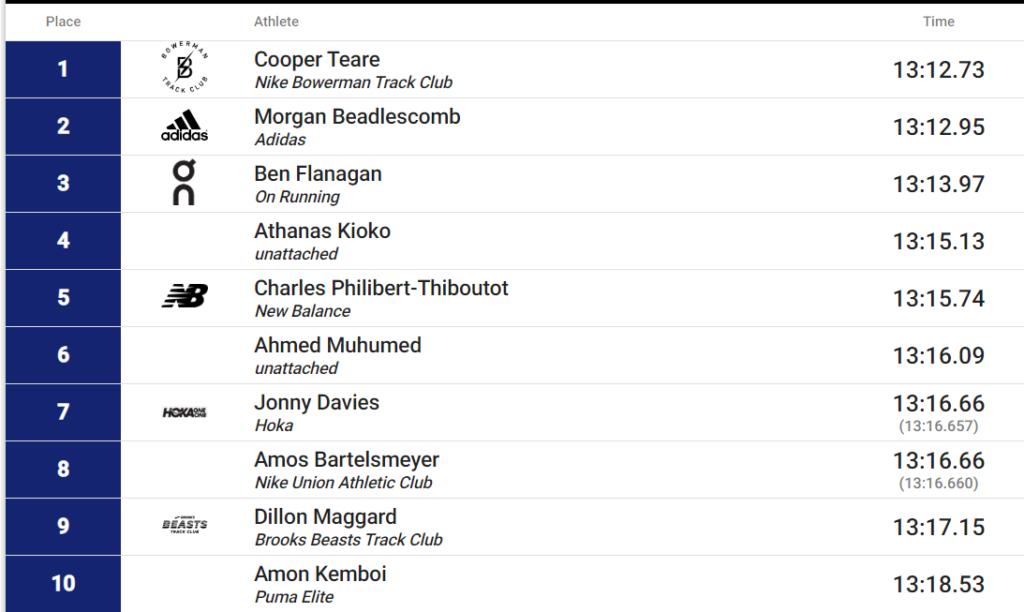 Sage Hurta-Klecker wins 1500; GDS 2nd in return
Last week, Hurta-Klecker was beaten by Ajee' Wilson and Natoya Goule in the 600 at the Penn Relays but tonight she moved up to the 1500 and won in 4:06.34, holding off Canada's Gabriela DeBues-Stafford down the stretch. It wasn't the smoothest return for GDS, who hadn't raced since May 2022, as she was bumped around with 300 to go, but despite that, she still had the best last lap in the field (63.73).
The racing was good, but the attendance was not
Meet director Jesse Williams generally does a great job with the Sound Running meets and athletes clearly like competing there — the Sound Running meets have replaced Stanford as the place for American pros to chase fast times outdoors. For this meet, Sound Running also tried to incorporate spectator-friendly ideas by having a beer garden, food trucks, and even a mid-meet concert (your mileage may vary on the last one), and while there was not a free stream, there was an affordable pay-per-view option ($5.99).
The problem is that the stands were still mostly empty (the shot below is from the start of the women's 5k, though the people standing in the beer garden are obscured by the scoreboard at left of picture). Mt. SAC is a beautiful new stadium in one of the most populous regions of the country, so it's frustrating as a track fan that the stands were still so empty on Saturday night.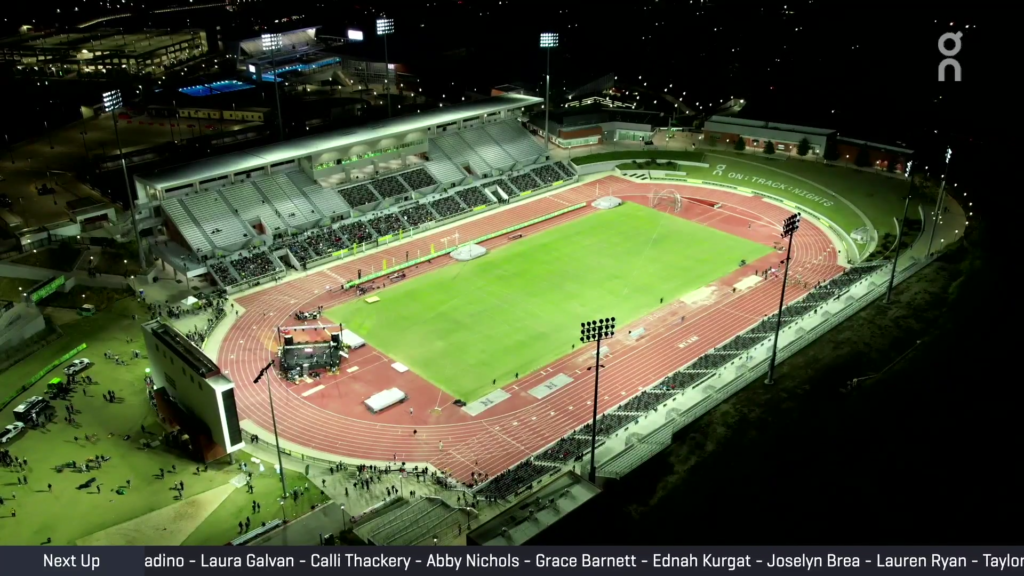 ---
Discuss this meet on the LetsRun.com messageboard
MB Congrats Katelyn Tuohy New NCAA 5000m Women's Record 15:03.12
MB Connor MF Burns 13:37.30 HSR
MB May 6th: The Women's 5000 at Track Fest is going to be 🔥🔥🔥+ Concert & Free Food Trucks!!