2019 Women's NCAA Cross Country Championships: Arkansas Women Complete 2019 Triple Crown as Weini Kelati Breaks It Open Early
By David Monti, @d9monti, with additions and edits by LetsRun.com
(c) 2019 Race Results Weekly, all rights reserved
TERRE HAUTE, Ind. (23-Nov) — After finishing second four times, the women of the University of Arkansas under coach Lance Harter finally won their first-ever NCAA Division I Cross Country Championships team title here today, beating back a strong challenge from Brigham Young University, and prevailing by just six points, 96 to 102.  Moreover, the Razorbacks became only the second women's team in history to win all three NCAA team titles in a calendar year (indoor track, outdoor track and cross country) joining the University of Texas which accomplished the same feat in 1986.
"Oh my God!  It's unbelievable," an elated Harter told Race Results Weekly, seemingly unaware of the near-freezing temperatures and steady rain.  He continued: "They just didn't lose their poise. They stayed with it all the way up the home stretch. They took care of business."
Article continues below player
Like our coverage from Albuquerque?
The Razorbacks were the number one-ranked team coming into these championships, so their victory was not a surprise, but they needed to live up to their ranking to walk away with the title and at the last 7 NCAAs they had finished lower than their pre-championship ranking. Undefeated on the year, they came into NCAAs full of momentum as at their regional championship they scored a perfect 15 points sweeping the top-5 places.  Nonetheless, they faced a spirited challenge from BYU whose athletes worked together as a team and put three women —Courtney Wayment, Erica Birk and Whittni Orton— across the line in fifth, sixth and seventh position in a span of just nine tenths of a second.  BYU helped set a strong early pace and Harter's team was quickly put on the defensive.
"The kids dug down deep today, because BYU set the precedent early," Harter observed.  "So, they knew they were behind."
Through the 2-kilometer mark, fully 50 women were in the lead pack led by New Mexico junior Weini Kelati.  Arkansas's Katie Izzo, Taylor Werner, Devin Clark, and Carina Viljoen, were in that pack, but Lauren Gregory and Maddy Reed were several seconds back, and BYU was leading by 24 points at that split.  The fifth and last scorer can make a huge difference in the outcome of the team competition, so Gregory and Reed needed to stay in the hunt.
"It was a matter of OK, how much will do you have to try to walk this thing down?" Harter said.
Kelati pulled away from the field and was running alone with a five-second lead by the 4-kilometer mark (13:14.9), trailed by Wisconsin's Alicia Monson, Orton, and Izzo who were working together.  Werner was just two seconds behind, and Arkansas was leading the team competition by nine points.  Kelati was able to widen that lead to 10 seconds by the finish –clinching the individual title in 19:47.5 to Monson's 19:57.1– but Izzo and Werner, knowing the team title was on the line, pushed hard to stay as close as possible and finished third and fourth in 19:59.3 and 20:11.1, respectively.
"Everybody counts, every jersey counts," said Izzo, who transferred from Cal Poly where she competed last year.  "Yes, I was really fighting. It was also very cold and I didn't want to pass out or anything."
When Wayment, Birk and Orton swept over the line just behind Werner, Arkansas fans held their breath as they waited for their next three finishers.  Clark finished 21st, Viljoen 28th, and Gregory 72nd. It was enough because BYU's next two women, Olivia Hoj and Anna Camp, finished 56th and 60th, respectively (41st and 43rd in the team scoring).  That was the difference.
"I don't have any words," said the mud-spattered Werner, who openly wept.  "I worked so hard every day. Just knowing that we persevered, and went through all these struggles, it's just a dream come true.  I love those guys so much. I'm so happy."
Results at bottom of article.
Analysis Below By LetsRun.com
Quick Take #1: Arkansas gets it done
What a year 2019 has been for Arkansas. A victory indoors at NCAAs, a nail-biter outdoors and now NCAA XC title #1 for the women to complete the triple crown (the men's team won 11 XC titles and 5 triple crowns under legend John McDonnell). Coach Harter and all of the Arkansas women were obviously thrilled after the race. 
Harter quipped after the race that the race was a "treasure" for him as a coach because they followed his race plan perfectly and they don't always do that. He thought going in that "it's going to be maybe a little crazy during the first k," so he wanted his runners to just relax and keep their poise before moving up mid-race. In third and down by 25 at 2k, the Razorbacks had the lead by 4k and Harter said he knew his team would "finish strong"

Harter gave a lot of credit to his 5th runner Lauren Gregory, who, if healthy, might have been one of the top runners on the team. However, she developed a stress reaction in August, but decided mid-season she would not redshirt. Harter said once she decided to "sacrifice" her redshirt to help the team go for the title, it made a difference.
"Once she stepped up and said, ;Hey, we are going to go for it,' it just made everyone accountable," said Harter.
Ignoring the psychological impact of Gregory, if she hadn't scored for the Razorbacks, their 6th runner Maddy Reed was just five spots behind so they still would have won by one point.
Quick Take: No one was beating Weini Kelati today, who was in "insane" shape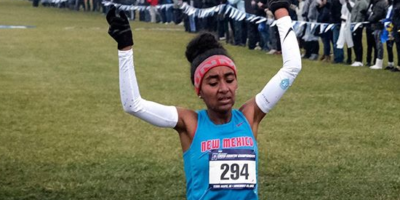 Last year, Kelati came one spot shy of the title, as Colorado's Dani Jones was able to run her down in the home straight. Today, Kelati left no doubt as to who was the best as she grabbed the lead just after two kilometers and launched a relentless push to the finish line, ultimately winning by 9.6 seconds — the largest margin of victory since Texas Tech's Sally Kipyego in 2007.
Kelati's winning move was an accident. Initially, she was simply looking to find some space to run so that she would not lose her footing. But once she found herself in the front, she thought back to the strength workouts she had done this fall and decided to keep pushing.
"I feel like this is easy, why not just try it? And then I decide to take off," Kelati said. "…I have [run] six-mile tempos at insane pace. And I was like, this is three miles. I can finish it."
The six-mile tempo is a staple New Mexico workout, and Kelati has ripped a few fast ones this year. She said that in one of them, she ran her final mile in 4:56. In another, three weeks ago, she averaged 5:22 and closed in 5:03 — at 5,300 feet in Albuquerque. 
"My coach is like, this is the most comfortable workout that I have ever seen," Kelati said.
Those workouts, plus extra work in the weight room to help build her sprint speed, had Kelati confident that she could win in any style of race today.
One more note on Kelati: she is the second woman to win Foot Locker nationals and an individual NCAA XC title, joining Molly Seidel, who won NCAAs for Notre Dame in 2015.
Her run was big for New Mexico in the team race as well, as the Lobos wound up fourth — their third straight podium appearance and fifth in six years.
The runner-up Monson was full of praise for Kelati after the race. Monson said the race went out a little bit more conservatively than she expected, but she was not surprised at all by Kelati's mid-race move. "I was expecting to give her a little bit of space and then come back [on her], but she ran an incredible race and was not coming back as I expected her to," said Monson who called her race "bittersweet," but added, "Second place in this race is incredible obviously. I was going for the title, but I have to be happy today. Weini is an incredible competitor and I'm looking forward to seeing her in the coming seasons."
Quick Take: BYU falls agonizingly short
One of the things that sets cross country apart from most team sports is that there's no defense. You might run a great race, but if someone has a better day, there's nothing you can do about it.
That was the case for BYU today, as the Cougars scored 102 points — the fewest by a non-winning team since 1997 — yet still lost as Arkansas was just a little bit better.
BYU coach Diljeet Taylor felt that scoring 120 points would be a solid effort, and her team well exceeded that. They got huge runs up front from Courtney Wayment, Erica Birk, and Whittni Orton, and a strong showing from Anna Camp at #5 (60th). The only women who might have been able to run better was Olivia Hoj, who was 14th at Pre-Nats but 56th today. That's not a bad day by any stretch, but Hoj lost 19 places between 4k and 6k; had she held her position, BYU would have won the team title. 
"[She had a] solid day, just missing a little bit of umph at the end," Taylor said of Hoj.
That said, the fact that Hoj and the rest of the BYU women got out hard was part of the reason the team ran so well. The muddy conditions made passing tough, and no team got out better than BYU, which led the field with 83 points at 2k.
With three seniors in their top four, this was a now-or-never day for BYU. And while they didn't quite get all the way to the top of the podium, their run today was something to be proud of and the highest finish for a Cougars team since 2003.
"I'm so proud of them," Taylor said. "They chased those crazy dreams. And Arkansas ran incredible today, so hats off to them."
Quick Take: Notre Dame's Anna Rohrer comes up short in bid to be second woman to finish top-10 in 4 NCAA XC champs
As David Monti pointed out pre-race, Rohrer, who was 6th, 3rd, and 10th in her three other NCAAs, had the opportunity today to join Amy Skieresz (University of Arizona 1995-1998) as the only woman to record four top-10 finishes at NCAA XC. Rohrer came up a little short as she was 17th.
That being said, Rohrer was upbeat after the race about the fact that she felt physically better than she has in a long time and as a result she sounded very optimistic about the track season. She said in the middle of this season she tore her plantar, so she'll be taking some time off now as a result.
Quick Take: Here are the teams that most overachieved and underachieved based on their national ranking coming into the meet.
Teams that finished at least 5 spots better than their ranking
Unranked Boston College was 20th.
20th ranked NAU was 14th
26th ranked Indiana was 19th
15th ranked Furman was 9th

Teams that finished at least 5 spots worse than their ranking
25th ranked Harvard was last (31st) without the help of the Vaporflys
18th ranked Oregon was 26th
17th ranked Ohio State was 23rd
8th ranked Michigan was 13th
4th ranked Washington was 11th
Quick Take: The teams that qualified wearing Vapoflys finished 29th and 31st
One of the stories drawing interest coming into nationals was how several teams, including the top two women's teams from the NE Region in Harvard and Cornell, made it to NCAAs while wearing the controversial Nike Vaporfly shoes. Without the Vaporfly shoes, the 25th ranked Harvard women were not good today (last in 31st) and the 30th ranked Cornell women were 29th. 
However, not all of the Vaporfly teams did horribly today. The Harvard men were one of the biggest positive surprises of the day as shown below. In total, here's how all the teams whose athletes mostly wore Vaporflys to qualify did.
Men
Harvard – finished 15th (ranked 23rd)
Syracuse – finished 27th (ranked 18th)
Women
Cornell – finished 29th (ranked 30th)
Harvard – finished 31st (ranked 25th)

Top Results Full women's results here
Talk about the race on our messageboard.