2019 NCAA Men's XC Champs: #3 BYU Shocks #1 NAU To Win 1st Title, Iowa State's Edwin Kurgat Delivers As Favorite
By Jonathan Gault
November 23, 2019
TERRE HAUTE, Ind. — In 2017, it wasn't their day in the wind of Louisville. In 2018, it wasn't their day in the snow of Madison. But today, on a muddy course in western Indiana, on a cold, rainy, downright miserable afternoon, the men of Brigham Young University were national champions at last.
The NCAA Cross Country Championships is a meet known for upsets. That history had been obscured over the past three years as NAU reeled off title after title, and the Lumberjacks were a near-universal pick to win a fourth straight title today — tying the all-time record established by UTEP (1978-81) and Arkansas (1990-93). But the list of things that can go wrong with seven runners in a one-off race in unpredictable conditions is long. #1 NAU, for the first time since its win streak began in 2016, saw several of its guys fail to meet expectations. #3 BYU — until today a punching bag in a one-sided rivalry — made them pay.
And in the end, it wasn't close. Led by Conner Mantz's third-place finish, the Cougars scored 109 points, 54 clear of runner-up Northern Arizona, whose three-year streak of NCAA titles ended on the same course it began. Colorado, with 164 points (one behind NAU), took third, while Iowa State (211) was 4th, its first podium appearance since winning it all 25 years ago. BYU's winning margin was the largest since 2012.
Article continues below player.
For Ed Eyestone, it was a long time coming. A two-time Olympian and BYU lifer in his 20th year as head coach, he had guided the Cougars to four podium appearances at this meet and individual titles in four different disciplines plus the distance medley relay. But this was the big one, and by capturing the program's first NCAA XC title, Eyestone made history: he's the first man to win NCAA title both as an individual (1984) and a coach.
BYU's victory was a rout, and a shocking one at that, on a day where most of the other outcomes followed the form chart. As expected, Iowa State's Edwin Kurgat won the individual title, turning back a strong challenge from Virginia Tech's Peter Seufer, who opened up an early lead and ran on his own for most of the first five miles. Eventually, with 1200 meters to go, Kurgat reeled in Seufer and would run unchallenged the rest of the way, winning in 30:32.7 as Colorado's Joe Klecker closed well to take second in 30:37.1. Slowed by a soggy course, Kurgat's winning time was the slowest at this meet since BYU's Josh Rohatinsky (30:44.9) in 2006.
Mantz, the Pre-Nats champ who had run at the front of races all year, gave the Cougars the low stick critical to any title team. Behind him, BYU's other scorers packed together in pairs, with Daniel Carney (17th) and Jacob Heslington (21st) and Brandon Garnica (42nd) and Matt Owens (45th) rounding out the scoring. 
The dream for any team is for all five guys to run their best at the national championships. That is what BYU did today. And notably, that is what BYU didn't do the past two years. The Cougars came to Louisville in 2017 talking a big game and left with their tails between their legs after getting spanked by NAU. Last year, BYU went four-for-five. Their 116 points were just seven more than they scored today, but they had one bomb — Clayton Young, who would go on to win the NCAA 10k title that spring, was 72nd — and that was the difference between first and second.
"This time, we just realized, hey, we do it at Pre-Nationals, we do it in the regular season, we do it at the conference meet," Eyestone said. "Let's just step up and do it. It's just another meet."
After NCAAs last year, there was a sense — at least externally — that BYU's title window may have shut. The Cougars brought back just two of the seven men from last year's runner-up squad — Mantz and Heslington — and the losses were severe: Clayson Shumway, 32nd at NCAAs last year, suffered a hip injury and never raced this fall; veterans Young, Rory Linkletter, and Connor McMillan, who had been the heart and soul of the squad, all graduated. If they couldn't get it done, who could?
Well as it turns out, there were plenty of candidates. Under Eyestone, BYU has become a hydra of distance talent; cut off one head, and two more emerge in its place. The Cougars sent six men to NCAAs in the 10k last spring; just one of them scored for BYU today. BYU put four more men in the NCAA steeple final, but only two of them were part of today's top five. Instead, the Cougars relied on two guys who failed to qualify for NCAAs last year — Carney and Garnica — to get it done. That's the luxury depth affords.
Behind them, vanquished, lay Northern Arizona. Though the Lumberjacks normalized greatness over the past three years, coach Michael Smith has always said that past results mean nothing if you can't run great in the biggest day of the year. And, by and large, NAU did not run great today. Though NAU got strong runs from freshmen Drew Bosley (22nd, tops among freshmen) and Abihamid Nur (33rd) veterans Geordie Beamish (37th) and Luis Grijalva (52nd), and Blaise Ferro (63rd) underperformed, leaving the door open for BYU.
This was virgin territory for Smith, his team's first defeat since taking over the NAU program in 2017. He was classy in defeat, already looking forward to the challenge of figuring out a way to rebound.
"They have to understand the other side of it," Smith said. "That's the balance to it. If you want to have the joyous NAU on top thing, you also have to know this side…I really am excited for BYU because those guys take a lot of crap from people. They've had to be on the receiving end of NAU's championship years the last couple. I have so much respect for coach Eyestone and his group and the way they put it together."
If NAU vs. BYU was a rivalry over the past three years, it wasn't much of one — BYU didn't win a single race. Now there's no doubt: this is a bona fide rivalry, and one that should only intensify in the years to come. NAU, with three freshmen in their top four, will be back next year. But so will BYU, a distance machine that — oh yeah — will get back one of the top country's top talents in Casey Clinger, who is returning from a Mormon mission in Japan. Eyestone is already looking forward to their next encounter.
"Good day," Eyestone said. "Let's do it again next year."
That feeling when you win your first #ncaaXC National Championship! pic.twitter.com/1xwK4TUM6d

— NCAA Track & Field (@NCAATrackField) November 23, 2019
Top Results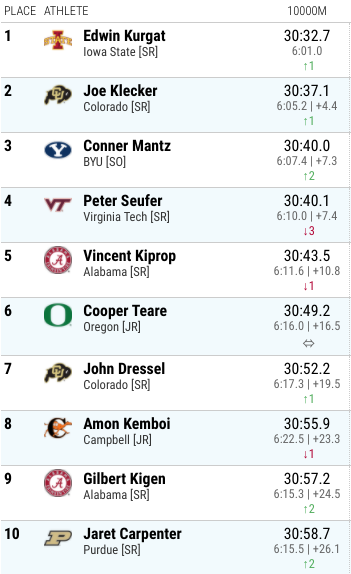 Full men's results here
Intermediate splits are here.
Quick Take: What a day (and year) for BYU
Two years ago, BYU were paper tigers. What was supposed to be a close matchup with NAU at 2017 NCAA XC turned into a blowout, and the joy of qualifying four guys for the 2018 NCAA 10,000m in track turned to embarrassment when BYU swept the final three places.
But the narrative has changed in Provo. BYU ran a strong race to take second at NCAA XC last year, and 22-23-24 in the NCAA 10,000 final changed to 1-3-4 a year later. Today, the turnaround is well and truly complete, as an underappreciated squad ran its best race of the year on the biggest stage to earn the program's first NCAA title.
You can make a compelling case for 2019 as the Year of the Cougar for distance running in the United States. Clayton Young won the NCAA 10k title, BYU alum Jared Ward ran 2:09 in Boston and finished as the top American at the NYC Marathon in 6th, just ahead of another BYU alum Connor McMillan (10th in 2:12:07 in his professional marathon debut). All three of those men still train in Provo under Eyestone. And the BYU women finished second today in Terre Haute, six points shy of a men/women sweep.
As for Mantz, while he wanted the individual title, he said he'd rather win the team title than the individual title.
"I'm a little disappointed [that I didn't get the individual win], but I gave it my all and it just wasn't my day. It was Edwin Kurgat's day," said Mantz. "I'd much rather have this team title. It means so much to me to have these guys with me to get the team win. I'd rather take that over the individual win."
Mantz said he was told a couple of minutes after he crossed the line that BYU had won the team title and at first he wasn't sure it was real. "What?" he said, as it took a while to process. "It kind of felt like a dream."
Quick Take: As great as BYU ran, it's a fact that they are a "mature" team
Considering many BYU men take Mormon missions, the age of BYU's athletes is often a topic of conversation. As Colorado coach Mark Wetmore pointed out today after the race, they are a "mature" team. So in case you're wondering (because we know you are), here are the ages/class years of BYU's top seven today (age data from Tilastopaja; Garnica, Ottesen, and Weaver's ages weren't listed).
| | | | | | |
| --- | --- | --- | --- | --- | --- |
| Name | Age | Class year | Mission? | Graduated HS | Year post-HS |
| Conner Mantz | 22 | Sophomore | Yes | 2015 | 5th |
| Daniel Carney | 26 | Senior | Yes | 2012 | 8th |
| Jacob Heslington | 25 | Senior | Yes | 2013 | 7th |
| Brandon Garnica | ??? | Sophomore | No | 2018 | 2nd |
| Matt Owens | 24 | Sophomore | Yes | 2014 | 6th |
| Michael Ottesen | ??? | Senior | Yes | 2013 | 7th |
| Connor Weaver | ??? | Junior | Yes | 2014 | 6th |
Yes, you are reading that table right. BYU's #2 man is a 26-year-old 8th-year senior. 
Also worth noting: four of BYU's top five (Mantz, Heslington, Garnica, and Owens) hail from Utah — the 30th-most populous state in the union.
Quick Take: Mike Smith says his guys needed to get out harder
Smith said that after watching the women's race, he realized that it was crucial for his men to get out hard as the sloppy conditions would make it extra hard to pass. He proved to be correct; the problem was that NAU didn't get out well enough.
"I expressed to those guys, the last words I said was, go get your spot because not a lot's going to change in the second half," Smith said. "So at halfway, we just never were in position. That was the only thing I saw. I saw guys digging, I saw guys fighting, I saw guys totally scrapping. Those are our guys, but they're scrapping in positions that unfortunately weren't going to help us from a team title standpoint."
For proof, check out the team standings at 3k and 10k. The top three were virtually unchanged.
| | | |
| --- | --- | --- |
| Team | Score at 3k | Score at 10k |
| BYU | 112 | 109 |
| Northern Arizona | 169 | 163 |
| Colorado | 172 | 164 |
Quick Take: Mark Wetmore was pleased with how his team ran today
Wetmore said he was "very happy" with his men's performance today as they finished just one point behind NAU; the main surprise was that the two teams were battling for second, not first.
Wetmore felt that almost all of his guys ran well today. Joe Klecker was a very impressive second, John Dressel ran his best race of the year to take 7th, and Alec Hornecker, a walk-on with PRs of 14:35/30:12, earned All-American honors in 38th.
The one disappointment was Kashon Harrison, who after running as the team's #3 for most of the season, was their #5 in 90th. A true freshman, Harrison had outperformed all expectations to this point in the season as he was 11th at Pre-Nats and 7th at Pac-12s. In those two races, he was very close to Dressel (2.6 seconds behind at Pre-Nats, 1.7 seconds ahead at Pac-12s), but today he was 63.7 seconds behind him.
For Colorado to win, Harrison would have had to finish 25th today (19 seconds behind Dressel). That's obviously a very good run (NAU's Drew Bosley was the top freshman in 22nd), but given how Harrison had been running this year, it also wasn't unrealistic.
Still, for this Colorado squad to finish third — a point out of second — considering the major question marks at the #4 and #5 spots at the start of this season was incredibly impressive. 
Quick Take: Edwin Kurgat stuck to the plan and got it done
Kurgat, who grew up playing field hockey in Kenya, has gradually improved in each of his three NCAA appearances, finishing 21st for Tennessee-Martin in 2017, 3rd last year after transferring to Iowa State, and now first as a senior. As the top returner from last year, Kurgat was expected to win — the top returner has now won NCAAs in seven of the past 12 years — but it still takes a great season of training and race-day execution to get it done, and Kurgat didn't falter at all, winning all five of his races in 2019.
Kurgat said that his plan was to make his move at 8k, and despite the aggressive running by Virginia Tech's Peter Seufer, Kurgat remained patient before striking with 1200 meters to go. From there, he was untouchable, and even had time to celebrate on the way in.
He has plenty to celebrate, as in addition to the individual title, the Iowa State men were 4th, claiming their first team trophy since winning it all in 1994. Head coach Martin Smith has now earned top-five NCAA team finishes with five schools (Oklahoma men, Oregon men, Wisconsin men, Virginia women; the Iowa State women were 2nd in 2014 while Smith was director, but Andrea Grove-McDonough coached that team).
Quick Take: Peter Seufer wanted to take a chance and it paid off
The 6'3″ Seufer had an off race at Pre-Nats, where he finished 19th, and felt that many had written him off after that performance. But he rebounded to win ACCs by a monstrous 38 seconds and felt relaxed in winning the Southeast Regional last week. Backed by the confidence of those two victories, Seufer wanted to run aggressively today, and when he saw an opportunity to keep the pace early up front, he stepped into the lead. At halfway, that lead had grown to 9.1 seconds, and though he ultimately got reeled in after he was passed during the final mile (he was outkicked by Mantz for third), the 6-foot-3 Seufer exceeded almost everyone's expectations.
"Nobody expected me to do anything out there," Seufer said. "There was nothing to lose. Why not put myself in position to do something special today?"
Quick Take: The Harvard men did well — without the help of the Vaporflys
One of the stories drawing interest coming into nationals was how several teams, including the Harvard men and women, made it to NCAAs while wearing the controversial Nike Vaporfly shoes at the Northeast Regional. Without the Vaporfly shoes, the Harvard women were not good today (last in 31st), but the Harvard men were exceptional. When LRC co-founder Robert Johnson talked to Harvard coach Alex Gibby last week about the Vaporflys, Gibby said he thought his men's team was really coming on at the right time and that proved to be the case today as they were 15th, the program's best result in 51 years. But they were the only Vaporfly-heavy team from regionals to do really well today.
In total, here's how all the teams whose athletes mostly wore Vaporflys to qualify did.
Men
Harvard – finished 15th (ranked 23rd)
Syracuse – finished 27th (ranked 18th)
Women
Cornell – finished 29th (ranked 30th)
Harvard – finished 31st (ranked 25th)

Talk about the race on our messageboard.
NAU GOES HOME DEVASTATED!!!!!! 4th ranked BYU stunned NAU to win the men's title whil Arkansas won the women's to complete the calendar-year triple crown. Edwin Kurgat and Weini Kelati were your individual champions.
Correction: An earlier version of this article said Harvard's 15th-place finish was the best in program history. In fact, the Crimson placed 9th in 1968.