2019 London DL Day 1: Hagos G Holds Off Jakob Ingebrigtsen in Thriller, Laura Muir Crushes It, and Nijel Amos Goes Down
By LetsRun.com
July 20, 2019
Day 1 of the 2019 Muller Anniversary Games, the final Diamond League track and field/athletics meet for a month, took place in London today. In terms of the 800 on up, it featured big wins for Laura Muir and Hagos Gebrhiwet, another amazing performance by Norwegian wunderkind Jakob Ingebrigtsen, and disaster for Nijel Amos.
Amos, who last week ran 1:41 in Monaco, pulled up just after 100 meters into today's 800m race with what appeared to be a hamstring injury. We have a race recap of the 800 in this article and a separate Amos-centric article here: LRC Nijel Amos Pulls Up Lame in London One Week After Running 1:41 in Monaco
Article continues below player
We recap all of the distance action from Day 1 in London below. For results of the other events, including a 47.12 European record by Karsten Warholm in the 400 hurdles and a 12.32 100 hurdles by Danielle Williams, go to the IAAF article.
*Results (Note: we like to paste results in our article but the IAAF hasn't released them yet. We manually put them in for the 5000)
Men's 5,000: Gebrhiwet holds off Ingebrigtsen in a thriller
Today's men's 5,000 was not an official Diamond League event, but it was nevertheless full of intrigue, and the race delivered. In the end, the most-credentialed man in the field, three-time global 5k medalist Hagos Gebrhiwet, got his second big win of the week, running 13:01.86 to hold off 18-year-old Jakob Ingebrigtsen, who took 4+ seconds off Marius Bakken's 15-year-old Norwegian record, running 13:02.03.
One of the storylines in the buildup to this race was the 5k debut of road ace Rhonex Kipruto of Kenya, and unsurprisingly, he went to the front early on, letting the first rabbit (Cornelius Kiplangat) go but sticking like glue on the second rabbit, Dominic Kiptarus.
Though Kipruto seemed as if he wanted to go faster, he would not pass Kiptarus and he hit 3k in 7:56, 11 seconds off the prescribed pace of 7:45 (7:56 is 13:13 pace, 7:45 is 12:55 pace). At that point, Kiptarus dropped out, but Kipruto didn't up the tempo, going 64.1-64.3-63.0 for the next three laps.
That left eight men together with two laps to go. Midway through the penultimate lap, Ingebrigtsen had had enough, taking over the lead; only Gebrhiwet came with him, and those two had a gap at the bell thanks to a 60.9 penultimate lap by Ingebrigtsen.
Gebrhiwet went around Ingebrigtsen on the back straight, and though he slid in front of the young Norwegian, he could not carve open a gap. Ingebrigtsen hung on Gebrhiwet's shoulder, and they battled around the final turn, but Gebrhiwet eventually opened up a small gap on the home straight, one he would maintain to the finish, winning thanks to a terrific 53.3 final lap (53.6 for Ingebrigtsen). Kenya's Nicholas Kimeli won the battle for third (13:05.48) over Australia's Stewart McSweyn (13:05.63) as Great Britain's Andy Butchart (13:06.21) notched a pb in fifth. Kipruto finished sixth in 13:07.40.
Results
1 GEBRHIWET Hagos ETH 13:01.86
2 INGEBRIGTSEN Jakob NOR 13:02.03 NR PB
3 KIMELI Nicholas Kipkorir KEN  13:05.48
4 McSWEYN Stewart AUS 13:05.63 SB
5 BUTCHART Andrew GBR 13:06.21 PB
6 KIPRUTO Rhonex KEN 20 13:07.40 SB
7 CRIPPA Yemaneberhan ITA 14 13:07.84 PB
8 TIERNAN Patrick AUS 15 13:12.68 PB
9 McDONALD Morgan AUS 7 13:18.91 SB
10 CONNOR Ben GBR 4 13:19.47 PB
11 TANUI Paul Kipngetich KEN 9 13:23.27
12 YEE Alexander GBR 16 13:29.18 PB
13 ROBINSON Brett AUS 5 13:39.37 SB
14 SCOTT Marc GBR 13:49.55 SB
15 PARSONS Sam GER 13:50.30
16 McENTEE Sam AUS13:55.07
17 GOOLAB Nick GBR14:02.27 SB
ATKIN Sam GBR MAR DNF
GUSMAN Jordan AUS DNF
KIPLANGAT Cornelius (PM) KEN DNF
KIPTARUS Dominic Chemut (PM) KEN DNF
PÉREZ Juan Antonio ESP DNS
Intermediate times:
1000m 2:38.55 KIPLANGAT Cornelius (KEN)
2000m 5:14.88 KIPLANGAT Cornelius (KEN)
3000m 7:55.91 KIPRUTO Rhonex (KEN)
4000m 10:36.02 KIPRUTO Rhonex (KEN)
Quick Take: What a week for Hagos Gebrhiwet
We're not quite sure why Gebrhiwet was racing here considering he just ran 26:48 to win the Ethiopian 10k trials on Wednesday and this wasn't a DL points race, but we're glad he did, as he put on a show. Running 26:48 with a mid-54 last lap is impressive enough, but to follow it up with a 13:01 5k with a 53.3 three days later is incredible.
Quick Take: Jakob Ingebrigtsen continues to amaze
Ingebrigtsen has been very good for a few years now, so it can be easy to take for granted exactly what he's accomplishing. We shouldn't. This month alone, he has run 3:30 for 1500 meters twice and 13:02 for 1500 meters.
Let's put that in perspective for you: it's been four years since an American — of any age — has run 3:30. In that same span, only one American (Paul Chelimo) has run 13:02 or faster. And he's still just 18 years old.
The fact of the matter is, 3:30/13:02 is terrific range for anyone. The last time someone ran 3:30 and 13:02 or faster in the same year was Morocco's Abdelaati Iguider in 2015 (3:28/12:59) — though Yomif Kejelcha did manage a 3:47 mile indoors this year in addition to 13:00 for 5,000.
Ingebrigtsen was the European champ at 1500 and 5,000 meters last year, and he looked totally comfortable today going up against one of the best in the world in Gebrhiwet: unafraid to take the lead with 600 to go, and unshakable even once Gebrhiwet made his move on the bell lap, closing a 13:02 race in 53.6. The double is doable at Worlds (the 5k final is on Day 4; the 1500 heats begin on Day 7) and we wouldn't be surprised to see Ingebrigtsen attempt it in Doha.
"It was an OK race, it was fast over the last kilometer," Ingebrigtsen told race organizers. "I'm definitely able to go under 13 minutes. I was hoping for a personal best, but a national record is better. [Gebrhiwet] has a much quicker PB than me. Of course he's a great athlete but I'm on my way to becoming better. This is my first fast 5k so I'm satisfied with it being a national record and I'm ready for my next race."
MB: Holy Moly!! A legit 18 year old just ran 13:02!! J. Ingebrigtsen 53 last 400m. 
Quick Take: Stewart McSweyn wins the battle of the Aussies
This race was important for the Australians as all of their best 5k men were in this one, and only one — Jordan Gusman — had the IAAF standard going into the race (and Gusman has said he wants to run for Malta at Worlds). Gusman wound up DNFing in this race, but the top three Aussies all got the standard of 13:22.50, with Stewart McSweyn clearly the best in 13:05, 2016 NCAA XC champ Patrick Tiernan next in a PR of 13:12, and 2018 NCAA XC champ Morgan McDonald third in 13:18. They were the only Aussies to get the standard in this race.
We don't know for sure how Australia will pick its team, but if Gusman runs for Malta and no other Aussies manage the standard the rest of the summer, we imagine that McSweyn, Tiernan, and McDonald will be your 5k team in Doha.
In his pro debut, Morgan McDonald ran a seasonal best and the second-fastest time of his life and got what he needed — the Worlds standard of 13:22.50. That's the good news. The bad news is he was only 9th and this race was a jarring reminder of how much more competitive the world scene is than the NCAA in the distances. That being said, considering this was his first race in over a month and there are still 70 days to Worlds, we imagine he has to be relatively satisfied with it. Can he build on this and be competitive at Worlds or is he tired from a long NCAA season? We'll see.
Quick Take: Andy Butchart is back in form
Butchart was 6th in the 2016 Olympics and 8th at the 2017 Worlds, but he didn't race at all outdoors in 2018 due to a broken foot. He was only 10th in the 3k at Euro Indoors in March, but he's slowly worked his way back into form, running 13:18 at Payton Jordan and 13:09 in Rome last month. Now he is back to his best as his 13:06.21 today was an outright pb.
Women's 1500: Laura Muir puts on a show for the home fans
With Olympic/world champion Faith Kipyegon withdrawing before the race due to an adductor injury, this was Laura Muir's race to lose, and she ran like it. Muir got into good position early, sitting in second place behind Morocco's Rababe Arafi, and by 800 meters (2:11), it was clear that Muir just picking her moment to strike.
That moment came at the bell, with Muir responding when Germany's Konstanze Klosterhalfen, who had run just behind Muir throughout the race came up on the outside and tried to take the lead before the bell, but couldn't get it. By the back straight, it was irrelevant as Muir clearly had a lot more left in the tank. Muir had two meters on Klosterhalfen with 200 meters to go, but really poured it on over the last half-lap, steaming away to win in 3:58.25 thanks to a sensational 57.54 final 400 (28.6, 28.9). Klosterhalfen, spent from trying to hang with Muir, faded to fifth in 4:00.43 (57.8 final 400 but 30.8 final 200) as Gabriela DeBues-Stafford set a Canadian record in third, running 4:00.26 — just .01 faster than Lynn Williams' 4:00.27 from 1985.
DeBues-Stafford was surprised she got the NR as the first two laps were pretty tactical by Diamond League standards.
"I thought that [the NR] was out of the picture. I didn't know what the pace was. I wasn't looking at the clock today and I just wanted to race and looking to not focus so much on times," said DeBues-Stafford.
1500 Metres – Women – Pts
1 Muir , Laura GBR 3:58.25 8
2 Chebet , Winny KEN 3:59.93 7
3 DeBues-Stafford , Gabriela CAN 4:00.26 6
4 Nanyondo , Winnie UGA 4:00.40 5
5 Klosterhalfen , Konstanze GER 4:00.43 4
6 McDonald , Sarah GBR 4:00.46 3
7 Reekie , Jemma GBR 4:02.09 2
8 Bobocea , Claudia Mihaela ROU 4:02.27 1
9 Arafi , Rababe MAR 4:03.53
10 Barysevich , Darya BLR 4:03.58
11 Mageean , Ciara IRL 4:03.70
12 Ennaoui , Sofia POL 4:04.06
13 Hall , Linden AUS 4:04.29
14 Embaye , Axumawit ETH 4:04.63
Segrave , Hannah GBR DNF
Quick Take: Muir was much better today than she was at the Pre Classic
Muir showed some serious wheels this indoor season, closing in 57.58 to win the Euro indoor 1500 title, but the winning time of that race was just 4:05.92. Today, she closed even faster (57.54) off a faster pace, winning in 3:58.25. That's terrific stuff, and much better than her close at Prefontaine, where she closed in 61.75 to run 3:59.47.
It's a shame that Faith Kipyegon had to scratch from this race, as even she would have had her hands full dealing with Muir over the last lap today.
"It may have looked easy, but it wasn't! I didn't realise I ran a 57-second last lap and I'm so so happy about that. The girls are really strong and I know that my advantage is in that kick, so I just sat in there and tried to take it easy. It was all about winning today and I did that," said Muir after the race. "The conditions are usually pretty good – it was a little bit windy today, but the whole vibe of the place is really special and it makes athletes raise their game."
Quick Take: Training with Muir continues to pay off for Gabriela DeBues-Stafford
Last fall, DeBues-Stafford took a risk by moving to Scotland last fall to train with Muir and her coach Andy Young. It has paid off big-time, as she has put together one of the greatest seasons in the history of Canadian women's distance running.
All year long, DeBues-Stafford has been smashing national records, claiming the mile and 5k records both indoors (4:24.80 and 14:57.45) and outdoors (4:17.87 and 14:51.59). But the big one was the outdoor 1500 mark of 4:00.27, which had stood since 1985, and today DeBues-Stafford got that as well, by the narrowest of margins. Sub-4:00 will have to wait, but DeBues-Stafford will be a happy woman tonight.
Quick Take: A big day for the Brits
All three Brits in this race ran well. Muir got the win and looked fantastic over the final lap, while Sarah McDonald and Jemma Reekie both set personal bests. McDonald finished sixth in 4:00.46, taking a second off her 4:01.50 pb, while the 21-year-old Reekie, fresh off double gold in the 800/1500 at the Euro U23 champs, slashed 3+ seconds off her 4:05.82 pb to run 4:02.09 in seventh. Reekie also trains with Muir and DeBues-Stafford. 
MB: Unreal. Laura Muir runs 3:58 off of 2:11 first 800!! 57 last lap!! Jenny S. please move to the steeple now

Men's 800: Rotich wins as Amos pulls up lame
It took just over seven years for Nijel Amos to regain the 1:41 form he showed as a teenager at the 2012 Olympics, but just over seven days for that form to vanish in an instant. Eight days after Amos ran 1:41.89 in Monaco, he pulled up with an injury in London as the field was coming off the first turn as shown below:
Disaster @London_DL. @amosnijel goes down. https://t.co/A0dfatKsMf pic.twitter.com/CdBjXnABkF

— LetsRun.com (@letsrundotcom) July 20, 2019
Pacemaker Harun Abda likely had no idea that Amos had pulled up but he had a job to do and he did it, taking the field through 400 in 49.48. No one was directly on him but Puerto Rican record holder Wesley Vazquez, who likes to front-run, was a few meters back in 49.9 with Kenya's Ferguson Rotich, who ran 1:42.54 for 2nd in Monaco last week, a few more meters back of Vazquez in 50.5.
Vazquez hit 600 in 1:16.6, but on the turn, the field behind started to make inroads. Just before the homestretch, Vazquez gave up the lead as Rotich came by and he ended up winning in 1:43.13 with Wycliffe Kinyamal, who had been running behind Rotich throughout the race, getting second in a seasonal best of 1:43.48. Behind those two guys, Marcin Lewandowski, who has been running a fair amount of 1500s this year, closed very well and showed some of the form that enabled him to get 4th at Worlds in the 800 in both 2011 and 2013, as he closed very well to get 4th in 1:43.74 — his first 1:43 since 2016, and just off his 1:43.72 pb.
Adam Kszczot, the 2015 and 2017 world silver medallist, was 7th in an SB of 1:44.61. Emmanuel Korir, the fastest man in the world in 2018, was never a factor, running in the second half of the pack for most of the race before finishing just 8th in 1:44.75
800 Metres - Men  - Diamond Discipline
                                                             Pts
    1 Rotich , Ferguson Cheruiyot      KEN    1:43.14          8
    2 Kinyamal , Wyclife               KEN    1:43.48          7
    3 Lewandowski , Marcin             POL    1:43.74          6
    4 Tuwei , Cornelius                KEN    1:43.90          5
    5 Vázquez , Wesley                 PUR    1:44.42          4
    6 Webb , Jamie                     GBR    1:44.52          3
    7 Kszczot , Adam                   POL    1:44.61          2
    8 Korir , Emmanuel Kipkurui        KEN    1:44.75          1
    9 Langford , Kyle                  GBR    1:44.97           
   10 Giles , Elliot                   GBR    1:45.03           
   11 Kramer , Andreas                 SWE    1:45.10           
      Abda , Harun                     USA        DNF           
      Amos , Nijel                     BOT        DNF
Quick Take: Let's hope Amos' injury is minor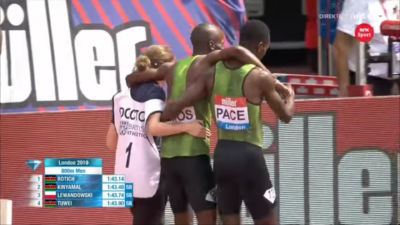 It was so depressing to see Amos pull up injured, it took us almost a full lap to start paying attention again. The reality is, you don't run well unless you are healthy. Worlds are still a LONG way off and Amos is from Botswana, so he doesn't have to worry about making the Worlds team, but even someone in 1:41 shape can't afford to miss more than a couple of weeks at this point in the season.
MB: Disaster in London. Nijel Amos PULLS UP injured.
Quick Take #2: Will Emmanuel Korir even make the Kenyan team?
Speaking of how you can't run well if injured, Emmanuel Korir has been battling a leg injury all year and has not broken 1:44 in 2019 even though he ran 1:42.05 last year.
Korir said after Lausanne that he thought his leg would be healed soon, but this was a big step back. While he hadn't run super fast before today (1:44.01 sb), he had at least been very competitive, finishing 2nd in Doha and Rabat and 3rd in Lausanne with a 44.55 400 in Kenya thrown in the middle of all of that. But today he was a total nonfactor.
The only positive for Korir coming from today is that, with Amos potentially being injured, Kenya is much more likely to pick up a 4th spot for Worlds by virtue of winning the Diamond League final next month. And if he does make the team, gold is still a possibility.
Here are the six Kenyan men who have broken 1:45 this year in the 800.
1 1:42.54 Ferguson Cheruiyot Monaco
2 1:43.48 Wycliffe Kinyamal London
3 1:43.70 Michael Saruni  Monaco
4 1:43.90 Cornelius Tuwei London
5 1:44.01 Emmanuel Korir Lausanne
6 1:44.97 Jonathan Kitilit  Doha
Quick Take #3: This race set a world record — fastest 11th place ever
Eight of the 11 finishers in this race ran a seasonal best or personal best (6 sbs, 2 pbs). Brit Kyle Langford, who was lucky to be in this race after putting his hands on an official last month, broke 1:45 for the first time in his career, running 1:44.97. One messageboard poster didn't think he had a good race though as he finished way back in the field — just 9th.
But there is no real shame in that. This race set a world record for depth. 11th place — last — was 1:45.10 was a world record for that position.
The fastest 11th-place finish in history before today came from 2014 Zürich, when Asbel Kiprop ran 1:45.26.
Talk about the London action on our messageboard:
MB: Official 2019 London DL Discussion Thread
MB: Holy Moly!! A legit 18 year old just ran 13:02!! J. Ingebrigtsen 53 last 400m.
MB: Disaster in London. Nijel Amos PULLS UP injured.
MB: Unreal. Laura Muir runs 3:58 off of 2:11 first 800!! 57 last lap!! Jenny S. please move to the steeple now –
MB:Lewandowski 1:43!! Whaat?