Nijel Amos Pulls Up Lame in London Diamond League One Week After Running 1:41 in Monaco
By LetsRun.com
July 20, 2019
It took just under seven years for Nijel Amos to regain the 1:41 form he showed as a teenager at the 2012 Olympics, but just over seven days for that form to vanish in an instant. Eight days after Amos ran 1:41.89 in Monaco, he pulled up with an injury as he came off the first turn in the 800m at the Müller Anniversary London Diamond League meet. Amos grabbed the back of his leg and limped a few meters down the backstretch before sitting down on the track. A few minutes later, he would be helped off the track by a medical support person and his Oregon Track Club teammate, Harun Abda.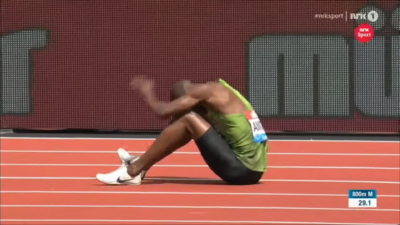 Article continues below player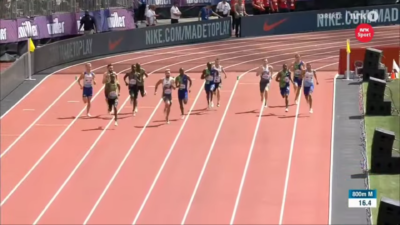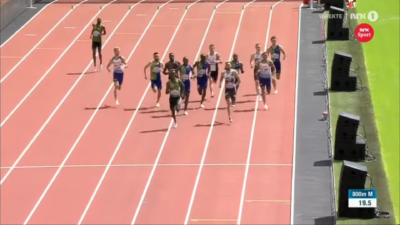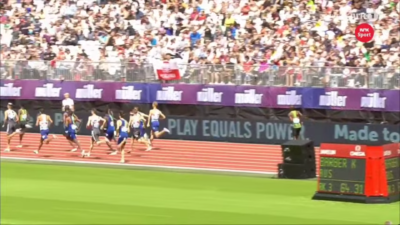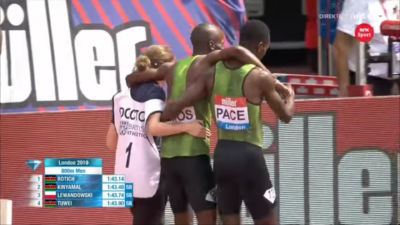 The race started normally with Abda doing his pacemaking duties in lane 9 and Amos running in lane 6. However, as they rounded the first turn, Amos was with the field but not in position to take the place behind the rabbit. Soon he grabbed the back of his leg and was limping down the backstretch as the race continued on in front of him.
The race had to continue on and Abda took the field through 400 in 49.48. No one was directly on him but Puerto Rican national record holder Wesley Vazquez was a few meters back in 49.9 with Kenya's Ferguson Rotich, who had run 1:42.54 for 2nd in Monaco last week, a few more meters back of Vazquez in 50.5.
Abda would lead through 500m, where he stopped rabbiting and saw his teammate sitting on the track.
Vazquez led at 600 in 1:16.6 but on the turn the field behind started to make inroads. Just before the homestretch, Vazquez gave up the lead as Rotich came by and he ended up winning in 1:43.13 with Wycliffe Kinyamal, who had been running behind Rotich throughout the race, getting second in 1:43.48. Emmanuel Korir, the fastest man in the world in 2018, was never a factor, running in the second half of the pack for most of the race before finishing just 7th in 1:44.75.
The scene at the finish was secondary to what was happening across the track as Amos required the assistance of Abda and a medical support personnel woman to limp off the track and later was seen on the broadcast sitting in a wheelchair.
Quicktake: A major blow to 800m running, but Amos has 70 days until Worlds
London was the scene of Amos' greatest accomplishment in the 800m, his silver medal at the 2012 Olympics. Now, just a week after his return to the 1:41 ranks, it was the scene of a cruel injury. The only good news for Amos is the 800m at the World Championships does not start until exactly 70 days from today.
| Rank | Lane | Nat | Name | Time | Qual. rank | Qual. points | SB | PB |
| --- | --- | --- | --- | --- | --- | --- | --- | --- |
| | | | | | | | | |
| --- | --- | --- | --- | --- | --- | --- | --- | --- |
| 1 | 4 | KEN | ROTICH Ferguson Cheruiyot | 1:43.14 | 1 | 32 | 1:42.54 | 1:42.54 |
| 2 | 5 | KEN | | 1:43.48 | 4 | 19 | 1:43.78 | 1:43.12 |
| 3 | 4 | POL | | 1:43.74 | 10 | 8 | 1:45.23 | 1:43.72 |
| 4 | 2 | KEN | | 1:43.90 | 11 | 8 | 1:44.74 | 1:43.82 |
| 5 | 8 | PUR | | 1:44.42 | 9 | 9 | 1:44.40 | 1:44.40 |
| 6 | 3 | GBR | | 1:44.52 | 17 | 3 | 1:46.16 | 1:45.73 |
| 7 | 8 | POL | | 1:44.61 | 12 | 8 | 1:44.69 | 1:43.30 |
| 8 | 7 | KEN | | 1:44.75 | 3 | 21 | 1:44.01 | 1:42.05 |
| 9 | 9 | GBR | | 1:44.97 | | | 1:45.87 | 1:45.16 |
| 10 | 1 | GBR | | 1:45.03 | | | 1:45.80 | 1:44.99 |
| 11 | 2 | SWE | | 1:45.10 | 18 | 3 | 1:45.33 | 1:45.03 |
| DNF | 9 | USA | 400m – 49.5 sec, 600m – 1:15 min | | | | 1:46.80 | 1:45.55 |
| DNF | 6 | BOT | | | 2 | 31 | 1:41.89 | 1:41.73 |