2016 Olympic Men's 1500 Preview: Asbel Kiprop Goes For Olympic Title #2 As Matthew Centrowitz Tries to End USA's 108-Year Gold Drought
by LetsRun.com
August 16, 2016
Four years ago, Asbel Kiprop headed to London as the favorite to defend his Olympic 1500-meter title. He was the reigning world champion, fresh off a 3:28.88 pb in Monaco, the fastest time anyone had run in eight years. But Kiprop picked up a hamstring injury late in his preparation and though the hobbled man occupying Kiprop's body made the final, he was not indomitable figure the track world had come to fear. Kiprop wound up dead last as Algeria's Taoufik Makhloufi dominated to win the Olympic crown. After adding a couple more world titles in 2013 and 2015, Kiprop is back for his third Olympics and has a chance to exorcise the demons of 2012 and in the process become just the second man in history (after Sebastian Coe) to win two Olympic 1500 titles.
Kiprop is not the only man looking to make history. Makhloufi, who won a silver in the 800 on Monday night, also has the opportunity to join Coe as a double Olympic champ while American Matthew Centrowitz is shooting for the first U.S. gold in this event in 108 years. Yes, the U.S.'s gold drought in the Olympic men's 1500 is longer than the Chicago Cubs' World Series drought, by exactly three months. There are also a pair of hungry young Kenyans looking to gobble up medals in Elijah Manangoi and Ronald Kwemoi and returning Olympic medallists in New Zealand's Nick Willis and Morocco's Abdalaati Iguider. It's going to be a great race.
Race Times
Prelims: Tuesday, August 16, 9:30 a.m. ET
Semis: Thursday, August 18, 7:45 p.m. ET
Final: Saturday, August 20, 8:00 p.m. ET2015 Worlds results
1. Asbel Kiprop, Kenya 3:34.40
2. Elijah Manangoi, Kenya 3:34.63
3. Abdalaati Iguider, Morocco 3:34.67
4. Taoufik Makhloufi, Algeria 3:34.76
5. Silas Kiplagat, Kenya 3:34.81

2016's Fastest performers (among men entered)
1. Asbel Kiprop, Kenya 3:29.33
2. Ronald Kwemoi, Kenya 3:30.49
3. Elijah Manangoi, Kenya 3:31.19
4. Taoufik Makhloufi, Algeria 3:31.35
5. Abdalaati Iguider, Morocco 3:31.54
Article continues below player
The Legend
When Kiprop lines up for the final on the night of August 20, he won't just be facing the 11 other men on the starting line; he'll be going another round with Morocco's Hicham El Guerrouj in their bout to determine the greatest 1500 runner of all time. When El Guerrouj retired in 2004, he was unquestionably the greatest miler the world had ever seen, but Kiprop has slowly been chipping away at that legacy. In terms of sheer volume of fast times, Kiprop will never overhaul El Guerrouj, who dominates the all-time lists at both 1500 (seven of the top nine times in history, including the world record) and mile (seven of the top 10 times in history, including the world record). Additionally, El Guerrouj holds 33 of history's 99 sub-3:30 clockings (Kiprop has done it 7 times). But Kiprop, still only 27, would tie El Guerrouj at five global 1500 titles should he win in Rio, and he'd have two Olympic 1500 titles to El Guerrouj's one. If Kiprop can add another global title or two and become the first man to run 3:25, he has a shot to surpass El Guerrouj.
This will be a more compelling argument once Kiprop's career is over, but Kiprop has been so dominant during his era that it makes more sense to compare him to El Guerrouj than any of his contemporaries. Consider what he's done in his last six global championship appearances:
2008 Olympics: Crossed line second but upgraded to gold after doper Rashid Ramzi was stripped of his title
2009 Worlds: Was the fittest guy in the field but ran a tactically awful race and finished fourth
2011 Worlds: Gold medal
2012 Olympics: Hurt, finished last in final
2013 Worlds: Gold medal
2015 Worlds: Gold medal
Kiprop is the favorite for gold once again in 2016. He entered the year on the heels of a perfect 2015 (five-for-five in 1500's) and, if anything, looked even more untouchable, winning his first five 1500/miles. In many cases, he displayed an almost comical level of dominance with the rest of the field essentially giving up once Kiprop got out to early leads in Doha, Birmingham and Oslo. His only blemish came in Monaco on July 15, where he faded to sixth after leading early. While every athlete wants to head into the Olympics on a high note, we're not overly concerned about that result. Kiprop went out extremely fast in that race (1:50 through 800) but couldn't hold on and wound up tying up over the final 700 meters. In addition, Kiprop's agent Federico Rosa had just been arrested and that was a major distraction as Kiprop missed three days of training hung up in court.
Really, the only guy who can beat Asbel Kiprop is Asbel Kiprop. He's developed a reputation as an uneven tactician, and while that has not prevented him from winning four global titles, it is a concern. Just look how far back he was last year in Beijing!
https://youtu.be/944gkX_OENY?t=2m36s
Of course, when you're miles better than everyone else, your margin for error is larger. Kiprop pulled all sorts of silliness last year and was only burned once, when he left himself with too much ground to make up at the Pre Classic and finished third (and yes, he should have won that race too). Based on the evidence this year, Kiprop has enough leeway to run himself out of a bad position, perhaps even an awful position. But why take that risk?
The Contenders
If he runs a smart race, Kiprop should win, but heavy favorites have lost at the Olympics before. El Guerrouj put together a ridiculous season in 2000 and entered the Olympics undefeated but lost to Noah Ngeny. No man is invincible. And this being the golden age of the 1500 (of the 10 fastest men of all time, seven are currently active), there are plenty of candidates to spring the upset. Kiprop's countryman Elijah Manangoi burst onto the scene last year by taking silver at Worlds (and promising to slay a goat and drink its blood afterwards). Since then, Manangoi has trailed Kiprop wherever he's gone — starting with the World Champs last year, Kiprop and Manangoi have gone 1-2 (in that order) in five of the seven races they've run against each other. The only exceptions were the Pre Classic (Kiprop 1st, Manangoi 3rd) and Monaco (Manangoi 2nd, Kiprop 6th). Manangoi also won in Rome when Kiprop was absent.
Kwemoi, who won in Monaco in 3:30.49 (#2 this year behind Kiprop), and Iguider, who was third at Worlds last year and second to Kiprop in Eugene and Birmingham (he was 4th in Monaco) are the other guys who have been in the best form on the circuit this year. There's really not much separating them and Manangoi: Manangoi is 1-1 vs. Kwemoi this, year, Kwemoi is 1-0 vs. Iguider and Iguider is 1-1 vs. Manangoi. Kwemoi is in fantastic shape (if you haven't read Andy Arnold's story about his pre-Olympic workouts, do that now) but he has never competed in a global championship on the track, not even at the youth or junior levels (though he was 2nd at the Commonwealth Games in 2014). Of course, the same was true of Manangoi last year, and he wound up earning silver (ironically, Manangoi's biggest race to that point had also been the 2014 Commonwealth Games final, where he finished last). But can Kwemoi kick with Iguider, who has medalled at two of the last three outdoor global championships, and Manangoi, who was moving faster than anyone over the last 100m in Beijing last year?
Relax, American fans. We haven't forgotten about World Indoor champion Matthew Centrowitz. It's just harder to compare him against the Africans because he has run every single one of his races in the United States this year. Still, we know Centro is fit. Even if the top Kenyans were absent, winning a world title of any kind is never easy and Centrowitz ran a typically smart race to take gold in Portland. Though Centro missed some time early this spring with a stress reaction in his shin (an injury that caused him to withdraw from the Pre Classic), he returned with a virtuoso performance at the Olympic Trials, setting the meet record in 3:34.09. On paper, his post-Trials results (2:20 for 2nd in the 1k at the American Track League in Houston, 1:47 for 4th in the TrackTown Summer Series in Eugene) aren't particularly impressive, but they don't tell the entire story. In Houston, Centro closed in 25.0 and was only denied the win due to a great run from U.S. 800 champ Clayton Murphy, who won the bronze in the 800 on Monday night. Centro's 1:47 in Eugene was two and a half seconds off his pb, but he also conducted a post-meet workout that saw him run 1:53, 1:49 and, finally, 1:47 for a set of 800's (MB: Holy S*@t, Centro Just Ran 1:49.3 and then 1:47.9 for 800 AFTER running 1:47.17 in the meet).
Centrowitz has been on fire all year long, and his championship record is very impressive– check it out below.
2011 World Outdoors: 3rd
2012 World Indoors: 7th
2012 Olympics: 4th
2013 Worlds: 2nd
2015 Worlds: 8th
2016 World Indoors: 1st
If he could manage fourth in 2012 after undergoing knee surgery that spring, and he's been running far better in 2016 than he was in 2012, surely Centro must be a shoo-in for a medal this year, right? Well, that's not really how the 1500 works. Last year, Centro put together his best regular season ever, winning comfortably at the U.S. indoor and outdoor championships, lowering his 1500 pb to 3:30.40 and taking second at a couple of Diamond League meets. But his World Champs finish, 8th, was the lowest of his career. Centrowitz didn't do anything wrong tactically; he was in great position at the bell. He just didn't have it over the last 300 meters. Perhaps Centro peaked too early; perhaps he was just the unfortunate victim of the most loaded championship final ever, with seven sub-3:30 guys (and four sub-3:29 guys). In reality, it was probably a bit of both.
The fact is, the 1500 at these meets can be a crapshoot. If you've made it to the Olympic final, your kick, by definition, has to be pretty good. Time it right when it counts, as Leo Manzano did four years ago, and you could end up with a medal. Of course, to be in the position Manzano was, you have to measure your energy correctly in the final and still be able to kick even after two grueling qualification rounds. All of this is an extended way of saying it doesn't matter what you've accomplished that season — it's how much you have left with 100 to go on the night of August 20. Centro is a stud, but so are Kiprop, Kwemoi, Manangoi and Iguider. So are Makhloufi and Nick Willis. There are only three medals. You do the math.
Speaking of Makhloufi and Willis, let's quickly run through the other medal contenders.
Taoufik Makhloufi, Algeria, 28 years old: Of the guys we've yet to mention, defending champion Makhloufi definitely has the best chance to medal. He ripped the field to shreds four years ago in London, and though he has yet to approach that level of dominance again, he's run well in the ensuing years, clocking 3:28 last summer and missing out on a medal by .09 in Beijing. This year, he's run 1:43.92 and 3:31.35 (3rd in Monaco) in his last two races before the Olympics. And he looked really good in nabbing silver in the 800. One note of caution. He'll only have 12 hours between the 800 final on Monday night and the 1500 first round on Tuesday morning (assuming he makes the 800 final).
Nick Willis, New Zealand, 33 years old: Willis earned the silver behind Kiprop eight years ago and returned to the global podium in March, taking bronze at World Indoors. The Michigan grad has raced three times since then, taking 3rd in Birmingham, 4th in Oslo and 2nd at the adidas Boston Boost Games (where he was running on tired legs to simulate the rounds at the Olympics). Willis is consistent and knows how to make major finals. Since 2007, he's only missed two global outdoor 1500 finals: 2009, when he didn't compete due to injury, and 2013, when he came .09 short of advancing from his semi. He was 6th last year in Beijing.
Ayanleh Souleiman, Djibouti, 23 years old: There are a lot of questions about Souleiman, the 2014 World Indoor champ, and most have to do with the fact that his coach, Jama Aden, was arrested after a drug raid in June. Souleiman was one of the world's best milers from 2013-2015 but he's had a rough go at his last two global champs as he DNF'd his prelim at Worlds last year due to injury and faded from the lead to dead last at World Indoors in March, eventually being forced to exit the arena in a wheelchair (his agent said Souleiman came down with a cold before the race). Souleiman broke the world indoor record for 1k in February (2:14.20) and has won his last two outdoor races, clocking 1:44.06 in Barcelona on July 9 and 3:31.68 in Heusden on July 16. On talent, Souleiman should be in the medal discussions, and he ran pretty well in the 800 as he ran 1:45 in both rounds but his 1:45.19 in the semis didn't get him into the final.
Alsadik Mikhou, Bahrain, 26 years old: If there's a guy who's going to pull a Makhloufi and come from nowhere to win this thing, it's Mikhou. Mikhou has finished two races this year, running a pair of 3:32's three days apart in June. On both occasions, he crushed the fields (3.84 secs in the first race, 2.30 secs in the second), which included European champ Filip Ingebrigtsen (first race) and World Indoor silver medallist Jakub Holusa (second race). There's very little about Mikhou, a former Moroccan, on the internet, but he has run 3:33 or faster in each of the past four years. If you can run 3:32 twice in a four-day span, you're a threat to medal at the Olympics.
Charlie Grice, Great Britain, 22 years old: Grice, who ran 3:54 at age 19, won his first British title in 2014 and has kept improving since then. He was 9th at Worlds last year, and so far this year has lowered his 800 PR from 1:47.00 to 1:45.53 and his 1500 pb from 3:35.29 to 3:33.60.
Ryan Gregson, Australia, 26 years old: Gregson ran 3:31 at age 20 but has failed to live up to that potential since then and has never made a global championship final. That could change in 2016, however, as the Aussie champ has put together his best season since 2010, running 3:32.13 in Monaco, his #2 time ever.
Filip Ingebrigtsen, Norway, 23 years old: Ingebrigtsen won the European Champs in July. Before 2016, he'd never broken 3:38, but he's PR'd three times already this year, most recently his 3:33.72 in Monaco on July 15. His older brother Henrik was 5th at the 2012 Olympics.
Jakub Holusa, Czech Republic, 28 years old: Holusa is coming off a 3:33.36 pb in Monaco and took silver at World Indoors but worryingly didn't even make the final at the European Champs in July.
The Other Americans
Robby Andrews and Ben Blankenship aren't as accomplished as Matthew Centrowitz, but Blankenship has a good chance to make the final and Andrews is a dark horse medal contender. Andrews, who made the World Championship final last year, is fit and has looked brilliant at times in 2016. He almost upset Centro at USA Indoors and came up .40 short of a medal at World Indoors. Outdoors, he was a clear second at the Olympic Trials in 3:34.88 and was actually gaining on Centrowitz at the end of the race. In full flight, few runners can rival Robby Andrews in the last 150 meters of a race.
The problem is, Andrews often leaves himself with too much work to do at the end of races (he could have medalled at World Indoors if he was in better position). In addition, three rounds of the 1500 at Worlds last year left him spent by the final, and he wound up last. Has he improved his strength enough over the last 12 months to contend in Rio? Finally, Andrews has been inconsistent this outdoor season, alternating great races with mediocre ones (he was 7th at the adidas Boston Boost Games and 7th at the TrackTown Summer Series on July 29, losing to the likes of Eric Jenkins and Johnny Gregorek). Andrews usually performs well when it counts, but there are three rounds at the Olympics, and a mediocre race in any of them will be costly. Our advice to Andrews – go watch some Clayton Murphy videos. His tactics in the 800 semis and final were perfect.
Blankenship was only third in the TrackTown Summer Series meet, but he did manage to run a PR there (3:35.02). Though this is Blankenship's first time at a Worlds/Olympics at age 27, he's picked up some experience on the circuit over the past two years and definitely has a shot to make the final. Anything else is a bonus as he has not shown the top-end speed (1:48 800 pb) or ability to switch gears that is crucial to contending in a global 1500 final.
LRC Prediction: 1. Kiprop 2. Manangoi 3. Centrowitz
Kiprop is too good and barring a tactical disaster, he should win his third straight global crown. Manangoi was second last year and has done nothing since then to think he won't be second again. Centro is in great shape and will be eager to get on the podium after missing out by .04 four years ago.
Betting Advice: Kiprop is our favorite but we'd much rather bet on Centro at 20 to 1 (or 4 to 1 to medal). Odds via oddschecker.com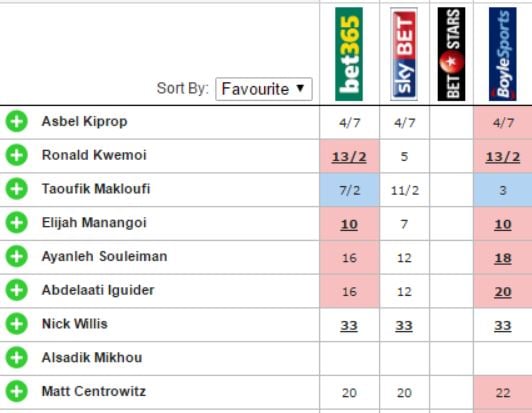 [gravityform action="

polls

" id="436″ mode="

poll

" cookie="1 month" show_results_link="false" display_results="true" percentages="true" counts="false" ajax="true"]