A Massive Day For Americans At 1,500/Mile At Pre – Jenny Simpson Wins, Centro Is 2nd And High Schooler Alexa Efraimson Runs 4:03.39
By LetsRun.com
May 30, 2015
EUGENE, Ore. — It was a great day to be an American middle-distance fan on Saturday. 2014 Diamond League champion Jenny Simpson picked up where she left off on the DL circuit, winning her third straight DL 1,500 in 4:00.98 (though this race does not count in the DL standings). Minutes later, Matthew Centrowitz recorded his best-ever DL showing with a runner-up 3:51.20 in the Bowerman Mile, narrowly losing to Djibouti's Ayanleh Souleiman, who won here for the second straight year.
Simpson and Centrowitz were the biggest names to excel, but they were hardly the only Americans to run well. Ben Blankenship continued his red-hot 2015 with a win in the international mile (3:55.72) while high school senior Alexa Efraimson (Camas, WA) broke the U.S. high school and U.S. junior records at 1500 with a spectacular 4:03.39 to place seventh in the women's 1500. Mary Cain held the old record at 4:04.62 from 2013.
Article continues below player
Men's Bowerman Mile: Ayanleh Souleiman Repeats as Matthew Centrowitz Finishes a Surprising Second
Matthew Centrowitz made him work for it, but in the end Djibouti's Ayanleh Souleiman defended his Bowerman Mile title in impressive fashion, holding off Centrowitz and Asbel Kiprop over the final, drama-packed 100 meters. Souleiman got the win in 3:51.10 after closing in 1:51.46 for his final 800 with Centrowitz second in 3:51.20 and Kiprop third in 3:51.25.
While Souleiman's victory was no surprise, Centrowitz's runner-up finish represented a massive step forward for the 25-year-old. Centro has proven himself to be one of the world's best championship racers (3rd, 4th and 2nd at last three global champs) but generally struggled in the faster Diamond League races. Prior to today, he hadn't finished in the top six of a DL race since 2012, when he was fourth in Brussels and third in Lausanne. He's now tied for the second-best finish ever by an American in a DL 1500/mile:
Best finishes by an American man in a DL 1500/mile
1st, Leo Manzano, August 6, 2011 (London)
2nd, Bernard Lagat, August 6, 2011 (London)
2nd, Leo Manzano, August 27, 2010 (Brussels)
2nd, Leo Manzano, August 14, 2010 (London)
2nd, Matthew Centrowitz, May 30, 2015 (Eugene)
The Race (video replay here)
It quickly became apparent that we weren't going to have a repeat of last year's super-quick Bowerman Mile as when Souleiman came through 409 meters in 59.57 seconds, he had a five-meter lead on the main pack yet was still 25 meters behind the rabbits. After another slow lap (1:59.64 at 809), Morocco's Abdelaati Iguider took the lead and injected some pace and both Americans were ready to react (Centro was in third, Leo Manzano 4th), having used the slow pace to position themselves well in the early stages of the race.
Iguider hit the bell in 2:57.23 (57.59 lap) and battled to hold the lead for the first half of the lap before Souleiman went by him on the backstretch. Centrowitz, who looked smooth as always, was right on Souleiman's tail and moved up into second as they entered the final turn as Manzano started to fade after getting bumped going around the final turn. Souleiman really started to press on the turn but Centrowitz would not drop; Silas Kiplagat also swung wide and started to move up to challenge for the lead.
In the homestretch, Souleiman and Centrowitz dropped Kiplagat but gained a new challenger in Asbel Kiprop, who hadn't been anywhere near the lead for most of the race (he's been near last for some of it). It was a three-way kick between the gold and silver medalists from the most recent World Championships and last year's World Indoor champion/World #1. This was mile racing at its finest.
In the end, the red-hot Souleiman held everyone off in 3:51.10, with Centrowitz finishing a well-deserved second and Kiprop taking third (his first defeat to Centrowitz since 2012). Kiplagat, who won the first DL 1500 of the year in Shanghai two weeks ago, was fourth while Manzano faded to 11th, though he still managed a respectable 3:53.55.
Quick Take #1: Ayanleh Souleiman is the world's best miler right now
This status may change by August as Kiprop, Kiplagat and Centrowitz are all capable of challenging him, but there's no doubt Souleiman is #1 at the moment. He won the DL 800 opener in Doha (1:43.78) and now he's beaten the world's best in the mile at Pre (he also ran a 13:17 5,000 on April 27 for good measure). You can't ask for a better start to the year.
Afterwards, Souleiman was asked if he preferred the 800 or the 1500 and he indicated the 1500m is his favorite event, but with a touch of humor noted that just as someone can't eat their favorite food all the time, sometimes he needs to mix it up noting he runs the 800 and now the occasional 5000. Souleiman has a big personality and as his English keeps improving it will be good for the sport.
Quick Take #2: Matt Centrowitz may have reached another level after his big indoor season
Centrowitz put together a terrific indoor campaign, running 2:17.00 for 1k, 3:51.35 (to win the Wanamaker Mile) and winning the U.S. title. Some wondered whether his indoor success would transfer to the outdoor track, and the answer appears to be yes. He ran very well at Oxy on May 14 (1:46.55 800) and beat almost all of the world's greatest milers this afternoon.
Centro has run well every time but once in 2015 (10th in Birmingham 1500 in UK indoors in Feb).
The only question now is whether Centrowitz can keep up this level of performance all the way through Beijing. Running a great race on his own turf is one thing; can Centrowitz do the same in later races such as Oslo, Paris and London? The evidence so far is promising. He's certainly in PR shape, given he missed his PR by less than a second today after going through 809 in just under 2:00. If he gets in the right race, he's certainly got a shot to become the seventh American under 3:50.
Centro ran 3:31 last year which is equal to roughly a 3:48 mile. Placing well in the Diamond League was a nice step forward here.
Quick Take #3: There's no point in having rabbits if no one is going to go with them
This race had two rabbits, Hillary Maiyo and Andrew Rotich, but less than a lap into the race, they were rendered useless as no one showed any interest in running with them up front (Souleiman ran slightly ahead of the pack but still not close to the rabbits). This was far from the only time this happened this weekend or this season (the first DL 1500 was won in just 3:35.29 after the field chose not to go with the rabbits). It's fine if runners don't want to try and break 3:30 or 3:48 every time out — in fact, it's probably better that way. But it looks bad when there are rabbits 25 meters ahead of the pack one lap into the race. The IAAF may want to reassess how rabbits are deployed; this still turned out to be a very exciting race even though the rabbits were barely involved. If the field doesn't go with the rabbits may they should just drop out.
Leo Manzano who dominated in his last race, the Oxy 1500m, faded the last 200m here after getting bumped around the final turn, but he said his training is going great. He's not sure what exactly he'll run next.
Women's 1500: Jenny Simpson Continues To Dominate The Diamond League 1500 as Alexa Efraimson Pushes Mary Cain Aside
Last year Jenny Simpson was the Diamond League 1500m champion, winning in Stockholm, Zurich and finishing runner-up in Shanghai and Paris. She continued that 1500 dominance here getting the victory over a competitive field in 4:00.98 in a non Diamond League event. Behind her world 5000 silver medalist Mercy Cherono was runner-up in 4:01.26 and European champion Sifan Hassan was 3rd (4:01.65). With 100 to go it looked like the tight finish in Zurich last year between Shannon Rowbury and Simpson could repeat itself, but Rowbury was completely done in the last 100 and ended up a well beaten 4th in 4:02.28.
Behind the top four, the story was absolutely Alexa Efraimson who finished in 7th with a new US junior and high school record of 4:03.39. We have a separate article on Efraimson here as the high school senior erased Mary Cain from the top of the US record books.
The Race (video replay here)
The rabbit was Phoebe Wright and unlike the men's Bowerman mile, someone actually went with her. Shannon Rowbury was  out hard just a bit behind Wright as she went through the first 400m in about 64. Behind Rowbury there was a small gap to Jenny Simpson who was working on closing the distance to Rowbury and had another small gap on the rest of the pack. At this point Hassan was way back in almost last place.
When Wright took Rowbury through 800 in about 2:09 the positions were about the same, but by the time Wright stepped off at 900m Simpson was right on Rowbury's heals and soon the whole pack was right there as well. Simpson sat on Rowbury as Hassan moved up to third as they hit the bell in roughly 2:59.
Rowbury continued to lead on the backstretch, but Simpson stayed right on her shoulder waiting while Hassan continued on the rail in 3rd, but was boxed in a bit by Cherono who moved next to her in the outside of lane 1. Behind those four many more women were still right there with 200m remaining, including Katie Mackey, Emma Coburn and Alexa Efraimson who was going wide into lane 2 trying to pass.
Down the homestretch it was the Jenny Simpson show as she powered past Rowbury looking quick and smooth and took the win in 4:00.98. Hassan had gone wide to get out of the box and she and Cherono closed well themselves, but Simpson was never in danger as Cherono took 2nd .39 ahead of Hassan. Rowbury was completely spent and had no response when the other three women went by her, but was able to place fourth.
Efraimson was in the mix with nearly the entire field on the final lap and she held on for a huge 4:03.39 pr. She was not the only American with a big pr as Sarah Brown just ahead of her in 6th pr'd with a 4:03.20 (previous pr 4:05.27) and Katie Mackey in 8th in 4:03.81 prd (4:04.60 previous best).
Results:
    1 Simpson , Jennifer               USA    4:00.98                   
    2 Cherono , Mercy                  KEN    4:01.26                   
    3 Hassan , Sifan                   NED    4:01.65                   
    4 Rowbury , Shannon                USA    4:02.28                   
    5 Embaye , Axumawit                ETH    4:03.00                   
    6 Brown , Sarah                    USA    4:03.20                   
    7 Efraimson , Alexa                USA    4:03.39                   
    8 Mackey , Katie                   USA    4:03.81                   
    9 Moser , Treniere                 USA    4:04.26                   
   10 Plis , Renata                    POL    4:04.78                   
   11 Coburn , Emma                    USA    4:05.10                   
   12 Buckman , Zoe                    AUS    4:06.30                   
   13 England , Hannah                 GBR    4:19.26
      Praught , Aisha                  USA        DNF                   
      Wright , Phoebe                  USA        DNF
Quick Take #1: Is Jenny Simpson The Early Favorite For The 2015 World 1500 Title?
Let's review. In 2011 Simpson shocked the world and herself by becoming the world 1500 champion. 2011 was a strange year in the 1500 as the fastest time ran was 4:00.06 by Morgan Uceny and some called Simpson's win a fluke, especially after she didn't perform well at the 2012 Olympics. But fast forward to 2013 and Simpson proved herself by getting silver behind Abeba Aregawi, who was just straight-up better than Simpson that year. Then last year Simpson was the Diamond League champion.
Now here she is in an early season race getting a convincing win over Cherono and Hassan while Genzebe Dibaba is focused (at least temporarily) on the 5000 and the reigning world champ, Aregawi, is finishing far back in her races (4:04.42 for 7th in Doha, 1:59.98 here for 4th in the 800). It's very early, but 4-years after her shock win in Daegu, Simpson will certainly be in the hunt for another world title.
Quick Take #2: Simpson Was Happy To Win At Pre For The First Time And Hayward For The First Time In 6 Years
After the race, Simpson said the following when interviewed by NBC, "When I was warming up, I overheard the announcers asking an athlete, 'What does it means to win at  Pre? What's one word?' And for me this is where legends win and where they're born, and so for me I have a lot of history here and a lot of wins here so I am trying to write my name in the history books."
We looked back at the stats and Simpson actually hasn't won at Hayward Field since 2009 when she won the steeplechase at USAs and she's never won at the Pre Classic until now (she has two runner-up finishes) so this was a significant win for Simpson.
Talking about her tactics Simpson said it was hard to sit back in second place until the end. "That's hard for me I led so much last year. I feel really comfortable on the inside of lane one and I like to press and press and grind out." But she knew Coach Mark Wetmore wanted her to stick to the plan so she was patient and waited until the final straight to take the lead.
Quick Take #3: Rowbury And Hassan Probably Hurt Their Chances In The First Lap
In this race Rowbury and Hassan took opposite approaches as after the first lap Rowbury was right on the rabbit with a gap to the field and Hassan was in dead last. Neither tactic helped them out at the end of the race as Rowbury ran a harder first lap than anyone else in the field, but then was caught immediately after the rabbit dropped and had the field drafting off her for the next 400m. Hassan was extremely far back after the first 500m and had to make up a lot of ground just to be in contention with a lap to go. Hassan also got herself boxed in in with 200 to go and had to make an awkward move out to lane two to try and pass.
Maybe Rowbury wouldn't have been able to finish any higher with different pacing (she was actually pretty even with splits), but Hassan definitely hurt her chances with poor tactics.
Rowbury afterwards said she wanted to be aggressive, so while leading wasn't ideal it was just one step in her progress as a runner.
Quick Take #3: The TV Announcers Completely Missed Alex Efraimson
American history was made in the women's 1500 here at Pre, but no one watching at home would have ever known. Alexa Efraimson ran 4:03.39 to place 7th and set a US junior and high school record, breaking the mark set previously set by Mary Cain. Come on TV crew, do your homework. They could maybe be forgiven for this if the record was 20-years old and Efraimson wasn't on anyone's radar, but that's not that case at all. Efraimson's name was never mentioned on the NBC broadcast. Unbelievable. Mary Cain was the media darling and now Efraimson trumps Cain and she doesn't even get mentioned.
We're have a separate article on Efraimson –Move Over, Mary Cain – Alexa Efraimson Breaks American High School And Junior 1,500m Records As Her Prom Date Matthew Maton Watches –  but our post-race interview with her is below. Plus we talked to her prom date (sub 4 high school miler Matthew Maton) about her run here.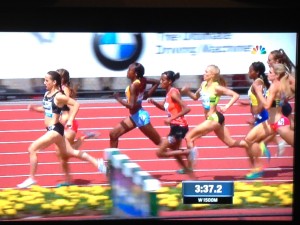 Quick Take #4: The Difference In Closing Speed Between Simpson And Others Is Amazing
Look at this screen shot from the race with less than 200m to go. So many women still right in it including Mackey, Efraimson and Coburn. But just look how far back they finish in the end. Mackey lost by almost 3-seconds; Coburn lost by almost 5-seconds in the final 150m. That's a lot of time to lose in the final kick of a race.
Quick Take #5: Positive Step For Emma Coburn
Emma Coburn was well beaten here finishing 9th in Emma 4:05.10. But this is a great result for her as it's actually a PR (previous best 4:05.29) and a huge improvement on the 4:10 she ran at the USATF High Performance Meet a couple of weeks ago. We can't wait to see what she does in her first steeple this year.
QT #6: Poor Sarah Brown and Katie Mackey
Brown and Mackey both keep getting better, but here they were upstaged by Simpson, Rowbury, and Efraimson even though Brown beat Efraimson. American 1500m running is tremendously good right now and with Simpson getting a bye for worlds, and Rowbury looking like a lock, Brown, Mackey and Efraimson could be battling for the final three Worlds spots.
Women's 1500 chatter on our world famous messageboards:
Men's International Mile: Ben Blankenship's Hot Streak Continues
Can Ben Blankenship and Timothy Cheruiyot race each other every week? On May 3, the two runners delivered a thrilling anchor leg in the DMR at the World Relays and they waged another thrilling battle on Saturday with Blankenship grabbing the win just before the line in 3:55.72 with a 55-second last lap.
The Race (video replay here)
The field had no interest in going with the rabbits as they hit 809 meters in a pedestrian 2:01.80. Rabbit Mark Wieczorek had about 40 meters on the main pack at that point before dropping out; Cheruiyot and Blankenship sat in first and second among the racers.
Cheruiyot dropped the pace on the third lap, running a 58.1 (2:59.9 at the bell) but the relatively slow pace meant that a lot of guys were still in the race. On the backstretch, Blankenship made a bid for the lead, but Cheruiyot countered the move and held him off. With 150 to go, Blankenship again tried to go by and Cheruiyot again held him off as those two and Kenya's World Junior champ Jonathan Sawe began to pull away from the field. Midway through the homestretch, Blankenship made his third bid for the lead, but as he pulled up on Cheruiyot's outside shoulder, he found himself blocked. Sawe had been making up ground on Blankenship's outside and Blankenship found himself squeezed between the two of them with no room to maneuver.
Instead of panicking, Blankenship ducked inside and went for the pass on the inside, which Cheruiyot had left open as he drifted into lane two to hold off Sawe. The fourth time was the charm for Blankenship as he accelerated quickly to beat his Kenyan rivals to the finish in 3:55.72. Sawe just edged Cheruiyot for second in 3:55.76 as the top three were separated by just .08 of a second in a tight finish.
Garrett Heath was the next-best American in fifth at 3:56.53. OTC runners Andrew Wheating (12th, 4:00.35) and Mac Fleet (13th, 4:03.04) both struggled.
Quick Take #1: Ben Blankenship is officially the favorite for the third spot on Team USA at Worlds
After his Bowerman Mile performance, Matthew Centrowitz is the favorite for the U.S. title, and though Blankenship won today, Leo Manzano was over 2-seconds faster and Manzano's track record is enough to give him the nod for the #2 spot. But Blankenship's performance today, in addition to his anchor leg at the World Relays and his fourth-place finish in Shanghai, makes him the clear choice for the third spot right now.
There's still a month to go until USAs, during which time the order may shift. But Blankenship is on a roll, and he knows that anything less than a top-three finish at USAs will be a disappointment.
"If I don't make the World team then all this will be for nothing," Blankenship told NBC Sports Network after the race.
Afterwards, Blankenship was pleased with his win, but would have no comment on being snubbed for the Bowerman Mile despite anchoring the US to the gold medal at World Relays and performing well at the Diamond League meet in Shanghai. Blankenship's no comment was all that was needed to show his displeasure.
Quick Take #2: Not a good sign for Andrew Wheating
Wheating's last race at the Hoka One One Middle Distance Classic was a step in the right direction as he clearly had the second-best kick in the race, losing out only to Leo Manzano in a solid field of Americans. It's not time to panic, but today's race certainly wasn't what he was looking for as Wheating was never a serious factor, winding up 12th.
In fact, this race wasn't a good sign for any American outside of Blankenship (and perhaps Garrett Heath) as Blankenship seemed to be running on a totally different level today even though the race wasn't particularly fast. With only three spots available on Team USA, guys like Pat Casey and Lopez Lomong will certainly want to have been more competitive in this field.
After the race,  Wheating took responsibility for his poor run, saying he let a bunch of different race ideas cloud his mind. He initially wanted to go out hard with the rabbits, and when that didn't happen he never found a rhythm.
We do think it's a good sign that Wheating has tried to go with the rabbits in each of his two races, as that probably means his training has been going well, but he seems to do best when he just gets in the pack and races like Leo Manzano.