Everything You Need to Know About The Jama Aden Doping Raid That Took Place With Three Dibaba Sisters Being Present
by LetsRun.com
June 20, 2016
Earlier today the Mossos d'Esquadra (the Catalan Police Force), as part of Operación Rial, arrested prominent track coach Jama Aden and raided his hotel room and those of his athletes in Sabadell, Spain (just outside of Barcelona). Multiple press reports say the authorities found pre-filled syringes of EPO, anabolic steroids and other doping materials.
Aden is most famous for being the coach of women's 1500m world record holder, Genzebe Dibaba, but also currently coaches a slew of other prominent athletes (indoor 1000m WR holder Ayanleh Souleiman and two-time world indoor 800m champion Abubaker Kaki) and has coached others such as 2012 Olympic 1500m champion Taoufik Makhloufi in the past.
It can easily be argued that this is the biggest doping scandal in distance running's history and the biggest non-country-related (i.e. Russia) doping scandal since BALCO. Aden's athletes have been doing amazing things on the track (they set three indoor world records/bests on one day this winter), but this could have far-reaching repercussions beyond Aden's inner circle. The two biggest long distance stars on the track – reigning Olympic 10,000 champs Mo Farah and Tirunesh Dibaba (sister of Genzebe) – both have some ties to Aden. Tirunesh Dibaba is currently staying at the hotel that was raided and Farah has trained with Aden's athletes in the past.
In this article, we try to compile all of the facts to paint a picture for you of what happened and what it means.
What happened today?
Jama Aden

and a physio associated with his group were arrested and taken into custody by Spanish authorities in Sabadell after Spanish police raided his hotel room and those of some of his athletes and found products related to doping. 

The raid was conducted with Spanish anti-doping authorities along with drug testers from the IAAF who were on hand to test athletes. Spanish authorities have been investigating this for a year and the IAAF has been aware of it for three (LetsRun.com first received an email tip linking Aden to EPO in October of 2013 and we believe the IAAF was notified around this time as well). Th

e

Daily Mail says the raids

today were undertaken after "four weeks of round-the-clock surveillance" of Aden's group in Spain.
Detienen a Jama Aden en Sabadell por dopaje @linformatiu_tve @telediario_tve @mossoscat pic.twitter.com/NJjXLInwzR

— Carol Espona (@CarolEspona) June 20, 2016
EPO in ready-to-use syringes was found along with anabolic steroids and 60 syringes whose remains will be analyzed.

Source:

El Pais

Up to 30 athletes were in Sabadell training (not all the athletes were coached by Aden – athletes  like Tirunesh Dibaba were there as well) and nearly all of them were drug tested by IAAF authorities. (The

AP says

28 of 30 athletes were tested.

The Daily Mail

said

22 athletes were tested and 4 rooms raided. 

La Bolsa de Corredor

says 6 rooms were raided).
What Famous Athletes Were in Sabadell Today?
We'll break this up into 2 groups:
Athletes coached by Aden in Sabadell:
Genzebe Dibaba –

Ethiopia

 

(1500m world record holder and world champion, indoor WR holder at 1500, mile 3000, 2 mile, 5000)

Ayanleh Souleiman

– Djibouti (2014 world indoor champion at 1500, 2013 bronze medallist outdoors at 800, world indoor 1000m record holder)

Abubaker Kaki

– Sudan (2-time world indoor 800m champion, 1:42.23 800m)

Abdalelah Haroun

– Qatar (world record holder at 500m indoors, silver in 400 at world indoors)

Musaeb Abdulrahman Balla – Qatar  

(1:43.82 800m, 6th at Worlds last year)

Abubaker Abdalla

– Qatar (Asian indoor 400m champ, 1:45 800m runner)

Said Aden Said

– Qatar (3:40 1500m runner)

Amine Benferar –

Algeria (1:45.63 800m runner)


Source:  

La Bolsa de Corredor

and

this YouTube video

from Saturday of Aden's group training in Spain:
Other Prominent Athletes in Sabadell:
Tirunesh Dibaba

(maybe the greatest female distance runner ever with 8 world and Olympic track titles) and her sister

Ejegayehu

(silver medal 10k 2004 Olympics) were both also at the hotel that was raided. Unlike sister Genzebe, they are not coached by Aden.

Abdi Bile

– The Somalian was the 1987 world champion and is friends with Aden. 
What other athletes does Aden coach who weren't identified as being in Sabadell today?
Ibrahim Jeilan– the former world 10,00m champion is often congratulated by Aden in Facebook posts.
Mohamed Ismail – 8:23 steepler for Djibouti
(email us at letsrun@letsrun.com if you know more)
What are the consequences?
If it's proven that the EPO and steroids were in Aden or the athletes' rooms (it's important to remember he has been arrested, not convicted), there will almost certainly be four-year doping suspensions. It's a violation of

WADA rule 2.6.2

for an athlete support person to be in possession of prohibited substance. If any of the drugs are ruled to be in the possession of the athletes, they also would be banned per

WADA rule 2.6.1.

On the criminal side of things,

El Pais

is saying that Aden could face a criminal punishment of two years in prison. Doping by athletes is not a crime in Spain but administering doping is.

If doping suspensions are handed out, it remains to be seen if they go back in time. Would Genzebe Dibaba get to keep her world records? Might 2012 Olympic 1500 champ

Taoufik Makhloufi somehow go down even though he's not in the group anymore? If so, American

Leo Manzano

could be the Olympic champion. Remember, even if someone tests positive right now, there has to be proof that they doped in the past for past performances to be wiped out.

A member of the IAAF anti-doping department told Sportsmail, "We're very confident of bringing anti-doping violation charges. Jama can be questioned for the next 72 hours by Spanish police. Whether we can charge him will depend on what exactly we have found but if he is charged we will interview him to see if he wishes to divulge any information which can implicate anyone else."
Will anyone test positive?
Reports are saying the drug tests results could be back as soon as Friday. However do not be surprised if no one tests positive. The IAAF has been aware of allegations against Aden's group since the end of 2013 and so far no one has tested positive. Smart drug cheats don't test positive, but since The Daily Mail said Aden's group has been under constant surveillance for the last four weeks, one would hope the raids and tests were timed to coincide with when the athletes might test positive. That being said, sanctions can be administered even if athletes don't test positive.
Did American David Torrence have anything to do with today's raid taking place?
Torrence, the American who now runs for Peru,

joined Aden's group in 2014

and did not stay long. He saw activity he was not comfortable with and reported it to authorities.

The Daily Mail

published an article on Torrence today that read in part: "David Torrence, an American distance runner once coached by Aden, revealed to Sportsmail he was repeatedly encouraged to take injections of 'vitamins', but refused. 'He was like, "Hey David, you should really reconsider taking these vitamin injections, it's really going to help you." 'I was like, "Can I just take it orally, I'll be more comfortable with some sort of supplement I can take — magnesium, potassium, whatever," and he's like, "No, you have to take it with a needle because you get this flush reaction that you can only get with the concentration going directly into you with a syringe."


Pro Tip: if you see/hear/feel/know something, don't post on Twitter or talk about it in interviews. Element of surprise is key. #cleansport

— David Torrence (@David_Torrence) June 20, 2016
Have there been any doping allegations against Aden in the past?
Aden reportedly coached French 10,0000m runner Laila Traby (European 10,000m bronze medallist) when EPO was found in her apartment in November 2014.
In January, former world junior 1500m champion Hamza Driouch, who was busted for doping due to abnormalities in his biological passport that dated to 2012 when he was still a minor (17), alleged that Aden doped him. A few weeks later, Driouch retracted the claims but today the Daily Mail revealed that Driouch told them in November the following, "He (Aden) would call me into his room — always just me and him — to give me injections of around 5ml three times a week. When I asked him, 'What is this good for?' he told me, 'This is good for recovery, don't ask me again if you want to be a good champion. You are like my son.' I trusted him."
Article continues below player.
Driouch said Monday was a 'good day for clean sport' and we agree. Sadly, people will cheat in all aspects of life, but when we catch them it is a good thing.
Of course, many have been suspicious of Aden and his runners for years. Some of those who spoke out about their concerns were subjected to "silencing campaigns". The Daily Mail reports that John Cook, former coach of Leo Manzano and apparently long-time mentor to Aden, received death threats when he raised concerns about Taoufik Makhloufi in 2012. Cook Cook said, "I suggested I was suspicious. I received death threats. I got phone calls from ambassadors, mostly from the Middle East and Africa, threatening my life."
More: The Daily Mail has been looking into this since November and has a good read.
Coming Soon: Aden's Association with Nike, Mo Farah and Alberto Salazar
Update: Article #2 on this: Jama Aden Doping Raid Update: How Might The Raid Impact Mo Farah, The Dibabas and Nike? is now out.
We'll have much more on this story in the days to come. We'll talk about Aden's association with Nike, Mo Farah, and Alberto Salazar.
All of Aden's athletes in the photo below appear to be sponsored by Nike and we can't think of any athletes that he coaches who aren't (although he is also the Qatari national coach so presumably there have to be some who aren't sponsored by Nike). Aden also praises Nike products on his Facebook page. We have reached out to Nike to verify if he is a Nike coach. In the meantime, read this thread on the messageboard: Is Jama Aden A Nike Coach?
Like Aden, Mo Farah is Somali-born and their relationship may be deeper than has been reported in English press. As for Salazar, we'll share an email that Aden sent to Salazar giving him the specifics of some of the workouts his stars were doing. More on those things in the near future. We don't want to overwhelm you all at once.
Talk about today's raid on our world famous messageboard / fan forum: MB: BREAKING:Jama Aden's hotel in Spain raided.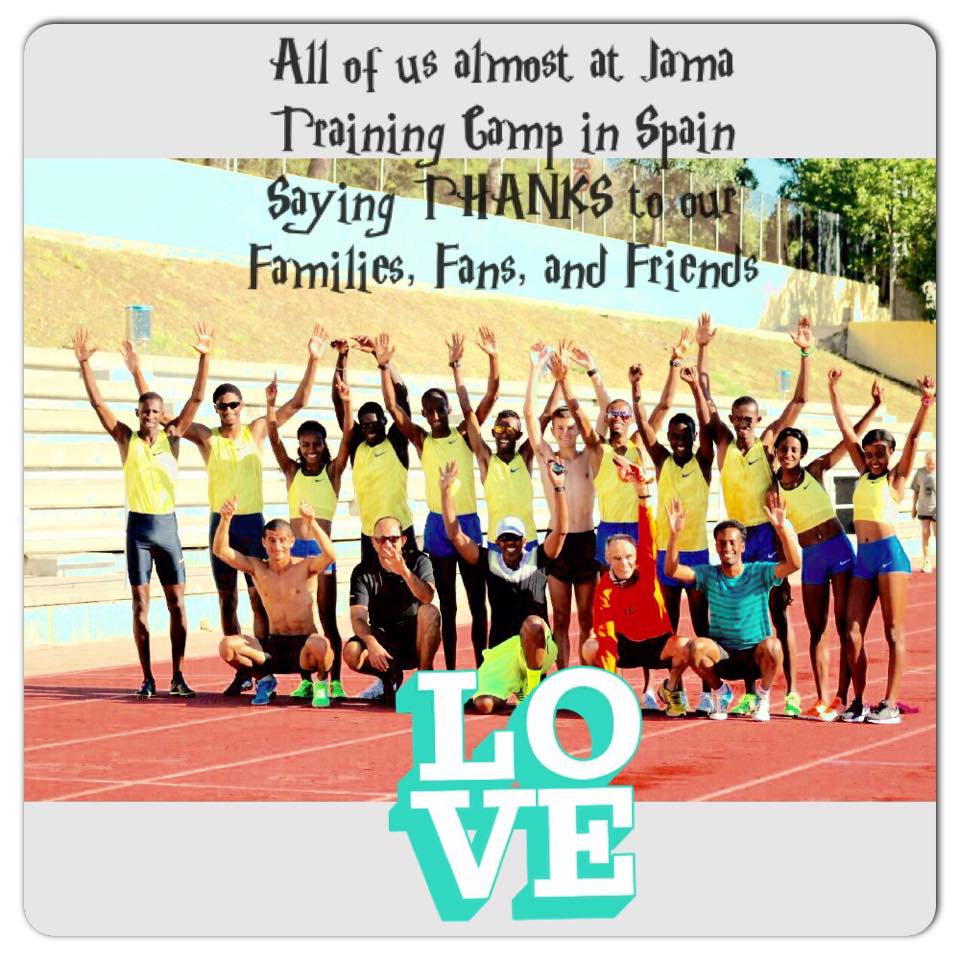 More reading: Article #2 on this: Jama Aden Doping Raid Update: How Might The Raid Impact Mo Farah, The Dibabas and Nike? is now out.