King David's Reign Continues: David Rudisha Becomes First Man in 52 Years To Repeat As Olympic 800m Champion, American Clayton Murphy Snags Bronze
By LetsRun.com
August 15, 2016
RIO DE JANEIRO — Kenya's David Rudisha blasted away from the field over the final 250, closing the final 200 in 26.11 to win the men's 800 in 1:42.15 – the fastest time run in the world since his legendary world record run four years ago at the  London Olympics – becoming the first man in 52 years to successfully defend his Olympic 800 crown.  Reigning Olympic 1500 champ Taoufik Makhloufi of Algeria got the silver in a new national record of 1:42.61 as 21-year-old American Clayton Murphy went from sixth to third over the final 200 to snag the bronze thanks to a big PR of 1:42.93 (previous pb 1:44.30).

Results
1 David Lekuta RUDISHA KEN 01:42.15 SB
2 Taoufik MAKHLOUFI ALG 01:42.61 NR
3 Clayton MURPHY USA 01:42.93 PB
4 Pierre-Ambroise BOSSE FRA 01:43.41 SB
5 Ferguson Cheruiyot ROTICH KEN 01:43.55 SB
6 Marcin LEWANDOWSKI POL 01:44.20 SB
7 Alfred KIPKETER KEN 01:46.02
8 Boris BERIAN USA 01:46.15
The Race
As the runners exited their lanes coming off the first turn, Kenyan upstart Alfred Kipketer, the alleged 19-year-old prodigy who won the 2013 World Youth and 2014 World Junior titles plus defeated David Rudisha to win the Kenyan Olympic Trials this year, quickly showed he had a golden ambition as he refused to let Rudisha take his customary spot at the front of the race (more on that below). Kipketer wanted the pole, and so did Rudisha but Rudisha wasn't about to foolishly battle Kipketer, who famously went out in an 800 in 48.32 at age 16, so he slotted in behind Kipketer who hit 200 in 23.2 to Rudisha's 23.4 (23.4 is the same split Rudisha ran in London 4 years ago). The leading two Kenyans were followed by Makhloufi (23.5), French national record holder Pierre-Ambroise Bosse (23.6), world indoor champ Boris Berian (23.7) of the US and Murphy (23.9).
Even though Kipketer had successfully won the battle for the pole and had control of the race, he kept pushing on the turn and at 300 he had gapped Rudisha by 5 meters. Kipketer was flying. He hit 400 in 49.23 – faster than the same split that Rudisha had in 2012 (49.28) but the others weren't too far behind as six of the eight men in the field went out in under 50 (Rudisha 49.7, Bosse 49.8, Berian 49.8, Makhloufi 49.9, Murphy 49.9).
On the turn, Kipketer strangely pumped the brakes until was he quickly caught by Rudisha, but once caught, Kipketer again picked it up and he still led at 500 (1:03.4). However, about two seconds later, once on the backstretch, Rudisha took one glance over his right shoulder and then accelerated. This was it. He was making a move for glory from basically 300 meters out. He flew down the backstretch covering the 100 in 12.6 as he hit 600 in 1:16.08. Bosse saw the move by Rudish and responded moving past Kipketer who was unable to keep pace. At 600, Rudisha led with Bosse (1:16.4) 2-3 meters back and Makhloufi just behind Bosse. Kipketer was in 4th and the two Americans Berian and Murphy fifth and sixth but it was clear both Kipketer and Berian were headed in the wrong direction.
Article continues below player.
The leading trio ran single file on the final turn. Coming off of it, Rudisha still led by roughly 3 meters over Bosse and Makhloufi who in turn had 4-5 meters on Murphy. Rudisha's lead would gradually increase all the way home. As Rudisha pulled away from his chasers, Makhloufi pulled away from Bosse who started to fade. The man with the best final 100 of anyone in the field was Murphy, who secured his medal by passing Bosse 25 meters from the line. Murphy's final 200 was virtually the same as Rudisha's.
Quick Take #1: It's not right to take the greatness of Rudisha for granted.
Given the fact that it had been 52 years since someone had repeated as Olympic 800 champion, it should be obvious to realize that it's very hard to repeat as Olympic champ in this event. We imagine that's because tactics play a big part in the 800 and also the speed required for the event often goes with age and can result in injuries.
Here are the men who have repeated as Olympic 800 champ.
Douglas Lowe (Great Britain) – 1924 and 1928
Mal Whitfield (USA) – 1948 and 1952
Peter Snell (New Zealand) – 1960 and 1964
David Rudisha (Kenya) – 2012 and 2016
Weird factoid: Snell and Rudisha were born on the same day – December 17th – 50 years years apart (1938 and 1988).
It's worth pointing out that Rudisha was the only guy in the historic 2012 final who even made it back to this year's final – let alone win it.
Here are how the 2012 Olympic 800 finalists have been doing since.
| | | | | | |
| --- | --- | --- | --- | --- | --- |
| 1 | David Lekuta Rudisha | | 01:40.91 | (WR) | Still running great |
| 2 | Nijel Amos | | 01:41.73 | (WJ) | Went out in 1st round. Hasn't medalled since 2012. |
| 3 | Timothy Kitum | | 01:42.53 | (PB) | 8th at Kenyan Trials. Hasn't medalled or broken 1:43.6 since. Allegedly 17 in London. |
| 4 | Duane Solomon | | 01:42.82 | (PB) | Out in 1st round at US Trials. |
| 5 | Nick Symmonds | | 01:42.95 | (PB) | Won silver in 2013 but didn't make US team this year. |
| 6 | Mohammed Aman | | 01:43.20 | (NR) | Allegedly still just 22, went out in semis. |
| 7 | Abubaker Kaki | | 01:43.32 | (SB) | Hasn't competed at Worlds or Olympics since. |
| 8 | Andrew Osagie | | 01:43.77 | (PB) | Didn't compete all year |
And Rudisha has won global finals using all sorts of tactics. In 2011 and 2012, he went wire to wire. In 2015, he ran a huge negative split. And today, while running a fast first lap, he came from behind.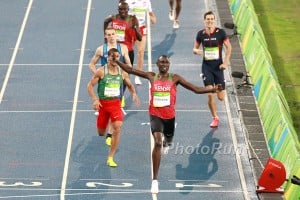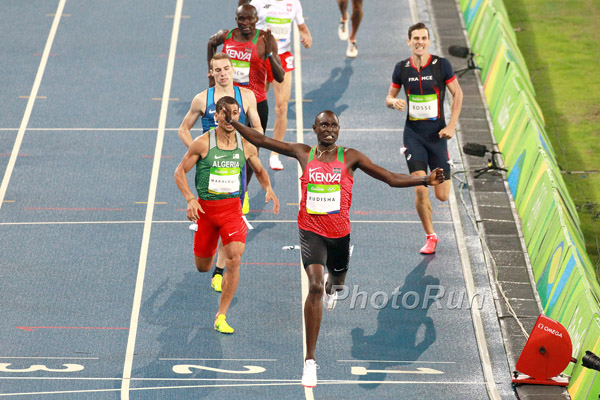 Quick Take #2: David Rudisha told his Kenyan teammates exactly what he was planning on doing
Before the race, Rudisha told Kipketer and Rotich that he planned to take the lead from the gun and make a hard move with 300 to go. Kipketer didn't listen, and tried to run his own race. It didn't work.
"My plan was to run from the front as usual," Rudisha said. "I told them that I'm going to lead the race, but it's unfortunate Alfred Kipketer, after the gun went, he decided to run the first 100, 200 like a bullet. When I saw the time was too fast, I decided to settle behind."
Rudisha's defining trait is his breathtaking speed, but his confidence in his own ability is a close second. Four years ago in London, he told the athletes in the call room that he was going to go out hard, saying, "If you want to die, follow me." How many athletes tell their opponents their strategy before the Olympic final not once, but twice, and win both races?
Quick Take #3: Clayton MF Murphy (We have a lot more on Murphy in a seperate article here: Unbelievable: Clayton Murphy Goes From 1:56 800m Runner to Olympic Bronze Medallist Talking World Record in Four Years)
Murphy came into the Olympics with a 1:44.76 pb and left with a 1:42.93 and bronze medal. Wow. He's now the third-fastest American of all time, .02 faster than Nick Symmonds ran in London four years ago.
All-time fastest Americans at 800 meters
1. Johnny Gray 1:42.60 (1985 Koblenz)
2. Duane Solomon 1:42.82 (2012 Olympics)
3. Clayton Murphy 1:42.93 (2016 Olympics)
4. Nick Symmonds 1:42.95 (2012 Olympics)
5. Mark Everett 1:43.20 (1997 Linz)
Murphy's fast time may have surprised a few observers — it was a 1.37-second PR from the 1:44.30 he ran in the semis — but not Murphy, who was prepared to do whatever it took to wind up on the podium. Here's what he told us after the prelims: "If it takes 1:42 to medal, I've gotta run 1:42," Murphy said. "I think I'm in the best shape of my life. If that's what it has to be to medal, then I'm ready for it."
Looking back at the 800s Murphy has run over the past two years, it makes sense. Between 2015 and 2016, he ran a grand total of five non-championship 800s and he won all of them. Even when he beat Berian at Drake earlier this year, he "only" ran 1:46.71 as the conditions were horrible, rainy and cold. Tonight was the first truly fast 800 he got to run.
Tactically, Murphy's race tonight was a masterclass, made all the more impressive by the fact that he is 21 years old and just finished his junior year of college. Murphy got valuable international experience last summer — he earned Pan Am gold, NACAC silver and was a World Championship semifinalist — and stayed remarkably calm in both the semis and final at the Olympics, running the shortest distance possible for most of the race and passing at the right times.
Rudisha, who was in the same race as Murphy for all three rounds, was full of praise for the young American afterwards.
"I congratulated him in the semi because he ran very smart… He's a smart racer. I 'm very proud he was able to run well and maintain the form…I think he's the kind of personality and athlete who understand his body well and in a few years there is a great future."
Much More on Murphy's historic night:  Unbelievable: Clayton Murphy Goes From 1:56 800m Runner to Olympic Bronze Medallist Talking World Record in Four Years)
QT #4: Boris Berian Keeps His Head High
World indoor champion Boris Berian ended up last in the final, but he kept his head high afterwards. He said, "I guess I'm still inexpereinced with rounds, but it's the Olympics, the Olympic final, so it's not easy. I'm grateful to be here. I'm Olympian and forever will be so I'm happy for that."

Berian's demeanor visibly picked up when asked about whether Murphy's bronze medal made his own disappointment worse or better. Berian said, "It's cool, [he's the] first American in years to medal so that's great. We've got a young, strong 800m group. I look forward to racing him in the future. We'll definitely be pushing each other."
When Berian was asked how he knew there would be other finals like tonight he said, "I'm confident. I've got some fight. I'm not going to give up that easy."
Quick Take #5: Alfred Kipketer and Pierre-Ambroise Bosse ran to win, and it may have wound up costing them a medal
At Worlds last year and in the rounds at the Olympics, Rudisha has used the same strategy in every race: get to the lead early and rely on his unparalleled combination of speed and endurance to carry him to victory over the final 200 meters.
Rudisha only went out in 24.8 during his prelim (he was second but got to the lead by 300) and was able to get to the front during the semis without too much trouble, going out in 24.2. Considering how dominant Rudisha has looked, the best race plan for someone looking to beat him was to not allow Rudisha do what he wanted to do: control the race from the front.
Kipketer, who has a history of going out extremely fast (MB: 16-year old Kenyan goes out in 48.32 for 800, holds on and (barely) wins World Youth Gold, video), was the man best-suited to do it, so it made sense for him to try to get the lead. Rudisha was forced to go out faster than he wanted — 23.4 — and was still only second at 200 behind Kipketer.
The problem was, Kipketer kept going too quickly for the second 200; his 400 split was 49.3, and even that was misleading as he forced himself to slow way down just before the bell, perhaps because he saw on the clock how fast he was going. Once Kipketer got passed, his medal chances quickly vanished, but he should be commended for trying to beat Rudisha rather than excoriated for going out too hard.
Bosse, similarly, tried to match Rudisha's massive move on the backstretch, not wanting to get gapped for gold, but nobody was hanging with Rudisha tonight. Rudisha accelerated really hard and Bosse tried to go with it. Really hard moves from that far out often backfire, especially when the pace is already quick through 400 meters. It didn't wind up hurting Rudisha, the greatest 800 runner in history, but it did hurt Bosse, who ran out of steam and was passed by Murphy. Bosse closed his final 200 in 27.2, while Murphy, who unlike Bosse, moved up gradually, closed in 26.0. Again, this is not meant to insult Bosse or discredit Murphy. But when there's a monster like Rudisha in the race, running to win and running for a medal can be two very different things and have a huge impact on who winds up on the podium.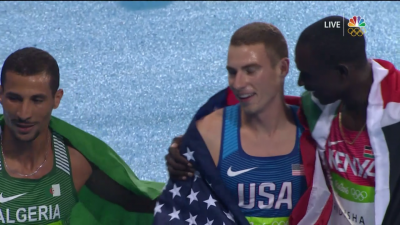 Talk about the race on our world famous messageboard.
Here are some screenshot from the NBC broadcast. Click for larger image.