Was the Great North Run Fixed? Chicago is Loaded (Up Front) With Talent, Betsy Saina's Dream 2014, NCAA XC Gets Under Way and Proof That Indoor Track is As Fast As Outdoor
The Week That Was In Running – September 1 – September 7, 2014
by LetsRun.com
September 10, 2014
Most of the big news last week came from the final Diamond League meet of the year. Full coverage of the 2014 Memorial van Damme – Brussels DL can be found here.
Previous versions of the Week That Was can be found here.
Article continues below player
Questions? Comments? Email us.
****
Betsy Saina's Unreal 2014 Continues
Last week the focus for most was justifiably on the Diamond League final in Brussels, but there was some really good road racing going on that garnered very little attention. We thought we should highlight some of that action now.
No, we're not talking about the Great North Run where Mo Farah ran 60:00 and Mary Keitany ran a ridiculous 65:39 – that got plenty of attention and was shown live on the BBC. We'll have more on that later but wanted to talk about a race in the Netherlands.
In the Netherlands, at the Brabants Dagblad Ten Miles of Tilburg on Sunday, Kenya's Bernard Koech ran 45:12.
Let's try to put that in perspective for you. David Monti reported that the 26-year-old Koech, who has the US all-comers record for 13.1 at 58:41 and debuted at 2:04:53 in Dubai in 2013 and twice has run under 2:06:30 since then, went through 10k in 27:42 (5k in 13:45). Then he had to run another 3.786 miles. He did slow down a bit. His overall average pace was 4:31.2 per mile but he averaged 4:27.5 for the first 10k and 4:37.3 from 10k to the finish.
Nonetheless, according to the Association or Road Race Statisticians, Koech is now the 9th-fastest man in history at 10 miles and 45:12 is is the 13th-fastest time ever recorded at 10 miles. The world record for 10 miles was set at the same race in 2005 by Haile G at 44:23.
The 10 fastest men at 10 miles are all pretty accomplished guys.
History's 10 Best at 10 Miles


   44:23.0      Haile Gebreselasie (ETH)    - no superlatives needed. The GOAT?
   44:27a       Leonard Patrick Komon (KEN) - World xc silver, road 10k and 15 WR holder.
   44:38a       Samuel Tesfemariam Tsegay (ERI) -half marathon silver this year, 2:07:28.
   44:45a       Paul Koech (KEN)                - 12:56/26:36/2:07:07
   44:51        Martin Irungu Mathathi (KEN)    - 13:03/26:59/2:07:16, 2 world xc bronzes
   45:02a       Daniel Kipchumba Chebii (KEN)   - 59:49 half marathon pb.
   45:08a       Charles Kamathi Waweru (KEN) - 13:02/26:51/2:07:33, 2001 world 10,000 champ. 
   45:10        Samuel Wanjiru Kamau (KEN)    - Olympic marathon champ 2008.
   45:12        Bernard Koech  (KEN)          - 58:41/2:04:53
   45:13a       John Mwangangi Nzau  (KEN)     - 59:45/2:08:06, world half bronze 2012
Koech wasn't the only good road racer to have a great weekend.
The sensational summer of two-time NCAA champ Betsy Saina continued in the women's race in Tilburg as in the 10km Rabobank Tilburg Ladies Run, Saina ran a world-leading 30:46 and beat two-time world cross country champion Emily Chebet by 19 seconds.
Saina entered the year with a 31:15 10,000, ran 30:57 at Stanford and now has dropped it even lower on the roads to 30:46. In between all of that, she's also lowered her 5000 pb from 15:12 to 14:39 and won Falmouth.
In 2014, Saina has lowered her 10,000 pb by 29 seconds and her 5000 pb by 33 seconds. Very impressive stuff.
She's clearly thriving under the guidance of Scott Simmons and the American Distance Project in Colorado Springs (despite the name, Saina still runs for Kenya). So much so, we're wondering how did she only win two NCAA titles at Iowa State?
Dartmouth's Abbey D'Agostino ended her collegiate career with basically the same collegiate pb as Saina (D'Agostino ran 15:11) but D'Agostino managed to win 7 NCAA titles during her career.
In case you missed it, we caught up with Saina after her win in Falmouth last month:
More: Messageboard: Bernard Koech (Chi-bound) 45.12 10miles and Betsy Saine 30.46 10k: both WL

Other road news of note: Geoffrey Ronoh Gets Another Surprise Win, Upstaging Geoffrey Mutai And With A CR At The Birell Prague Grand Prix 10K Ronoh ran 27:28 to Mutai's 27:32. Coretti Jepkoech won the women's race in a CR 31:05. *Race Highlights Video
****
2014 Chicago Has Us Excited – Focus is On Quality, Not Quantity
Koech's great form last weekend is good news for Chicago Marathon fans, because three days before Koech's big 10 miler, the full elite fields for the 2014 Bank of Chicago Marathon were released and Koech is one of the leading men.
Any fears that Kenenisa Bekele would have a near-guaranteed victory at the start line like he did in Paris are officially over. For the third straight year, the Chicago Marathon is scheduled to feature five sub-2:06 performers (2012 field here, 2013 field here, 2014 field here).
In addition to Bekele and Koech, the race is also scheduled to include Tokyo course record holder (2:05:42 this year) Dickson Chumba as well as Sammy Kitwara, who has a 58:48 half pb and has twice broken 2:06:00. 2003 world 5000 champ Eliud Kipchoge will also run in Chicago and he has taken to the marathon like a fish to water as he's run three of them since debuting in April of 2013 and the slowest was 2:05:30. Kipchoge's 2003 world championship win in the 5000 is very much underappreciated. To win that gold, he beat both Bekele, who got bronze, and Hicham El Guerrouj, who got silver.
Kitwara, like Koech, displayed strong pre-Chicago fitness last week as he ran a course-record 60:24 to comfortably win the 2nd Luanda International Half-Marathon in Angola – a race that featured a ton of big names from Africa including Zersenay Tadese (61:45), Wilson Kiprop (61:51), and Samuel Tsegay (62:05).
It's good that we know that Kitwara and Koech are in great form five weeks out from Chicago as it's clear that in 2014 Chicago is focusing on quality, not quantity. The number of sub-2:05 guys has been the same in recent years but the number of sub-2:10 guys is drastically different from two years ago. In 2012, Chicago had 13 sub-2:10 guys committed to the field. This year, there are seven.
Depth is a tricky thing as the marathon can be a crapshoot. If all of the elites are on their game, the ninth sub-2:10 guy isn't needed. But if you've only got a handful of true studs and some of them come in out of shape, then a race can quickly go from compelling to a blowout.
On the women's side, the focus is also on quality, not quantity. There are only four sub-2:25 women on elite list (there were 8 in 2012 and 2013) led by sub-2:20 performers Rita Jeptoo and Florence Kiplagat.
Are the numbers down because a 2:09 guy or 2:25 woman would rather go to a lower-tier marathon and win? Are they down because Chicago's budget is down? Or are they down because the focus is on a big-name like Kenenisa Bekele instead of quantity?
We don't know. If you 've got an idea, send us an email.
****
What About The Sport? Was Mo Farah's GNR Race Run Fixed?
Even though we think there is nothing wrong with just being super popular for two weeks every four years, we constantly are on the lookout for ways to improve the sport.
When we ask, "What about the sport?" we generally are thinking about things that if the sport had a commissioner simply wouldn't be allowed. Perhaps, we should start an "Unofficial Commissioner" part of the site where all of our "What about the sport?" questions go.
Running would benefit greatly if the focus was (nearly always) on competition, first and foremost. Times should be secondary. Running has always had a sort of universal appeal as "first one to the finish line" is a sporting contest that probably all human beings have participated in at some point in their lives.
The problem is there is no commissioner or set schedule to force people to compete against each other. Two examples from last week.
1) In the men's 100 in Rieti last week, both Asafa Powell and Justin Gatlin ran 9.90 or faster. Amazingly, they were in separate races. Truly embarrassing.
Yes you read that right. They ran in separate races.
Imagine if fans went to a baseball game and instead of playing each other, the two teams decided to play two intra-squad scrimmages one after another.
2) The ending of the Great North Run where Mo Farah 'outkicked' his sometimes training partner Mike Kigen for the win in 60:00 had many people fuming. Many fans believed that Kigen slowed down in the latter stages of the race and refused to break Farah. Here is what a website visitor posting from Northern Ireland under the not-so-creative name of "Uk viewer" had to say about the race:
I did watch the whole race and it was a joke. Kigen got a gap on Mo numerous times over the last few miles and was clearly slowing and looking back for Mo to catch back up. He also didn't contest the sprint with Mo.
He let Mo go when he kicked with 200m to go, then caught right back up to him in the last 50m or so, but made no effort to even try to get by.

I have been watching athletics for 20+ years and this was not a race!
Was the race fixed?
If it was, it most certainly wasn't officially fixed by a race director. Kigen likely simply knew it was in his best interest not to drop Farah, similar to how at the end of the 2012 Berlin Marathon when many believe Duncan Kibet Dennis Kimetto realized it would be better if Geoffrey Mutai got the win and the $500,000 WMM bonus.
Whether the 2014 GNR was actually fixed or not, the fact that we are even debating if it was fixed shows you the problems the sport faces, as do these quotes:
"If it wasn't for how high he thinks of me, he could have really had a go at one point," said Farah to The Telegraph.
and
"To be honest I couldn't have gone much quicker anyway. Mike and I had chat with about 800m to go and he said for me to go but I couldn't really drop him," said Farah to Athletics Weekly.
At a minimum, we know that Farah says Kigen took it easy on him and that one competitor told another competitor to drop him. That's pretty absurd. And these are things competitors are admitting to.
The potential fixing of a race in any other sport would be HUGE, HUGE news. In track and field, it's only a minor story.
Why? Because in some ways every race save the world or national championships is nothing but an exhibition. And to be be honest, many races are fixed unofficially before they even start with the way the fields are set up – one star is brought in, everyone else is an also-ran, of course the star wins.
Now please don't say that our talk of this potential race fixing is ridiculous or the result of us having some anti-Nike bias as one messageboard poster insinuated last week after we referred to Mary Slaney as a doper.
That type of nonsense talk amazes us. When we have defended Paula Radcliffe in the past, was that because of a pro-Nike bias? The facts are more of the very top athletes are sponsored by Nike than any other company. The majority of our talk is focused on the super elite so the statistics mean that Nike athletes are going to get criticized (and praised) more often.
This talk isn't some crazy anti-Nike/NOP rant that we are creating to stir up controversy. Don't believe us? Take the words of Brendan Foster, Paula Radcliffe and Steve Cram – the three commentators on the BBC – as they devoted a good portion of the final mile to wondering themselves if the race was fixed.
You can watch the last mile from the race for yourself below. It's pretty amazing if you haven't seen it.
Here are portions of an exchange in the final mile between Foster, Radcliffe and Cram as Kigen and Farah entered the final mile:
Brendan Foster: Over a 400-meter sprint, Mo would clearly be the fastest. It's going to be very close to the 60:00…
It hasn't been a year for Mo Farah of personal bests for Mo. Could it be today?
Paula Radcliffe: Well I'm just wondering if that's been his aim all along here today, Brendan. Watching him there, has he been working together today with Mike Kigen to try and break that 60-minute barrier? Which is a huge barrier and it looks as though if this race by Mike Kigen has almost been set up perfectly to get Mo under that barrier here today.
So we might see the first British winner for a long time, but I think more importantly we might see them go under the 60-minute barrier.
Steve Cram: Well Kigen is almost encouraging Mo Farah, chatting away to him there. You may well be right Paula. He's done a great job here for Farah if that turns out to be the case….They seem to be running together now. It seems as if Kigen is just allowing Mo to run alongside him, and they did have a little bit of a chat a minute or so ago.….
Kigen almost waiting for him again.
Watch the final mile on with your own eyes below. (Click on the image below to be taken to the final mile on YouTube.)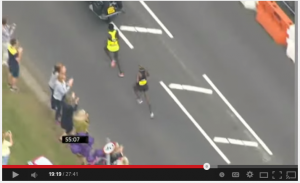 The fact that a race live on the BBC (with a Nike athlete Paula Radcliffe commentating) was being debated for potentially being fixed is pretty amazing.
See the messageboard discussion of the race here: MB Discussion: Mo Farah Runs 60min in the Great North Run!!! Great race, Sprint finish between Mo and Kigen.
More: *GNR 2014: The latest episode in the constructed reality of Mo Farah | The Outside Lane *Justin Gatlin Wins Rieti 100m In 9.83 Seconds As Asafa Powell Wins A Separate Final At The Same Meet In 9.90 Seconds
****
Quote of the Week I (that wasn't quote of the day)
It's a shame that the setting of Newcastle now seems most-fitting for the latest episode of the Mo Farah constructed-reality show for his victory that was decided in the final kilometre appeared just as scripted – and distasteful – as the television show, Geordie Shore…..
Sport is entertainment but gone are the thrills of open competition (and a potential Farah upset) and in its place have come constructed races that seem built entirely with 'brand-Mo' in mind."
– British athletics writer Chris Rainsford writing about the Greath North Run for theoutsidelane.org.
***
Quote of the Week II (that wasn't quote of the day)
"I was incredibly uncoordinated, gangly, prone to hitting people with my hockey stick, tripping over my feet playing football or whatever," she recalls.
"Consequently, I always had the humiliation of being picked last for the teams, so I wasn't that fond of team sports. The individual nature of athletics definitely appealed to me,"
– new UK high jump record-holder Isobel Pooley talking to Athletics Weekly about how she got her start in the sport at her club athletics club at age 12.
***
Quote of the Week III (that wasn't quote of the day)
It is common knowledge that when you do something over and over again, you won't get different results.
It is only saints and madmen who may have the patience to water an asphalt pavement and have faith that roses and violets shall reward their labour.
It is futile faith that can only be cured by a psychiatrist and other guardians of the mental balance.
Stat of the Week I
– 13:01.26 – Galen Rupp's indoor 5000 pb.
– 12:58.90 – Galen Rupp's outdoor 5000 pb.
– 3:33.78 – Galen Rupp's indoor 1500 pb (converted from 3:50.92 pb using 1.0802 conversion)
– 3:34.15 – Galen Rupp's outdoor 1500 pb after last week's run in Brussels.
In case you are wondering, the difference between his indoor pb and outdoor pb for 5000 is .30%. For the 1500, it's just .17%.
Coming into the year, Nick Willis had said in 2014 we might find out if indoor track really was any slower than outdoors.
Rupp's stats certainly indicate that for him there seems to be little-to-no difference. Top coach Renato Canova has even gone a step further. Two weeks ago, he wrote on the LetsRun.com messageboard that indoor tracks might actually be faster than outdoor tracks. Canova said that several of his athletes like Edwin Soi and Caleb Ndiku have indoor 3000 pbs that are faster than their outdoor pbs even though they did significantly less training to get in shape for indoors. Canova thinks it's easier to run faster indoors because there is always zero wind and because of the bounce of the indoor surface.
More: Renatova Canova talks about why he thinks its easier to run fast indoors than out.
*Nick Willis talks about wanting to find out if indoors is slower than outdoors
****
NCAA XC Continues To Get Underway/Email Of The Week
Last week, we finished up our NCAA cross country pre-season top 10 team and individual countdown. Then the xc season continued to get underway (click here for all results) and we must admit we are feeling a bit better about our pick of the Michigan State women at #2 – the coaches' poll had them at #6 – after they walloped a less than full-strength Oregon team at the Dellinger Invite.
On the men's side of things, our concerns about Eric Jenkins maybe not being a true xc guy- we ranked him #4 but some on the staff didn't want him in the top 10 – certainly weren't reduced as Jenkins was just 5th for the Ducks and 7th overall. It's hard to finish 4th at NCAAs when you are only #5 on the team.
However, we got an email last week that makes us feel a lot better about Jenkins' prospects.
Here's an email from a former teammate of Jenkins at Northeastern:
I see that you (and others) keep pegging Eric as a 1500 guy, but as someone who trained with the kid for 3 years, I've got to disagree. The only reason he was running the 1500m/5000m events was because he was still so young, and the coaches were against moving a kid like that up in distance because they were afraid to get him injured.
In fact, I would bet on him being able to run under 28:00 on the track right now. At Northeastern, we did almost no anaerobic or race pace workouts whatsoever (maybe once per season, besides the actual races) for the first 2.5 years of college. The kid turned into a beast on long runs. Every Saturday would be 18 miles fast, with the first 14 around 1:23:00, under 6 minute pace, and then he would run the last 4 in under 19:00. I'm telling you, this was every week. Eventually this turned into 6xmile in 4:27 average, with 2 minutes recovery leading up to that Payton Jordan 13:18 for 5000m. I'll agree with the statement that he's a better track runner, because his rhythm is so smooth. However, I can't see him losing to more than 5 guys in November.
More: XC Results
Editor's Note: The first version of this article didn't include the email from Eric Jenkins' ex-teammate as we were still waiting for permission to publish it.
****
Photo of The Week
Runner's World's Mark Remy noticed an uncanny resemblance between American marathon star Ryan Hall and six-year-old Jaden Merrick, who recently set a 5k world record for age 6 at 22:26.
More: RW on The Look-alikes
****
Good Week/Bad Week
Those that had a good week last week included:

Usain Bolt – He called for lifetime bans for intentional drug cheats and admitted he couldn't have beaten Justin Gatlin this year.
China – They became the first country to match the IOC's $10 million donation to the anti-doping fight.
Keshorn Walcott – The 21-year-old Trinidadian javelin thrower received a $393,000 house from his government as well as $157,000 in cash for winning gold in London. We were going to say, "Can you imagine the outrage if the government in the US spent taxpayer money to reward an athlete?" Then we realized that the US government spends millions on stadiums for athletes.
LetsRun.com – In addition to predicting an upset victory for Brenda Martinez in the Brussels DL 800, we hosted our 6 millionth post last weekend.
On the negative side of things, did anyone besides us notice who was last in the 3000 in Rieti? One of America's biggest talents – German Fernandez. In a 7:34 race, the struggles of Fernandez continued as he managed just 8:04.83.
Fernandez did pop a 3:38 on July 5th but since then it's been a struggle for him.
****
Recommended Reads
A Key Part Of Seb Coe's 1984 Olympic Preparations Were Spent Alone In America While Living With Legendary HS Coach Joe Newton
Spikes Talks To Jamaican Cancer Survivor Novlene Williams-Mills Who Is This Year's Overall 400m Diamond League Champion She found out she had cancer right before the 2012 Olympics but still competed. And now after a trying 2013 she's back on top as the DL champ and CG silver medalist.
SPIKES catches up with Kaliese Spencer – If you fail at first, keep trying. The woman who has suffered a lot of heartache in the past is dominant in 2014.
Usain Bolt makes rare US appearance, does great Q&A with NBC
*Calls for lifetime ban for drug cheats
*Says he wouldn't have beaten Justin Gatlin this year
*MB: Bolt is the man – Calls for lifetime bans for drug cheats, says he couldn't have beaten Justin Gatin this year
Meet Foot Locker champ Grant Fisher: The Two-Sport Star Is Having A Ball Balancing Soccer and Running Only the fifth boy to ever win the US HS champs as a junior, Fisher is a BIG-time talent who still plays soccer year-round.
MB: Canadians rejoice – Grant Fisher is Canadian born – (Very good Running Times Profile)
****
Quotes Of The Day & Last Week's Homepages:
Note: To see a particular day's homepage, click on the hyperlink of the date. The hyperlink below the date on the quotes will take you to that particular article – not that day's homepage.
---
– The time and place of the Great North Run Half Marathon's one millionth finisher, 51-year-old Tracey Cramond. The UK race is the first in history to break the million finishers barrier. As there were 3,421 people behind Cramond, the race is now up to 1,003,421 total finishers.
---
– New Zealand up-and-coming shot putter Tom Walsh talking about playing fantasy football with the Americans, whom he spent the season hanging out with on the pro track circuit.
---
– Qatar's Mutaz Essa Barshim after jumping 2.43m in Brussels to win the overall 2014 Diamond League high jump crown, set a DL and Asian record, and become the second highest jumper in history only behind Javier Sotomayor's (Cuba) 2.45m from 1993.
---
– Excerpt from a feature on the rise of cross-country at Syracuse thanks to Chris Fox and Brien Bell. The 'Cuse men won three of the last four Big East titles and then last year won ACC title #1 and finished in the top 10 for the first time in 56 years. 2014 NCAA XC Preview Here.
---
– US HS sensation Grant Fisher, one of five underclassmen winners of the Foot Locker HS XC champs, talking about his beginnings in the sport. Fisher still plays soccer year round but does come from great running stock – his grandpa was fourth in the NCAA 5k for Wash. State.
---
– Meb Keflezighi writing a Facebook post on the 10th year anniversary (August 29th) of his 2004 Olympic marathon silver medal.
---
– Excerpt from an IAAF interview with Olympic and World marathon champion Stephen Kiprotich.
Questions? Comments? Email us.