LRC $50 Tipper and Special Guest Des Linden Joins the Podcast + Kipsang Suspension, Rupp's Coaching Change Des Linden gave a $50 tip to the LRC podcast. She explains why. Listen and subscribe today to the podcast.
The London Marathon Men's Field Is Out
Ethiopian Duo Mosinet Geremew And Mule Wasihun Will Return To Challenge Eliud Kipchoge Again At The 2020 London Marathon At last year's London, Gerewmew ran the fifth fastest time in history (2:02:55) to finish just 18-seconds behind Kipchoge. Washihun was third in 2:03:16. The field also includes last year's fourth placer Shura Kitata, Tamirat Tola (2:04:06) and another four sub-2:06 men.
*MB: London elite – Bekele is not there
Diack Trial Delayed
Lamine Diack's Trial Delayed Until June After New Documents Were Submitted To The Paris Court Concerning Testimony That His Son Papa Massata Diack Gave In Senegal World Athletics (the IAAF) is reportedly seeking 41.2m euros (£35.3m) in compensation from the six defendants (Diack, his son and other ex-IAAF officials). Diack asked the court to be allowed to return to Senegal to see his family, but his request was denied (not surprising since Senegal has refused to extradite the younger Diack). *2nd article
Another Day, Another Record Goes Down In Valencia – But This Runner Wasn't Wearing The Vaporflys
Rhonex Kipruto Smashes The 10k World Record With 26:24 In Valencia The world 10,000 bronze medalist took 16 seconds off Joshua Cheptegei's record set just six weeks ago. He also set the 5k WR en route with 13:18 (his second 5k was even faster with 13:06, but won't be record eligible). On the women's side, Sheila Chepkirui was just 3 seconds off the WR with 29:46. Rosemary Wanjiru and Norah Jeruto were a close 2-3 both timed at 29:51.
*Switzerland's Julien Wanders Breaks His Own European 10k Record With 27:13 Third-Place Finish
*MB: Rhonex Kipruto destroys 10k WR – not in vaporflys!
*MB: Adidas shoes WR!!!!
*MB: Are the new Addidas Adizero Pro better than Vaporfly?
*MB: Julien Wanders new ER record –27:13!!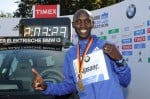 If the charges hold, he will be the most prominent men's marathoner to break anti-doping rules. *Discuss
Indoor Season Will Be In Full Swing Soon
Upcoming Road Action
January 19: Past Winners And Top Americans Will Lead Elite Fields For The Houston Marathon And Half Marathon In the men's half, Americans Shadrack Biwott, Jared Ward, Sam Chelanga, Diego Estrada and Matt Llano face Ethiopian record holder Jemal Yimer (58:33), defending champ Shura Kitata (59:16) and Jake Robertson (59:58). Jordan Hasay, Molly Huddle, Sara Hall and Aliphine Tuliamuk lead the American women against #8 all-time Caroline Kipkirui (65:07). In the marathon, Asian record holder Hassan El Abbassi (2:04:43) leads the men's field while Biruktayit Degefa (2:22:40) will try to defend her women's title.
Sunday: World 10,000 Bronze Medalist Rhonex Kipruto Lining Up Against European Half Marathon Record Holder Julien Wanders At The Valencia 10k Kipruto said after this he'll turn his attention to training to make the Kenyan Olympic team in the 10,000.

LRC 2020 Tokyo Predictions Podcast + Best Of LetsRun.com 2019 Who is more likely to get gold? Kenenisa Bekele or Evan Jager, Shelby Houlihan or Matthew Centrowitz, Ajee' Wilson or Donavan Brazier? What about Bryce Hoppel or Clayton Murphy, Mo Farah or Muktar Edris? Who gets more medals? Jerry Schumacher's Bowerman Track Club or Pete Julian's unnamed group? Plus of course Alberto Salazar and Mary Cain talk.

The Decade Has Ended

LRC LetsRun.com's Decade Awards: Alberto Salazar Is Our Person Of The Decade + Best Runner, Best Upset, Doping Excuse Of The Decade, & More! In a decade marked by controversy, it's fitting that Alberto Salazar is our Person of the Decade as controversy clung to Salazar like a paper clip to a magnet. Plus who wins our world and US athlete of the decade honors?

LRC US And World Runners Of The Decade: Jenny Simpson, Matthew Centrowitz, Caster Semenya And Eliud Kipchoge 

LRC 2019 LetsRun.com World And American Rankings: Donavan Brazier And Ajee' Wilson Are World #1s The 6th annual world and US distance rankings are here and for the first time ever two Americans are #1 in the world in their events.
Rojo Speaks: The 2010s Are History: It Was Both The Best And Worst Of Times For Track And Field Fans What a crazy decade. From Chris Solinsky's 26:59 at the start of the decade to Brigid Kosgei's 2:14:04 at the end, there were plenty of high highs but the lows were also big as well as Olympic champs at 800, 1,500, steeple and the marathon were all banned from the sport. What does it all mean? LetsRun.com co-founder Robert Johnson looks for meaning and tries to figure it all out by taking you back in a time machine to January 1, 2010.
Want a Better Running Shoe?
Beta Better Running Shoe Site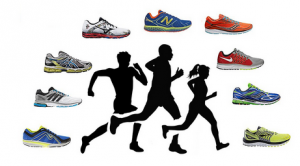 It's Time to Change How We Find Running Shoes