Former Marathon World Record Holder Wilson Kipsang Suspended for Whereabouts Failures & Tampering Violations
By LetsRun.com
January 10, 2020
Another marathon titan has been suspended for anti-doping violations.
On Friday, the Athletics Integrity Unit announced that Kenyan marathoner Wilson Kipsang, 37, the former world record holder in the marathon, had been provisionally suspended for two separate anti-doping violations, whereabouts failures and tampering.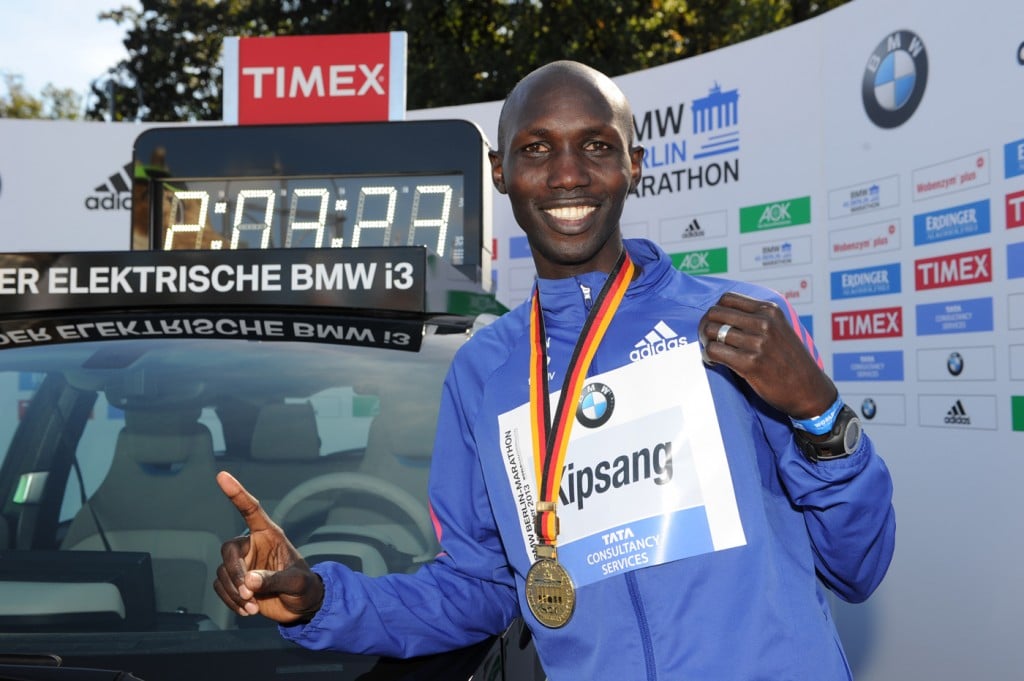 While the sport has seen several high-profile female Kenyan marathoners fall — including three-time Boston champ Rita Jeptoo and 2016 Olympic champion Jemima Sumgong — Kipsang is the biggest male marathoner to ever be suspended. Kipsang ran 2:03:23 to break the world record at the 2013 Berlin Marathon, one of his five World Marathon Major victories (he also won New York, Tokyo, and London twice), and earned the Olympic bronze medal in 2012. No man has broken 2:04 more times than Kipsang (four), whose 2:03:13 pb is tied for #6 all-time.
Article continues below player.
Kipsang, who wrecked his car and sustained minor injuries in an accident in Kenya last month, is also the only man to have defeated Eliud Kipchoge in a marathon (2013 Berlin).
While Kipsang struggled in his most recent race — 2:09:18 for 12th in London in April 2019 — he was the most successful marathoner of the 2010s aside from Kipchoge and one of the most accomplished of all time.
The AIU did not release any further details on the case, other than the charges of whereabouts failures and tampering. If upheld, Kipsang faces a four-year suspension.
Quick Take #1: Another huge name falls
It can be bittersweet when a massive name such as Kipsang is suspended. Yes, the sport is better off without cheaters in it, but it comes with a realization — every Kipsang performance is now tainted. Every time another big name goes down, it becomes that much harder to believe in the other athletes at the top of the sport.
Privately, we had heard rumors about Kipsang as far back as 2017, when a pro runner approached us at a major marathon with their suspicions. After hearing the news today, that pro was unequivocal, calling us up and saying that it was a great day for the sport.
The good news is that the Athletics Integrity Unit continues to show that it is willing to go after the biggest names in the sport. Olympic champions Sumgong, Ruth Jebet, and Asbel Kiprop have all been busted in recent years, as has former half marathon world record holder Abraham Kiptum. It also shows that Kenya continues to have a serious doping problem.
Quick Take #2: The tampering charge is damning
When an athlete is banned for whereabouts failures, there can be a glimmer of hope that they didn't actually dope. Someone like Brianna Rollins — who was banned for whereabouts failures in 2017 — or Christian Coleman (who wasn't banned but registered multiple whereabouts failures) can present their defense, and it's up to you to believe it or not.
Kipsang will have his chance to appeal as well — his suspension is provisional for now — but when you add in the tampering charge, it becomes harder to believe what he has to say.
UPDATE: Kipsang's agency, Volare Sports, released the following statement on Friday:
As the management of Mr Wilson Kipsang we have received the Notice of Charge regarding an alleged Anti-Doping Rule Violation by Wilson. It concerns alleged Whereabouts Failures (article 2.4) and alleged tampering or attempted tampering (article 2.5). At this point it is only an accusation.
We emphasize that there is no case of use of doping. No prohibited substance was found. The accusation regarding alleged/attempted tampering (article 2.5) concerns an explanation that was given in the results management process regarding a possible Whereabouts Failure and does not concern tampering with a doping test itself.
Pending the case and our own investigation we will not communicate anything more about it.
Quick Take #3: Taint by association?
It is only natural when a star gets busted to see who they train with and are coached by. Kipsang was self-coached but was known for training with two titans in the sport, Geoffrey Mutai, the course record holder of the Boston and New York City Marathons, and Dennis Kimetto, the man who succeeded Kipsang as the world record holder in the marathon. Kipsang's bust means nothing about the innocence or guilt of Kimetto or Mutai (if Kipsang doped, he could have done it on his own and/or started doping recently to try to regain his former glory), but every time a star gets busted, the sport takes a blow and all star athletes come under more suspicion, starting with those closest to the athlete.
Quick Take #4: Kipsang had spoken out about Kenya's doping problem in the past
Kipsang missed an out-of-competition drug test in November 2014 — the same month he won the New York City Marathon — when he said he was in South Africa to attend a global athletics conference. At the time, he criticized Athletics Kenya for publicly announcing the missed test (at the time, three missed tests in an 18-month period triggered a ban; the missed test was Kipsang's first).
In 2015, following the suspension of Rita Jeptoo, Kipsang shifted the blame for Kenya's doping issues away from the athletes and said he believed more than 99% of Kenyan athletes were clean. He called on Athletics Kenya to better educate athletes on the issue.
"We have people taking advantage of the ignorance of some guys mainly to kill the sport," Kipsang told The Guardian. "There are lots of issues that are going on, which people don't understand. Many of the athletes don't know what EPO is. People have a plan to destroy a career of the athlete because of differences between athletes, or the athlete and the federation. A manager might take an athlete to a doctor and he is given something and when he comes to be tested, he is positive.
"It is not good for a country like Kenya or athletics but the number of Kenyan athletes who have doped is less than 1%," he said. "Many have taken tests and they are very clean. They should be trusted."
Kipsang also served as president of the Professional Athletes Association of Kenya, a union he founded in 2014 to represent athletes' interests against Athletics Kenya.
Discuss this doping suspension on our forums here: MB: Former World Record Holder in Marathon Wilson Kipsang Provisionally Suspended