LetsRun.com's Decade Awards: Alberto Salazar Is Our Person Of The Decade + Best Runner, Best Upset, Doping Excuse of the Decade, & More!
ByLetsRun.com
December 31, 2019
Everyone loves reminiscing and what better time to reminisce than at the end of a decade, which makes it the perfect time to hand out some awards. Race of Decade? We turned that one over to you guys and already have an answer. But for everything else that happened in the 2010s, look no further than this article right here. From Runner of the Decade to Upset of the Decade to Doping Excuse of the Decade, to Person Of the Decade, we've got you covered. So sit back in your favorite chair, put another log on the fire, pour a glass of eggnog, and enjoy as we hand out awards to the greatest — and occasionally, not so great — of the last 10 years.
Men's Distance Runner of the Decade: Eliud Kipchoge*
Article continues below player
With apologies to Mo Farah and David Rudisha, no man has dominated his discipline more thoroughly in the 2010s than Eliud Kipchoge. In fact, no man has ever dominated the marathon to the degree Kipchoge has in his career.
His consistency is perhaps the most staggering thing about Kipchoge. We have seen others approach Kipchoge's level in a single race. Wilson Kipsang finished just five seconds back of him at 2015 London. Guye Adole led Kipchoge with under 5k to go at 2017 Berlin. Kenenisa Bekele ran within two seconds of his world record this year. But as his rivals have ebbed and flowed, Kipchoge has been the event's anchor, six years and counting of constant brilliance. He has won 10 straight marathons, nine of them majors, and four of them in London, the single hardest marathon to win every year. The last time Kipchoge lost a marathon, Peyton Manning was in the midst of his final MVP campaign, Johnny Manziel still had a bright NFL future, and Meb Keflezighi had never won the Boston Marathon.
Kipchoge has shown exactly zero signs of decline; his last two marathons, 2:01:39 in Berlin and 2:02:37 in London, were the two fastest of his career. When Kipchoge made his marathon debut in April 2013, the world record was 2:03:38. The average of Kipchoge's 10 fastest marathons? 2:03:42. And those numbers don't include his 2:00:25 in Monza or his 1:59:41 in Vienna, performances that redefined the limits of human performance.
*Of course, whenever we talk about times and Kipchoge we have to mention the shoes. Since 2016, he's been running in some version of the Vaporfly — a shoe only an idiot would think isn't at least a full minute faster than any previous marathon shoe ever invented. At times, Kipchoge has even worn shoes — like during his 1:59:41 — that even other Nike pros have not had access to. 
During the 2016 Olympics, only a handful of pros had the Vaporfly prototypes as they weren't on the market yet. That's not right. Yet in Kipchoge's defense, all three medallists had the same shoe and he won by more than a minute. But would Kipchoge have won without the Vaporflys at 2017 Berlin, when he beat a Vaporfly-less Guye Adola by just 14 seconds? We aren't very confident he would have.
Without the shoes, Kipchoge would still be the most dominant and fastest marathoner in history but he wouldn't be as dominant, nor as fast. How much they have affected his results is impossible to say. Remember at 2015 Berlin, he had the worst footwear in the elite field and still crushed everyone to run 2:04:00. Shoes or not, the dude never loses.
Women's Distance Runner of the Decade: Caster Semenya*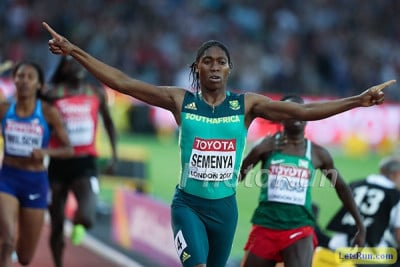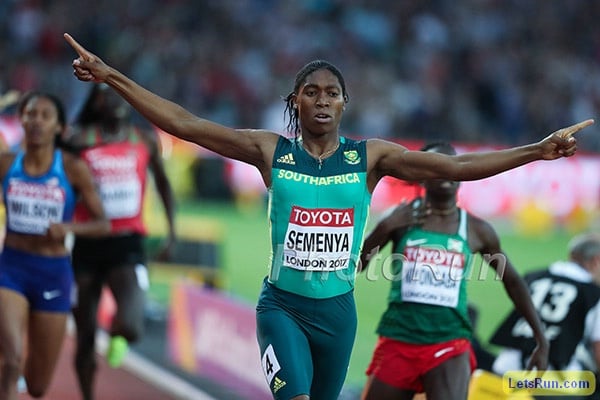 Solely based on her accomplishments, Semenya is the obvious pick. She won two Olympic and two world titles in the 800 this decade, and hasn't lost a race in her specialty event for over four years. She owns the nine fastest 800-meter times of this decade; no other woman came within a second of her 1:54.25 pb. And for fun, she won the 2016 Diamond League 400m final and medalled in the 1500 at Worlds a year later. Even Sifan Hassan would be jealous of that range.
*Of course, Semenya can no longer compete in the women's category without artificially lowering her testosterone levels — something she refuses to do. For some, that fact might make Semenya a controversial pick for Runner of the Decade. But perhaps that's fitting, since the question of whether athletes such as Semenya, Francine Niyonsaba, and Margaret Wambui should be allowed to compete in the women's category has defined the decade. Whether you agree with World Athletics' decision or not (we believe they got it right), the class with which Semenya has comported herself is inarguable. On the track, she is a gracious champion, always seeking out her competitors for a handshake or hug post-race. Off the track, Semenya has become a proud and defiant portrait of strength, despite being thrust into the global spotlight at age 18 and facing hatred, cruelty, and an unimaginable invasion of privacy.
US Men's Distance Runner of the Decade: Matthew Centrowitz
One American distance runner won an Olympic gold medal this decade and it came in one of the most glamorous events, the men's 1500 meters. It had been 32 years since any American had won an Olympic distance gold (Joan Benoit in women's marathon in 1984) and 44 years since an American man had done it (Frank Shorter/Dave Wottle in 1972). 
Centrowitz's pulse-pounding, wire-to-wire victory, the first by an American 1500 runner for 108 years, was an instantly iconic race. Yes, the winning time was 3:50.00, the slowest since 1932. No, that does not matter in the slightest.
While Rio was Centrowitz's finest hour, the perfect distillation of his remarkable tactical acumen, it was not the sole reason for this award. He earned more global medals than any other US male distance runner this decade, adding bronze in 2011 and silver in 2013 (and arguably should be bumped up in each considering he lost out to doper Asbel Kiprop both times) and was .04 out of a fourth medal in 2012. Centrowitz also claimed the World Indoor title on home soil in Portland in 2016 and added five US 1500 titles outdoors and two more indoors.
US Women's Distance Runner of the Decade: Jenny Simpson
This was, perhaps, the greatest decade in the history of American women's distance running. What has transpired in American women's marathoning over the past few years, from Amy Cragg's bronze medal at Worlds, to Jordan Hasay's 2:20 in Chicago, to WMM wins by Shalane Flanagan and Des Linden, is remarkable. Ajee' Wilson and Emma Coburn have consistently been near the top of their events. Molly Huddle did Molly Huddle things.
But no American woman had a better decade than Jenny Simpson. She entered it as the American record holder in the steeplechase, but never raced that event once. Instead, spurred on by a femur stress reaction that curtailed her 2010 season, she made the bold decision to switch to the more competitive 1500 meters. And, despite the pleas of one LetsRun staffer, it has proven to be one of the best decisions of the decade. 
Simpson is the most decorated American distance runner of the 2010s, male or female, with World Championship gold in 2011, silvers in 2013 and 2017, an Olympic bronze in 2016, and a dramatic Diamond League title in 2014. She has remained competitive throughout the decade; in October, a month past her 33rd birthday, she ran 3:58.42, her fastest time in over three years.
While outrageously talented for an American — her 3:59 collegiate record has not been seriously challenged in the 10 years since she set it — Simpson still seemed somewhat overmatched entering global finals. There was always someone with a faster personal best or a flashier kick. But few athletes have mastered the art of racing like Simpson. When the bell rings in a championship final, the goal, at that point, is to make it to the finish line as fast as possible. It's a simple concept, but easy to forget when someone starts gapping you with 300 to go and panic sets in. Yet Simpson clung to that truism no matter what, always making the decision that would result in the fastest time — even if it meant allowing that gap to widen initially, rather than shrink. More often than not, that patience and belief in her own ability culminated with a medal.
Upset of the Decade: Yuki Kawauchi Wins the 2018 Boston Marathon
Here's a selection of races that Yuki Kawauchi ran in the first four months of 2018:
-The Marshfield New Year's Day Marathon, a race held in -9 F windchill in Marshfield, Mass., which had just one other finisher. Kawauchi won in 2:18:59.
-The Yashio Shinai Isshu Ekiden, a 20k race in which Kawauchi, competing by himself, beat 103 six-person relay teams.
-Three separate heats of the 5,000 meters at the same meet, the Heisei Kokusai University Time Trials. He clocked 14:53, 14:36, and 14:37.
-The Kuki Half Marathon, in which he ran 70:03 in a full-length panda costume.
-The 122nd Boston Marathon, which he won in 2:15:58.
Kawauchi's win in Marshfield was his 76th career sub-2:20 marathon, a world record. After that race, he told Brett Larner, his manager/interpreter/biographer, "I hope that other runners, people who feel like they could never make a national team or run a world record time, will look at my record and say, 'I could do that.'"
While that somewhat undersells Kawauchi — he has represented Japan at the World Championships four times — it cuts to the core of what he means to the running world. Before (finally) turning pro this year, Kawauchi was a runner who had more in common with the masses than the elites. He couldn't accept appearance fees. He had to fit his training around a full-time job. When he won Boston last year, he had to ask his boss for permission to attend the champions' press conference.
Those type of runners aren't supposed to win the Boston Marathon, not in the age of the Nike Vaporflys and six-figure appearance checks. Come to think of it, neither are runners who average double-digit marathons per year or tune up for Boston by racing half marathons dressed as a panda.
Yet that is what Kawauchi did in a cold, windy rainstorm in Boston last year. Had the weather been normal, Kawauchi never wins that race. But April 16, 2018, was a day that rewarded runners who could suffer. It was the day Yuki Kawauchi was born for.
"What If" of the Decade: Evan Jager's 8:00 in Paris
Okay, so the answer to the question, "What if Evan Jager hadn't fallen on the final barrier of the steeplechase at the 2015 Paris Diamond League?" is pretty straightforward. He would have run around 7:57, narrowly missing the world record and becoming the first non-African-born person to break 8:00 in the steeplechase.
And that's pretty freakin' epic! Remember, this was before Jager's Olympic silver, before the golds by Centro and Coburn, before Shalane won NYC or Des won Boston. Here's what LetsRun wrote in our race recap:
During the last 20 years of watching professional track and field, we've never seen what almost happened tonight. An American-born runner taking on the very best in the world in a distance race and running away from all of them but one mid-race. It was stunning to see.
Now the race lives on as the most bittersweet of Jager's career. It was his fastest performance, and one that signaled to the world that he would be a medal contender for years to come. But four years later, Jager, who turns 31 in March, still hasn't broken 8:00 and may never do so.
Doping Excuse of the Decade: Shawn Barber's Craigslist Cocaine Hookup
Shawn Barber, the 2015 world champion in the pole vault, was facing a four-year ban from the sport after testing positive for cocaine at the 2016 Canadian Olympic trials. He avoided a ban after presenting one of the wildest explanations ever.
According to Barber, the night before he was scheduled to compete, he posted on the casual encounter section of Craigslist seeking to meet a woman as "a way to relieve stress." After selecting a mother of two — Barber believed she would be "more cautious, reserved" — Barber met her in a hotel room for sex, with her boyfriend present. According to Barber, no money was exchanged.
It was this woman, Barber argued, that was responsible for his positive test: she had ingested cocaine and, by kissing him, accidentally caused Barber to ingest cocaine as well. The woman testified that, yes, she had taken cocaine before Barber had arrived. This explanation satisfied the Sport Dispute Resolution Centre of Canada, which cleared Barber to compete at the Olympics and overturned his ban.
To make the story more confusing, Barber announced he is gay the following April.
Doping Bust of the Decade: Asbel Kiprop
We're limiting this award to athletes (sorry, Alberto Salazar), and in that category, there was no bigger domino to fall in the 2010s than the greatest 1500-meter runner of his generation. At 6'3", with impossibly long, skinny legs, Kiprop resembled an alien; he was one of those runners, like Usain Bolt, that you looked at and thought that they might just be doing it clean. Yes, the times are insane…but look at him. If anyone could do it clean, it would be someone who looks like THAT. When Kiprop found room to unfurl those legs, gliding by everyone with his gargantuan strides, it didn't seem fair.
But it was too good to be true. Kiprop, who won the 2008 Olympic 1500 title (only elevated after Rashid Ramzi was stripped of gold for, you guessed it, doping) and world titles in 2011, 2013, and 2015, was banned after testing positive for EPO in November 2017. Kiprop has steadfastly maintained his innocence, but his appeal was rejected.
Yes, there were two other Olympic distance champs busted this decade — Turkey's Aslı Çakır Alptekin lost her 2012 Olympic gold and 2016 Olympic marathon champ Jemima Sumgong (who didn't lose her medal) — but neither of those were as shocking as Kiprop. Alptekin had previously been busted for doping and Sumgong was a 2:28 marathoner until the age of 28 until she suddenly got VERY good. Kiprop, a world junior champ and teen phenom (4th at Worlds at age 18) was different.
Person of the Decade: Alberto Salazar
Similar to Time's Person of the Year, this is not an award for the "best" person, but the one who, for better or worse, has done the most to influence the decade. And no person better defined the 2010s than Alberto Salazar.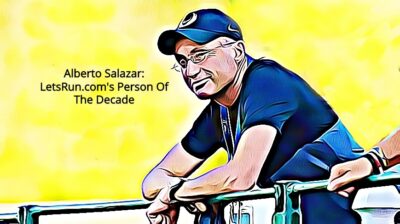 For one, Salazar's fingerprints were all over some of the decade's most remarkable athletic performances. Under his watch, Mo Farah transformed from an international also-ran to the world's best distance runner, racking up 10 global titles. Galen Rupp became the rare American-born athlete capable of taking on — and beating — the world's best Africans in the long-distance events, earning Olympic 10k silver and marathon bronze and winning the Chicago Marathon. Matthew Centrowitz became the first American in 108 years to win the Olympic 1500 title. Sifan Hassan completed one of the most extraordinary doubles in the history of the sport, winning the 1500 (in 3:51!) and the 10k (closing in 3:59!) at the 2019 Worlds.
Then came the fall. Salazar, banned for four years by USADA in the middle of the 2019 World Championships for three separate anti-doping rule violations. His personal science experiment, the Nike Oregon Project, shuttered. And then, just weeks later, the allegations of fat-shaming and abuse leveled by Mary Cain and other former NOP members. Cain's bravery to speak openly about her past led to one of the decade's most important developments, a larger conversation about weight, coaching, and athletes' bodies.
How about the impact of technology — one of the biggest topics in the sport right now? Salazar didn't invent the Nike Vaporflys (though his athletes raced in them and he has a building named after him on the Nike campus), but, more than any other coach, he sought an edge through whatever new invention he could get his hands on. Underwater treadmills, magic tape, electric brain stimulators; Salazar was willing to try anything to gain an edge.
Never has the phrase "win at all costs" been better applied than to Alberto Salazar. His athletes did plenty of winning, but the costs were severe: emotional harm to former athletes such as Cain and Kara Goucher, a ban from the sport he loves, and a cloud of controversy over anyone associated with the man. Controversy clung to Salazar like a paperclip to a magnet. Which is why it's fitting that, in a decade marked by controversy, from intersex athletes to performance-enhancing drugs to super shoes, he is LetsRun.com's Person of the Decade.
Talk about this article on our fan forum / messageboard. MB: The LetsRun.com Decade Awards: Alberto Salazar is Person of the Decade + A Whole Lot More.
---
More End of Year/Decade Articles: