The 2010s are history: It was both the best and worst of times for track and field fans
By Robert Johnson
December 31, 2019
It was the best of times, it was the worst of times….
What a decade.
Article continues below player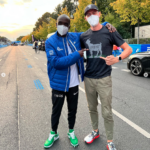 Kipchoge loves the 1:59:40 Shirt Get Yours Today
What a legend!
The 2010s are history and wow, so much happened in the track and field world. For a long time, many humans have desired to have a time machine. Well we here at LetsRun.com — always at the forefront of technology — are granting you your wish.
Take yourself back 10 years. It's now January 1, 2010, and I make the following predictions to you for the next 10 years. How would you react?
American-born mid-d and distance athletes will win 25 medals at Worlds/Olympics in the 2010s. In the decade from 2000-2009, US-born athletes won just four global medals (Deena Kastor 2004 marathon bronze, Kara Goucher 10,000 silver in 2007, Shalane Flanagan 2008 bronze, Shannon Rowbury 2009 bronze)
Alberto Salazar, who in his first nine years at the head of Nike Oregon Project had produced a single global medal, will coach athletes to 17 global medals, including 12 global golds.
Galen Rupp, who had a 3:57.86 mile pb at the time, will run a 3:50.91 indoor mile, win a World Marathon Major, and medal in the Olympics in both the 10,000 and marathon.
Chris Solinsky, who had finished 12th in the 5000 WC final in 2009 and had a modest 13:12 pb, will run 12:55 and 26:59 within the next year.

A human being whom there have been zero drug allegations about will run a flat 26.2 miles in 1:59:41.

The women's 1500 (3:50), steeple (8:44), 10k (29:17), and marathon (2:14:04) WRs will all be smashed by four different female athletes — none of whom test positive for anything. 

The coach of the 1500 WR holder will be arrested after EPO is found in some of the rooms of his training camp, but more than 3.5 years later nothing has come of the arrest.

At the US high school level, a runner will run boys' track indoors and then win multiple state titles as a girl outdoors. At the college level, an athlete who never made it to NCAA DII nationals during their first three years of college on the boys' team will switch to the girls' team senior year and win an NCAA title. 

Shoes that enable runners to run 4% more efficiently will secretly be developed by Nike for the 2016 Olympic marathon and will be given to all three men and three women who sweep the medals, but nothing will be done about it.

Seven 2012 Olympic track and field gold medallists, including the women's 800 and 1500 champs, will be stripped of their golds for doping. Later, an Olympic men's 1500 and Olympic women's marathon champ from Kenya will be banned for doping.
I imagine upon hearing these predictions, many of you would call up my twin brother or the local authorities to either try to get me committed to a psych ward or to see a doctor to make sure I didn't have a brain tumor as you'd think I was acting crazy.
But let's say that I then tell you that I have access to a time machine and I know for a fact all those things actually will happen. What would you say?
For the first bullet point regarding the Americans, I imagine many of you would just say, "No way. How in the world is that going to happen?"
For the second bullet point regarding Salazar, the reaction most of you would give me might not have been that far off from what happened. Most would probably say, "Hmmm. How's he going to do that? By going back to the old ways of Athletics West or by coaching foreigners?' 
For the 1:59:41, most of you would probably assume he ran it down a mountain. So I'd point out that I wrote "flat 26.2 miles." So then I imagine most of you would then say, "How'd he do that? With rockets on his feet?" Again, your reaction would be in the right direction.
As for bullet points regarding the banned Olympic dopers and even the "mechanical doping" that went on in both Olympic marathons in 2016, I imagine many of you would be upset and say, "Yet another decade of doping and not knowing which performances should be celebrated? That sucks."
To me, not knowing which performances are worthy of celebration is the overriding theme of the decade. Of course that probably is the overriding theme of the last four or five decades in our sport.
Doping has long cast a shadow over track & field. In the 1970s, you had the Eastern bloc state-supported doping (although it's not like the Americans were totally clean either), in the 1980s, you had Ben Johnson (and some would say Flo Jo), in the 1990s you had the likes of Ma's Army and Randy Barnes, in the 2000s it was Marion Jones, Regina Jacobs, and the BALCO crew. One probably assumed it wouldn't get any worse, but that assumption was wrong. Doping scandals were all over the globe in the 2010s, from Russia to Kenya to the US of A. Remember, at the start of the decade, Lance Armstrong was a global hero, not a fraud.
But I'm an athletics writer focused on distance running so I'll stick to track and field.  And in the 2010s, every single distance event had doubts cast about an Olympic champion.
800 – Caster Semenya. There is no allegation that Semenya doped but she currently can't compete in the women's category unless she lowers her testosterone. If you are looking for a world champ that was actually busted, we've got you covered as 2015 world champ Maryna Arzamasova tested positive in 2019.
1500 – 2008 Olympic (and 2011, '13 and '15 World) champ Asbel Kiprop was banned, as was Turkey's Aslı Çakır Alptekin, who crossed the line first in the 2012 Olympic women's 1500.
Steeple – 2016 Olympic champ Ruth Jebet was banned.
5000 and 10,000 – Mo Farah hasn't been linked to drugs, but the coach that took him from also-ran to world-beater is currently banned for four years.
Marathon – 2016 Olympic champ Jemima Sumgong was banned.
And that's not all of it. Now, in addition to doping, we are dealing with intersex and shoe controversies. Is it any wonder why track and field is struggling for popularity?
Athletics has gone from being one of the simplest sports to enjoy to one of the hardest. Who can push themselves to the finish line first has now morphed into, "Who has best chemist (doping), lawyer (intersex/transgender/doping), or scientist (shoe designer) behind them?"
Regardless, as we start a new decade, I am still a fan and trying to remain optimistic. Could all of the bad publicity of recent years mean the tide has finally turned? Might all of the huge busts of the last decade — whether it was with Lance, Russia, Kenya or Alberto — be a sign that those in charge (whether it's shoe execs, bureaucrats, or agents) have finally have had enough of tacitly not really caring about doping? Remember, despite paying hundreds of thousands of dollars in bribes, marathon star Liliya Shobukhova was still banned.
Truth be told, I'm not sure that's the case, but we can always hope. Who knows what is in store for the next decade?
---
More End of Year/Decade Articles: